Island Defense
The Dark Fleet has set their sights on the seven Citadels in Island Defense. The Dark Fleet has launched an all-out attack against the seven Citadels and only you can defend them! Use the knowledge of the Ancients to construct towers to repel the Dark Fleet's forces. Protect the land and destroy the invading force in this exciting Strategy game!
Multiple upgrades
Unlock achievements
Stop the Dark Fleet!
Game System Requirements:
OS:

Windows XP/Windows Vista/Windows 7/8

CPU:

1.2 GHz

RAM:

1024 MB

DirectX:

9.0

Hard Drive:

293 MB
Game Manager System Requirements:
Browser:

Internet Explorer 7 or later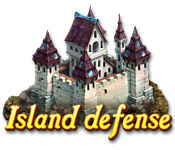 NEW299
The Big Fish Guarantee:
Quality tested and virus free.
No ads, no adware, no spyware.

Reviews at a Glance

Island Defense
0
out of
5 (
0
Reviews
Review
)
Customer Reviews
This is a specific genre of game... know what you're getting before judging
A previous reviewer slammed this game as boring because he was hoping certain things would happen that didn't. For those who are like him, and don't know what the "Tower Defense" game mode is - here's a quick rundown. The game should be judged on its own merits inside its genre, and not downgraded due to false expectations. Tower Defense games, like this one, involve eliminating waves of moving enemies that run through the maze-like game environment before they reach the end of the maze and accomplish their goal. Often the goal is to attack a vulnerable hot-spot, eliminate defenseless characters in some inner sanctum, or even move off screen and "access" whatever it was you were supposed to deny them access to. You do this defending by purchasing and placing various powered "towers" along shorelines, hill tops, building tops, wherever the game has dictated you have to work with. All towers are auto-defense... meaning, they fire on their own without you controlling them. Some fire slowly and weakly, some fire slowly and powerfully... .some do the opposite and fire very rapidly but do minimal damage. Some often have higher or lower effectiveness against different enemy types with different vulnerabilities, so you have to mix up you towers appropriately. Once placed, a tower can often be upgraded later on as you acquire more funds, etc... The idea is to stay ahead of the enemies and forever maintain your towers to be able to stop their advances before they reach their goals. The enemies move at different speeds and have varying degrees of health and defenses. You have to manage your labyrinth of auto-towers so that there are no huge gaps in your pathways and that there's no combination of enemies that can make it through alive.... For example, if a particularly massive wave of hundreds of fast moving enemies is coming, and all you have are slow, heavy damage producing towers, sure those slow cannons will obliterate the targets they shoot at very easily, but the sheer numbers of enemies slipping by between blasts will spell quick doom for you. You would have been better served also having a tower that shoots very quickly, but maybe not as much damage... or maybe another tower type that does area-effect damage (or "splash damage"). The strategy is in keeping pace with the challenges of the enemy waves... the fun is in identifying the choke points of each map to create the best killing fields, using strategy to mix and match various tower types, stay ahead of the waves, and enjoy watching your carefully thought-out and planned defensive lines take care of business with efficient and colorful ease. Judge this game on THOSE merits.... not what you were hoping the game might be like, but didn't know.
May 15, 2012
challenging tower defense game
I'm a big fan of tower defense games and I was ready for a new challenge. So far I've just played the hour demo but I have now purchased it. The real challenge comes from not knowing which route the enemy ships are going to take and to cover accordingly. The ships also fire back so you have to keep your towers in good condition - I liked this :) the game play seems just about right, sometimes the boats come singulary and slowly other times it's a true onslaught, seeing the whole game board in one view is a bonus. From the menu there looks to be an option to play slightly differently but I haven't checked that out yet, this seems a great game for those of us that like tower defense.
May 15, 2012
Wonderful
This game is a delight for tower defence fans. In a refreshing take on a familiar genre, your goal is to protect a central fortress in an archipelago. You build towers on the various islands to defend against the incoming attack ships. There is an excellent tutorial which is skippable. As with most good strategy games, this one starts off slowly and gets gradually more challenging. There are 3 difficulty levels. You can purchase bonus items that you unlock which provide additional perks such as mines, cliffs and an air balloon that collects treasure chests dropped by ships. This game is not without its flaws - it's far from perfect. Graphically and interface-wise, it looks like something made 15 years ago. You have an overhead view and cannot zoom in or scroll around. Objects, including towers, are tiny and strain the eyes. There are shifting clouds that further obscure the view. There are options to turn down effects and particles but they didn't disappear. It's also almost impossible to see the red circles that indicate which directions ships will be approaching from. Another fault is there is no way to advance the next wave or increase the game speed. It feels very slow early on when only one or two ships advance. I also didn't think there was enough variety in the towers available to build, their price does not increment and you could easily just build your preferred type. One nice inclusion is a mini-video of each item in the bonus store to show you how to use it. Overall, I really enjoyed this take on the tower defence theme. It's refreshing and fun with the option to play through again on a higher difficulty. There are enough little differences to make this game stand out in the genre. While I found game play to be too slow and lacking challenge early on, it picked up enough to promise several hours of addictive game-play. Lots of fun and definitely re-playable as different strategies can be used.
May 15, 2012
Decent game
If Garden Defense and Risk had a baby, it would be this game. If you like Garden Defense, you'll probably enjoy this as I did. It's a decent hybrid and I enjoyed being able to continiously upgrade during gameplay. If you are looking for more fast paced action like Landgrabbers, this is not it.
May 15, 2012
Interesting addictive strategy game.
Island Defense has had a bit of a bad rap from a couple of people, probably based on their preconcieved expectations and unwillingness to accept something a bit different. It is not a match 3 or hidden object, game, it is timed but is not a time managements game. More or less can you last out under siege and a variety of attacks. This involves strategic placement of defense towers and mines. The closest game I have played that is similar to it is Landgrabbers although that was a bit faster in necessary key clicking. Initially after the first 10 minutes I thought it was a bit silly and slow, but that slowness is the same as in chess and any decent chess player can tell you that there is tension, and a racing mind during chess no matter how quiet it looks from the outside. So 10 hours later (yes I bought the game) ... I like the colours of the game the martial repetitive music which gets under your skin a bit like the heartbeat sounds of early space invader games of the 60s / 70s. Basically you have a citadel and a lot of enemy ships of differing strengths and speeds are preparing to attack it. You have a clue about where they are going to come from (ripples in water or smoke) and you have to build defense towers to fight them off. But where to put the towers where they will do the most good , that is where the strategy / chess like feature comes in. The towers can be upgraded at a cost and this increases their damage caused, their range, the speed of fire and their general strength against attack. One tower can be upgraded and finishes with great one strike killing power while another has less power, but faster firing rate and bigger range which offsets the lack of damage per strike. You can also purchase up to 20 different spells / features in the shop as you progress, that increase tower levels, heal / repair the tower, temporarily increase the rate of fire, and many other interesting defensive effects. One feature I really loved was the mini videos showing what each shop item could do - in effect a tutorial on how to use that item - 20 of them.. I played right through as a private and now have gone back to play as a General. Other have criticised it as you cannot do much except set it up and wait for the ships to win or fail. But there is more to it than that. Take the first citadel level (after the tutorial) where you have 30 gold and 22 ships will attack one after another . By carefully purchasing towers and mines and placing the mines in the right place you can survive the first of 13 attacks, each getting stronger and with more ships but with a respite in between. For those that find it boring to sit and watch try purchasing a lot of mines and laying out some mine fields. Or try and mine ships on the run. Plenty of activities to do in preparation for the next attack, I did not give this 5 stars because after finishing the 7 citadels as a private I could not do it as a general (or Corporal) without starting as a new player name. In addition after finishing and getting all rewards you are left with no finish. no storyline finish, only a hint. Looking forward to a sequel.
May 17, 2012
Not my usual type of game but I LOVED IT! Excellently done!
I thought this was a fantastic game. You have to defend your citadel from hordes of enemy ships that are trying to attack it. You do this by setting up towers (each one has a different strength) Then you build them up each level to continue to defeat the waves of enemy ships that continue to harass you. It is fast moving, fun and has a good story. Hope you enjoy it as much as I am!
May 15, 2012
I really wanted to like this game.
Quick summary: Won't play left handed. Tiny graphics. Really annoying, constant cloud cover. Irritating sqeal when you build a tower. Slow, slow, slow money accumulation, which means slow building. Poorly differentiated towers. At least one frantic, non-tower defense themed mini-game. No left-handed play is the kiss of death as far as I'm concerned (it was also an issue with Weather Lords--what's wrong with these programmers?), but I wouldn't have rated the game so low just for that, since it wouldn't affect many players. Unfortunately, it was only the first of many things I dislike about Island defense. On the plus side, there's a fair amount of tower placement strategy involved in defending such a large board from somewhat randomized attacks. Unfortunately, this plus doesn't offset how irritating it is to peer at the tiny images, or try to click on the even tinier treasure chests. This problem is made worse by the constant cloud cover, which cannot be turned off. It takes so long to accumulate funds that I found myself doing other things at my desk while I was in the middle of an attack. I also found that in practice, the differences between the types of tower were pretty trivial. I didn't see any solid benefits to combining different types. Play it with the sound off. You'll thank me later. Island Defense continues the unfortunate trend of including at least one mandatory frantic clicking level. This is pretty much the exact opposite of the thoughtful, strategy based clicking that make tower defense games so much fun for me, so I see it as an interruption to the fun and a significant negative. I love tower defense games, and I really wanted to like this one. I fully expected to buy Island Defense. If it had had a minor problem or two, I'd still have bought it, but as it is, I'd rather just go play Cursed Treasure again for free.
May 16, 2012
Fun, Addicting Strategy Game!
This is an excellent strategy game. The premise is that your island castle is getting attacked by an onslaught of enemy ships, and you have to defend your castle by placing towers and enabling special abilities to shoot them down. Each map is different, and the enemy changes it up with every "attack wave", so you have to strategize your best means of defense with the arsenal you have at hand. This is challenging but a lot of fun and very addicting. It's a really long game, too. The negatives are that there is no real story line to speak of; the mini-games are dorky and not fun (and rarely present, so no big deal); as someone else mentioned, there are clouds in the sky that move around and sometimes obscure your view and there's no way to get rid of them. The most heinous offense to this game is honestly the obnoxious *CHIRP* that sounds every time you click on a tower. Its loud, its high pitched, and I don't know why on earth anyone would pick that sound. Other than that, great game and I highly recommend it for all strategy lovers.
May 16, 2012
HOORAH !
This is such a cool game ! You have to defend the island and not let the enemy make it to the castle. You build towers to fight off the enemy and they come in on ships and cannons and it's up to you to stop them. The towers can be upgraded so they preform better plus some ships when you hit them leave behind treasure chest that contain money or other helpful objects like mines and protective shields for the towers, cliff walls, rapid fire. You are able to use the money from the treasure chest to purchase upgrades and other stuff. There is also mini games that are really cool as well. This is a great game and what starts out fairly easy quickly becomes very challenging because the ships come from all directions and if you don't place your tower's in just the right places you lose the day because they do come in fast with guns a blazing. There are watchers which pulsate in red so you know where the ships will enter so you can place your towers. The graphics are really nice the music is your typical epic battle music and this game is just tons of fun it never gets boring and the islands are big and the enemies are tough. I bought this game only a few minutes into the demo and have not stopped playing it I absolutely love this game it's just so cool with all the things you can do and the challenges you face you also get achievements and there is a choice of playing mode private, colonel, captain and general so you can choose how you want to play. I think this game is just awesome and would love to see more like this and I hope there will be a sequel to this one it's just way too cool. Give it a try it's definitely worth the demo. Thank you dev's and Big Fish for this awesome game. HOORAH !
May 16, 2012
Excellent
This game is pretty unusual TD. I can not remember such genre of games with marine setting. Yes, game is bit boring at start but... all fun begins from level 4(snow level) when you discover new tower type and and several useful bonuses. Also different kind of magic brings lot of fun in game. Usually very difficult to kill boss-ship without it. Sometimes you can smash enemy ships only with mines and without towers. Also balloon will help to collect chests and concentrate on towers management. Also notice, when you create profile you can set once level of difficulty. If somebody is thinking that the game is simple let's try maximum one.
May 19, 2012