Island Defense
The Dark Fleet has set their sights on the seven Citadels in Island Defense. The Dark Fleet has launched an all-out attack against the seven Citadels and only you can defend them! Use the knowledge of the Ancients to construct towers to repel the Dark Fleet's forces. Protect the land and destroy the invading force in this exciting Strategy game!
Multiple upgrades
Unlock achievements
Stop the Dark Fleet!
Game System Requirements:
OS:

Windows XP/Windows Vista/Windows 7/8

CPU:

1.2 GHz

RAM:

1024 MB

DirectX:

9.0

Hard Drive:

293 MB
Game Manager System Requirements:
Browser:

Internet Explorer 7 or later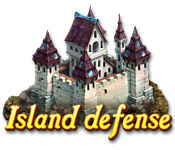 NEW299
The Big Fish Guarantee:
Quality tested and virus free.
No ads, no adware, no spyware.

Reviews at a Glance

Island Defense
0
out of
5 (
0
Reviews
Review
)
Customer Reviews
Wonderful
This game is a delight for tower defence fans. In a refreshing take on a familiar genre, your goal is to protect a central fortress in an archipelago. You build towers on the various islands to defend against the incoming attack ships. There is an excellent tutorial which is skippable. As with most good strategy games, this one starts off slowly and gets gradually more challenging. There are 3 difficulty levels. You can purchase bonus items that you unlock which provide additional perks such as mines, cliffs and an air balloon that collects treasure chests dropped by ships. This game is not without its flaws - it's far from perfect. Graphically and interface-wise, it looks like something made 15 years ago. You have an overhead view and cannot zoom in or scroll around. Objects, including towers, are tiny and strain the eyes. There are shifting clouds that further obscure the view. There are options to turn down effects and particles but they didn't disappear. It's also almost impossible to see the red circles that indicate which directions ships will be approaching from. Another fault is there is no way to advance the next wave or increase the game speed. It feels very slow early on when only one or two ships advance. I also didn't think there was enough variety in the towers available to build, their price does not increment and you could easily just build your preferred type. One nice inclusion is a mini-video of each item in the bonus store to show you how to use it. Overall, I really enjoyed this take on the tower defence theme. It's refreshing and fun with the option to play through again on a higher difficulty. There are enough little differences to make this game stand out in the genre. While I found game play to be too slow and lacking challenge early on, it picked up enough to promise several hours of addictive game-play. Lots of fun and definitely re-playable as different strategies can be used.
May 15, 2012
Interesting addictive strategy game.
Island Defense has had a bit of a bad rap from a couple of people, probably based on their preconcieved expectations and unwillingness to accept something a bit different. It is not a match 3 or hidden object, game, it is timed but is not a time managements game. More or less can you last out under siege and a variety of attacks. This involves strategic placement of defense towers and mines. The closest game I have played that is similar to it is Landgrabbers although that was a bit faster in necessary key clicking. Initially after the first 10 minutes I thought it was a bit silly and slow, but that slowness is the same as in chess and any decent chess player can tell you that there is tension, and a racing mind during chess no matter how quiet it looks from the outside. So 10 hours later (yes I bought the game) ... I like the colours of the game the martial repetitive music which gets under your skin a bit like the heartbeat sounds of early space invader games of the 60s / 70s. Basically you have a citadel and a lot of enemy ships of differing strengths and speeds are preparing to attack it. You have a clue about where they are going to come from (ripples in water or smoke) and you have to build defense towers to fight them off. But where to put the towers where they will do the most good , that is where the strategy / chess like feature comes in. The towers can be upgraded at a cost and this increases their damage caused, their range, the speed of fire and their general strength against attack. One tower can be upgraded and finishes with great one strike killing power while another has less power, but faster firing rate and bigger range which offsets the lack of damage per strike. You can also purchase up to 20 different spells / features in the shop as you progress, that increase tower levels, heal / repair the tower, temporarily increase the rate of fire, and many other interesting defensive effects. One feature I really loved was the mini videos showing what each shop item could do - in effect a tutorial on how to use that item - 20 of them.. I played right through as a private and now have gone back to play as a General. Other have criticised it as you cannot do much except set it up and wait for the ships to win or fail. But there is more to it than that. Take the first citadel level (after the tutorial) where you have 30 gold and 22 ships will attack one after another . By carefully purchasing towers and mines and placing the mines in the right place you can survive the first of 13 attacks, each getting stronger and with more ships but with a respite in between. For those that find it boring to sit and watch try purchasing a lot of mines and laying out some mine fields. Or try and mine ships on the run. Plenty of activities to do in preparation for the next attack, I did not give this 5 stars because after finishing the 7 citadels as a private I could not do it as a general (or Corporal) without starting as a new player name. In addition after finishing and getting all rewards you are left with no finish. no storyline finish, only a hint. Looking forward to a sequel.
May 17, 2012
first time play
This is a first time for me in this game category and I have to say that despite many reviewers not so good rating, I decided to give it a try anyway.Sure, once the battle engages and you have not collected enough money to upgrade towers....there is not much to do other than sit and wait. But the fun fact for me is where to put towers and what strenght should they have...I like it when they run across a mine and if i have any left, I get to decide where to put them. The music is a bit repetetive but not overpowering. So you do not see any people, just ships and towers shooting on a pretty small screen, i still liked it. There are mini games as well, but they do not seem to be very challenging.Anyway, for a first time this was not so bad and it is a nice break from the HOGs.
May 16, 2012
Loving this Tower Defence game
A tower defence game and since I bought Garden Rescue a few days ago one of my favourite genres. The graphics are fantastic, the music is quite dramatic but in sync with the subject, great sound effects. The game is very well explained in the intro. You basically have to build towers to defend your main island from enemy attacks. These come in the shape of ships of different strength, so you need to place your towers on the strategically most efficient places. For every ship you sink you earn money and some ships leave a treasure floating in the sea which you can pick up. You need to earn lots of money, because your defence towers cost a fortune. As you go along you unlock bonuses, like sea mines, freeze bonus and many others. You earn awards which you can view in a hall. Yes, you do build towers and then sit back and watch, but sometimes you have to intervene by quickly building another tower or placing a sea mine. I didn't find myself bored for one second. Really love this TD game and will definitely buy it.
May 15, 2012
Meh
I only played the hour trial but I wasn't very impressed with this game. I usually love tower defense games, but I found this one to be far too slow for my liking. May have been better if I choose a higher level so the enemies appeared a little faster. For the most part I found it pretty boring. The scenes were fantastic though! It was a refreshing take on the theme, I just wish it was a little more fast paced! I still recommend this game because I don't know if it would be better with a higher level or not, and the game has a lot of promise :)
May 17, 2012
Fun no-frills strategy game!
So much about this game is no-frills. The graphics are passable though they leave a lot to be desired. However, I really had a good time playing this game and will probably buy it at some point. As it turned out, I'm glad I didn't pre-judge it based on the screenshots or my first few seconds impressions. You strategically place different types of towers on outlying islands in order to repel an attack from whatever direction you think it will come. In between and DURING the battles you can buy/sell/upgrade towers and buy extras (mines, etc.#, that you earn from the store. Some destroyed ships will leave treasure chests in the ocean that you can click on before they disappear!), to earn extra money. There are several achievements you can earn - I earned several in the short time I played. I would recommend fans of strategy games try this game.
May 15, 2012
Decent game
If Garden Defense and Risk had a baby, it would be this game. If you like Garden Defense, you'll probably enjoy this as I did. It's a decent hybrid and I enjoyed being able to continiously upgrade during gameplay. If you are looking for more fast paced action like Landgrabbers, this is not it.
May 15, 2012
A la "Garden Defense" - but a lot tinier
I played the full hour demo. It is kind of like Garden Defense - you set up your defense and then watch the attack. You can repair and upgrade your towers during the attack, as well as place bombs, barriers and other power-ups where needed. I fairly enjoyed the game, but will not be buying because everything is so tiny I can barely see what's going on. And then the clouds float by and I really can't see what I'm doing and several times I missed where the "ripples" were that showed which direction the attacks were coming from. If you have good eyes, give it a try and see what you think. It's not a bad strategy game.
May 15, 2012
Yay! More TD games!
While I am ecstatic about seeing bfg coming out with more TD games (and FINALLY a FEW less hogs!) This one just doesn't really float my boat. (pardon the pun there. lol) Excellent idea and game concept...awesome graphics but the gameplay...EVEN for a TD game, (and yes I am familiar with the genre & love it so hold the lecture please!) it is extremely slow paced at times and very difficult to accrue credits to purchase more towers when the enemy starts sneaking up on you from new angles....Especially when they are destroying your existing towers and the only way to repair them is to spend more money than a new one costs and upgrade it! I'm sure there is more and better strategy to the game but I have only played the trial and was trying to rush through it. Generally it doesn't take more than a few minutes to get the hang of most TD games. If there was more to this than I got, I didn't catch on in the hour of trial play. Just an all around slow moving game. I love the idea and the genre...With a little more work and re-planning, I think this could be a series to re-vamp the genre. Hopefully, the makers will go back to the drawing board and come out with a sequel and fix all that is wrong. Fingers are crossed! AND....Keep the TD's comin' BFG!
May 24, 2012
Very Deceiving
I tried the trial and even though it seemed a little slow... and the objects a bit tiny... I thought I'd buy it anyway thinking that it may get to be a bit more of a challange as it went on. By the third island... there are 7... I was pretty amazed at how hard it was getting. Island four??? Forget it... I have spent hours using every combination of towers... putting them in numerous places... different groups... buying outrageously expensive aids from the store... the money bonuses are few and far between... and the pittance you get from each ship doesn't help. You'd think the tougher the ship... the more you'd get for it because of the extra damage it does to the towers. Nope... one coin each. Another big problem is that even though you have the option of repairing your towers... it costs so much that it seems easier to sell and replace them. Unfortunately... by the fourth island the ships you are pitted against right about the fourth wave... go through your towers like water, so even though you can't afford to upgrade your towers... you need upgraded towers to withstand them.. You absolutely have to use the balloon to gather your chests because the cloud cover gets pretty thick at times and the treasure chests are not only impossible to see then... but if a boat drops one out of sight behind a tower you'll never find it at all. Now I don't mind a little difficulty getting through a level. Heck... I have restarted levels on a few of these games... but this is getting a bit ridiculous. I hate to give up on a game less than halfway through. Kudos to those who can get past the point where I am at. And hey... if you do happen to make it past the fourth island... how about posting how you did it on the forum... I'm not the only one having problems with that one.
May 16, 2012