Shadomania
Journey into the world of imagination and recreate sumptuous Japanese woodblock prints with Shadomania! In this innovative puzzle game, you'll want to find the correct position on the canvas for the different shadows and reveal the picture in as few moves as possible. Discover magnificent landscapes, animals and traditional Japanese festivals in a restful and Zen atmosphere. A wonderful game for all ages combining beauty and entertainment. Test your brainpower and let your imagination go wild!
An original jigsaw/puzzle game
More than 50 levels
A relaxing Zen atmosphere
Game System Requirements:
OS:

Windows XP/Windows Vista/Windows 7/8

CPU:

1.0 GHz

RAM:

512 MB

DirectX:

8.1

Hard Drive:

167 MB
Game Manager System Requirements:
Browser:

Internet Explorer 7 or later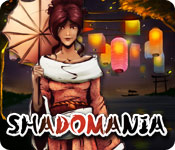 NEW299
The Big Fish Guarantee:
Quality tested and virus free.
No ads, no adware, no spyware.

Reviews at a Glance

Shadomania
0
out of
5 (
0
Reviews
Review
)
Customer Reviews
Great New Concept
Different, interesting and challenging game. I usually play HOS and adventure games, but since I love jigsaws, I figured I'd try this game out. I didn't get to the more challenging levels yet so I can't comment on them, but the beginner levels were fun. The object of the game is to take parts of shadow pieces and form them into a picture. They are Japanese scenes and are accompanied by beautiful, soothing music. The graphics are gorgeous. A good game for stressed fishies!!!
May 16, 2012
Definite Buy!!!
I'm not sure people have given this game a fair trial. I love games that present new ideas and challenges. Some have stated that there is no time limit, but in a way there is. To get three stars on a level you must do it not only with few moves, but also quickly. It's fun to redo a level to see if you can meet these requirements. And many clues are available if one does get stuck. I also found that the music and sound effects fit the mood perfectly. It's a definite buy for me!
May 17, 2012
Pretty Cool!
Black silhouettes that you arrange into Japanese scenes, when you arrange them correctly they come through into bright color. Not really a game more like a strategic think!
May 16, 2012
Different Puzzler
I have played the free trial almost completely, and I enjoy this game a lot. It is beautiful, and different than any game I have played. It is a puzzle game in which you try to recreate Japanese-style paintings and prints using silhouettes which you rotate into the correct position. The controls are easy, and there is a hint system, although the game really wants you to figure out the puzzles yourself (which I like). The game may take some getting used to, but don't give up, at least not on the trial. One problem I had was that many of the silhouettes do not look like anything. Also, the rating system was too strident, and I would have like to be able to turn it off. You do not need a perfect score to advance, they are just there for an extra challenge. Overall, a fun and challenging game.
May 21, 2012
Awesome game !
Very fun and pleasant game, huge challenge for a puzzle game i'm not used to play... But this time it is very cool, very relaxing ! Good job !
May 21, 2012
Give it a chance if you like a challenge
This is probably one of the best puzzle games that have come out in a long, long time. If you do not have the patience to figure something out, then this game is not for you - and you are not the audience the game producers are going for. This game is a challenge - the rules are not written out - in English or any other language...that is part of the puzzle. It would be too easy if they wrote the rules out and handed it to you... Give it the full 30 minute trial - IF you are truly a puzzle lover....
May 21, 2012
Great Artistic and Very Different Game!!!
I read some reviews here and wanted to gamers know that it is a very cool game. I pretty much breezed through the third level and still have some more to complete. I had to use the "hint" on one of the paintings but more than one click. If you are creative and have an artistic eye, this is an awesome game. The finished art work is beautiful. I hope I can find another like it!!
June 28, 2012
Very difficult but fun puzzle game
As often happens, I'm writing a review after playing this game for some time in order to help people be clear about what the game does and does not do. Let's get the negatives over with: sound only goes on and off (but I enjoy the music#, how to play can be obscure, and hints can be irritatingly unhelpful. Now the good part: This is a truly original game. You get various black shapes that can be turned each of four ways, and you need to assemble them into a picture. This can be quite difficult and frustrating. The fact that the name of the picture is in Japanese does not help, except in the case of a few Japanese words I do know #koi might help everyone!# I'm not sure why people say you can't progress without getting 3 stars. That is simply not true. You do have to play the "easy" level of each group to go to the "medium" level, so that may be the confusion. Also, there is no timer. The score is turn-based #how many manipulations of the pieces did you need to solve the puzzle?). I love it when the black-and-white outline changes into the very nicely rendered color picture. It's worth all the agony. As a photographer, I enjoy trying to read some sense into the outlines. For those who like a game that takes some real effort, with no time constraints and a good reward, I recommend you try this.
May 16, 2012
Great if you love puzzles, but way too short!
I think this is one of those games that isn't fun for everyone. It's mostly for people who love puzzles and want to be challenged. I was able to complete all 53 puzzles in the demo with 7 minutes to spare, so it took me roughly one minute per puzzle. It was a really fun game, but there's no need to buy it since most people were able to get through the majority of the game during the demo.
May 20, 2012
Creative and Interesting
After reading prior reviews I was not sure I'd like this game, but I find myself really enjoying it. I finished the first 18 levels (level one for 3 categories) in 30 minutes, with no hints. Others have said there is no way to gain more hints, but you do accumulate them as you play and finish the puzzles. I did not analyze how quickly you gain them, however. It is not clear how the "star" rating works, but it seems to be a combination of speed and the number of moves it takes you to finish a puzzle. In general, I spent some time on each moving the pieces around to see how they fit, then once it was solved I could re-do the puzzle and could usually get 3 stars on the next try. For the first set of puzzles there are only about 5 pieces to manage. Of the hints they describe in the tutorial, the one that shows the final picture is probably the least useful. I could usually distinguish (though not always) a recognizable element - a tree, or animal, or water feature, etc. that helped me orient - and I would recommend, don't be shy about starting the puzzle over. it's much more confusing to have all the pieces there if they are not aligned correctly. Pros: Relaxing music No "timed" mode Beautiful pictures Just enough challenge to be stimulating Cons: Not much instruction, but i found it pretty self-explanatory Other have indicated not enough hints (I didn't have a problem, though) Some have indicated that skill at art would be useful; I can say for myself that I have virtually no artistic talent whatsoever. You should have a good sense of spacial relationships though, and definitely it's for those who enjoy puzzles. It's possible that experience with jigsaw puzzles would be helpful. Bottom line: Give it a try for yourself, you might be surprised!
May 17, 2012
The Apple logo is a trademark of Apple Computer, Inc.