Shadomania
Journey into the world of imagination and recreate sumptuous Japanese woodblock prints with Shadomania! In this innovative puzzle game, you'll want to find the correct position on the canvas for the different shadows and reveal the picture in as few moves as possible. Discover magnificent landscapes, animals and traditional Japanese festivals in a restful and Zen atmosphere. A wonderful game for all ages combining beauty and entertainment. Test your brainpower and let your imagination go wild!
An original jigsaw/puzzle game
More than 50 levels
A relaxing Zen atmosphere
Game System Requirements:
OS:

10.7/10.6/10.5

CPU:

1.8 GHz (INTEL ONLY)

RAM:

512 MB

Hard Drive:

36 MB
Game Manager System Requirements:
Browser:

Safari 4.0 or later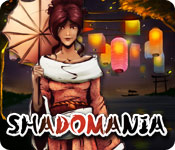 NEW299
The Big Fish Guarantee:
Quality tested and virus free.
No ads, no adware, no spyware.

Reviews at a Glance

Shadomania
0
out of
5 (
0
Reviews
Review
)
Customer Reviews
This was a great game!
This game was great! It didn't matter how many stars you got when a picture was completed, as long as it was done, you would still advance to the next level. The pictures turned into full color when complete. Extra hints were obtained whenever a picture was complete. In playing the demo, we got thru the first set of easy games in all the locations and were starting on the medium set. Of course, we did not get 3 stars on many, but had fun trying and did use a bajillion hints on one in particular! You can mute the music, if desired. You can also play in windowed or full screen mode and toggle back & forth. The graphics are the best and you can download the completed pictures <from the gallery button> to your computer. That's a plus if you wanted to use them for screen saver or background. Thought it was a grand game and you had to kick into logical mode to decide how the black shapes would go together to complete a picture. It's a buy for us.
May 16, 2012
Very nice game
The game is a challenge at times, but the art is very beautiful. There is no storyline, but it's a decent puzzle game.
May 17, 2012
Good For Folks Who LIke To Assemble Puzzles
I actually liked this game. I think it's one of those games that either appeals to you or it doesn't. I would suggest giving it a try. I have 7 minutes left on the demo and I'm probably more than a third of the way through the game, so I don't think it is a long one. I happen to like Japanese prints and koto music so for me this was a relaxing game. As others have said, to the right of the work area on the screen are various tiles with silhouettes of segments of an image. You have to add them to the work area, rotating them as you wish, until they form a shadowed image. If you align the pieces correctly, the image transforms into a full color one and you move on to the next puzzle. You have to complete the Easy level before you can play the Medium one, ditto before you can complete the Hard one. Each level seems to have more pieces and some are less clear-cut as to what they are than others. A nice little bonus is that the demo version allows you to download the images of the puzzles you completed, which could be used for wallpapers, I guess. They go into the C>User Name>Documents>3dduo>Shadomania location. I don't know if that folder deletes if the game is uninstalled, so for those interested, I would advise copying them over to a file in your Pictures folder. I don't think this is a game that you would sit and play to completion but it's nice, IMO, for when you want to just work on a puzzle game. I didn't notice any timer, but there is a star rating for each level - perhaps that has to do with the number of hints used. The available hints seem to carry over from one level to another, so even though I used some of them, I still have 18 available at the point where I stopped the game.
May 17, 2012
shadomania
fun game,kept my mind busy and thinking, which is good for a fifty-nine year old.
May 17, 2012
A delightful, pretty little puzzler
What a pretty little surprise! This game is a charmer. I almost gave it a pass because it seemed like it might be boring but I was wrong. The premise is simple, turn shapes around until they all come together to make a silhouette of specific image. Once you've got it right, the picture comes up in full color. It reminds me just a little of my favorite puzzle in Drawn 3 - painting in the Easter egg. It sounds almost too easy to be challenging but the devs found a very nice balance. There are enough visual clues that each puzzle rewards you with an aha! moment as it all comes together. Before that happens, there's a zen-like quality to moving shadows that is enhanced by a light traditional soundtrack. This game is a dreamy little escape with enough challenge to keep it interesting. Because there is no story and a repeated mechanic, it will appeal to some but not others. I highly recommend giving it it try rather than overlooking it.
May 17, 2012
Relaxing and challenging
I really liked this game! I had no problems understanding how it works or solving the puzzles. It was nice with a new type of challenge. Some puzzles were harder than others but you can still manage to solve them with only a couple of hints on each puzzle. For every puzzle you solve you get a certain amount of stars wich turns into hints, if you are not happy with the amount of stars you gained you can replay every puzzle, knowing what the solution is and therefore be able to solve it quicker and earn more stars. I do think the game runs to quickly though.. I only played the one hour trial and was already on the hard level. (Every level has 36 different puzzles.) The music and graphics were really nice and relaxing, and I enjoyed them a lot. To sum this up, I really enjoyed this game for being original and challenging.
June 4, 2012
Sit ups for the mind
This game gets a plus for being different, that being said however, different is not always better. I played for about 20 minutes, and could see where this could get very frustrating, very quickly. As an artist some of these puzzles probably made more since to me, and I enjoyed the music and complex thought behind the puzzles. If you used up your hint buttons, there was no where else to go for help. You would be stuck till you figured it out. The titles for the puzzels were Japanese so while the word BIRD might have been helpful, the title of the puzzle was of no help. I think a literal translation should have been included. When the hint showed you the entire puzzle, it was so fast that it might as well of not shown it to you at all. Also because the artwork was in the sumi ink style of painting, someone not familiar with those images would need a good imagination to figure out what they were. If the easy levels were like this than I can just imagine how annoying the hard ones would be. I might have bought this game if a walk through page was included.
May 16, 2012
Puzzle like game
There is no volume control-on/off only There is no level challenge -one level minimal instruction at beginning Other than that-you are give scraps of a picture & are to rotate them into a picture. if you are correct the picture turns into a colourful painting Reminds me of a jigsaw puzzle, in away. There is a timer & you can earn up to three stars for perfect (I never really paid attention to that aspect) As one comment on boards said, this is a nice ZEN like break between murder & mayhem, but I prefer Zenerchi for that Will take you some figuring out on how to play, but I'm sure there are gamers out there will find this relaxing & fun. Happy gaming
May 16, 2012
Fun game, but too easy and too short
This was a really fun, relaxing, and beautiful puzzle game. However, in the 1 hour trial I got through 38 of the 54 levels. That should give you a clue that this game is very short as well as very easy. All you really do is pick a puzzle piece and rotate it into 1 of 4 directions. You have to get all of the pieces lined up to pass the level. If it would have been a little more challenging and a little bit longer, I might consider buying it just for the beautiful puzzles and relaxing music.
May 16, 2012
NOT AS BAD AS THEY SAY - I finished 29 levels!
Actually a nice game. I am not a Japanese but figured this one out. If the other fishies gave this a chance and clicked "help" they would have seen lovely paintings -all Japanese themed. You keep clicking on the arrow so the pieces of the puzzle turn until your brain figures out what the actual painting looks like. This game will test your brain! When you finish one painting you get a hint (the lantern on the upper left corner). The hint shows you what the painting looks like but be quick -it happens in a flash! I only used three and had 26 hints remaining. That's how easy the game is. Play Shadomania you might enjoy it! I played the demo & finished all the 18 easy levels and moved on to finish 11 medium ones. that's 29 lovely paintings I saw. Each level has different themes -animals, festivals, sceneries -Japanese themed. You can turn music on or off. Try this one - it's been so unfairly reviewed. Deserves at least three stars.
May 21, 2012
The Apple logo is a trademark of Apple Computer, Inc.
The Windows logo is a trademark of Microsoft, Inc.