Nightmares from the Deep: The Cursed Heart Collector's Edition
Dive into an epic journey as a museum owner in pursuit of an undead pirate who has kidnapped your daughter in Nightmares from the Deep: The Cursed Heart! You quickly realize that the undead pirate is entangled in a tragic, centuries-old love story, and wants to resurrect his mistress with the youth's life force. You must act quickly to save the young girl's life before it is too late. Travel through haunting seas, ruined fortresses, and bone covered catacombs as you uncover secrets from the past!

This is a special Collector's Edition release full of exclusive extras you won't find in the standard version. As a bonus, Collector's Edition purchases count toward three stamps on your Monthly Game Club Punch Card!

The Collector's Edition includes:
Bonus gameplay
Integrated Strategy Guide
HD Wallpapers
Concept art
Stunning soundtrack
Game System Requirements:
OS:

Windows XP/Windows Vista/Windows 7

CPU:

1.4 GHz

RAM:

1024 MB

DirectX:

9.0

Hard Drive:

1372 MB
Game Manager System Requirements:
Browser:

Internet Explorer 7 or later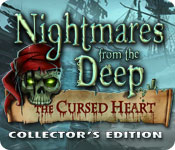 The Big Fish Guarantee:
Quality tested and virus free.
No ads, no adware, no spyware.

Reviews at a Glance

Nightmares from the Deep: The Cursed Heart Collector's Edition
0
out of
5 (
0
Reviews
Review
)
Customer Reviews
Nightmares from the Deep: The Cursed Heart Collector's Edition
224
224
If Only He'd Been Prettier...
What starts out as an exhibit of artifacts from the most ruthless pirate in the Caribbean turns into a ghostly adventure and rescue mission. The pirates haven't lost their sense of humor, and the atmosphere and details on the boat were both very nice. The island had its graphic high points, such as the crypt. Some of the areas seemed a bit "flat" in that they weren't very interactive, one example being the ball room. Nice big room. Only one area of interest. As you collected coins to the chest, a dwarf told the story of the pirate's romance. Then you got to hear both sides from both the pirate and his lover's ghost, a paranormal "he said, she said". All in all, it was a fun game.
July 8, 2012
Exceptional for a Pirate themed game!
This was a well developed game! The graphics are very rich and crisp looking and the music and voice overs sound professional. I like having the option of either searching an HO scene out versus playing mahjong to get the object rewarded to you. There were also unique puzzles to work out. The game itself wasn't too difficult to figure out along the way so that was nice. Some of the pirates were very realistic and kind of scary but all the more to get engrossed with the game.
May 17, 2012
Great game, but not much CE bling
This review is based on a complete playthrough of the game and bonus content. First, the CE Stuff (or "Why should I pay double for this game?"): The bonus chapter took a little over an hour, and was basically a short epilogue to the game - a lot of HOS and a few puzzles, no real story. The main game ended conclusively, this just added the obvious details and a whole lot of HOS to play. No morphing objects, no achievements, no collectibles. Some wallpapers, concept art, and you can replay the game videos and HOS (but not the puzzles). I'm rating this game in 2014, so I have to judge it by 2014 standards, and the bonus comes up weak. Now the main game: You start off with a 'choice of evils' before you even start: Do you want glints or a misclick penalty? A motion-sickness inducing misclick penalty I might add. Fortunately, you can play mahjong instead of the HOS, so that's what I went with. The mahjong layouts were surprisingly good, except that some were unwinnable without a reshuffle (shuffles automatically when out of moves). THE GOOD: The main game took me more than five hours to complete, even with more than a few hints along the way. The story starts up right away after a brief 'normal' introduction (the old 'fairy tale' pattern). Quite a bit of 'creep' as well, though that wore off as the game went on. Maps (which you find) show your location and where active tasks are. No transport. Your journal lists the main events and tasks, but is pretty hit or miss with a lot of the smaller things: some get recorded, some not. Graphics and video were great. They went with a 'cartoonish' CGI type thing rather than live actors, and it worked well - blended right in with the rest of the game. The sound never got grating, which is really all I ask of a soundtrack. Just background music and sounds to set the mood. Voice acting was spot on. There are a lot more HOS (or mahjong) than puzzles, and even fewer inventory items. So it's primarily a hidden object game, but with enough puzzles and 'adventure' to justify calling it a HOPA. THE BAD: The layout of the maps is VERY linear - basically a long "hallway" with a couple side steps here and there. You travel this route a LOT going back and forth between 'tasks' and scenes. A little more creativity to make a more 'branching' map would have done wonders for the game. Even in Expert mode the HOS have sparkles. THE UGLY: No bugs, the hint worked, everything ran the way it was supposed to. BOTTOM LINE: The main game is five stars. But I'm rating the CE, and I just can't give it that on the strength of the bonus chapter alone. If you get CE's for things like morphing objects and achievements and collectible bling, you'll be disappointed. The bonus chapter was good enough that I can still recommend it, but if you go for the SE you aren't missing out on any story elements (just imagine the obvious continuation/ending) so you can go right to the next game in the trilogy.
August 3, 2014
FANTASTIC FUN BY ARTIFEX MUNDI
Terrific game. Played in Expert Mode for both the game and the bonus. You have voiceovers and you can play Regular or Expert Mode. The graphics and audio are superb. Hidden objects are very easy to play - everything is crystal clear. If you don't want to play the HOGs then you can play Mahjong. I did a mixture of both cause there are a lot of HOGs to play. Played all mini games which were also very easy. I just wish the game had been more challenging. I didn't use help at all so not sure how long it took for the hint to reload. Had a look in the Strategy Guide at the end of the game and all seemed fine. Definitely recommended - especially for new and intermediate fishies.
November 4, 2013
Pretty, Polished, & Fun
Fun Factor Girl meets Pirate. Pirate kidnaps daughter. Girl rescues daughter and discovered pirate?s terrible curse. There is a lot to like in The Cursed Heart, including some excellently rendered cut scenes (the ship hitting the museum is spectacular) and a very slick opening chapter. Thereafter the game trends towards the familiar and predictable, and the quest to save the daughter never really gels. A perfectly fine game. I would recommend at please playing through the demo before purchase to avoid buyers remorse. Visual/Sound Quality There was some discord in the art style. The daughter is done in a 3D style. Several NPC?s are barely animated at all with extremely crude paper-doll style animations. Some of the cut scenes are classical animation, while some look like computer graphics animation. The lighting is very dynamic and excellent overall. Use of shadows, and swinging items make the sense of being on a ship at sea come home. The number of cut scenes is fairly high, including additional animations for simple activities. If there is a locked door you need to insert the key (animation). Then turn the key in the lock (another animation). Finally you need to open the door (third animation). I rather prefer this to instances where dropping a key on the door completes the whole process. Some commenters clearly feel this is unnecessary, but I find it more immersive. That being said there are quite a few cut scenes and dialogues. The VO acting is generally good, with the notable exception of the daughter (an inconvenience if you?re supposed to want to rescue her). If any effort was made to sync lip movements to the words it?s not apparent. This is a minor annoyance, but I would rather see a still portrait with a voice-over than watch a model mechanically open and close its mouth while dialogue runs. The sound quality was very good, both in terms of music and ambient effects. Level of Challenge With two difficulty modes the game either delivers the hints directly to you with sparkles and glints, and no miss penalty in HOS, or none of the above, leaving the experience a little random. The heavily stylized art style makes the HOS occasionally difficult, if only because some objects blend into the background too well. This is offset by an alternative Majong puzzle that lets you breeze right past the HOS. If you don?t take the majong route the HOS are reasonably challenging, including items that are only revealed after alteration or interaction. The puzzles themselves run the gamut from shockingly easy (a very rudimentary pick-up-sticks) to moderately easy (color alignment puzzles). Story obstacles are the most difficult, but for the most part the game follows a very linear course. A standard map and journal help keep track of objectives and clues, but there is very little mystery in what to do next at any point. Those seeking a challenge will be disappointed. Storyline The thing I liked most was that the story started in a museum before sweeping out to see on a haunted ship. That being said, the story is predictable, and it is clearly meant to follow a tried and true course. The primary motivation for moving through the story is to rescue the daughter. But the daughter is so graphically out of place that whenever she appears it tended to drag down the immersion-level. Add to that her general annoyingness and it was difficult to have any motivation to move forward other than an urge to mechanically go from obstacle to obstacle.
June 2, 2012
Beautiful and Well Made but Easy
Nightmares from the Deep is a very well made HOG. The art is colorful and nicely drawn. The voiceover work is good. The narrative is banal (save the girl from a ghost that wants to use her as a vessel to resurrect his dead lover) but the video cut scenes are nicely done and I enjoyed the element of finding doubloons to get little video snippets of the back-story. The hidden object scenes are nicely drawn but entirely too simple - no challenge at all. I do like that previously found items are no longer in the scene when you return to it though - that is a nice touch. The inventory puzzles are generally straightforward and logical, which I appreciate. The minigame-type puzzles are interesting but too easy. Overall, this is a very good game and well worth playing. It isn't quite up to the excellence of some other titles in the genre, but it is well above average.
April 22, 2013
WOW!
Thrilled by the game play! The graphs were great really a pleasurable game to play! Want more of these! Music was fabulous!
June 9, 2012
A CE worth the money
Didn't like the plot at first, the tired old "mother saving the daughter" stuff, but it got better and spookier. LOVE the creepy, ghoulish, sometimes even gross graphics! And THANK YOU developers for letting me turn off the voices but still have sound. This game is a very good length, as is the bonus scene. Downsides: way too much handholding and hints even on expert mode. HOGs and FROGs are not too challenging, but I had fun playing this game anyway.
May 20, 2012
Not the greatest game but not terrible either.
This game was ok, not the best I have played. The storyline was alright, didnt care for it as much as many others on here. The ending was good, different kind of ending than what most pirate games have. A pirate ghost kidnaps a musuem owner's(or director or whatever she is# daughter to drain her life and bring back his dead wife. Graphics were very good. Music was ok too. Music wasnt really annoying like other games I have played. The characters were good, however, I feel the daughter didnt behave as one would imagine a kidnapped girl to act. She didnt act very scared in my opinion. She was kind of girl some parents would be annoyed with #the daughter was an adult I believe#. She refused to help because the dead pirates on the ship were scary as well as other things. She wouldnt even help her mom get back home in the bonus play either. She just sat there for the most part. I also do wonder, how does her sunglasses manage to stay on her head throughout the whole game? The HOS were very easy. The puzzles were also very easy. There really wasnt any challenge to the HOS or the puzzles. You do get 2 maps in the main game #didnt pay attention in the bonus play), you cant use it to jump to other locations, so you spend most of the time going back and forth which was time consuming. So the map was actually useless. The bonus play was ok, but short. The storyline for the bonus play was not very good in my opinion.
March 26, 2013
Unexpectedly nice find!
I don't like sea and pirate related games, well I just don't! :P I prefer creepy stuff like MCF and something with an eerie atmosphere. I was pleasantly surprised by this one because it has very beautiful art and a romantic, haunting story. It's not by all means memorable nor is it my favourite but it's still quite enjoyable. I recommend it!
December 3, 2014
The Apple logo is a trademark of Apple Computer, Inc.