Puppetshow: Return to Joyville
Travel back in time to help stop a terrible fire that started Felicia down her destructive path in PuppetShow: Return to Joyville! This time traveling adventure takes you back to Joyville when Felicia was a small child. With the help of Felicia, try to stop the fire that incinerated her fathers theater. This fire horribly burned Felicia, and caused her to turn evil. By changing the past, Felicia hopes for a chance at redemption. Discover who the true villain is in this captivating adventure!
Incredible graphics
Travel in time!
For a more in depth experience, check out the Collector's Edition
Game System Requirements:
OS:

Windows XP/Windows Vista/Windows 7/8

CPU:

1.4 GHz

RAM:

1024 MB

DirectX:

9.0

Hard Drive:

395 MB
Game Manager System Requirements:
Browser:

Internet Explorer 7 or later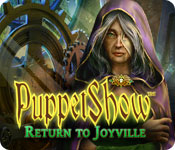 NEW299
The Big Fish Guarantee:
Quality tested and virus free.
No ads, no adware, no spyware.

Reviews at a Glance

Puppetshow: Return to Joyville
0
out of
5 (
0
Reviews
Review
)
Customer Reviews
Puppetshow: Return to Joyville
51
51
another great puppet show
All I can say is I love all the puppet show games. They are fun and enjoyable to play.
August 12, 2012
Grand Finale
What a way to end the series of Joyville! In keeping with the other Joyville stories/games true to fashion it was superb. Beautifully done characters, and scenes. HO's were moderate to difficult but I loved each one. I sure hope we can expect another series of games such as this one in the future.
May 18, 2012
Yet another excellent Puppetshow !
Help Felicia to recover her joy...changing her past ! Great storyline, very impressive VO, gorgeous graphics, good soundtrack and really immersive athmosphere. Three levels of difficult, and you can change it during the game. Good amount of interactive HOS. Different mini games, some of them are brand new and very entertaining. The game is not very challenging, but is really enjoyable, and provides great fun. After 20 minutes I bought it.
May 18, 2012
Every bit as good as expected
ERS know how to make an excellent game. This one does almost everything right. Beautiful artwork, terrific cut-scenes, great voice overs and really fun puzzles and object scenes. Three difficulty modes, plays beautifully on wide-screen with a responsive cursor and terrific story. I bought this within 5 minutes of trying it - I'd deliberately avoided trying the CE as I knew I wouldn't be able to wait. The only (very minor) issues I have are: the inventory layout ("tools" that pop out) can be annoying when you need to place multiple items from your inventory, and the sparkles on easy mode (while subtle) aren't as delicate as the ones in Song of the Phoenix. This is a genuine 5 star game that any hidden object or puzzle adventure fan should adore.
May 18, 2012
Puppetmastery - A Guy's Review
*review based on completing the full game in advanced mode* The 4th one in line in the PuppetShow series continues the story of the others (well, somewhat) and continues to improve in graphics and game play. Especially the latter one. Seeing that this is a sequel that builds on the previous games this one has a surprising turn of events (I do not want to go into details as it might spoil your experience). That is somewhat cool, but the plot is a bit far fetched and you do not really get any information of how or why this is happening, and if one has played the others one might find a big lack of motivation for the "detective" to help out certain someone. Oh well. The whole series so far has had a lack of character involvement all together and uses rather thin storytelling. Though, it has improved with each game, and this one being the best in that department. There is more voice-overs too this time around. And they are rather well executed. The whole game seems more alive than the others. Graphics is another thing that has improved over the course of this series, and everything is beautifully hand drawn. All through the game it is crisp and clear and neatly colorful. Animations too is an improvement. What really shines in this game is the improvement in game play. There is still tons of HO scenes (especially towards the end) that you have to visit twice. They are typical clutter scenes, but very charmingly made. It seems less dark this time around, and there are fewer smaller items that caused some problems in its predecessors. Less eye straining in other words. There is more interactivity in them as well. Sometimes very creative, but mostly of the milder variant. There is also much more puzzles around this time, and quite a bit more adventuring. They have really stepped up in this department. Puzzles are creative and also a fair share harder than in the previous games. All former PuppetShows felt rather easy and I will have to claim this one to be moderate. Big, big plus. This time you also get to choose from three different difficulty settings. They are: Casual: Quick recharge of skip/hint and all active zones sparkle. Advanced: Slower recharge and only sparkles on HO scenes. Hard: Very slow recharge, only sparkles on HO scenes and black-bar tips disabled. They have also put in a Journal this time which makes life a little easier while playing, but they still haven't added a map. Expect some back and forth traveling, but luckily less extreme than "Lost Town". All in all it is a rather good game. Very enjoyable. I gave it 5 stars, but it is more like 4.5. I gave the previous 2 games 4 stars and this is a solid improvement, so I had to do it. I will recommend this game to anyone who like HO/adventure games. Beginners and experienced players alike. It might not offer the toughest challenges for everyone, but it offers plenty of fun either way. I do recommend to play the games in succession though, to get a more complete experience. Just be warned that the previous games are rather easy and some of them quite short. Speaking of short. I feel this game could have been a tad bit longer too, though compared to the others it must be considered longer. I did however not like the ending, as it seemed rather short and abrupt. This might have been included in the CE, I don't know. But a conclusive ending should always be included in any SE version as well. For the guys: You are only referred to as detective, and I didn't feel any gender bias. Should suit anyone. TJ
November 3, 2012
Puppetshow: Never disappointed
I loved this game. I am a very experienced HOG player and have been playing them for years. This game did not disappoint. I played on the advanced option, so no help was given. It is the challenge I need to keep me interested. I love all the Puppetshow games, so this one was just as great for me. Graphics were great and the storyline was incredible. Very quirky!
May 19, 2012
A Game With A Storyline ...
I rarely give a game a five, but this one got it all the way. I usually describe my likes and "my didn't like so much." However, with this game, there is nothing that I didn't like. Fun Factor -- The game was easy to work through. Now this is not to say that it's not challenging, just that the developers seem to know what we like. Hidden object scenes a plenty, mini-games that are different, fun and not so challenging that you get frustrated. You also have interaction not only in the hidden object scenes, but throughout the game. Yes, you have to move between scenes, but you will figure that out without much difficulty. Visual/Sound -- Both are well done. I usually turn of the sound, but the sound in this game was not a distraction. The scenes are beautifully done. The hidden object scenes are also well done. Storyline -- I love it and the telling of it is well done. Dialogue -- Yes, there is some, but you can skip it. Overall, there are 8 chapters, each with some length. This is a most purchase for me. Sorry, I can't comment on the difference between the CE and this the standard.
May 18, 2012
Another winner
This game is just gorgeous - beautifully done. It's a continuation of the Joyville series. The graphics and colors are superb; it truly is a joy to look at. The storyline is a plea from Felicia, the puppet master's daughter, to return to the past and prevent the fire that destroyed her life. There are 3 modes, casual was the one I chose. I usually skip the tutorial because they are mostly the same but I do like the sparkles, magnifying glass & hand. The first HO scene is a little different than usual and fun to figure out. The things you pick up or receive from HO scenes and puzzles are used right away so you don't have the chance to forget where you needed them. The puzzles so far have been easy but fun. The music is excellent and pulls you into the game. The voice-overs are well done and appropriate. I bought the first one of the series and enjoyed it but didn't get any of the others because sequels are generally never as good as the first. Now after playing the demo on this one I am going to check out the other ones. I may have missed something good. This is well worth a buy.
May 18, 2012
About Face For Felicia
GAME COMPLETED SEVERAL TIMES In a delightful TWIST IN THE TALE, the latest episode in the PuppetShow series sees that evil soul-sucking woman from the last 3 games, Felicia, turning back time to prevent the accident that changed her life, and thereby altering the future for you and all her victims. Of course, to do so, she needs your help. SHOULD WE TRUST HER? Only one way to find out. So begins the STORY in this game. It is presented in SPECTACULAR HAND DRAWN GRAPHICS with the signature texture and colour of ERS Game Studios. If you are new to the series and/or developer, you are in for a visual treat. Can?t get quite so glowing about the MUSIC because it is, as always, REPETITIOUS. However, when the music halts for a while you get a DELIIGHTFULLY EERIE SOUND that could have come from the depths of space or time itself. VERY COOL. The GENERAL GAMEPLAY takes us, for the most part, simply from one HO scene or puzzle to the next. There is not a lot of ADVENTURE. There is NO MAP, which might have saved quite a lot of running back and forth within the theatre, where little alcoves are around every corner. The HINT IS USELESS outside HOS. The ubiquitous ?There?s nothing you can do here.? The HO SCENES are SLIGHTLY INTERACTIVE LISTS, with ONE exception. (see next para.) We visit each scene twice. We?ll have to find a name for these silhouette first-one-leads-to-another HOS. I?m gonna call them PROGRESSIVE SILHOUETTE HOS. So, we have precisely one of those here, the first HO in the game, so I?m guessing this was the first test of what has now become a very popular HO style. Fewer than the HOS, the PUZZLES are also INTERESTING. More ORIGINAL than I expect from ERS, which means they were, for me, also MORE DIFFICULT than their usual fare. This is no doubt good news to our EXPERT fishies. Not so much for me. I had to skip quite a few. This series is made to a SPECIFIC FORMULA, for which you either love them or hate them. For me, I love them, and most of all this one. The story was a genuine surprise for me, which is nice, and I like COMFY OLD SLIPPERS.
May 8, 2013
Puppet Show:Return to Joyville
any one who has played the other Puppet Show games will not be disapointed with this one. I played the SE and it was of good length and challenge. I enjoy the puzzles in the game as much as the game itself. Graphics were crisp and the backround music was not annoying as in so many others. This series is qualitly start to finish, all are worth the money. Lots entertainment from a very good developer. Thanks Big Fish!
June 5, 2012
The Apple logo is a trademark of Apple Computer, Inc.