Puppetshow: Return to Joyville
Travel back in time to help stop a terrible fire that started Felicia down her destructive path in Puppetshow: Return to Joyville! This time traveling adventure takes you back to Joyville when Felicia was a small child. With the help of Felicia, try to stop the fire that incinerated her fathers theater. This fire horribly burned Felicia, and caused her to turn evil. By changing the past, Felicia hopes for a chance at redemption. Discover who the true villain is in this captivating adventure!
Incredible graphics
Travel in time!
For a more in depth experience, check out the Collector's Edition
Game System Requirements:
OS:

Windows XP/Windows Vista/Windows 7/8

CPU:

1.4 GHz

RAM:

1024 MB

DirectX:

9.0

Hard Drive:

395 MB
Game Manager System Requirements:
Browser:

Internet Explorer 7 or later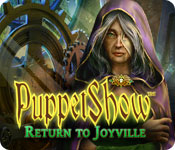 NEW299
The Big Fish Guarantee:
Quality tested and virus free.
No ads, no adware, no spyware.

Reviews at a Glance

Puppetshow: Return to Joyville
0
out of
5 (
0
Reviews
Review
)
Customer Reviews
Puppetshow: Return to Joyville
45
45
enjoyable fun game
For those that love quite a lot of hidden object scenes (especially near the end) and also quite a lot of puzzles, I think you will enjoy this game. I really enjoyed this game, it wasn?t anything earth shattering new but it was well done. Sometimes you don?t want a challenging game, just an enjoyable one. I felt the pace of the game was good throughout, and there was a good selection of new areas to explore. The plot is going back in time to change history, it may be pushing it but I thought it was OK. I don?t think you could ever get lost as to where to go next as it?s very obvious so those that don?t like wandering around games should find that aspect good. The backtracking was minimum which I really appreciated. I also loved that on the most advanced mode, the no black bar tips worked and on the puzzles you had to bring up hints if you wanted them, so no hand holding. I did find some cutscenes not that sharp in graphics and overall a mixture of grainy graphics in some areas and quite sharp in others. HIDDEN OBJECT SCENES ? Pros - The hidden object scenes weren?t crystal clear and some scenes were grainy, but items were defined enough, and I don?t remember any tiny objects to find. There were no grey, dark backgrounds and they all had some nice colour to them. I enjoyed some of the interactions of them as well. I don?t think I had to repeat a scene more than twice, although it would have been lovely to not repeat them at all. ERS why don?t you become the first developer to have a skip button on hidden object scenes as well as puzzles ? I think that would be a great hit! Cons ? Some were junkpiles on steroids. They were quite close together especially near the end when it seemed I was playing H O scenes back to back. I played on the hardest mode (3rd one) and there were still sparkles for the hidden object scenes, and they had a random click penalty both of which I hate. PUZZLES ERS have really stepped up their puzzles in both the style and hardness of some of them. There were also loads of little interactions or mini-minigames throughout the gameplay which I love, to open doors for example instead of finding keys. Even the puzzles we know like the sliding one, had a twist on it. I loved the Hedgehog and mushroom puzzle as well as the cupid one. And I mostly forgave the back to back hidden object scenes at the end as there was a lot of puzzles. The inventory fan was plain annoying as it took sometimes 3 clicks to get an item, as it was hidden, you couldn?t lock it and only 5 items showed. The sort of reversed silhouette hidden object scene in the demo, that was the only one in the whole game. I really enjoyed the very last interaction you had to do in a game. It is on the shorter side for time for a SE ? it took me 4hrs 45mins on the hardest setting (no skipping)
May 18, 2012
No strings attached
Thoroughly enjoyed the newest installment in the Puppetshow saga. Nice visuals, fun storyline and pleasantly challenging mini-games. The only downside was that I finished it much quicker than I expected. I am glad I waited for the non-CE because spending the extra money on a game I completed that soon would have been disappointing. If you are a Puppetshow fanatic, you can't go wrong with this one at all.
May 19, 2012
Yet another excellent Puppetshow !
Help Felicia to recover her joy...changing her past ! Great storyline, very impressive VO, gorgeous graphics, good soundtrack and really immersive athmosphere. Three levels of difficult, and you can change it during the game. Good amount of interactive HOS. Different mini games, some of them are brand new and very entertaining. The game is not very challenging, but is really enjoyable, and provides great fun. After 20 minutes I bought it.
May 18, 2012
Better and better
Return to Joyville, part four and some are saying the final of the Puppet Show series incorporates the best elements of all its predecessors. Cutscenes are full motion with voice-overs, and the difficulty levels have been stepped up again with three varieties - hints and sparkles; slower hints and no sparkles; and yet slower hints, no sparkles and none of the tips that your detective likes to mutter to himself. They are changeable at any point in the gameplay. In addition, for the first time, you now have hints outside of HO scenes. Sound and music are much the same as ever, setting the scene but not distracting from the gameplay. The imagery is one step down again in the macabre, but still delightfully creepy. Expect more of the exquisite scenery we're used to from this series. HO scenes have evolved slightly, with more interactable items per list, and - hurrah - far fewer multiples of objects. Keep your brightness turned up a little notch, but for the most part they're nice and clear if you have a decent screen resolution. Plenty of the great little mini-puzzles we've come to love in ERS games, some of which are hard enough to keep you thinking for a good few minutes without ever leaving you feel hopelessly stuck. Plotwise we get nice and in-depth, first trying to help Felicia stop the fire and then discovering that there's someone working against us behind the scenes. If this is the last one, however, I'm sad that we didn't get to go into the whole lore of how the puppets seem so lifelike, and I didn't see one soul-crystal the whole game. So while this is a time-traveller, there's not a lot of back-story. Rather a whole new level to what we already knew. Overall a terrific little game. Very fun and a good length, almost two hours playing in middle difficulty as I was in this for the story not the challenge. I really do hope, and not just because of the desire for more backstory, that this isn't the last we'll see of the Master and his amazing puppets.
May 21, 2012
Grand Finale
What a way to end the series of Joyville! In keeping with the other Joyville stories/games true to fashion it was superb. Beautifully done characters, and scenes. HO's were moderate to difficult but I loved each one. I sure hope we can expect another series of games such as this one in the future.
May 18, 2012
Every bit as good as expected
ERS know how to make an excellent game. This one does almost everything right. Beautiful artwork, terrific cut-scenes, great voice overs and really fun puzzles and object scenes. Three difficulty modes, plays beautifully on wide-screen with a responsive cursor and terrific story. I bought this within 5 minutes of trying it - I'd deliberately avoided trying the CE as I knew I wouldn't be able to wait. The only (very minor) issues I have are: the inventory layout ("tools" that pop out) can be annoying when you need to place multiple items from your inventory, and the sparkles on easy mode (while subtle) aren't as delicate as the ones in Song of the Phoenix. This is a genuine 5 star game that any hidden object or puzzle adventure fan should adore.
May 18, 2012
Just Wanted It To End
Things I didn't like: Too monochromatic, with many locations looking similar. This makes it hard to distinguish between rooms and remember where to go for what. Storyline is not well-developed. Instructions for puzzles were unclear and largely unhelpful. A Hint feature within the puzzles would be a big help. Skip button for puzzles takes too long to load, even on the easiest level. The pattern of find an item, use an item, play a Hiden Object Scene, then play a puzzle, was repeated too often. It becomes like clockwork. Too many Hidden Object Scenes for my taste. The interactive feature in Hidden Object Scenes was tricky. If you didn't place an item exactly in the right spot, nothing would happen. And since there's no indication where objects should be placed, you don't even know if you're in the right area. You just have to keep guessing and trying different spots, until you use a Hint out of desperation. The music during Hidden Object Scenes was repetitive. No map to help with navigation, and the Hint button will only tell you there's nothing to do there, not direct you to where you should go next. Nothing special or amazing about any of it. By the end, I just wanted it to be over.
May 25, 2012
Puppetshow: Never disappointed
I loved this game. I am a very experienced HOG player and have been playing them for years. This game did not disappoint. I played on the advanced option, so no help was given. It is the challenge I need to keep me interested. I love all the Puppetshow games, so this one was just as great for me. Graphics were great and the storyline was incredible. Very quirky!
May 19, 2012
A Game With A Storyline ...
I rarely give a game a five, but this one got it all the way. I usually describe my likes and "my didn't like so much." However, with this game, there is nothing that I didn't like. Fun Factor -- The game was easy to work through. Now this is not to say that it's not challenging, just that the developers seem to know what we like. Hidden object scenes a plenty, mini-games that are different, fun and not so challenging that you get frustrated. You also have interaction not only in the hidden object scenes, but throughout the game. Yes, you have to move between scenes, but you will figure that out without much difficulty. Visual/Sound -- Both are well done. I usually turn of the sound, but the sound in this game was not a distraction. The scenes are beautifully done. The hidden object scenes are also well done. Storyline -- I love it and the telling of it is well done. Dialogue -- Yes, there is some, but you can skip it. Overall, there are 8 chapters, each with some length. This is a most purchase for me. Sorry, I can't comment on the difference between the CE and this the standard.
May 18, 2012
Good Sequel
Not disappointed in this sequel. Waited for the SE to come out and didn't miss any bonus chapter. -HO's are too frequent for me, but they are interactive -Music is good -Graphics are great -Hint system is a little slow -Didn't need a SG -Tool bar is a little annoying Worth the SE price
May 21, 2012
The Apple logo is a trademark of Apple Computer, Inc.