Top Secret Finders
Welcome to Top Secret Finders, the government created special division to investigate archives of extraordinary highly classified cases. Your first mission is to save a small town from a dangerous device. Use your Hidden Object skills to uncover the truth about a government conspiracy and stop the villain in his tracks!
Exciting live action characters
Uncover the truth behind the device
Become a Top Secret Finder!
Game System Requirements:
OS:

Windows XP/Windows Vista/Windows 7/8

CPU:

1.0 GHz

RAM:

512 MB

DirectX:

9.0

Hard Drive:

351 MB
Game Manager System Requirements:
Browser:

Internet Explorer 7 or later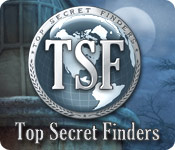 NEW299
The Big Fish Guarantee:
Quality tested and virus free.
No ads, no adware, no spyware.

Reviews at a Glance

Top Secret Finders
0
out of
5 (
0
Reviews
Review
)
Customer Reviews
Hmmm....
Not a bad game. Yes, ghosts again, but I don't mind that. The "scream" did surprise me a bit. Liked the hint system, actually showing you where to go next, and the jump (go) button...very nice change. Graphics not bad, music nice, game play nice, voice overs not bad either. Didn't like the delay with the black screen when you moved into a HOG or a new area. HOGs nice, games not difficult but some take a bit of thought. Took me only 45 minutes to get to the beginning of chapter 3, so I don't think this is a very long game, since there are only 5 chapters in all. I did enjoy the game and will probably end up purchasing, but will put in the puddle for now. Have to think about this one. Thanks for the reviews.
May 24, 2012
Esthetically Dreary
This game is a good game to play but not to look at. Everything is monochromatic - gray. It does express the nature of the storyline. A machine has misperformed and made a town of people disappear. Now it is up to you to find out why and reverse the error. Two modes, casual and advanced, hint, skip, HO scenes that are interactive and puzzles. You don't lose the hint and skip in advanced, they just recharge slower. HO scenes outweigh puzzles. The music is appropriate, voice-overs are well done. Like I said, a good game; for me it's too gray and dreary. I'm drawn to the prettier games. I played the demo and had a good time wandering around. It wasn't exactly easy finding all the things to do but I got there. Do give it a try.
May 19, 2012
Pretty easy and self-explanatory
The game could almost play itself. The hints were not only extremely helpful but had this thing I have only rarely seen in games. Click on the hint and a mini-pic shows up that says "you should go there" and a "go" button to click on to get you there. The game itself is not my cup of tea (government conspiracies, etc.) but for someone just beginning this is a very easy cup of tea that you might want to try. A big however falls behind (always a "but" isn't there"), the ever present and annoying police siren would drive a saint to distraction. Just saying.
April 24, 2013
Dull and Dreary Scenes and Storyline
The best way to describe this game is 'average'. It covered all the basics, but nothing new or exciting or original. Catered for widescreen, and the scenes were nicely drawn but somewhat dull and dreary. They lacked definition and colour. Hidden object games were run of the mill, as were the puzzle games, although some of the puzzle games gave you a chance to think for once.. Annoying sparkles at hidden object scenes A journal and a map were included, with the journal being needed as a reference a couple of times. Hint button worked well. The storyline was also somewhat dull and dreary. Held no interest for me at all. A pleasant enough game to play, but nothing to write home about.
July 16, 2012
Too much talking
HO scenes were ok - a little bit junkpile-y, pretty dark. Cut scenes were too long, too wordy, the vocal acting left something to be desired. I would rather discover the story than have it read out loud to me. Puzzles were varied and challenging, nice bit of interest there. Overall, I am sure some people will love this game, but I unistalled it after completing the demo. Maybe a $2.99 buy, but as it is right now, no thanks.
May 20, 2012
Average...
I like this game but I also dislike this game hence the average rating. Its another drab, dreary game and the hidden object scenes reflect that. Every one of them is grayish, dreary and drab in some form and the items are sometimes hidden in dark crevices or are so small you don't realize they are there. However, they are HIGHLY interactive, a huge plus for me and very time consuming. There are puzzles within some which makes them more enjoyable but the problem is there are too many of them!! and it makes the game tedious and longgggg. So longggg in fact that it took me a long time to play it due to the tedious hidden object scenes. Because it took me so long to play this game because it felt more like a chore than a game, I lost track of the plot somewhere and I think too that the plot wandered off because it just went on and on and on and on. There are 6 diamond portals? to open and it takes a long time to find each one. The hint button is the best part as it shows you what scene you need to be in and you can jump there. It also has a map showing where these diamond portals are but know that you'll hit 10 hidden object scenes just getting to them making your task even more tedious. I personally became so sick of the hidden object scenes I had to take a break from this game for awhile. The mini games were ok and easy to solve but the hidden objects were just too much. I was on the hardest level and there are sparkles and every time Id see them, Id cringe knowing Id hit another hidden object scene. You also get to play each scene multiple times. I think I played one up to three times. Also, and my BIGGEST pet peeve about this game were the sound effects!! In some hidden object scenes there were flies and the buzz would linger the whole time and since the hidden object scenes took awhile, the whole time it was BUZZZZZZ. Highly obnoxious. And in other scenes, like the electricity falls in one scene and it stays there all game. Every time you go through that area, its this huge annoyance. I hate games that have annoying side effects in their drab games. I get it, its in a trash dumpster but the fly sound effects gotta go. Same with crow sounds, electricity buzzing and other noises that just don't belong in hidden object scenes. I could take this game or leave it. I would have liked it better if it was shorter, less hidden object scenes and less drab and gray scenes. It did have an ending that satisfied the story but it took me a longggg time to get there.
January 16, 2013
Not great
Too dark, puzzles all seem to be the same type, (the kind I really don't enjoy). Story seemed all over the place. Not what I expected when I read some of the reviews.
May 20, 2012
BACKTRACKING AAAHH!!!!!!!!!!!!!!!!!!
I LIKE THIS GAME. COLORFUL, HIDDEN ITEMS ARE NOT THAT HARD TO FIND. STORY LINE IS FAIR. I JUST DON'T LIKE BACKTRACKING. ALMOST ALL HIDDEN GAMES ARE. IT DRIVES ME CRAZY. I PERFER HO AREAS THAT SAY, THIS AREA IS CLEAR. OH WELL I'LL WILL CONTINUE TO PLAY.
May 19, 2012
NAaaaah not worth it
Just too glitchy and hard, I could not get into it, and I am tossing it.
July 19, 2012
A not so slick X-Files wannabe
When I read what the game was about, it sounded kind of interesting. I played the entire hour trial, and I think that after an hour the story needed to be more pulled together. It is kind of a mesh of a low budget X-Files meets Young and the Restless. Graphics are well done, the dreariness of the situation comes through, but that is part of the storyline, the confusion of being dropped in the past, and getting your bearings as you get glimpses of (most likely) a rip in the space/time continum where clips of the past come through like a movie that you can see but cannot interact with. I must say one thing that did irritate me is that I would be in one scene, get an object that I need for the next scene, then go right back to the scene I just left for another object. Tedious. I guess I'll get this one, because I am a bit curious how it turns out, but I am just not in love with this one and chomping at the bit to buy it as I have been with past games. I own over 100 games most of which are hidden object. I have lighter games, such as the Dream Day series, the Love Story games, that are wonderful and tender. I also have very dark games such as Redemption Cemetery series, and one of my faves MCF: Return to Ravenhearst. This game is nowhere near that, but it will be a somewhat challenging distraction for an afternoon.
June 18, 2012
The Apple logo is a trademark of Apple Computer, Inc.