Top Secret Finders
Welcome to Top Secret Finders, the government created special division to investigate archives of extraordinary highly classified cases. Your first mission is to save a small town from a dangerous device. Use your Hidden Object skills to uncover the truth about a government conspiracy and stop the villain in his tracks!
Exciting live action characters
Uncover the truth behind the device
Become a Top Secret Finder!
Game System Requirements:
OS:

Windows XP/Windows Vista/Windows 7/8

CPU:

1.0 GHz

RAM:

512 MB

DirectX:

9.0

Hard Drive:

351 MB
Game Manager System Requirements:
Browser:

Internet Explorer 7 or later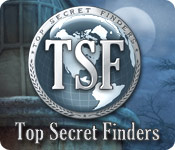 NEW299
The Big Fish Guarantee:
Quality tested and virus free.
No ads, no adware, no spyware.

Reviews at a Glance

Top Secret Finders
0
out of
5 (
0
Reviews
Review
)
Customer Reviews
Good Sci-fi
I was not overwhelmed by this game. I did enjoy all of its parts, ghosts, mystery, and intrigue. Ho's were very well done some tiny items to find, glasses wearers take note, storyline was well developed. Real characters, lots of talking. Not so much searching for "items" to do tasks. Difficult to remember where this item went to do this task, though. Music was ok, a bit jarring at times, someone please start that car! Puzzles were different, and difficult. Beautiful scenes, and interesting concept, great idea from the developers. Another keeper BF.
June 2, 2012
Rather dreary with no excitement
Well another game in which I am on the fence; the graphics are rather dreary & some areas are very dark & only by playing on Casual mode could I find some important items as there was a little glint to mark them out. In addition on casual the hint has a 30 second recharge whereas on advanced it is 60 seconds, both modes have a mass of sparkles for the hidden object scenes. The H0 scenes are well drawn, there are both objects ?hidden? within the scene & interactive objects although some at first sight are rather crowded with items. There were not many puzzles during the demo & they were the usual types, tiles, turn lights on in sequence, reassemble papers, etc & there is a skip button if needed. You will find a map a little way into the game but it isn?t a lot of use apart from giving a general layout of the town, it is not interactive nor shows where an open task may be. However if you get stuck the hint is very good as it will show a small picture of the scene you need to visit & has a ?go? button which will take you right there. This is a good thing as otherwise you will do a lot of walking back & forth trying to work out where to go next. There are voiceovers & these vary between excellent & really bad; the cut scenes have live actors whose mouth movements do not always synch with the speech. I am sad that so many games are using real people as I prefer to see good artwork. The music is good but the background sounds do repeat rather too often, I keep hearing the same set of footfalls & a police siren regularly. I rather lost the plot on the story as there was a lot of dialogue which could not be clicked through & I sort of stopped listening halfway through as in some cut scenes which seemed to go on forever. Having just read back through what I have written I think I have talked myself out of buying this game, nothing excited my interest. My review is on the hour long demo as I will not be purchasing.
May 19, 2012
Another Dark and Dreary Game
Same old, same old--a dark, dreary town in which everyone is missing, grey and shadowed graphics that render half of the game impossible to see--yet another game that provokes eyestrain on a sunny day in a lit-up living room!--and junkpile HOGs. It's a shame, too, because the storyline is fantastic--time travel, a government cover-up and science gone horribly wrong. The problem is that the graphics are so dark that I literally cannot see many of the hidden objects or many of the puzzles. The jigsaw puzzles are grey, and you put them together against a brownish-black background. The cards are grey. It's frustrating. There's no joy in struggling to see a puzzle. Is there some reason that game designers find using a full color palette impossible? I really would like to see the game that I'm playing! The rest of the game is so-so. The voiceovers are pretty good, but they don't match the subtitles very well (generally the subtitles are three speeches ahead of the voiceovers). And the hint/skip meter is a bit slow to fill. Also, this is yet another game where you must be mechanically minded in order to solve key puzzles. *yawn* I would advise against buying this game; there are five billion other games on the market with similar content, better sound and better graphics. You don't need this.
May 19, 2012
More Frustrating than Fun
This review is based on playing the entire game. On the plus side: The graphics are clear so there was no eye strain The hint button works well both in and out of the HOScenes On the negative side: The soundtrack is horrible. It starts out with a piercing high-pitched scratchy squeak that is repeated frequently. I had to stop playing at one point because it gave me such a bad headache after only a couple of minutes. Then there are sections where the same 4-5 notes played over and over again. When I had the sound up I found myself trying to hurry through scene because of the soundtrack so with the headache sparking squeals and the repetitive sections I had the sound off for 99% of the game. There are many puzzles that I simply didn?t understand what they wanted done. I checked the walk-thru a couple of times, but soon grew weary of that, figuring that the game should give me clear instructions, and just skipped them. The story doesn?t lead you from task to task so I had to rely on the hint button for much of the game just to know where to go next. The hint button will take you directly to the next area of activity, but the map doesn?t and there was a lot of back and forth required. All in all I can?t recommend this game. I hope that everyone else who bought it enjoys it from start to finish. Keep your dorsal fin up Tauret
June 9, 2012
Not Even Close to Exciting
I did not completely finish the trial because the story just didn't grab me. The game is dark and gloomy, as stated previously. It was slow to get started and really dragged on. No big surprises or wow factors. I felt the transition from one scene to the next took quite a while and the screen stayed dark a long time (may be my video card, but I don't usually have this problem). Maybe (probably) it's me, but I'm getting sort of tired of this style of game. I want some color, and I would love something that will make me stay tuned in longer than 30 minutes. Nothing exciting here and I will pass on this one.
May 20, 2012
The new standard?
I am becoming leery of all new HOG games. Top Secret Finders is a good example why I feel this way. For the first third of the game, I was enjoying all the superior attributes, only to become bogged down in too many ways, dealing with a plethora of locations, and no idea where to go next. I was hitting the hint button constantly, which some seem to think is a positive for a game. I feel this is simply a sign of a poorly structured game with a navigation issue. This does not become apparent when playing the demo, so the downside comes after you are further into the game. I got so frustrated with this one, that I finally deleted it about half way through. My challenge is to find a way of getting these tedious games (for me) off my list.
June 19, 2012
TOP SECRET FINDERS: A GRAY GAME
Could not finish this game to the end. The entire game had gray graphics. Difficult to see and hard on the eyes. Hint button acted as a guide but refilled slowly HOs items were small and hard to find because of grayish tint in every scene Looked like live actors with VOs but they appeared sporadically as ghosts. The only white in the game. Storyline - Save a small town from a dangerous device. Had just about surmised what the device was meant to be used for but someone would use it in a different way for evil. purposes. Cannot recommend this game unless you enjoy playing in a gray world.
October 12, 2012
Was just ok
Nothing special about this game. Not a huge challenge. I was really annoyed that when I finished the game, I was stuck for what felt like forever reading the useless wrap up of the storyline. It was a failure in common courtesy for those of us who do not follow the storyline at all in these games. I play them for the challenge so the storyline means nothing to me. A tip for the developers, offer skipping through ALL of the storyline, not just the stuff in the game, but before you start AND after it finishes.
July 4, 2012
DARK AND DINGY
Another game like Theatre of the absurd that has dark sepia toned HOS - one reason I won't be buying either.
June 2, 2012
Boring
I played for 20 minutes and could not get into this game. It seemed disjointed and dreary. I did not watch the X-files so do not know if that is why I don't like. I will not waste anymore time nor money. No thanks
May 19, 2012
The Apple logo is a trademark of Apple Computer, Inc.