Whispered Stories: Sandman
Help the young orphan James locate his missing girlfriend, Mary, in Whispered Stories: Sandman. While searching for her, he falls under the spell of the sinister Sandman. To save his girlfriend he must find a cure against the evil spell of the Sandman. But where can he find it? Join James on his journey and help him to withstand the Sandman and save Mary in this mysterious Hidden Object Puzzle Adventure.
Non-linear gameplay
19th century London setting
Defeat the Sandman!
Game System Requirements:
OS:

Windows XP/Windows Vista/Windows 7/8

CPU:

2.0 GHz

RAM:

1024 MB

DirectX:

9.0

Hard Drive:

370 MB
Game Manager System Requirements:
Browser:

Internet Explorer 7 or later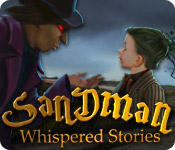 NEW299
The Big Fish Guarantee:
Quality tested and virus free.
No ads, no adware, no spyware.

Reviews at a Glance

Whispered Stories: Sandman
0
out of
5 (
0
Reviews
Review
)
Customer Reviews
Whispered Stories: Sandman
49
49
This "Sandman" will keep you awake tonight!
What is there not to love about this simply wonderful story of the Sandman and our little hero James, who tries to defeat him and save his friend Mary. Caught in a spirit world, James has alot to do to in order to find Mary and escape the nefarious Sandman. I loved the artwork, beatifully drawn and graphics are relatively crisp. Althought the cutscenes are a bit blurry, they involve real actors along with Voice overs. There are three modes of game play: Sleepy Head, Dreamer and (my personal favorite) Insomniac. Trust me, there will be no hand holding and absolutley no sparkles. The HOS are crowded but I loved the artwork and there is interaction involved (some a bit tricky). This game not only offers a good story, but also challenging puzzles and mini-games. There is alot of fun to be had as you collect items, use them and work your way towards freedom. A journal will help you as well as a hint system (unless you are playing the insomaniac level). Finally a chance to work those little gray cells. It took me 10 minutes to decide to buy this gem and because I too am a insomaniac, I will save this game for tonight and try to beat the Sandman and help James and Mary find their way back home.
May 21, 2012
Yet Another Amazing Hidden Object Game!
This game is simply amazing. I loved everthing about it. Here are my thoughts on the game: Good Parts: Objects were pretty easy to find Very quickly re-charging hint- it was almost as if I never used it Gripping storyline The interactive parts of the hidden object scenes The ghost thing was like a second world OK Parts: If anything, it finished a little quickly Bad Parts: The puzzles were frustuarating The part where you had to find the sorcerers cats. They were pesky and just DID NOT want to be found!! This game was very good, I simply must buy it and find out what happens next!
May 21, 2012
It was okay
Judging by the 2 reviews of this game, I expected a much better game. It was slow to get going at first, as there was not a lot of *direction* as to what to do next, but once I got the hang of it, it wasn't too bad. There are 3 levels of play, and I played on the easiest level, which still had a decent amount of challenge. One thing I found to be annoying was that when you were picking up pieces of an item, it didn't tell you how many pieces were needed, so you would start to put something together only to find that it wouldn't work because you didn't have all the pieces. Also, and this is a personal preference, when I play HOG I like my HOS to remain accurate to the time period in which the game is set - this game does not do that. One scene has you looking for a pin - which to me would be a pin used either in dressmaking, or a pin for a pin board, but no, it was a bowling pin! The graphics were reasonable, but I've seen much better. The music and sound effects were okay, and you have the option of muting all. You also have the option of a system cursor, which does take a little away from the game, but was necessary on my computer, as some games can cause my mouse to be sluggish. I played the demo right to the end, but this isn't an immediate purchase for me - possibly for a Daily Deal sometime.
May 21, 2012
Another good one!
First of all, I'm excited to see more non-CE great games! That said: the artwork is reminiscent of Rockwell paintings which means gorgeous and lifelike, a pleasure to look at. The tasks are definitely not the easiest, the cat-finding is a bit annoying. The hints charge fairly quickly and as there is no guide, you may need them to at least guide you in the right direction. The storyline was also good, making this an all-around good deal. I don't know how long/short this game is, but I'm about to find out.
May 21, 2012
Cumbersome
Maybe it's just me but this game just did not 'flow'. The interactive indicators #boot for moving to another area and spyglass for zoom-in# seemed cumbersome and imprecise. The game did not follow a discernable line of logic to me and I spent a lot of time figuring out where to go next. Many times, after I found out, I thought, "now how was I supposed to know that?" So I began to use the hint button more and more which kind of ruins the experience. Guessing at random doesn't reward skill and for me, it's not really fun either. Lastly, all that was so distracting that I couldn't tell you what the story was about...Mini-games seemed either very easy or had inadequate instructions. Sorry..I just didn't get it..so I guess just try it out and see...viva la demo!
May 21, 2012
Just not much there....
This game has 3 modes. This review is based on "dreamy" - casual game play with sparkles and glints for areas of interest. The dislikes: --graphics dark, grainy, and sub-par --background music bland and eventually annoying so it was turned down --no map and no "area complete" indicator. Lack of these resulted in some back and forth. --Some puzzles remained accessible after solving which was confusing. Was there something more to do later? NO. They continued to be viewable, ie. the crystal game toward the end of game play ---Game play time very short. I am a slow player and this took 3 hours, which means most would finish it in less time. --Overall look and feel were not unique. There were farmyard scenes, train trestles, cobblestone streets, a dock, etc. --The storyline itself not unique or compelling: A boy is looking for his friend kidnapped by the sandman. Each time the boy gets close the evil sandman spirits the girl away, which started another game segment. Unfortunately the sandman didn't have many places to hide, which would explain why the game was so short. Now, the stuff I liked: --There is a journal that was of limited use, providing some hints, but nothing to reference for puzzles. ---The mini-puzzles were clever and cute, varying in level of difficulty. These I enjoyed! ---The HOS were interactive and well done, semi-junk pile but not cluttered. I don't recall being asked to locate a single hour glass, although buttons, scissors, and canes were pretty common. ---I understand the complaints of annoyance around finding the Sorcerer's cats, but this segment I found to be especially clever and fun. There is another pretty cute segment that involves caring for an injured raccoon. Minor pet peeves: --The cursor turns into a giant, klunky boot to indicate when the player can travel to a new scene. --Keeping up with the "puppet" theme there were curtains on each side of the screen throughout the game which cut down on real-estate. That boot loved to pop up easily 3/4" from the bottom of the screen. --The last game segment we find James interrupted in his heroic savior mission running for MUTE to blot out the continuous loop of screaming, yelling, and pounding on the walls from the girl while he is trying to work out the last puzzle. Fortunately the resulting silence from that short detour allowed James to solve the puzzle and save the girl! In my humble opinion this would be well worth $2.99 as a special of the day, but not much more. Thanks to all the folks who put in the time and effort - especially on those clever mini-games. No this one definitely wasn't for me, but based on other reviews an awful lotta folks did like it.
August 12, 2012
Less hidden object, than I expected...
After looking at the screenshots, I expected loads of Hidden Object scenes, but I was wrong, this is a wonderful Adventure game with many challenging minigames!
May 31, 2012
If only...
Decent game - good combo of many likeable features, good story + graphics + clear HO scenes. Don't know about voice-overs. No map, hints point/flash to the next step + recharge quickly. The low rating is for all the sand thrown in my eyes for no rhyme or reason! A can opener to cut a rainwater pipe....huh?? A pipe dream, indeed! Try that in reality and you'll need a visit to the ER. Being vague when accuracy is reqd. - how many pieces of wood need to be found? Using the hint button too often to just make sense of the next step takes the fun + challenge out and makes me lose interest. Not nitpicking - it's a game, yeah, I get artistic freedom. But, by doing this, the Devs ended up actually reducing what could have been an excellent and refreshingly different game to a below-the-par one. I truly wanted to like it and buy it but am quite discouraged with what I've played (6 mins left on trial). As always - do try it for yourself to decide & hope this helps.
May 21, 2012
whispered stories: sandman
This game is excellent - great game play with a challenge in all areas - This game will keep you intrigue - This is my first time rating a game just to let you know how special this game is as a three year member.
May 21, 2012
Fun Game!
I played the demo of this game and had to buy the full game. The game's graphics and sounds are great. This game would suit beginners at HOG's as although there is no guide it is quite easy to follow the story line and the puzzles are not too difficult. It is a shame the game is not a little bit longer, however overall it was fun to play.
May 22, 2012