Snark Busters: High Society
Exclusive
Investigate the dastardly deeds of a wealthy socialite and prove your fiance is not a thief in Snark Busters: High Society! Love, envy and revenge join forces to make the hunt for the Snark more exciting than ever in this all-new hidden object adventure! Solve riddles that reveal pieces of the larger puzzle, follow the trail of clues through mirrors into the backward world and chat with charming ghosts. Can you catch the Snark? You're closer than ever!
Five thrilling chapters
Spectacular locations
Challenging mini-games
Game System Requirements:
OS:

Windows XP/Windows Vista/Windows 7/8

CPU:

1.4 GHz

RAM:

1024 MB

DirectX:

9.0

Hard Drive:

719 MB
Game Manager System Requirements:
Browser:

Internet Explorer 7 or later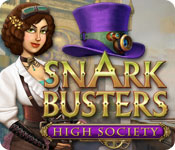 NEW299
The Big Fish Guarantee:
Quality tested and virus free.
No ads, no adware, no spyware.

Reviews at a Glance

Snark Busters: High Society
0
out of
5 (
0
Reviews
Review
)
Customer Reviews
Snark Busters: High Society
85
85
What were they thinking?
I absolutely love the first two Snark Busters games. This one is not up to standard. As I began the demo, I wasn't fond of the circle around item's thing vs the fragment images at the bottom of the screen. I purchased the game anyway, because of being such a fan. My initial time through the game was frustrating because of the large number of frag circles to fill on a screen. I have a pretty big screen, but objects for one circle would be mm's from another & it wouldn't click! I am writing this review because I bought this game when it was TGT (tomorrow's game today). I was plain ticked off at it by the time I finished. I took a nice long break and tried today to like it better. I simply don't. I made it half way & now I'm DONE.
July 29, 2012
Something of a Disappointment
My title might be a bit harsh, so let me explain. As a stand-alone game, this was just fine, and perfectly playable. Cute plot, funky scenes, and a good premise (using photos to jump from one plot-segment to the next so there's never too many scenes to explore at a time.# However, as a snark, it didn't match my expectations. For one thing, you're not looking for the snark - you're looking to free your fiance from trouble, a deed so difficult you'll get invited to look for the snark. Gameplay didn't match up either. Rather than the funky FROG we're used to, this game took the aspect of 'unlockable' objects, something I'd seen only once before - several objects within the scene open a wheel of silhouettes, and you must find those objecys in order to use the locked on. However, the other game I played allowed you to see the silhouette wheels for all active unlockables. Snark does not, which means either random clicking #for which there's a penalty# or constantly going back and re-opening wheels to remind yourself what you're looking for. I didn't mind too much at first, but it became peevesome when I started looking for objects that I'd forgotten I'd already found. Aside from that one big issue, though, it's a good play. It's just not a Snark game per se. I'm clicking recommend, but take it with a dose of salt. Check out the demo first. If those object wheels tick you off during the first hour, then nothing will be worth muddling through. If they don't bother you, then play on for an adorable plot and some just vengeance on a spoiled wannabe princess.
June 11, 2012
A Snark lover
I have to say that after the first 2 Snarkbusters I was champing at the bit to get the third. I was a little dissappointed as there was something missing from this one. It just did not have the same excitement factor of the first 2. The creators seemed to have run out of spark! I hope they bring out another but bring back the sparkle. This one was a bit pedestrian
June 1, 2012
Sadly, a disappointment
I absolutely adored Snark Buster 1 and 2. I had a credit and elected to purchase the game. It's so disappointing. 1. The snappy music is gone, replaced by something between elevator music and a dirge. 2. The characters in the first games were "naughty" in a very harmless way, but contributed to the fun and to the story line. Instead, we have a sappy heroine who isn't even as interesting to look at. 3. The logic of the game in the first two episodes--travelling through the mirrors to backward worlds is almost completely lost here. In addition to the logic, the excitement of discovering those backward worlds is also absent. 4. One never has a clear idea what one is searching for, or precisely why. In the first two games, the missing pieces one needed were shown at the botttom. Now we have rings--a la Treasure seekers-- and the magic/cleverness that occured in the first two games--sort of like Rube Goldberg inventions and steampunk machinery--is entirely absent. 5. No voice overs in the first games and not missed at all. Much better than this dull dialogue with unimpressive acting. One example: we never heard the newswoman, Jessica speak, and didn't need to. 6. In the first two games, one could not wait to get to the next world, because it was all so fresh and so original. All of that excitement is utterly gone. 7. The humor, perkiness and the kick of both previous games is non-existent, alas. I find this so tedious, that after having puchased the game on the strength of the first two episodes --which are wonderful-- I cannot even play through the chapter following the demo. If I could get a refund, I would. But this not the fault of Big Fish. The developer--and perhaps different creative teams were involved with this project as opposed to those who worked on Snark I and II--seems not to have understood what worked the first two times and what was indispensable and what should have been kept and not jettisoned like flotsam. For those who don't know Snark Buster I and II--highly original and delightful games--try those. For those who loved the first two Snark Buster games, I suspect this might be a pass.
May 23, 2012
Disappointment
This was lacking in all of the quality found in the first two games. The steampunk aspect was almost gone. The music was unlike the first two and this time they added voices to everyone which detracted from the whole game. The storyline wasn't as whimsical and interesting as the other games and the puzzles were utterly boring. Don't buy it thinking it'll be like the others, try the demo first.
June 21, 2012
snark busters FAN
I love love loved the first two snark busters. However, after playing the third one, high society, I felt cheated! As other reviewers have noted the music for this one was a big disappointment. I actually ended up just playing on mute for the most part. The worst part for me was that it ended up being basically just a hidden objects game. I love the other snark buster games because they incorporated challenging puzzles along with hidden objects. However, this third game seems almost as if the creators have run out of steam. I am so sad :( please go back to creating fun and challenging games!! xoxo snark buster fanatic
January 6, 2013
A disappointment
I love the first two Snark Buster games, and was really excited when I saw that there was another one out. Unfortunately, this one was a complete flop for me. The first two Snark Buster's are FROGs (fragmented object games), and they are two of the best in the genre, imo. This game has a completely different play style. You find whole objects, and have to fit them together in pop up wheels to put together an item (I know there's a name for this style, but I can't remember it). I don't like that style of game, and found this one to be clunky and laggy, as well. The graphics are stunning, and follow the steampunk-y theme of the first two. The voice acting is surprisingly good, but the mouths don't even come close to matching the words, which is horribly annoying. Finally, the story was boring. Within 15 minutes, I was completely through with it. There was no sass to the main character like there was in the first two, and the feel of it was completely different from them. All in all, I was hugely disappointed by this game. If I hadn't been so excited to play it, I wouldn't have cared as much, but I had such high expectations. I don't understand why the developers veered so far from the gaming style of the first two in the series, but I hope they get back to the original style.
November 11, 2012
"If it ain't broke, don't fix it"
I've just finished playing the demo and couldn't help but voice my utter disappointment with this 3rd installment of the fabulous Snark Busters series. Why oh why do game developers think they can make a game better by totally destroying the elements that made it successful in the first place?! I'm sure as a stand-alone it's a great game and if you haven't played any of the previous Snark Busters games you'll probably find it delightful - great graphics, pretty interesting storyline, no disembowelled dolls lying on asylum floors...but how this can even be labelled a Snark Busters game beats me. The gameplay interface is completely different; the music sounds like something a two year old would come up with on a midi machine; the voice-overs, while beautifully executed, irritate due to their sudden appearance in an otherwise voiceless series; and the pop up dialogue that keeps on popping up over and over again (yes, we heard it the first time) is hair-rippingly awful. I know, let's take Diner Dash and make it even better by setting it in a swinging sixties shoe factory and throw some HOG scenes in to keep people guessing! Ah well, time for a cuppa and what I believe will be a long wait before we see another Snark Busters installment that proves as successful as the first two...
May 27, 2012
Definitely Not For Me!
This game is definitley not for me! I hated everything about it and struggled to find things to like about it Good Parts: Quickly Rcharging Hint Tutorial option OK Parts: Needed several things to complete an item Bad Parts: No skip button to skip the annoying puzzles, I got stuck on it and just quit the trial No storyline-This is what every HO game needs! The game in general just annoyed me I couldn't reccomend this game if I tried. It's simply horible
May 23, 2012
SNARK BUSTERS; HIGH SOCIETY
I've enjoyed the first two Snark Busters thoroughly, but, after ten minutes I do not like or enjoy this game. I agree with the majority of voters, this game stinks. No skip button is a big deal to me. If you simpily cannot solve a puzzle ( even with the help of a walkthrough) what choice do I have but, to quit.
May 23, 2012