Dark Dimensions: Wax Beauty
You've tracked down the latest Dark Dimension to Red Lake Falls, where a haunting beauty queen begs you to save the town but from whom? Is it her brother, last seen busting through a shop window in a jealous rage? Or his stalker girlfriend? The real villain in this thrilling Hidden Object Puzzle Adventure game just might shock you unless youre turned into wax first!
Game System Requirements:
OS:

Windows XP/Vista/Win7/8

CPU:

2.5 GHz

RAM:

1024 MB

DirectX:

9.0

Hard Drive:

648 MB
Game Manager System Requirements:
Browser:

Internet Explorer 7 or later
Mild Blood
Violent References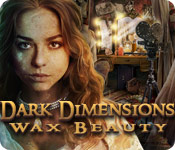 NEW299
The Big Fish Guarantee:
Quality tested and virus free.
No ads, no adware, no spyware.

Reviews at a Glance

Dark Dimensions: Wax Beauty
0
out of
5 (
0
Reviews
Review
)
Customer Reviews
Dark Dimensions: Wax Beauty
83
83
great game
found this game to be fun to play, just a little difficult to find some items, because it was too dark in certain areas.
April 12, 2013
fun
I thought the game had a very interesting story line. It flowed.
February 12, 2013
SOLD ON THE SERIES
This game flowed smoothly and logically throughout. Although some items in the inventory were not used for a long time, there was not a lot of back and forth to confuse things. Most items were used pretty quickly. The hint button worked well both in the HOS and out. I did have to refer to the walkthrough once to figure out the next step, so that wasn't too bad. The HOS were good and at times a little difficult to figure out. The puzzles could have used a bit more explanation on how to play them, but I guess if I had taken the time to refer to the walkthrough, I would have gotten the answer. I don't usually use the walkthrough to solve puzzles; isn't worth it as it is easier to just skip them. This was an enjoyable game and, based on my experience with it, I will be getting more of the Dark Dimension games.
April 18, 2014
Excellent Hidden Object Scenes
I give this 4 stars just for the pure fun and originality of the hidden object scenes. I seem to remember playing their first one about the fog and encountering the same style ones. They are the ones where each item you find, helps uncover another item but they are all interactive. Usually playing these types of games I start groaning when there are too many hidden object scenes but in this one, I wish there had been more! They were just so fun and I couldn't wait to play the next one. Even repeats of ones I had already done were fun. Good Job! The story line was somewhat different in terms of the wax. I actually beta'ed this way back in the day and really liked it. I will say, this game is kind of old in terms of other games BUT it is so fun that it plays like a new game. It just shows, when a game is good, a game is good, no matter the year, no matter how much graphics have evolved since then. Everything is very blue shades in this game so thats the only let down on the graphics. Sometimes its hard to see things but the hint button really helps you out even in advanced mode. Puzzles were doable, most anyways. I always skip a few. Mostly though, this game was LONG! I didn't realize how many locations there were to explore but this game kept me interested the entire time. Going back to plot line for a moment, it got kind of corny here and there but overall I really enjoyed it. I wish I could remember how the fog one ended because they made references to it in this one. Its for PC and I have a mac now so I guess Im out of luck going back to play it but I definitely recommend that one and this one too!
September 27, 2013
Save Us From The Wax !!
This episode of Dark Dimensions has you investigating Red Lake Falls, Michigan circa 1918. The disturbed and jealous brother of an overachieving beauty queen makes for a very suspicious character. There's been an earthquake but where are all the bodies? The ghost of a little girl begs her mother to "make me perfect like your wax figures". Her mother, the matron of the wax museum is hiding something. + Challenging HOS - most items must be found in pairs to activate each other + Skull Hint button melts when used - no map - cut scenes use real people and the gestures,voices and movements are out-of-sync,hard to watch and are not a good fit with the rest of the game - part of the journal didn't seem to make sense and seemed to have repeat mistakes in it.
June 1, 2013
good just not that good
Not a bad game. The graphics are good and so is the music. The HOS are different not hard. Really pretty easy. The puzzles are not all that hard. Has a pretty good flow to the game. Has voice over. There is a flow but still have to go all over the place to find things. A dark game.
May 18, 2013
"Save Us From the Wax!"
I played this game when it came out, but on my second run through, I had to try it again. Fun Factor: From the start, this game seems to be pretty intriguing--a sort-of "who done it". The HOGs are different, where you sometimes click and find objects, but most involve using items to create new items or putting things back together. The irritating thing about this game is that when you click the hint button, it swirls around the screen until it hits the right item. This swirling happens, too, when you use the hint button and it tells you to go to a different place, and is too distracting. The puzzles aren't too difficult, although you can skip them. There's a lot of unnecessary backtracking, and although you find a child-drawn map at the beginning of the game, there's no map to lead you through the town, which would have been very helpful and saved me a lot of time going between places. So the fun was there in some ways, but the poor game play made it hard to really love this game. Visual/Sounds: The game is breathtakingly beautiful. Yes, it is dark, which makes it hard to find some things. But for the most part, the visuals are stunning and I love the old, run-down feel of the town. It's obvious that the developers put a lot of time into creating the visual world, and it's greatly appreciated. The soundtrack is haunting as well, and in some cases, very wistful. I loved the music, though was annoyed that there were only a few songs that were looped through the game. I personally think it could have worked better if the developers chose different music for different places. Of course, there is ambient sounds, too, and after awhile, the muffled whispers gets annoying. I personally thought the live actors did nothing for the story, and they easily could have used 2-D characters and it would have been fine. The sound quality for them was great, but often it didn't sync with the actor's mouth, and that made it feel silly. Level of Challenge: Not too challenging. I mostly stayed with the game through the end just for the story. Storyline: The storyline was meant to be intriguing, and I'll try not to spoil anything. I wanted to like this story. Really, I did. But I couldn't. The story seems simple from the start: a beautiful sister and a dark brother working for a wax museum. However, the story has so many twists and turns that when the story ended, I felt nothing gets resolved. The beauty queen says "Save us from the wax!" when you reach the town, but I don't feel like I saved anyone. There are so many subplots with different characters in the town--each interesting in their own way--but I felt like I never fully understood anyone's story. Things tried to be explained from different points of view, but at the end, I didn't feel like anything added up. And with such an interesting start--are the wax sculptures real?--I felt really disappointed when the story abruptly ends with no explanation. From what I hear, the CE goes on an unrelated path for the bonus play, so it's not like I'm missing anything there. The story just leaves so much to be desired, and perhaps could have been better if there were more chapters to resolve character's stories instead just hinting at what might have happened. In short: the game was intriguing, but the story falls very short of being a masterpiece. The game has new elements to the standard HOG, but has too many flaws to make it truly novel. The visuals and sounds are beautiful, but the live actors, dark scenes, repetitive music hampers enjoyability. "Wax Beauty" is worth a buy, but don't expect to be a knock-out. It's more of a game that when you want to kill some time, it's worth playing. Since this seems to be a series, I'm really hoping that the developers put more effort into the next game so that players can really be "wow"-ed over it. All the elements of a great game are there, but there's much left to be desired.
August 8, 2012
Dark Dimensions: Wax Beauty
I really wanted to like this one, because I did like City of Fog. Unfortunately, I found that the story line didn't really make sense to me, and the VO were confusing, at best. I did like the puzzles, but did not like the hint button. The graphics were well drawn, but the music and sound effects became annoying after a while. The HO scenes were mostly easy to find objects, except one scene that it was so light that I couldn't see it even after the hint showed me where it was. The ending seemed abrupt, and anti-climatic.
October 3, 2012
Somewhat exhausting
DD: Wax Beauty certainly does NOT lack for length. Even the SE is quite substantive... maybe a little too much. At some point the story started to drag on and I became eager for it to end (which it eventually abruptly did), but others may appreciate the lengthy game play. There were definitely plenty of HOS and puzzles, although I found myself skipping some of the latter because the directions were mystifying or the interface was just too tedious to bother. There were also a decent number of video cut scenes, but the voiceovers were not matched to the video and the actors often appeared to be mouthing entirely different dialogue. This was particularly odd and distracting. Overall, this game appeared to have great promise, but just wasn't as fun or engaging as I'd hoped it would be.
September 2, 2012
Not as Good as the Last One, but Okay
My rating is more a 3.5 than a 3, but can't award half stars. While I may be a minority with a less than 4 rating, hear me out. I played the demo and really enjoyed it, then purchased the game and almost wished I hadn't. Pros: There are two levels of game play, normal or advanced; I played on advanced which had no sparkle indications of any kind and the hint was slower to recharge. The graphics/music/sounds were great, although the voice overs don't match up with the talking characters (either too fast or too slow). You'll do each HO scene twice and there are interactive objects to find in all of them. I thought they were clear enough to find, but sometimes it took a bit of thinking to figure out where you needed to interact with items to get the end result. This is a really long game. I didn't do it all in one sitting, so it's hard to tell how long I played, but several hours. Definitely worth the price. Cons: The puzzles! Don't get me wrong, I love puzzles, and while some of them were easy to complete before the skip button charged, others I ended up having to skip because I couldn't for the life of me figure out what the heck they wanted me to do. The Help button at the top would give instructions, but I found them to be less than helpful and very vague. A diagram or image would have been helpful. If I have to exit a game to find a walk through, I'm just going to skip the puzzle. I hate doing that because I really enjoy them. I did skip one because I didn't want to take the time to solve it. I hate number sliding puzzles. :oP The other con for me was having several items in my inventory and no idea what to do next. Part of the problem may have been that I played on advanced because sometimes after finding an item, an HO scene would be active, but unless I ran my cursor over it, I had no idea. There are also several areas where the magnifying cursor doesn't change when you run it between two separate areas, thus not knowing there are two separate areas to view, not just one. I really wanted to love this game, but ended up only thinking it was okay. I don't really look forward to playing it again as it left me more frustrated than anything. Or maybe next time I'll play on regular so at least I know if I've missed something, because apparently, it's too easy to do. I won't recommend or not with this game, but wanted to add my two cents. Happy Gaming! "Just because you don't agree with me, doesn't mean I'm wrong. It means we disagree."
June 27, 2012
The Apple logo is a trademark of Apple Computer, Inc.