Dark Dimensions: Wax Beauty
You've tracked down the latest Dark Dimension to Red Lake Falls, where a haunting beauty queen begs you to save the town but from whom? Is it her brother, last seen busting through a shop window in a jealous rage? Or his stalker girlfriend? The real villain in this thrilling Hidden Object Puzzle Adventure game just might shock you unless youre turned into wax first!
Game System Requirements:
OS:

Windows XP/Vista/Win7/8

CPU:

2.5 GHz

RAM:

1024 MB

DirectX:

9.0

Hard Drive:

648 MB
Game Manager System Requirements:
Browser:

Internet Explorer 7 or later
Mild Blood
Violent References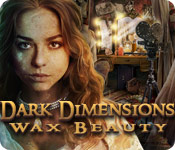 NEW299
The Big Fish Guarantee:
Quality tested and virus free.
No ads, no adware, no spyware.

Reviews at a Glance

Dark Dimensions: Wax Beauty
0
out of
5 (
0
Reviews
Review
)
Customer Reviews
Dark Dimensions: Wax Beauty
83
83
not bad
it's not a bad game but not as good as others from this game company. the story is awsome indeed, but i didnt like the real people that play the characters. they are pretty bad actors. the challenge level is medium. i enjoyed it overall, good for relaxing a little bit with a creepy game
June 27, 2012
Too many video clips
I didn't get very far into the game, primarily because I felt like all I was doing was watching endless clips. Click once, watch an undismissable clip, click once more, then another undismissable clip. If I could skip the clips, I might have given this a longer trial.
February 7, 2013
Still nothing special
I tried the CE when it came out and wasn't impressed. Today the SE is out and I would've bought it, if in between the release of the CE and SE better games wouldn't come out. In my mind the CE for DD:Wax Beauty was substandard and by now not even the SE meets my expectations regarding storyline (sister a ghost and jealous brother standard making wax figures). The HO scenes are ok, so are the puzzles but if you don't buy this game you wouldn't miss it either. Nothing memorable and nothing that shouts: "Must have".
May 25, 2012
Didn't catch my interest
I'm not sure why the ratings have been so high, when everyone seems to have had the same issues that I had: lots of running back and forth for no discernable reason, way too easy HO scenes, and a storyline that never caught my interest. The cutscenes were lovely, with what appeared to be real actors, and the graphics were quite good. But I found myself losing patience with the running back and forth between venues, without a clue as to what I was looking for or why. When I find myself anxious for the preview to end, rather than being shocked that I ran out of time, then I know this is not a game for me.
May 27, 2012
Lost in Clutter
The title sucked me right in because the promise of anything to do with WAX figures sounds mysteriously intruiging. But I was quickly let down. There are many, many locations which is a HUGE plus, all kinds of objects to use & even some characters to interact with, but they are lifeless & boring (of course because they are made of wax), but still it would have been nice to "talk" or interact with them via a flashback for example. The HOG scenes were pretty good as you got to use some items on other items, while some were more straight forward. While the graphics were very well drawn, most of the locations simply had WAAAAAY Too Much Clutter! It was everywhere you looked, so much so, that many times you couldn't tell the difference between locations, objects and background! Unfortunately this lends credibility to reviewers issuing the dreaded "pixel hunt" tagline, many times a death knell for adventure type games. Another problem is most of the time I had absolutely no clue where to go or what to do next. Besides having to look in the journal #which is boring#, the game never gave you a nudge. Some times the object didn't really seem to make sense as for its intended usage. The story may have been good or even great, but the game never engaged me enough to care about it. Admittedly, some of the confusion may be on my part, but all games are supposed to entertain us, not make us think about WHY we can't get into them. This self-explains why I didn't like it; It had me thinking, rather than just playing & enjoying the experience.
July 6, 2012
If "Save us from the wax" doesn't make you giggle, then this is for you
Good beginning, spooky, creepy, mysterious, but, honestly, "Save us from the wax?" really destroyed it. I just couldn't take it seriously. And, as with "City of Fog," the constant back-and-forth became tedious in the extreme. I lost count at one point as to how many times I went between the same two locations, picking up one item in one location to use to find one item in the other location to use in the first location to get an item to use in the second. HOS are nearly all interactive, which I enjoy, and when you return to one (which you do numerous times!) most of the objects you found the first time are gone, so it's less cluttered. However, not only do you have to hit it just right to get it to work, there are -- as usual -- vocabulary issues, which becomes frustrating. The storyline is convoluted. It is different from the same old "unrequited love," but there are just so many characters and subplots that I lost track. It also makes it difficult to figure out what to do next -- I would remember that I'd seen something or read something, but could not remember what or where. The developers appear to be more interested in creating a twists and turns than in developing a coherent and consistent plot. In one scene, I was told that I could not use an oven mitt (which I had) to pick up a hot coal, because it would set the place on fire. I had to go find tongs (which they called "forceps"). Then I later used the oven mitt on a red-hot metal handle. Huh? What about the danger of fire? I also dislike the way that tools are discarded on use, and you have to later find another tool or a second one of the same type. I was playing it through the streaming service, and I hit a point where it failed to save when I exited. After starting over at the exact same point twice, I quit. I don't know whether to blame the game or the server, but it just wasn't worth the effort to find the time to finish it. I saw how much was still left, in the walkthough, and it just made me tired.
May 27, 2013
I never did like wax museums!
Ugh!!! I hate games like this! I bought before I tried it ... big mistake (always use the free trial...one persons "GREAT", could be another persons "Failure"). I did enjoy City of Fog, so I thought this would be a win. The basic premise of the story has great potential, but the storyline throughout was sub-par, and the ending was awful!!! I am just glad I'm done so I can pack it away and NEVER visit there again! By the way, don't forget to wear a good pair of sneakers!
March 28, 2013
PUT ME TO SLEEP
No map, so lots of back and forthing. Drab story line and visuals. Not worth my time to comment further.
June 8, 2013
A Train Wreck!
I don't like HOGS, but I HAVE PLAYED some pretty good ones, and this game is not one of them. It is a TRAIN WRECK of never-ending and very tiring HOGS, one after another after another after another, never seeming to end! The graphics were good and the voices were clear, but the acting, using only the voices, was EXTREMELY SLOW and very, very, amateurish! This was one of the worst HOGS I have ever played. There was hardly a plot, and the ending "just happened out of nowhere," adding to the inanity of this surpassingly stupid game. There was constant back-tracking throughout the game, making it tedious to the extreme. One would have to wonder what the developers of this "game" had in mind, if anything! I'll take the LARGE FILE games that feature PLOT, which was so obviously missing from this game. THIS "Dark Dimensions" game HAD NO DIMENSIONS!
November 26, 2012
Too much clutter & backwards and forwards all the time yuk
not much clarity given for the most part, (half) the time i needed to use the hint button to know where i should go next, and thats not ideal. I hated the inanimate wax figures, bored too death i wish i had not wasted my money on it!
January 7, 2013
The Apple logo is a trademark of Apple Computer, Inc.