Ghost Towns: The Cats of Ulthar
Exclusive
Upon arriving in a strange city, you find the citizens ready to burn Menes at the stake in Ghost Towns: The Cats of Ulthar! Wander the streets of Ulthar and discover what Menes did that got him in so much trouble in this incredible Hidden Object Puzzle Adventure game. Find out why the citizens worship cats from ancient times and try to save Menes from his gristly fate in Ghost Towns: The Cats of Ulthar!
Save Menes from the stake
Explore the strange city of Ulthar!
For a more in depth experience, check out the Collector's Edition
Game System Requirements:
OS:

10.7/10.6/10.5

CPU:

1.0 GHz (INTEL ONLY)

RAM:

1024 MB

Hard Drive:

335 MB
Game Manager System Requirements:
Browser:

Safari 4.0 or later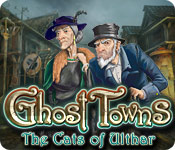 NEW299
The Big Fish Guarantee:
Quality tested and virus free.
No ads, no adware, no spyware.

Reviews at a Glance

Ghost Towns: The Cats of Ulthar
0
out of
5 (
0
Reviews
Review
)
Customer Reviews
Ghost Towns: The Cats of Ulthar
83
83
Hidden option game.
I decided after reading other reviews to try the collectors edition. I was pleased with the trial game. Graphics are good Plenty of help for an oldie like me. The cat does go on a bit, but there is an option to turn it down. I never have music playing anyway. I have now bought the game and enjoy it so far.
March 11, 2012
Not exactly enthralling
The story is somewhat original, based on hordes of cats turning into bloodthirsty beasts, except that the only cat you see is the one that meows every 10 seconds and is in charge of the hints. Most of the game revolves around two components: - many HO Scenes, which are the usual mess - a lot of backtracking A few puzzles here and there, pretty simple and totally standard. And a few basic and boring tasks that make up the adventure... always the same stuff: find a key, use a crowbar, an axe, etc... The visuals are not great; the locations are satisfactorily drawn and colored though often blurry, but the intro and the custscenes are terrible. The music is soft, you have 3 Modes of difficulty, and plenty of hints on Casual which help you find the hidden objects and direct you through the different locales. On the basis of the demo, it is hardly worth more than 3 stars due to some of the graphics, the absence of challenge, the too many HO Scenes and the overall lack of originality. Definitely not a game for my collection.
March 10, 2012
So So
Based on Demo I found the initial cutscene poorly done graphics, cartoonish. Then I get into more of the game & the graphics are crisp & clear, then the puzzles are back to cartoonish. Confusing back & forth like that The plot is intriguing & you need to collect 24 extra cats, that's good distraction. There is alot of HOS-Hidden Object Scenes, which I like. The hint cat can be tiring, but you can opt out of his noise. Hint recharge quickly & the cat can give directional help if needed. Easy mini games, no map but "sneaker" alert! you'll be traveling back & forth ALOT. Overall, interesting plot, bizarre graphics, mellow music, meowing cat every few second, easy HOS, Easy Mini Games- It's an OK buy.
March 11, 2012
Such a shame
Except for the storyline (which IS new and interesting) you could play any of a hundred other games and not miss a thing when playing this one. The graphics are either terrible or just not my style. I suspect it's somewhere in the middle. Without voice overs it's way to quiet, except of course for the annoying cat meow every few seconds. And how about that. If these cats are suppose to be mean, then why are they meowing so sweetly? Just a thought. Anyway, there just isn't anything remarkable about this game. Replay an old one that you liked, you'll have more fun!
March 10, 2012
not very inspiring
original premise for the game (cats turned into wild and vengeful beasts towards humans) but it has a less-than-inspiring execution. storyline: you are helping a woman, atala, save her brother, Menes, who is scheduled to be burned at the stake for killing a old couple in Ulthar -- except he is innocent and you know it. your task is to prove his innocence before the flames start. graphics: pedestrian and passable, but not notably well-done. the contrast between scenes (some much better done than others, but none of them were exceptional) made me think that two different artists had done the graphics for this game. hidden object scenes: many of the scenes were used too frequently, so they were not challenging and became kind of boring. the best aspect was the 24 cats hidden throughout the game. audio: non-intrusive music; neither annoying nor inspiring. cat's "meow" whenever you click on the hint button. voiceovers: none. my interaction: one hour demo (no plans to purchase this game).
May 27, 2012
I Love Cats, But ...
My desktop wallpaper is that of a black cat. My Christmas cards always contain images of cats. I'm cat-obsessed (I have lived with many over the years), but nevertheless I was disappointed in this game. Why are there two levels of graphics? Some are sharp and clear, others rather distorted. What is that all about? Also this is one of those HOGs where one moves endlessly between scenes, to the point of nausea: From Room A to B to C to B to A to C to B to A ad infinitum. I'm now dizzy! There has to be a better way! Also, the whining cat that lights up as the hint is enabled gets old after about the 3rd whine, What's good here? The cats! They are wonderful creatures, and I'm so glad to see a game in which so many cats appear. If you can get over the hint-cat whining, the repetitious visits to the same scenes, and the strange mixture of poor to well-drawn graphics, you might very well like, even love, this game. Worth a try I suppose ...
March 10, 2012
Lovecraft turning in his grave
I'm a Lovecraft aficionado. When I saw the title of this game, I had to get it... alas, BigFish, is there any way you can vet these before you sell them? The story was trite, and the writing was obviously done by someone who is either not a native English speaker, or is not an English speaker at all, and was relying on Google Translate to provide the script. Not only was the writing painful to read, but multiple multiple objects were mis-named, and as such, only findable by utilizing the hint function. Also, the graphics were DARK in several areas, and difficult to see on my screen. (In fact, you seem to specialize in macabre themes that lend themselves to settings that are dark...) Music was meh -- somewhat overdone in the dramatic dark style. Overall, somewhat disappointed.
April 21, 2013
Lovecraft Lite
I will begin this review by saying I am an unabashed fan of H.P. Lovecraft and his works. The results of bringing his stories into casual games has been a decidedly mixed bag, and nowhere is this more evident than in this game. The Cats of Ulthar is a short story, and one of Lovecraft's most well-known and celebrated. Knowing the story, however, will not impact your enjoyment of the game as you will find the plot substantially changed and not for the better. I'm not one to quote subject matter as canon, but the whole tone of this game is wrong due to what was changed. I'd encourage anyone playing it to read the story at some point and determine what you like better. The choice is obvious to me. As to the game mechanics, it's a pretty rudimentary HO with some charms. There is no voice acting to be found, which I thought was rather weak. The graphics style is reminiscent of cartoon storyboards in the cutscenes, and I felt the hidden object scenes themselves (which are plentiful# suffered from poor design. You will revisit locations multiple times, and items #including ones you've already picked up in previous scenes# will remain, a definite flaw for the developers. The music is innocuous but grating. You'll hear the same organ solo consistently, and repeated sounds like thunder and rain at a volume that is too high and not needed. Some variation would have been welcome. The puzzles are standard fare, and for me the game's one true highlight. I also liked the idea of collecting cats throughout the game #which ties into the main plot) and revealing additional inventory items through puzzles. The problem is that they become repetitive quickly. There are only so many jigsaws and matches you can do before you long for some variety. The source material is strong, and there are a few twists along the way. Unfortunately I found the game rather pedestrian and think there are better options out there, both for Lovecraft and HO fans.
April 9, 2013
Click Click Click Click Click!
I would have given this SE 5 stars except for the relentless amount of clicks back and forth which ruined the game for me. It was insane. I don't like this much movement when searching for or using one inventory object. There's no map so I got lost a lot. Couldn't remember where to use a certain object I just obtained. Wasted a lot of moves hunting for things. It's frustrating to be 8 clicks from where you need to be. Twice I had an object in inventory which didn't work in a scene initially but when I left and came back, it worked perfectly. Strange! My only other complaint is that the graphics are a bit grainy and some HOs are hard to seek and find. Hint button helped. I loved the storyline and hunting for the hidden cats. Never did find all 24 of them but I tried. All the minipuzzles were pretty easy and fun. If you can handle the frustrations I've listed, then get this game. I don't think it's worth it but glad it was a bonus deal and not a major purchase.
November 3, 2012
It's OK
Just demoed. If you play all HOG-game you should to try this, but if you like outstanding games itsn't for you. No voiceovers, a lot of backtracking(A LOT OF). Plot is....hm....primitive: not real but not mystic too. Graphic is good, cutscenes is disgusting ( good comics is better than awful cutscenes I think). Sound sometimes is annoying but sometimes is good.
March 12, 2012
The Apple logo is a trademark of Apple Computer, Inc.
The Windows logo is a trademark of Microsoft, Inc.