Tesla's Tower: The Wardenclyffe Mystery
Save the world from an experiment gone wrong in Tesla's Tower: The Wardenclyffe Mystery! Nikola Tesla – villain or victim? It's the question everyone asks after what should have been his greatest invention drained the world of color. Tesla disappeared in the Ether that fateful day when his experiment went horribly wrong. Help him get back and bring the color back to your world!
Game System Requirements:
OS:

Windows XP/Windows Vista/Windows 7/8

CPU:

1.4 GHz

RAM:

1024 MB

DirectX:

9.0

Hard Drive:

451 MB
Game Manager System Requirements:
Browser:

Internet Explorer 7 or later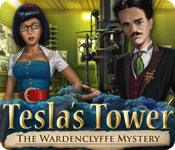 NEW299
The Big Fish Guarantee:
Quality tested and virus free.
No ads, no adware, no spyware.

Reviews at a Glance

Tesla's Tower: The Wardenclyffe Mystery
0
out of
5 (
0
Reviews
Review
)
Customer Reviews
Tesla's Tower: The Wardenclyffe Mystery
100
100
Another time travel game.
This game really had my attention from the get-go. A few hiccups here and there, but I guess I am being picky. I'd put it in my top 20 as far as how much I like it. Pros: Gorgeous graphics, good storyline overall, this game makes you think. I like that the lead character, a female, is not some simpering weak dingbat who is reliant on someone to do her thinking for her, and she's even a bit sassy. Cons: Some things could have been done more simply, with more logical and obvious objects. Sometimes with those circuit boards, the colours wash for me. Overall: Great game. I really enjoyed the trial, so I bought it. I am almost done with it, though.
June 18, 2012
Pretty Good!
This is a pretty fun game so far. Its not a hard kind of challenging but a fun kind. Visuals and graphics detail is very good, nice dialogue and a good storyline. A good all around HOG.
June 13, 2012
Delightful game, the dialogue does diminish a bit after demo.
The first 20 mins of this game was mostly cutscenes and dialogue and to say it was annoying was an understatement but then I stuck with it and I am very glad I did. I completed the first chapter in 30 mins so thought it would be a short game but it was a good length SE 5-6hrs. There still is a lot of dialogue which they should have edited and put some in the journal but at least you could skip the voiceover as I read it faster than he talked. The plot was very interesting and certainly very different about telsa as you time travel to sort out a mistake that resulted in your world being unable to see colours. There is no choice of gameplay difficulty which results in handholding ? on screen goal objectives as well as it recorded in the diary. There were sparkles on H O scenes and slight sparkles throughout on objects. But there was no handholding in puzzles and you could bring up the info if you wanted it, which was lovely to see. There was 8 different hidden object scenes and all of them were repeated, so you play 16 scenes in all. But most of them weren?t junk pile and were nice to look at, with colour and quite sharp graphics like the whole of the game. There was also two find 12 of ?x? scenes. There were a lot of puzzles and some really old school ones ? match pairs, match colour wires, connect the dots, gears etc. You did have to repeat one puzzle four times which I didn?t like (move different switches to combine the right colours in symbols). Most were easy but the repeating one and a couple were about medium difficulty. Gameplay was on the easy side, backtracking was about minimum for a HOPA. I really enjoyed the settings, especially later with the bright blue sky as it doesn?t stay without colour for that long. Although nicely concluded, after ?the end? there was a suggestion that this could become a series of games and if it does I will certainly be buying the next one. If they edited the dialogue a lot, didn?t repeat H O scenes or puzzles then my rating would have been higher.
May 27, 2012
Just ok
I played about 40 min of the demo, but I'm not too impressed. A lot of talking, a lot. Story is just ok, travel back in time and fix a machine. Been there done that, tasks are the usual. It may be an ok game for a lazy afternoon but it did not hold my interest. The best thing about it was the little " Siamese" cat. Sorry, have to pass on this one.
May 26, 2012
Will somebody PLEASE shut this man up!
I am a great fan of adventure games and Sci-Fi is a favorite theme of mine. However when it comes to physics, electricity and energy, that's when my brain begins to go numb and I become totally clueless. I couldn't tell you what a conductor or capacitor is and I have no clue as to what they do nor do I really care. Be prepared for alot of scientific jargon and get ready to dwelve into the colorless world of Maria Tesla. The story begins with Maria who is now on a mission that will hopefully restore her family name and solve the mystery behind the experiment gone bad that took place over 100 years ago. Now living in a world where humans are unable to see color or hear music, Maria is forced to assist Nikola Tesla who has managed to reach across time and seek out her help to discover what really happened on the day of the experiment. Sci Fi lovers will surely have a blast with this game, especially when there is time travel involved. Tesla's Tower is an Adventure/HOG, (heavy on the adventure) and carries an interest storyline The graphics are relatively good despite the fact that we are playing in a world where there is hardly any color. The art work is basically drab and lifeless, but it does fit well with the storyline. I wished that there was better resolution which would have made the game look crisp and more animated. There is only one play mode, but dont be put off, sparkles are at a minimum. You have a journal with a map along with a list of goals. There is no hopping via the map so you will have alot of back-tracking to do. There are voice overs and the hint system refills quickly. Mini-games are interesting and some were even challenging; they can be skipped after a brief time. HO scenes are slightly interactive and objects are relatively easy to find, despite the dark graphics. So why am I not jumping up and down cheering on about this game? That's easy, it was the annoying presence of Nikola Tesla himself! He continously pops up on your lower left screen and goes on and on with his scientific jargon and his constant orders as to where to go and what to do. He just does not shut up! For me, Nikola Tesla was a real PITA. However, if you are a Sci Fi buff and want to brush up on some historical facts on the life of Tesla, I do believe you will enjoy this game. Unless I can get a gag order for Tesla himself, I think I will mute him instead and continue on with the journey and help pure Maria get back her name.
May 26, 2012
not bad just not great
The HOS are good, The hint button works good. Has voice over,,, that is the problem with me too much voice over and talking. Pretty straight forward game.
May 8, 2013
too much talking
I don't often review a game just from the demo but I won't be buying this one and here's why: I liked the idea very much indeed and the storyline seems to be going along ok. The puzzles I did were quite good and slightly different, but I couldn't stand the irritating Tesla who kept popping up and giving me yards of advice. Pity really, as the other dialogue (with a caretaker) was quite good. If there hadn't been so much dialogue (ok I know you can skip it but I got annoyed at his voice as well), I might have gone on with it. Too much advice and not enough exploring here. A shame really. Still, if you don't mind that I'd advise you to try it because I think it's a good game and would be worth playing.
June 25, 2012
Hope you have a lot of patience!
I'm glad I used a free game credit for this one. There is WAY TOO MUCH dialogue and way too many cutscenes. It's impossible to do almost anything without a pop-up and you have to slog through loads of drivel storyline just to get to the HOS and puzzles. And the puzzles themselves were very erratic. Some were ridiculously easy (like, drawing a bunch of straight lines with the aid of a ruler... really?) and some were (to me) impossible. Not a big fan of this one, and I've played a LOT of games.
June 6, 2012
Not too much of a mystery
I was not that impressed with this game. I think the idea could have been developed more. I did not like that it didn't have an option for expert/advanced players. You have no choice but to see hints and doesn't give the expert players enough challenge. Her voice was a bit annoying to me, and his was not much better. Way too many voice-overs and dialogue for my taste. Intermediate players will probably really like this game.
May 26, 2012
Tesla's Tower: The Wardenclyffe Mystery
some game were hard to play because the cursor was hard to manupulate, but it was ok for a game
June 2, 2012
The Apple logo is a trademark of Apple Computer, Inc.