Cheatbusters
Put on your detective hat and help uncover the secret of a lowly bank clerk in Cheatbusters! You have been hired by a woman to discover the truth of her beloved man. She became suspicious after seeing receipts for expensive jewelry that he had purchased. As you dive into the case, you find that it is more complicated and interesting than you thought. Will you be able to solve the case?
Original puzzles
Thrilling detective story
Vivid graphics
Game System Requirements:
OS:

Windows XP/Windows Vista/Windows 7/8

CPU:

800 Mhz

RAM:

512 MB

DirectX:

8.0

Hard Drive:

153 MB
Game Manager System Requirements:
Browser:

Internet Explorer 7 or later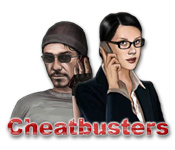 NEW299
The Big Fish Guarantee:
Quality tested and virus free.
No ads, no adware, no spyware.

Reviews at a Glance

Cheatbusters
0
out of
5 (
0
Reviews
Review
)
Customer Reviews
Good, simple fun!!!
Boy!!.....People were really down on this game!!!!......I found the game refreshing & very easy to play......Maybe we've gotten so much high tech stuff we've forgotten the simple things & how much fun they can be.......I just finished playing the demo & as soon as I get through with this review, I'm going to buy it!!.....I gotta find out what her man is doing!!......I found the graphics good on my computer & the directions tell you where to find the HO list & the hint button......You have to read at the beginning or sometimes you miss things......The HOS were delightful & not too hard......I'm a fan of straight HOGS anyway so this was right up my alley......I say give the game a chance & sit back & enjoy it instead of fighting it just because it isn't "high tech"......I recommend this game & wish there were more like it.....The only downside is it wasn't long enough......Thanks BFG & developers for coming thru for us "just straight HOGers"......Love it!!
June 2, 2012
Great
I loved the game & I would tell anyone to buy this game
August 4, 2012
Just love the game
Loved the trial game kept the mind going this could be No. 1 on my to buy list well I liked it anyway Ria
June 23, 2012
cheatbusters
It was pretty good ,,,,It kept my attention and made me think on what to do next.
September 9, 2013
An Ok Game
I don't know what the other reviewer was talking about. The cursor is steady on mine but might be due to anothers computer. I used to have that problem with my old computer on some games. The key you had to find to unlock the door was one of the objects in the hidden object scene. Hint button was a lighter on the right lower side of the screen. You have to click on the magnifying glass to bring up a list (pictures) of your hidden objects. Not a hard game at all. Could get a little boring....just going from scene to scene to find objects..Sometimes you use an object... to obtain an item..But a delightful game anyway.
May 30, 2012
Relaxing not boring
The reviewers above me did not like the game, thought it was okay or found it boring; however, I found it relaxing. After playing the other HO games where a WT or SG is needed and you have to bust your brains to think, it's nice to play a game where you can kick back, relax and get ready for the next thrilling and stressful game. I have nine more of those games waiting to be played and this game is helping me to unwind and gearing me up to face the next villain, evil spirit, wicked witch, horrible monster, etc and etc.... : ]
May 30, 2012
Stress break game
My Game Manager is loaded with Collector Editions. About 2 days ago, I got bloody tired of running around from location to location in search of A to make B to assemble with C to open D to get the key for F and switched to Match 3's and HOG's to give my old gray matter a rest. This puppy has all kinds of bad reviews, but I decided to try it for myself. Gotta' tell ya', it's a great break. Sure, the graphics are a bit fuzzy, but my eyes adjusted pretty quickly. Yeah, the English is a bit off; but it's funny! "Get rich after death." What a hoot. I guess in the dev's world, you get to take it with you. Besides, it's fun to match the drawings. I'm buying this game next month.
May 30, 2012
Ummmm...Nope, not for me!
If you are a HOG fan or just a beginner to the HO genre, you may just enjoy this very simple HOG game that has minimal interaction and very simplified mini-games. I think they must have dug this one out from the archives or the land of forgotten games. The plot is a straight mystery/detective story which is so vague, I really could not tell you what the acutal mystery is. Surprisingly the graphics are sharp and colors are vibrant, like still photographs, but the entire look of the game is very outdated. There is only one gamemode of play and yes you have sparkles. Game mechanics include a map that you use to jump from one scene to another. The map merely points out the scenes and when you are done, you jump to the next location. However, the developers have not added any voice-overs or a journal, therefore there are no indicators as to when you have completed a scene or not. The one thing that is bizzaar is that you take photos of clues that you collect, but where do these photos go? There seems to be no album or diary, so I guess the mystery is why do I take these photos? Gameplay involves mostly HO scenes where objects are mostly easy to find. The only difference is instead of getting a list of items, you get drawings of them. I found this very childish indeed. There is very little interaction with items that you have and mini-games are just too ridiculous to mention. As I have only played the demo, I really cannot tell you how the game progresses and I really am not interested to find out. I have outgrown these types of game years ago. The entire game seems to me to be very amateurish and I am amazed that they are still making these types of games today. I suppose if you are new to HO games and/or have nothing better to do today, you may just find the HO scenes worth a credit. I personally will pass and spend the day with a good book. Cheers
May 30, 2012
Not a bad game but gets boring quite quickly
The idea of this game is that you are finding out if a woman's boyfriend is cheating on her so quite a fresh idea. Every new scene that you enter is a HOS but this is also different. THe clues are drawings which you then have to i.d. and find, although the items are labelled as well. the one item that you get can then be used somewhere to interact. there is also a map which means you can travel to different scenes without all the too and froing. sadly, the game has very little variation, so by the time i was on my 7th or 8th HOS in 30 minutes i was beginning to get a little bored. The puzzles are not taxing and the items are easy to find, but it just was not enough of a challenge.i won't be getting this game, but it is perfect for someone who wants repitition and very little challenge.
May 30, 2012
Retro
It was like playing a game from the 1980's. Everything seemed very stiff. If you were new to HOG then it might be okay. I think I'll pass.
May 30, 2012