Cheatbusters
Put on your detective hat and help uncover the secret of a lowly bank clerk in Cheatbusters! You have been hired by a woman to discover the truth of her beloved man. She became suspicious after seeing receipts for expensive jewelry that he had purchased. As you dive into the case, you find that it is more complicated and interesting than you thought. Will you be able to solve the case?
Original puzzles
Thrilling detective story
Vivid graphics
Game System Requirements:
OS:

Windows XP/Windows Vista/Windows 7/8

CPU:

800 Mhz

RAM:

512 MB

DirectX:

8.0

Hard Drive:

153 MB
Game Manager System Requirements:
Browser:

Internet Explorer 7 or later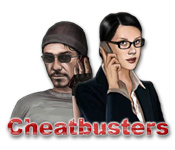 NEW299
The Big Fish Guarantee:
Quality tested and virus free.
No ads, no adware, no spyware.

Reviews at a Glance

Cheatbusters
0
out of
5 (
0
Reviews
Review
)
Customer Reviews
Just plain annoying and silly
The graphics are bad, there's not much direction for anything in this game with only one level of challenge available. After having read the rather pathetic dialogues between three characters, I already had a feeling that this may be a bad one and I was right. It has proved my experience 'bad English = bad game' to be spot on. Somebody should tell some developers that professional translators are rarely found among the rich of this world and they should think about why that may be ;-). I never managed to get any further than the first location due to frustration. Without giving much away: I was in an office with no idea what I needed to do. So I snooped about a bit and clicked on a few things. The blinds went up :-) and when I clicked at the door it said that I'd need a key. There was absolutely nothing (no change of the cursor, no sparkle) that would point towards a HO scene. I used a hint and it pointed me back to the door. Eventually I found a HO scene by clicking at something on the desk. No idea what prompted the HO list to appear, but something on the desk did. For the HO list they have used drawings of the items that needed to get found and after finding a few of the items a click made the list disappear, never to return again. I have no idea how this happened, but nothing I tried made the list come back. At this time I was stuck and spent several minutes trying to retrieve the list, but to no avail. I gave up. The only mystery to solve in this game, seems to be to figure out how to use the interface and I really can't be bothered doing that. I'm very disappointed, because I really wanted to hunt down a cheat today.
May 30, 2012
Just awful.
Okay, in all honestly I did not last more than 10 minutes playing this game, so maybe it gets better, but those 10 minutes were TERRIBLE in all aspects. Artwork is muddy, blurry and poorly drawn. Music is boring repetitive modern ambient jazz... kinda... Story is poorly translated and makes little sense, not to mention in poor taste. I'm going to play a game about checking out a cheating boyfriend? Also once one begins playing there is no reason given that relates to story, or anything else for that matter, what you are doing. You just hire a detective then start looking for stuff. The mechanics of the game do not work well. Cursor movement is sporadic and strange. It is necessary to "take the tutorial" because if not it's completely unclear what one is supposed to do. Hidden Object scenes are built over the top of environments. This is a new approach but one I think is messy. Also for some inexplicable reason the items to be found are drawn interpretations of the objects that may or may not look anything like the object. When I exited the game my open windows had been shifted. That's not a big deal it just is more evidence of poor programming. I didn't know how to rate Level of Challenge because poor design creates a sort of challenge...? If you poke me in the eye with a stick it makes it harder to do a puzzle kinda thing. The ONE good thing this game has is a clickable location map. That's it.
May 30, 2012
Oh Dear Me!
The first thing I needed to do was make the graphics lighter ... but only the effects and the sound could be adjusted. I was unimpressed by the strategy of the game and the configuration. I had the sense that this game was invented by a group of giggling mischievous youngsters who like to watch people struggle.(not a good idea) The drawings of the HO's were extremely poor e.g. a drawing of a wine bottle turned out to represent a milk bottle??? I stuck it out for approx 14 minutes but could find no redeeming features. Sorry Devs this is just not for me. Back to the drawing board.
May 30, 2012
Ummmm...Nope, not for me!
If you are a HOG fan or just a beginner to the HO genre, you may just enjoy this very simple HOG game that has minimal interaction and very simplified mini-games. I think they must have dug this one out from the archives or the land of forgotten games. The plot is a straight mystery/detective story which is so vague, I really could not tell you what the acutal mystery is. Surprisingly the graphics are sharp and colors are vibrant, like still photographs, but the entire look of the game is very outdated. There is only one gamemode of play and yes you have sparkles. Game mechanics include a map that you use to jump from one scene to another. The map merely points out the scenes and when you are done, you jump to the next location. However, the developers have not added any voice-overs or a journal, therefore there are no indicators as to when you have completed a scene or not. The one thing that is bizzaar is that you take photos of clues that you collect, but where do these photos go? There seems to be no album or diary, so I guess the mystery is why do I take these photos? Gameplay involves mostly HO scenes where objects are mostly easy to find. The only difference is instead of getting a list of items, you get drawings of them. I found this very childish indeed. There is very little interaction with items that you have and mini-games are just too ridiculous to mention. As I have only played the demo, I really cannot tell you how the game progresses and I really am not interested to find out. I have outgrown these types of game years ago. The entire game seems to me to be very amateurish and I am amazed that they are still making these types of games today. I suppose if you are new to HO games and/or have nothing better to do today, you may just find the HO scenes worth a credit. I personally will pass and spend the day with a good book. Cheers
May 30, 2012
Forgetable & pointless
This is one of the harshest rating I have ever given to an HOG. This game has nothing going for it. Zero adventure with no story to speak of. The artwork is dull and lifeless. It all spells no fun for me
May 30, 2012
Cheatbusters
O.M.G!!! I should've taken the reviews posted here seriously.I have played games that are bad,sloppy,boring,no substance but...This game takes the cake!.I had the opportunity to try this game at a friend's house and I wanted to slap myself for ever trying this one out.Bad graphics,storyline( Doesn't make any sense whatsoever) The HOG's were terrible.I started to play this game and during those 20 minutes of gameplay I couldn't bear anymore torture of this game.Fun Factor...Absolutely zero.Definitely avoid this game at all cost.
May 30, 2012
so boring I fell asleep!
The storyline started out OK with the first cutscene (no voiceovers), then the game just went downhill with terribly boring HOS's... The items in the inventory either were obvious or were completely useless. Maybe I just started out tired, but by the time I got to the beach scene, where I was supposed to do something with getting rid of a snake and the golf scene where I was supposed to set a trap for some weird looking rodent, all I had in my inventory was a pair of chopsticks, a roll of duct tape, a knife, and apple, and something else. None of these items helped me at all, but the hint kept telling me over and over to do something there... The hint button took one minute to recharge and it was also fairly useless in telling me what needed to be done. Also, if nothing was to be done, it still took the same amount of time to recharge, unlike in most games where it is not used up. I have no idea where the storyline was going because that opening cutscene had nothing to do with the rest of the demo (that I could see in my bleary eyed haze). The music was repetative and boring as well. It won't be too soon when I take this stupid game off of my computer!
May 30, 2012
Retro
It was like playing a game from the 1980's. Everything seemed very stiff. If you were new to HOG then it might be okay. I think I'll pass.
May 30, 2012
Not a bad game but gets boring quite quickly
The idea of this game is that you are finding out if a woman's boyfriend is cheating on her so quite a fresh idea. Every new scene that you enter is a HOS but this is also different. THe clues are drawings which you then have to i.d. and find, although the items are labelled as well. the one item that you get can then be used somewhere to interact. there is also a map which means you can travel to different scenes without all the too and froing. sadly, the game has very little variation, so by the time i was on my 7th or 8th HOS in 30 minutes i was beginning to get a little bored. The puzzles are not taxing and the items are easy to find, but it just was not enough of a challenge.i won't be getting this game, but it is perfect for someone who wants repitition and very little challenge.
May 30, 2012
amateurish
HOS were badly drawn characterisations of what you were looking for. I just random clicked, the worst game I've played for a long time.
May 30, 2012