Cheatbusters
Put on your detective hat and help uncover the secret of a lowly bank clerk in Cheatbusters! You have been hired by a woman to discover the truth of her beloved man. She became suspicious after seeing receipts for expensive jewelry that he had purchased. As you dive into the case, you find that it is more complicated and interesting than you thought. Will you be able to solve the case?
Original puzzles
Thrilling detective story
Vivid graphics
Game System Requirements:
OS:

Windows XP/Windows Vista/Windows 7/8

CPU:

800 Mhz

RAM:

512 MB

DirectX:

8.0

Hard Drive:

153 MB
Game Manager System Requirements:
Browser:

Internet Explorer 7 or later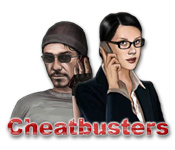 NEW299
The Big Fish Guarantee:
Quality tested and virus free.
No ads, no adware, no spyware.

Reviews at a Glance

Cheatbusters
0
out of
5 (
0
Reviews
Review
)
Customer Reviews
The Ending Was The Worst Part (No Spoiler)
Very short game, too easy, bad ending. I started the trial & within that hour had unknowingly pretty much finished the ENTIRE game. I liked the storyline about catching a cheater and was curious about how it would turn out, so I purchased the game. I had about 15 mins left of play after the purchase. Needless to say I was very disappointed. Overall, it actually wasnt a BAD game. Many of the goals require you to find objects in multiple screens, so theres a lot of back & forth between screens (which I actually like). I find the interactive HOGs much more interesting than those that youre literally just searching for objects. I started the game over just to see if the objects needed to be found would change, they dont. So the game is pretty much useless to me unless I wait for a long enough period of time to forget where each object is hidden. That being said I wouldnt recommend this game & I regret purchasing it.
June 5, 2012
OK game, but I won't be buying it.
I played the entire hour of the free trial, so I lasted longer than many reviewers. I agree with other reviewers that this game feels like a throwback. The story is that a woman hires a detective to find out why her boyfriend suddenly is able to buy expensive presents that she had found receipts for (but hasn't received from her boyfriend). First, I suggest that you use the tutorial. It basically tells you what the icons mean and how to interact throughout the game. Also, it mentions to click the magnifying glass in the bottom right to see the list of objects that need to be found. Every location has a HO component. The list is presented as pictures and if you hover over the picture, you will get a description of the item. The magnifying glass keeps track of the number of items found and counts down to zero as items are found. Every HO scene provides one object that you need to use elsewhere. There are sparkles on the areas where you will need an object to interact and.the sparkles are very easy to overlook. The map is the nicest feature of this game. You can click on an area and be there immediately. There are some puzzles, but they are not much of a challenge and you can skip them immediately (no waiting for the skip button to charge). There are many areas where you take a picture as evidence. You have to click on the snapshot to go back to the main scene. I can only assume that you (the detective) will present these to the girlfriend at some point as evidence of what the boyfriend is up to. The translations could be better as well. The grammar is atrocious and some items are labeled strangely- for example I hovered over an item in the HO list that looked like a broom and was told that it was a "besom" Overall, this is an OK game. If you are looking for a game that is mildly interesting and mildly challenging, then this is for you.
May 30, 2012
Cheatbusters
A young woman becomes concerned when she finds a receipt for jewels she never received. The thing that has her the most concerned is the fact that her man simply could never afford this expensive jewelry working as a clerk at the local bank. The cheatbusters are here to help and send out their best detective, A.K.A you! This is a pure and simple Hidden Object Game with simple mini games and puzzles to complete. Each scene has a magnifying glass icon that must be clicked on to reveal the number of items to be found and a list of items in the form of sketches. These sketches are not exact pictures, for example a calendar on the sketch looks like a desktop calendar but may actually be a wall calendar. If you scroll over the sketch the name of the item will appear in case you can't tell what the picture is supposed to represent. Each scene will have several tasks or mini games. You may have to use the broom in your inventory to sweep away leaves which will reveal a screwdriver that can be used to open up a vent covering. Some puzzles may require you to put flowers back into a vase and find the last flower. I don't really have any complaints with this game, it's just an okay game with no wow factor, but if you don't mind searching for items randomly strewn about as junk piles then you will probably enjoy this game.
April 22, 2014
Overall, just another unremarkable game...
The free trial was enough for me. This game has okay artwork, albeit some of the HOs are tiny...that is a deal breaker for me, as I get headaches from squinting. The music is just average, but unobtrusive. Good map and hint system that recharges quickly. Very easy, quite linear game, even the mini games. I guess I'm just getting picky about the games I will actually buy. I prefer games that are more like an interactive movie, which this isn't. The story line didn't really capture my interest enough to buy, even as a free credit game. There is really nothing to make this game stand out, and memorable. Good for newbies or kids.
June 17, 2012
An OK Time Killer Game - It's Not THAT Bad
This review is for the whole game. The story: You take on the role of a detective to find out if a woman's boyfriend has been cheating on her. 1 play mode and there are sparkles for areas of interest for use of inventory items. No voice overs No journal however there is a map that you can use to travel in this game. As you complete a HO scene for an area a new location will become available on the map. Game play: You find the items by drawings however if you hover your mouse over the drawing it will be labeled with the name of the item. To get the drawings to find, click on the magnify glass down at the bottom next to the lighter which is the hint to get the drawings of the items to find. Hint also charges up pretty quick less than a minute. Once you complete the area you don't visit it again as far as HO scenes go cause if you click on the magnify glass again it will tell you all items found. You also get an inventory just like with other HO games. Pretty much used right away but not always used in the same scene however this isn't a "wandering around" all over the place type of game. In some scenes you also have to take pictures There's also a few puzzles to this game. The skip is also pretty quick on charge up. My overall impression of the game; Well this is definitely far from one of the best I've ever played however I didn't find this to be as bad as the reviews I've read for this game. I didn't have any trouble navigating this game at all. I found the game play to be pretty easy. I had to stop and think on a couple of the inventory items but far from frustrating. The graphics yes I'll agree these are definitely dated but they weren't fuzzy to me. I only had to use a couple of hints for the HO scenes to my surprise cause I'm not usually into finding items by silhouette /drawings but didn't mind it for this game. I also didn't find these to be Sanford & Son junk piles. Puzzles: If you've read any of my other reviews then you'll know I'm not a fan of these however I found these pretty easy as I only skipped one of them to my surprise. Where this game went down the hill is I think the developer could of worked more on the story and had more story as it was off to a good start then just went away for awhile and then a little more story. Just very vague in my opinion and just ends abruptly. I also didn't understand the purpose of the picture taking as there is no journal and not used for anything?? Game length: Well this game is a record for me as I completed it in about 2 1/2 hours and I'm a slow game player and take my time. Overall I give this 3 stars as I knocked this down two stars for story but still found this to be an OK time killer game as I liked the game play as I found it relaxing. While I like the games where there is more "adventure" the back/forth using inventory well every once in a while I like a break from that and I found this game to be an OK time killer for that. Thanks Big Fish and developer for an OK game here. As always definitely give it a whirl and decide for yourself.
May 31, 2012
Blast from the past
I admit this does have an old feel. Almost as if someone made it ten years ago and then sat on it until now. Games have progressed to a much more sophisticated level. Having addressed that, this wasn't a bad game. There were instructions in the tutorial, which did not hold your hand. You were left to read the instruction and then play uninterrupted. For the list of items to find, a click on the circle at the bottom right corner got you a list of hand drawn pictures. If you mouse over the picture, it told you what the item was. When you found them all you got a useful item for your inventory. You also got to use it almost right aaway. The sparkles were rather stationary and denoted a spot you could do something with. A hand meant you could pick something up and an eye meant there was information there. A set of sneakers marked entrance to another scene. The scenes went between dark and grainy and bright and crisply drawn. The music left a bit to be desired. It really didn't make me nuts, though. The premise of the game was that you were a detective helping a girl determine whether or not her boyfriend was a cheater. Dialogue was written only and even though it was a bit awkward in places I know that a lot of these games are made in other countries so it does not bother me when words or grammar are misused. It just adds to the challenge. I donot know what is with the photographs you take or where they go as I just played the demo. There is no choice as to casual or otherwise and there is a click penalty that consists of a circling arrow that you have to wait to settle down. All in all it's not a bad game, just a very old fashioned game. Give the demo a try, you've nothing to lose but a few minutes.
May 30, 2012
Don't buy
This game only has one story to it. Once you have solve the first case there is no more.
May 30, 2012
Give this one a chance!
I'm surprised that, after reading the reviews and still playing the demo, that I liked the game! You need to get involved with it and learn how it works. If you press on the globe on the bottom right, it shows you items that need to be found. If you press it again, it takes away what is pictured that is needed to be found, press again and items reappear. It also gets more interesting the more you play. I doubt I'd buy it, but was glad I tried it.
May 30, 2012
Practically pure HOG - simplistic.
Had a quiet afternoon so I played it for the full hour. I agree, enter location HOG, enter new location HOG. They were so persistent that I just started clicking on everything to make them go away faster to I could to enjoy the "logic" puzzles if you can call them that. How can we get the critter out of the hole? Maybe something tasty! Simple, Simples games. Storyline is predictable, but enjoyable. A bit of a translation problem - locker key called locket key, etc. I estimate that I finished over 50% of my game in the hour. I'd recommend on a great sale for those who like this kind of thing.
May 30, 2012
amateurish
HOS were badly drawn characterisations of what you were looking for. I just random clicked, the worst game I've played for a long time.
May 30, 2012