Dark Dimensions: Wax Beauty Collector's Edition
Exclusive
You've tracked down the latest Dark Dimension to Red Lake Falls, where a haunting beauty queen begs you to save the town – but from whom? Is it her brother, last seen busting through a shop window in a jealous rage? Or his stalker girlfriend? The real villain in this thrilling Hidden Object Puzzle Adventure game just might shock you – unless you're turned into wax first!

This is a special Collector's Edition release full of exclusive extras you won't find in the standard version. As a bonus, Collector's Edition purchases count toward three stamps on your Monthly Game Club Punch Card!

The Collector's Edition includes:
Bonus gameplay
Integrated Strategy Guide
HD Wallpapers
Concept art
Game System Requirements:
OS:

10.7/10.6/10.5

CPU:

800 Mhz (INTEL ONLY)

RAM:

256 MB

Hard Drive:

750 MB
Game Manager System Requirements:
Browser:

Safari 4.0 or later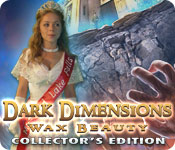 The Big Fish Guarantee:
Quality tested and virus free.
No ads, no adware, no spyware.

Reviews at a Glance

Dark Dimensions: Wax Beauty Collector's Edition
0
out of
5 (
0
Reviews
Review
)
Customer Reviews
Dark Dimensions: Wax Beauty Collector's Edition
89
89
Another Dark Dimension
Overall I enjoyed this game. It has some annoyances, but I'll start with the good things. You are off to another abandoned town searching for another dark dimension. This time all the townspeople you meet seem to have been turned into wax. The good: Your mission is to discover what happened. The graphics, music and background sounds are excellent. The storyline is good, although it got a bit muddled at times. The mini games were fun, some were on the easy side, but still fun. The journal was useful and the built-in SG was well done. The ending of the main game was satisfying. The bonus chapter was a nice addition and the ending set up the next installment in the series. The annoyances: The HOS were fairly dark and some items were almost impossible to see. They seemed to get darker as the game rolled along. The voice overs were so-so. Some of them were excellent, but some were poorly done. The cut scenes were done with live actors. Some of the actors were good, but some were overly dramatic. Even with the annoyances, I enjoyed the game and recommend it.
November 19, 2012
Entirely Too Dark Dimensions
This review is of the demo: The story is interesting, and that's probably the only reason I'd buy the standard edition when it comes out. The puzzles in this game were fine. I didn't come across anything spectacularly hard or interesting. The hidden object scenes have interactive bits to them, but nothing too hard to figure out. A lot of the time an item on your list of objects to find will be one of the items you need to use in the interactive portion. The inventory puzzles in the game are easy to figure out, as you generally use an item more or less as soon as you receive it. The music is OK, but the background sounds are kind of irritating, as there seems to be an intermittent whispering going on. The graphics are entirely too dark. I've seen from other developers that you can make a "dark" game and still use bright colors. You don't need to purposely darken the game's artwork. Hidden object scenes were also pretty dark. The Collector's Edition contains nothing I really want. There's wallpapers, concept art, and music, but they're locked until you complete the main game. (I never use them, anyway.) There is a bonus chapter, but from looking at the strategy guide a little, I don't think it's worth my paying extra just for that. The journal in the game picks up articles and stuff like that, but it doesn't seem to pick up puzzle solutions (like lock combos, for instance) that you find in the game. I wound up having to backtrack to re-read the lock combo and then go back to the lock. Luckily, it wasn't that far. I still think that in this sort of game, journals should track that kind of information for you, though. One thing I did like in this game was the use of live actors to tell the story. Normally I'm not a huge fan of that, but for some reason I liked it in this game. All in all, I think I'll wait for the Standard Edition of this game, and even then, I'll have to think about it. This game would be much more enjoyable if the artwork wasn't so, so dark.
April 26, 2012
A little dark and depressing
Two game modes - casual and advanced. 5 Chapters and a bonus - but not very long at all. The characters are okay and the voices seem to suit but the number of cut scenes, or things that happen as you move to a new scene and have to wait is too much. The music is a little monotonous. And the whispering can become annoying. The storyline is ok but the whole thing leaves ones feeling a little dark and depressed. Bodies, wax? Real or not? The graphics are not too bad - not at the level of recent games but there are interesting things to look at. The HOS are quite dark and will give a little challenge because of that. The usual list of items and also actions to find other items. There is a journal - which fills too often and the sparkling gets a little annoying. I also found the hint button annoying in the times it takes to circle around the screen and get to the item - same for other mistakes such as using the wrong item as you travel around. There is no map and although that usually does not bother me, this time I found it more tiring going back and forth - got quite dizzy. The game is not hard to play in either mode - the HOS are easy if you accept the dark scenes and the puzzles can be completed fairly easily or with just a little patience. For those looking for incredible graphics and challenging HOS and puzzles, this game will disappoint. Not sure it is worth a CE price. But for those who do enjoy HO games and like to add reasonable games to their library, then this will probably be acceptable. Don't expect anything new or spectacular and you may enjoy it. Having said that, I did quite enjoy it as the scenes have some interesting things in them, but it was little of a challenge.
April 26, 2012
Good for some, not for all.
This review is based on the demo which froze on me twice. I liked the storyline although it was somewhat predictable but I have played many games and someone new might find it appealing. I don't turn off the music or sound as I feel that's an important aspect of the game and didn't find them offensive or annoying in this game. Can't comment on the "whisper" as I couldn't get far enough into the game to comment on it. I did find my interest lagging. The storyline was somewhat predictable. The HOS scenes were not too bad and I didn't mind "the dark" of them and enjoyed that one often had to do more than simply find stuff. Like others I'm at the point where I expect a CE to have some "extra" challenge such as finding morphing objects or something. The challenge just wasn't there for me but I have been playing awhile so I may be just too familiar with the trends. I did like a lot that the characters were real actors so they didn't seem so robotic. I have really enjoyed the House of Lancaster series but the characters are very robotic looking and these were not. But I do agree with other reviewers that the audio sync with the characters is really off which takes away from the gain of using real actors. While there is no "real map" there actually is one in the form of the child's drawing which at least provides some perspective about where things are. (Subtle but helpful!). I too will wait for the SE rather than pay the extra money for the CE as this doesn't seem to fit the quality of that caliber of game.
April 26, 2012
good just not that good
Not a bad game. The graphics are good and so is the music. The HOS are different not hard. Really pretty easy. The puzzles are not all that hard. Has a pretty good flow to the game. Has voice over. There is a flow but still have to go all over the place to find things. A dark game. Nothing all that great for a CE.
May 18, 2013
VERY SHORT GAME FOR A CE!
It was a pretty easy game and really short for a CE and IMO not worth the extra $$ for a short bonus chapter. HATED the sound and had to completely turn the volume all the way down. The puzzles are easy and about the same as other HO games. Not a winner in my book sorry BF :(
April 26, 2012
Nothing special
The game is really nothing special and in my mind doesn't meet CE standard. The voice overs are out of sync which made it look like one of these really badly synchronised martial arts movies. The storyline is not great: Beautiful sister and jealous brother, sis competes in some beauty pageant and bro starts working in some wax museum. You meet the sister as a ghost and I might be totally wrong, but I think I knew then what had happened. The game moves a lot, if something tumbles down it's like a camera man shook the camera frantically to create some special effect and that I found annoying, but not quite as annoying as the sparkling journal. Now THAT I find seriously irritating. The HOS are ok and items quite easy to spot, which isn't necessarily a bad thing and there are a lot interactive hidden objects, as in "Cone + cream ball = ice cream". The puzzles I came across are easy. The whole game is really dark, not so much in colour but in atmosphere. Not that I don't like these type of games, but there are better ones. Imho this game is not worth spending the money for a CE. I'd probably buy the standard version wouldn't I already have better games from this genre.
April 26, 2012
white background
I started out really liking this game. The graphics were great, as were the sounds. I LOVED the music. Any time there is a spooky game, I generally buy it. But; when I got to the hidden object scene in the caravan, I got mostly white background with a few objects thrown around. I tried deleting & redownloading but it didn't help. DARN!!
April 29, 2012
Was expecting more.
Played the CE. Graphics overall were nice, sometimes a bit blurry and the character's shadows didn't show. Music and sound was okay, but the voice acting was HORRID :( I skipped them after the first few cutscenes. So slow and not synced! Gameplay was pretty weird because lots of times you had to move just from one room to the next for a HOS and then back to the previous. Confusing... But the HOS and puzzles were good, not too challenging and not too easy! Story was good and kept up the interest, though it reminded much of the movie House of Wax. The one single thing besides the poor voiceacting was ***SPOILER ALERT*** the bonus game play. It was very, VERY poorly executed :/ For example when you get to the cave where the snake dwells, you get a new note in your notebook AND IT REVEALS THE ENDING even though you haven't even finished the game play! The bonus game play felt very rushed and sloppy overall, like the devs wanted to get it done asap. HUGE minus. Overall it's anyway an okay gaming experience and I can recommend it. If you skip the cutscenes...
May 14, 2012
Good game, but lacking
I was very excited to play this after loving the first Dark Dimensions. I was really pleased with the demo, so decided to buy. I can't say that the game wasn't enjoyable, but there were several things about it that made it just not able to live up to City of Fog. The Pros: -the graphics are just as good as in City of Fog, which in my opinion is a very good thing. They are dark, but this is a dark themed game, so it's only appropriate for the atmosphere- but they weren't so dark that I found it impossible to see objects (just speaking for myself, here) -The storyline was very interesting -Puzzles were not too easy, a problem that I often encounter with other games of this type -The music was very well done The Cons: -The acting was terrible and the voices didn't sync up. I ended up speeding through the last few cut scenes because they were so awkward. -The storyline, while intriguing, got a little convoluted at times. At one point, I got really confused about what exactly was going on, so I went back and read through the journal, only to still be unsure. While I did like this game, it wasn't as good as I'd hoped it would be. I have not yet played the bonus game, and it's possible that I may not ever- I mainly purchase CE's for early access (and sometimes music, if the music is good). In any case, I wish I would have waited for the SE on this one. It just didn't feel worth the extra price to me.
May 5, 2012
The Apple logo is a trademark of Apple Computer, Inc.
The Windows logo is a trademark of Microsoft, Inc.