Secrets of the Dark: Eclipse Mountain
Save your friend from the Demon of Darkness in Secrets of the Dark: Eclipse Mountain! Follow clues left by stone monks in a deserted town in Thailand to uncover a thrilling mystery. Battle the dark and magical werecreatures that want to sacrifice your friend in this macabre hidden object puzzle adventure game!
Game System Requirements:
OS:

Windows XP/Vista/Win7/8

CPU:

1.0 GHz

RAM:

1280 MB

DirectX:

8.0

Hard Drive:

476 MB
Game Manager System Requirements:
Browser:

Internet Explorer 7 or later
Alcohol Reference
Tobacco Reference
Fantasy Violence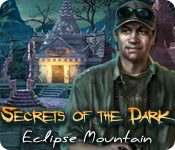 NEW299
The Big Fish Guarantee:
Quality tested and virus free.
No ads, no adware, no spyware.

Reviews at a Glance

Secrets of the Dark: Eclipse Mountain
0
out of
5 (
0
Reviews
Review
)
Customer Reviews
Secrets of the Dark: Eclipse Mountain
89
89
Thailand!
A nice change of scene. This game is set in Thailand, and the artwork is beautiful. Lots of animation and special effects with a good story. Many, many puzzles of all skill levels plus some semi-interactive HOS too. I liked the locations that morphed into another time/space when you changed the illumination in the room. Lots of inventory at times. Some tasks are left undone for quite awhile, so it might be good to have a pencil and paper to keep track of what needs to be done or what item you need to do it. All in all, very fun, and I stretched it out over several days.
November 2, 2012
Tough, Beautiful, Involving Sequel
GAME COMPLETED SEVERAL TIMES Everything I loved (and bemoaned) about the first Secrets Of The Dark game is here again only more so. This adventure is once again an encounter with the Demon Of Darkness, who we thought we?d dealt with back in Mexico. Now we are in Thailand and facing the same intriguing battle of Light vs. Dark. The setting makes the visuals even more lush and gorgeous, and enables us to enjoy an oriental experience all the way. As before, light changes the environment we?re in, so turning on a lamp or opening a curtain can totally remake the place you are in, and give you access to otherwise unreachable scenes. It is tempting to wish for a map in this game, because the doubling up of light/dark places can get confusing, but that is part of the challenge! An addition for this game is stone monk statues magically infused with the power to remould certain artifacts into useful items. The game is jam-packed with work to do. There are two types of HOs, interactive list and misplaced items. Scenes are reused, with both these search types. These are a cut above the average HOs in terms of difficulty. I never need hints, but I had to use them a couple of times here. There are absolutely loads of puzzles, some also repeated, which get harder as you go along. Much harder. And few of them are easy to start with. They are for the most part interesting and tricky twists on known puzzles. I guarantee, you may have seen this puzzle type before, but rarely would the degree of difficulty be this high. This, like its predecessor, is a professionally designed and beautifully crafted game aimed at the more adept puzzlers out there. For amateurs like me, it?s a bit frustrating, because so many puzzles must skipped, and skip on this one is not fast at refilling. I dream of the day I can complete all the Secrets Of The Dark games without skips! (Maybe I'll invest in the SG) This one is a top calibre game, just too hard for me, which is why it gets only four stars. Once again, gamers who like a challenge ? this one?s for you.
April 14, 2013
Good Game
Once again my 'friend' Peter is lost and it is up to me to find him and defeat the evil nasties who took him. Just like in Mexico City, I have to help victoms who ave turned into Stone, find peter and banish the baddies. I actually bought the CE version and although there were some elements that I did enjoy, I wasn't floored by the entire gameplay. The graphics and artwork are well done but unfortunately a bit blurry and grainy #especially cutscenes# compared to some of the better games we have played. There are three modes of gameplay and I did enjoy Hardcore where you get no hints or sparkles. Even then gameplay was relatively easy and not as challenging as expected. Game features include a journal that keeps your place and voice-over with music that I personally found obtrusive. Game mechanics is standard play: collect inventory items, play HOS and solve mini-games. The only twist to the game which I actually liked is that you get to interact between two worlds #past and present# with the help of a light switch. The HOS varied, some were straightforward interactive, some were reverse HO where you place items back into their proper place. I personally like those. Puzzles varied in difficulty, some were easy as pie, some were fun and a few were challenging. There is no map so be prepared for a lot of back-tracking. I would rate this game as being good, not great as I did begin to lose interest in the story and just went through the motions. However I do recommend this game if you like adventures, far away lands and HOs. It is well worth the price, especially as a SE edition. I enjoyed the puzzles and the morphing scenes and hope that the developers will offer a third installement with more challenging features. I look forward to it!
June 1, 2012
a game that will keep you busy
Different kind of HOS. Also has rooms that change to find more items to use. The story is good and the HO are not that hard to find. Good game. Hint button helps just a little but does not tell you where to go next.
September 27, 2012
Excellent task oriented game
The artwork is really nicely done & the graphics are clear; in some scenes you can change the ?light source? & are taken to a more modern time. This change of time makes for interesting gameplay as you have to find items or solve puzzles in both zones & sometimes have to find an object in one time to use in the other. The H0s are a little like junk-piles but the items are well depicted & some are well hidden, there are a few interactive objects; they are of both the word list & put objects back in the scene types. There is not an over-abundance of H0s, this game is about finding items for your inventory to open locks or solve mini puzzles. These are the usual move colours to a specific side of the screen, pipes, gears, matching items, etc. nothing difficult but there is a skip button if you need one. Don?t expect to find objects quickly; you might have to wait until you are more than halfway into the game before locating something you need. There is no map & rather a lot of going back & forth to find inventory items to use elsewhere; the inventory is used quite quickly for the most part although you will carry some items for a lengthy time. Some of these can be morphed into another object of use; you will find a few special places where this can be accomplished. You get a journal & you can zoom in to clues you have found or replay any cut scenes. This is an excellent adventure but don?t expect a story as there really isn?t one; if you enjoy it then try out the first of the series, Secrets of the Dark: Temple of Night which has the similar shifting time zones but is set in South America. This particular game took me more around 4 hours to play.
June 2, 2012
Good game play
I enjoy having to go all over the place searching for items.Fast paced and enjoyable game play. A little dark, hard to see sometimes but overall a good game to play on a rainy day.
June 1, 2012
More of the light/dark scenes
This is the second of the "Secrets of the Dark" The visuals are stunning - specially the Thai artifacts. The switch between light at dark is awesome, and they have a new twist, special objects that need to be taken to specific spots so as to transform into useful ones. The storyline,well... it is just a rehash of the previous one. Kidnapped friend to be used as sacrifice, demon about to be released, three henchmen that need specific objects to be defeated... I hope that for the third one they come up with a different storyline.
April 28, 2014
It's getting better
Ok, I played the first one in the series and disliked it because of the excessive backtracking, and this one, sadly is too, there is no map but it is less frustrating to explore. There are more places to go to and you don't have to change the light that often. Graphic is similar to the first game and this time another improvement is that the evil monsters speak.. well, not so creepy still but I do appreciate the dev. effort to put more things that are lacking in the first game. I like that it is set in Thailand. I disliked the ending though, seem like I go through all these troubles just for that?? Hope the third game is better.
June 5, 2013
A bit different game
This game presents combination of hidden object search and puzzle games, good quality of graphics and not so much actual story, except; here it starts > go now. Gameplay takes several hours at least without any hints/walkthrough guide, divided between finding items from hidden object scenes and solving puzzles to proceed. The game has interesting implementation of allowing each location to be played twice; in daylight or night time mode. Expect to be changing these modes often to solve the problems hidden in this game. To me this added extra challenge when I tried to remember what was the content of each room in daytime or night mode and where did I see this shape/box/door the last time. I learned to always start from the starting point of the map, especially when returning to the game after a break. Map itself is not too big, but there is good number of locations when you count both day and night modes separately. In each room/location there were always multiple "locked" items which required an item to be found and/or puzzle to be solved. A lot of puzzle playing ahead! Sometimes in this game it is clear that you are now missing some item or key but there really is no logic or story to help you to figure out where to find it which felt at least to me that I have to run around in all locations clicking everywhere to find out if a hidden object location has been re-activated or if another location has something new available after the latest solved minigame. This could have been designed differently as in these moments it would be very tempting to get a hint or check the walkthrough guide. There were some interesting puzzles to be solved, always something new which was good as against hidden object scenes which were repeated several times during the story. This was a long game with interesting - sometimes very challenging - puzzles, definitely worth playing for the HO/puzzle fans.
August 19, 2012
Good Game
I like it, I'm not fond of overly scary games so this was just right for me. However I would have liked it better without the morphing scenes, I found it more confusing than normal to figuring out where to put a particular object, and going back and forth and then changing the lighting became tedious. Overall though I found it fun and relaxing, I won't be playing any other versions though.
June 17, 2012
The Apple logo is a trademark of Apple Computer, Inc.