Secrets of the Dark: Eclipse Mountain
Exclusive
Save your friend from the Demon of Darkness in Secrets of the Dark: Eclipse Mountain! Follow clues left by stone monks in a deserted town in Thailand to uncover a thrilling mystery. Battle the dark and magical werecreatures that want to sacrifice your friend in this macabre hidden object puzzle adventure game!
Game System Requirements:
OS:

10.7/10.6/10.5

CPU:

1.0 GHz (INTEL ONLY)

RAM:

2048 MB

Hard Drive:

502 MB
Game Manager System Requirements:
Browser:

Safari 4.0 or later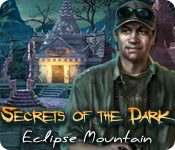 NEW299
The Big Fish Guarantee:
Quality tested and virus free.
No ads, no adware, no spyware.

Reviews at a Glance

Secrets of the Dark: Eclipse Mountain
0
out of
5 (
0
Reviews
Review
)
Customer Reviews
Secrets of the Dark: Eclipse Mountain
89
89
Too Long
There is a lot of moving between locations which due to the length of the game becomes very tedious after a time There are many objects to be found and even when found some of these need an additional object in order to move forward in the game. Objects found are used further in the game and due to the length of the game you need the memory of an 'elephant'. To add to needing a good memory and having a good recall of memory is addiitonally complicated by mystic changes of room layout. These rooms have their own hidden objects and puzzles and you often have to switch between the two, as a result there are many locations to explore. Puzzles vary from easy to hard but are all enjoyable. The hidden objects searches are of three kinds. Find objects by pictures, place objects by pictures and the normal boring one of finding named objects, however the boredom of this is mitigated by the other two. I bought this game and the earlier Secrets of the Dark: Temple of Night and this review would apply equally between the two.
June 21, 2012
fun, fun, fun
Lots to do, I have purchased the CE, and this was fun on a very rainy day in westgemany <lol>,.... i played the advanced level and it was good stuff for my brain,... grafik is very good , I hope to get more in this way sorry for my bad english, I am german
June 6, 2012
Fun
Fun game, decent variety in puzzles. I enjoy the way the HOs are done.
June 7, 2014
"meh!"
this hidden object adventure game takes place in a deserted town in a part of the world i am passionate about. in this game, i am searching for a friend who was kidnapped to be a sacrifice for some dark nefarious purpose and i am being helped along the way by monks that had been turned to stone by the same evil creatures who now hold my friend. graphics: generally very nice; smooth and well done. however, i was surprised to see what appears to be an african elephant in the thai rainforest. music and audio: it's appropriate and not annoying. complaint: i do not like that "change the lighting to change the scene" effect. on one hand, it's a great way to reduce all the clicking around, which this game has too much of already, but on the other hand, it just feels kinda hokey, as if the developers hadn't put much thought into the game design. and in fact, the game felt rather poorly planned out. the fact that it's necessary to visit the same scenes many times made the game a bit boring. my interaction: one hour demo on casual mode (there's three modes). although i will not be purchasing this game, i recommend it with reservations -- it's an okay game that is playable, i just think it could have been better designed. but just because i didn't like this game doesn't mean other people will share my opinion.
June 1, 2012
Left in the dark too much
Eh, found a handle and tried to put it where it said I would need a handle, but it wouldn't take it. There was another spot at the same time that needed a handle as well. Also, too many things to find, get and need all at once and not enough help pointing in the right direction. I guess the makers want us to have to get the strategy guide. Not impressed with that. Beautiful graphics! Great sounds! But I wanted to play and relax. Too frustrating.
June 5, 2012
Game in general is ok
Standard Edition Review The game is ok. I gave it three stars because it was a bit inconsistent in terms of game play. Sometimes the clues were very easy and other times either difficult or did not make a whole lot of sense. Also, there were a bunch of puzzles and scenes where items were replaced rather than hidden. The one thing I really like in games is when one is stuck the "hint" actually gives a hint as to what to do next. This game does NOT have that feature. This is one of those games where it will say there is nothing to do in the location and I do not find that much of a hint. A big plus is the game does give a lot of play time, so it is worth the money for the Standard Edition.
July 19, 2012
Good game, but couldn't get into it!
I don't know why, but I could not get into this game enough to want to keep playing when the demo ran out. I played on expert/advanced mode. The mini games were easy for me, but at least there was a challenge with finding items and figuring out where to use them. I liked the scene changes in some of the locations. Storyline was definitely original and the music wasn't too bad either. Graphics were pretty good, nothing too hard to find. Overall, it was a decent game. I will not buy this unless there is nothing else I am interested in.
June 1, 2012
A little food for thought
I'm finding more and more that sometimes in the hidden object puzzles things are just junked and heaped. I don't mind a quick tidy, but speaking as a human being, no one wants to sort through someones messy fridge, it smacks too much of housework, which a lot of us are trying to avoid. I want an adventure in my adventure games, not doing on here what I already do at home, and my fridge would never reach that state, that was disgusting, which brings up another point... I don't want to clean up disgusting. I don't mind a quick look through something, or a minor tidy to find t hings, but that was too much for me and I put the game away. I definatly won't be buying this game, at all. I've found a few I'd like to get come pay day, but this one pales in comparison. Also for me, slow loads made this more of a journey then it should have been, and there's more, but I hit on the major ones.
June 19, 2012
TOO TIRED OF SECRETS...
Didn't like the game play... Didn't like the graphs... Didn't waste time because it wasn't too long and the music was nice... Good to play but not to expect very much out of this... I am thirsty for some new plots...
June 9, 2012
Secrets of the Dark: Eclipse Mountain
Either I am tired or the game is taking to long to connect the item found to use in other scene or I don't know how to do it. The first time I played I got in pretty far and then there were no objects to get and I needed at least 4 objects to help me with the quest. I searched and searched and the objects I needed were not to be found. I tried to do the game again from the begininng and noticed that the same thing was about to happen so I am not very pleased with this game. Thank you for letting me state my appoinion about this game.
June 22, 2012
The Apple logo is a trademark of Apple Computer, Inc.
The Windows logo is a trademark of Microsoft, Inc.