Theatre of the Absurd
Scarlett Frost, specialist in the dark arts, has been summoned to a luxurious and remote theatre in the snowy Italian Alps. Could it be that the infamous and diabolical Hapsburg Cube has been found and purchased by the sinister theatre proprietor, Dr. Corvis? The cube is said to imprison a powerful and ancient Babylonian demon that would wreak hellish destruction if the cube should break. In a moment of desperate confusion the cube breaks and the demon bursts forth into the souls of the Dr. Corvis and his young Daughter Bethany. The ancient theatre in the lonely winter mountains becomes an arena of spiritual war, between the darkest forces of the underworld and the cunning and esoteric mind of Scarlett Frost. But Scarlett soon finds out that the only way to fight a demon this powerful is to become possessed by one herself. Only then can she acquire a ticket to the Theatre of the Absurd.
Mind-bending puzzles
Vanquish evil spirits
For a more in depth experience, check out the Collector's Edition
Game System Requirements:
OS:

Windows XP/Windows Vista/Windows 7/8

CPU:

1.0 GHz

RAM:

512 MB

DirectX:

9.0

Hard Drive:

470 MB
Game Manager System Requirements:
Browser:

Internet Explorer 7 or later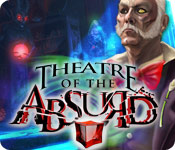 NEW299
The Big Fish Guarantee:
Quality tested and virus free.
No ads, no adware, no spyware.

Reviews at a Glance

Theatre of the Absurd
0
out of
5 (
0
Reviews
Review
)
Customer Reviews
Theatre of the Absurd
64
64
FANTASTIC STORY
For me a story or lack thereof can make or break a game.. If you rate a game mostly based on challanging mini puzzles or on up to the minute graphics this game may not be for you... I only totally liked the steam pipe puzzle... otherwise I found the mini games too easy and one was repeated over and over ... Annoying... But nothing that took away from the gameplay for me... If you enjoy HOGs you will like this I dont usually care for HO scenes of any kind and prefer Adventure Games no HOS... However .. These HO scenes are very well done... Interesting ... and Different than most... I could look for stuff all day in these type of HO scenes... I found them Entertaining and Different.. the Objects that were hard to find were Cleverly placed.. not small or black or cheating in any way... just Clever... If you Enjoy Dark or Spooky Adventure Games... You will probably take a liking to this one... The game is not really that dark at all... and what looked like a game that would be scary at first... Turned out not to be scary in my experience.. and I am spooked out over Nancy Drew Ghost Dogs... so not sure why this didn't scare me... as It does concern demonic possession.... and this demon guy... who reminds me of a form the vampire in Monster Squad would take... A Huge Devilish Winged Thing... Well this Fellow will Appear every now and again... and you even get a demon in your face if you click unsuccessfully on your HOS The story is Excellent imo... Even though you are left with questions in the end... I have come to my own conclusions what happened.. and what took place... I Enjoy endings that leave questions sometimes... Gives me a chance to create my own imaginative answers.. For those who are saying you cannot stop the voice... that is Untrue... Go to Menu Go to Options... and then move the voice bar all the way to the left... You will have all the other sounds ... Minus the Voice... I Really Enjoyed this game Even the HO scenes... I will be replaying it and might eventually purchase the CE... disappointed I got the SE instead... which I chose SE based on CE reviews... oh well... you cannot always tell which to purchase based on Reviews...
January 15, 2013
Great Game!
The good things: The story line was good and general game play was addictive. Most of the graphics were fairly well done, if not masterful. The ending left it open for a sequel as well. The bad things: Cut scenes were annoying and not being able to stop the voice overs ever time you did something wrong or looked at something twice was also a bit irritating. The HOS scenes were dark and some items were difficult to make out. I would still recommend this game, though not for small children as it could be scary to the young.
August 12, 2012
Unique and Creepy, But Too Short
This game is a little different than your usual HOPA. Lots of creepy images and scenes, with an emphasis on demon-like villians. The tasks and inventory items are unique. Hidden Object Scenes are quite dark, but not as hard as they first appear. My only complaint is that it was over too soon. Took me about three hours, total. But it's different enough to make it worthwhile.
June 11, 2012
interesting game
looking at the size, below 100 Mb i was not sure about what to expect. and after reading other reviews with complaints about this and that i must say that the game is great on its size. the HO parts had few items that were difficult to find, but as i mostly click randomly and select items that i expect would be the ones, i often found items by random and needed to press the hint only once - at the end. sometimes no hint was needed at all. one complained that he/she did not know what to do and that the hints were not very helpful. i found this game pretty intuitive. the graphics were not too demanding, but they were nicely made with a good feeling of art. the demons are really like demons and i enjoy these, too. i really love the gentle tones of piano that vary with items found. once i found about 6 of them in one row and it was a pleasure to listen to the tones. a nice balance to the doomy atmosphere. the voice is not too annoying as someone has said. sometimes she repeats the phrases when i click repeatedly, but it is just a minor thing to me. what else... yes, i only played a demo and feel pretty much for purchasing the game, but someone said that the game is short and he/she was able to finish it in about 2 hours. i do not want to spend my money for just 2 hours of play - expecting to reach similar time as i do not have major problems with this game. the puzzles are very easy, but i prefer easy ones than too difficult ones that i need to skip as i do not have patience or time while playing just the demo and also because want to see further whether the game is worth to buy. when rating the second factor: visual/sound quality, i think these two should be separate. sound quality is too good in comparison to the visual (except of the animations which are quite good as well). generally: i enjoyed to play the demo and i would recommend it for people of similar taste for horrors as i have.
June 9, 2012
Enjoyable, but sometimes the hint wouldn't help
This game was enjoyable. Here are my thoughts: Good Parts: A spooky, gripping storyline that just hooked me and made me want to continue on. Brilliant graphics. They are very well designed and add an extra bit of spookiness to the game. The Puzzles provided a great challenge to the mind, which made the game fun. Usually, I don't like puzzles as they are too hard, too frustrating or too easy, but this was just at the right level of challenge or enjoyment. OK Parts: The hint re-charge speed. At 30 seconds, this meant you couldn't rely on it too much, but I would've liiked it to be a bit faster. Bad Parts: The Hidden Object Scenes- Although large, the objects were still incredibly hard to find, so I was jus using the hint time and time again, which was frustrating. The Actual hint itself proved to be an annoyance. While a unique idea, it would give me the same hint over and over which would prove of absolutely no use, so I would be stuck at a certain point. Most of the time, I had no idea what to do. In my opinion, this game should be used with a strategy guide, which you can find in the Collector's Edition. Overall, the game was a hit and miss. On the plus side, it had excellent graphics and a great story, but on the down side, Hidden Object Scenes and hints were very frustrating, which drives the rating down a bit. I recommend this game, based on these things, but strongly recommend you use the Collector's Edition, otherwise, you will get stuck, have no idea what to do and it will therefore be a waste of money.
June 2, 2012
little deceived
Happily I bought the CE of this game : yet too short, too easy (I've finished all game and bonus in less than 2 hours !). How shorter is the standard edition ?
June 2, 2012
ABSURD IS RIGHT
Review based on about 1 hour gameplay and memory. Something about this game just didn't click for me. From what I can remember (after trying to play 4 games in a row), the animation and vos were excellent. Random Click Penalty - Demon face appears briefly about every 5 seconds. Very annoying. That was enough for me. Since I'm a random clicker by nature, it angered me to have that thing in my face so often. Why devs feel it's necessary to have penalties is beyond me. I'm not engaged in competition with anyone. I want to be free to click all over the scene. The penalties slow the game down.
May 17, 2013
OK game nothing mesmerizing.
The most impressive part of this game was the ring sound that you hear every time you click on object you find in the HO scene. I started to find them fast so I can hear the ring sounds creating music, it's kinda fun. The items themselves are sometimes hard to find, graphically I would expect more than what they created in here. The story is nothing new, yet again, a young girl is in distress. Can't wait for game makers to stop using this motif, it's to obvious now, move on guys, find other ideas. So you have HO scenes and items you find in order to interact with the surrounding. Minigames not hard, you have the skip button if find them to boring. The audio was good, the help options are OK, they are really trying to get the player moving on in the game. I played the demo, will consider giving up on one chocolate bar and buy the game instead when on sale.
June 2, 2012
Too Slow
The potential to be a great game, BUT, it's too slow on the narrative and the hidden objects are very hard to find. Did find most by fluke.
December 6, 2012
Didn't Fall In Love With This One
Absurd is a good description. The game felt disconnected. I played all of the SE but thought several times I would trash it. There are a few elements in the game that I have not seen before that are okay. -hint system is good, you don't need a SG -graphics, music are normal -the journal is not really a journal, its more a task list -the HO's really got to me, not interactive and cluttered Game just wasn't for me.
June 9, 2012
The Apple logo is a trademark of Apple Computer, Inc.