Theatre of the Absurd
Scarlett Frost, specialist in the dark arts, has been summoned to a luxurious and remote theatre in the snowy Italian Alps. Could it be that the infamous and diabolical Hapsburg Cube has been found and purchased by the sinister theatre proprietor, Dr. Corvis? The cube is said to imprison a powerful and ancient Babylonian demon that would wreak hellish destruction if the cube should break. In a moment of desperate confusion the cube breaks and the demon bursts forth into the souls of the Dr. Corvis and his young Daughter Bethany. The ancient theatre in the lonely winter mountains becomes an arena of spiritual war, between the darkest forces of the underworld and the cunning and esoteric mind of Scarlett Frost. But Scarlett soon finds out that the only way to fight a demon this powerful is to become possessed by one herself. Only then can she acquire a ticket to the Theatre of the Absurd.
Mind-bending puzzles
Vanquish evil spirits
For a more in depth experience, check out the Collector's Edition
Game System Requirements:
OS:

Windows XP/Windows Vista/Windows 7/8

CPU:

1.0 GHz

RAM:

512 MB

DirectX:

9.0

Hard Drive:

470 MB
Game Manager System Requirements:
Browser:

Internet Explorer 7 or later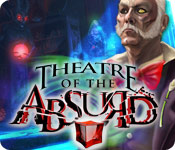 NEW299
The Big Fish Guarantee:
Quality tested and virus free.
No ads, no adware, no spyware.

Reviews at a Glance

Theatre of the Absurd
0
out of
5 (
0
Reviews
Review
)
Customer Reviews
Theatre of the Absurd
56
56
Great Game!
One of the best! I really enjoyed this game, right to the end! Just the right balance of 'Hidden Object Scenes' and 'Puzzles'. Good 'Voice-overs', good 'story'.
August 30, 2012
Great Game!
The good things: The story line was good and general game play was addictive. Most of the graphics were fairly well done, if not masterful. The ending left it open for a sequel as well. The bad things: Cut scenes were annoying and not being able to stop the voice overs ever time you did something wrong or looked at something twice was also a bit irritating. The HOS scenes were dark and some items were difficult to make out. I would still recommend this game, though not for small children as it could be scary to the young.
August 12, 2012
Ignore the title....nothing Absurd here!
As crazy as it sounds, I almost didn't play this game because of the title. It made me think of a sideshow at a traveling carnival. Even the first "chapter" was not an indication of how sophisticated this game is. I feel that anyone critiquing this game just from a demo will not be able to convey the entire brilliance in this game. It is definitely different than most games.....and yes, while it has a voice over, it was professional and not annoying as some. The CE version is well worth the price....it's challenging and the prompts help in tight spots....but I would rather have a good challenge than speed through a game like this that has so much eye candy in the graphics. I personally don't like the morose skeletal/psychic/cultish/witchcraft type genre.....which is where I THOUGHT this was leading. I was pleasantly surprised to see more creative uses of hints of Eqyptian remains and other historical/artifact type images, than the worn out "ghoulish" hooded and spell casting characters. I think this game would make a long run to the top ranked games if it were renamed as something (FKA) "the Theater of the Absurd". I totally recommend this game! I
July 27, 2012
I Love This Game!! Spooky and Fun!
I didn't know what to expect when I started playing this game. I bought it on a whim and I'm glad I did. The graphics are amazing and contribute to the overall atmosphere of spookiness. The music likewise is perfect, appropriately eerie without being annoying or intrusive. The plot is great, especially if you love a good supernatural thriller. The cut scenes are good too. My only real complaint is that the HO scenes are a little dark and murky and a little too indistinct. There is a lot to do in each scene and lots to explore. I should add that the plot involves demons, possession and the occult; if these topics bother you then I wouldn't recommend this for you, but on the other hand, if you love a good supernatural tale with plot twists and lots of gothic atmosphere, by all means buy and enjoy!!
July 26, 2012
Theatre of the Absurd?? No....
First I want to say I finished the demo in 30 minutes. Like many of the other reviews, a few things annoyed me with this game. 1. It is a reaalllly slow story line. 2. There are cut scenes that seem to be random and really annoying. I could skip some of them though... 3. In the hidden object puzzles, there are multiple items, some of the items are tiny, and there are no sparkles alerting you that there even is a hidden object scene. It passes the time though..I found myself trying to rush through the game to see if it got any better..for me, it didn't
July 14, 2012
Demonic possession ahoy!
I was intrigued by this game from the beginning because of the demonic possession theme and the demonic imagery in all the scenes. Combined with the sound effects and smoke and coloured lighting, it made for a fairly creepy atmosphere. An interesting new feature of this game is that you can "use" your arm in the game; you extend it to cast spells to progress through the game (not that exciting, would have been nice to have an associated minigame for each spell) and also instructions for the next step appear written IN your skin on your forearm. Most original in-game strategy guide I've ever seen. While the artwork tended to the monochromatic side, it really appealed to me. The creepy castle setting is a cliche but it's done well here, to the point I would feel a little nervous about exploring new locations for fear of what I would find! Smoke and other hardware acceleration effects are put into good use. The gameplay itself is fairly average. Hidden object scenes were okay at the beginning but became more like junk piles towards the end with nonsensical placement of items, i.e. more like the early days of HOGs. Puzzles were of average, i.e. easy, difficulty with a decent variety but I did like a recurring puzzle type where you have a series of small images, and you have to find their location on the main scene. What I liked best about the game was the race against time to thwart the demon; every time it appeared it added to the sense of urgency and danger.
July 10, 2012
Diabolical! Lots of fun, Great graphics
It's about a little girl in trouble. It's about demons. If that doesn't appeal to you, this isn't the game for you. The graphics are fantastic. I really was constantly impressed by the detail in each scene. It had some very sophisticated graphics elements. The help system works fine. I played the entire game on expert mode, and it wasn't frustratingly hard at all, yet the puzzles were challenging. It had a twist. The hidden object scenes were more difficult because of lighting effects in the scene itself, and I liked that. I wish I had gotten the collectors edition. I was satisfied, though.
July 6, 2012
Masterpiece
This game is perfection, extraordinary, a stunning masterpiece! I loved every aspect of it! The only down side to this game was that it had to end! I have truly never played a better game!!!
June 29, 2012
One of my five top favorite Hidden Object games
This game was fun and exciting and gave good hints and clues along the way. It was rewarding and not frustrating in that each level was challenging but I didn't get hung up and unable to continue.
June 25, 2012
Beautiful, different, enthralling game!
I absolutely loved this game. It's different from other HOGs in the grimness of the story, the graphics style, the well layered storyline... I liked the quite different sounds in HOS's when you found an object. More findings result in different tones which contribute to the story and strangeness of it all. And even when you've guessed the plot (which shouldn't be too difficult), it's still worth playing on. New rooms unfolded and left me in awe. I could completely go along with the story. So I would say: very recommendable!
June 22, 2012
The Apple logo is a trademark of Apple Computer, Inc.