Experiment
Help Sophie regain her memories and uncover the truth in this unique Match 3 game, Experiment! Sophie wakes up in an empty room with no idea who she is and why she is there. A scientist is now sending her urgent messages and having her conduct an experiment. She must follow the scientist's orders, otherwise she can expect the worst. Time is not on her side though, and with each revelation Sophie becomes more and more concerned. The end might be more shocking than she ever thought.
Intriguing storyline
Match 3 experience with lots of variety
Story, Relaxed, Arcade and Puzzle modes
Game System Requirements:
OS:

Windows XP/Windows Vista/Windows 7/8

CPU:

600 Mhz

RAM:

128 MB

DirectX:

8.0

Hard Drive:

42 MB
Game Manager System Requirements:
Browser:

Internet Explorer 7 or later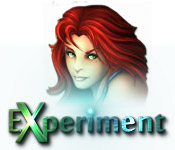 NEW299
The Big Fish Guarantee:
Quality tested and virus free.
No ads, no adware, no spyware.

Reviews at a Glance

Experiment
0
out of
5 (
0
Reviews
Review
)
Customer Reviews
And now for the news: Experiment failed.
There are way better match 3 games out there... This match 3 game is "eh" nothing more than just that. I played better quality well designed match 3 games and yes I do like to compare, especially when it comes to having the ultimate experience, I want to know I made the right decision I do have standards. Graphics are OK, gameplay is nothing new but confusing since they change type of game during the scene you play, a game within a game within a game...inception style.. I played the demo and noticed they raise the challenge level as you progress in the game which is good but still easy stuff. I have to say that it does look like a cheap unsophisticated version of other match 3 games like "Jewel quest" series. response time of this game is great, helps to play fast matching colorful tiles and bombs go boom! still not all that fancy. I did not care for the plot the whole game wasn't my cup of tea I did not see myself getting addicted to it like I do with other games worth playing. Music OK but we don't keep a game just for that. I say, skip, keep your $$ for a better game I know I will.
June 5, 2012
match 3
it was ok but I know that their is better match 3 games. Also we need more of the match 3 games and less hidden
June 5, 2012
What Experiment?
The game title doesn't even come close to having any relevance to the story..... M3's are my thing...I love them! But this one was very ho-hum! I even purchased it just to see if things improved or at least went ...... somewhere!? But alas.... disappointment :o( PS More good M3's.... lots less HO's
June 6, 2012
Great potential, but still needs work!
I've played this game for 2+ hours, and there are a few things I really like about it: the many different game modes, with new ones still coming along now; the well constructed puzzles; and the different game options, including completely untimed. Because of this, I do recommend it, but barely. It is a nice game for a match-3 beginner to learn all the different game modes. Unfortunately, the first problem I stumbled upon was a pet peeve of mine: no ability to make the music quieter without turning it off altogether. The next was that the characters are, to me, very annoying. I dislike them both. The main issue, though, is that this far into the game, there is still little real challenge. Each level is just a little too easy to be quite enough fun. I only play untimed, so maybe the challenge is in a rigid timer. This game could be a really nice one with some relatively simple improvements. Too bad it didn't get them already.
June 5, 2012
It Wasn't Terrible. And That's a Compliment.
I'm not sure why everyone is so down on this match 3 game. It was OK. Not a love fest, but, still, OK. ... But then again, aren't ALL match 3 games pretty much just OK? Snoresville. There's not a lot of strategy, thinking, plotting, planning, scrutinizing required here. One definite positive: You can contemplate the condition of the world and how to set it right as you play. OK?
June 5, 2012
Failed experiment
Its an OK game thats about it really. I like a little more excitment in my playing. I would like more than just OK.
June 5, 2012
eXperiment
A short game, takes about 3 hours to finish. Nice graphics, but not much challenge, From a pragmatic standpoint, I use games like this to fill my punch card quicker. So, if you need that last punch, buy it, play it and then uninstall it.
June 11, 2012
Not My Choice in M3!
After reading the first 7 reviews that came with this game on its introduction day, I was not even going to try it, but everyone has their own preferences in M3, so I did work through the trial. I was pleasantly surprised to find each game of a differing M3 variety, that it offers both timed and untimed modes, and arcade and puzzle options. The storyline is vague in the trial, so don't waste time reading the script, but DO take the time to read the instructions before each game on the first couple of times around. While the timer is generous the M3 activity quickly becomes repetitious and did not increase in difficulty even though I was in the 2nd room. Other than unlocking the primary door after finishing all six 'rooms', there isn't any specific goal of each room. I was disappointed to find the music and sound options were ON/OFF, and they did not offer volume control. I turned it down as low as it would go, as I'm into the game and not the sounds. The colors are vivid and bright, but it becomes old quickly. If you?re looking for an M3 for those times when you want to play to relax, this is the game for you, but I won?t buy it. There are many more M3 available that are more interesting.
June 9, 2012
A Real Snooze Fest!
Well it seems so far we are having a bad week in selection of games. I love M3 games and usually indulge in them when I feel like zoning out or being challenged. This game unfortunately made me feel comatose by the end of the trial. Visually the graphics were good, crisp and sharp but seriously lacking imagination, style or any sort of animation to speak of. Personally I found the visuals too simple and boring. There are voice-overs for our two characters and the music was not bad but I found it misleading and out of context ; the music suggested adventure and excitment which the game seriously lacked. Game options also include language which I haven't seen in a while. There are several modes of game play and several types of challenges which include time, relaxed, arcade and puzzles. The storyline is too vague and from what I can tell, there is a mystery to solve which involves our heroine unlocking several doors in order to reach a gate. The entire game takes place in a corridor and each door contains a variety of M3 boards to play. This probably was the most dissapointing feature; the M3 boards were always the same in design and context. There were several styles of M3 games to play but the boards remained the same which really was a let down. There were no power-ups, no real levels of gameplay and no challenge, however there were trophies to gain. At the end of the hour, I was still clueless as to what the mystery was nor did I care to find out. Personally I think 'Experiment' has nothing to offer in way of fun but may be interesting for beginners who wish to experiment with different styles of Match3. Other than that, the game was monotonous, uninspiring and I hink I will go back to sleep now and dream of better games to come forth.
June 5, 2012
Zzzzzzzzzzzzz.. huh, what game?
I like to play match 3 games as light relief from adventure and hidden object... having said that I do prefer them to need me to be awake and have half a brain cell. This one fell short of that by far. Each section told you exactly what to do and was so boringly handholding as to be insulting. The 'intriguing storyline' may well have been only it seemed to have nothing to do with the game. It was so ridiculous as to be laughable. No one in their right mind would wake up in a strange room with no idea who they were and then start playing match 3 games on various doors because a voice told you to but wouldn't tell you anything else like who they were who you were where you were etc. I couldn't manage more than half an hour before I started nodding off and by then I really couldn't have cared less if she got out or not. Saying that... I do hope she did otherwise they're probably planning a sequel!!!
June 5, 2012