Build-a-lot: Fairy Tales
Turn the pages of your very own story full of fairies, magic and adventure. Travel across lush meadows, climb a windswept mountain and journey deep into a dark forest. Use your fairies and your skill to create whimsical houses, mystical structures and amazing wonders for a variety of familiar storybook characters. Work quickly and strategically to buy and sell properties and make as much gold as possible. Can you construct a flying machine? Can you protect the town from fire-breathing dragons? Is that crown wearing frog really a prince? Find out in Build-a-lot Fairy Tales.
Play through 65 fairy tale levels.
Protect the town from dragons!
Enchant your houses to maximize gold!
Get back to basics with Build-a-lot.
Game System Requirements:
OS:

Windows XP/Windows Vista/Windows 7/8

CPU:

600 Mhz

RAM:

512 MB

DirectX:

9.0

Hard Drive:

112 MB
Game Manager System Requirements:
Browser:

Internet Explorer 7 or later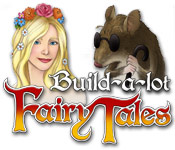 NEW299
The Big Fish Guarantee:
Quality tested and virus free.
No ads, no adware, no spyware.

Reviews at a Glance

Build-a-lot: Fairy Tales
0
out of
5 (
0
Reviews
Review
)
Customer Reviews
Build-a-lot: Fairy Tales
57
57
Great Addition to the B-O-L Series
I will keep this short and sweet. I purchased this game without even triying it and I was not disappointed. I believe this game plays a little quicker then the others so you will have to "hit the road running." If you love the others in this series, don't waste your time with the demo, just go ahead and purchase it. Like all the BOL games, this game is very addictive. As a sideline, thanks to BF for offering it this week. Withall the specials on CE, I was ready for a change. I will say that BF is taking me to the bank this week. Keep them coming!
June 6, 2012
build a lot fairy tales
I thoroughly enjoyed it! I own the "traditional" build a lot games(house for humans),so it was nice to build homes for the furry creatures of the forest.If you like built a lot add it to your collection.If you never have played them before try it. I think you will like it!
June 6, 2012
Best One Yet
I absolutely love the Fairy Tale twist on this game it's so much fun and the homes are just adorable, with vibrant colors and a great challenge. This is a fresh and wonderful change to this game it's unlike any of the others in the series. It's not that easy to get gold every time I've had to replay some levels more than once. Each town is unique in it's own way but staying true to the fairy tale theme and the game itself and there is some really cute humor in the game as well. The set up and game play are the same as the other Build A Lot's but the story and homes are different and just adorable. This is the best one yet in this series although all of them are great, but this one is the absolute best one yet. I was so glad to see this game go in a totally different direction all the characters, homes, and structures you build are so whimsical just like you would see in a fairy tale. There is lots to do in this one and all of it is so fun. What a great job this developer has done with this game. Give the demo a try it's definitely worth that and it didn't take me long into the demo to buy it and I'm loving ever minute of it and I'm sure I'll get many hours of play and fun with this one. Thank you dev's and Big Fish for this amazing and fun game. Keep them coming we want them, we play them and we love them.
June 6, 2012
Terrific new Build-A-Lot
I thought this was a fabulous game! Was wondering where they could go next with this much loved series, so I was happy to see it veer off into fairy tale land! In this realm, we have to build homes for various fairy tale characters. Puss in Boots appears as mayor of the first town. It was a lot of fun. Enjoyable from start to finish! If you enjoy time management games, this is for you!
June 6, 2012
Build-a-lot: Fairy Tales Fantasic Fun
I own the B-A-L: On Vacation and will play this one more because I love the fairy tale theme. I like the way the scenes look like coloring book drawings and get filled in when built or bought. It is a charming game and if you haven't bought a B-A-L game before it is very easy to understand. I also recommend this games for the kids I think they will like the story characters. Another game I'll play over and over trying to get a better score. This makes it a good buy for me because I'll get much entertainment from it.
June 6, 2012
Build-A-Lot Fairy Tales - so much fun!
Thank you to BFG and the Build-A-Lot people - this is a brilliant variation on our favourite Build-A-Lot games - even better than Elizabethan Era - it's very bright and pretty and colourful, with fun variations on the old themes of town mayors and emergency services and catastrophes. Although not really difficult, I love it - as soon as I played level 1 I knew I would be buying this game. Definitely a must have!
June 6, 2012
Amazingly fun and challenging
At first, I thought Build-a-Lot: Fairy Tales would be too silly, but this game took my house by storm! I started playing it and pretty soon my husband wanted to play it too. He enjoyed it so much he played for FIVE HOURS straight! We spent the weekend swapping the laptop back and forth.
June 24, 2013
Fairy Tales is Wickedly Awesome!
There are already a couple of good reviews of this game (like the one by gmac1007), but this is my favorite game, so I wanted to say ?Bravo? to Big Fish and the people who created ?Build-a-Lot: Fairy Tales.? For those reviewers who thought that this game was easy or annoying, I beg to differ on both parts. First of all, this game is BEAUTIFULLY designed and illustrated. The colors are vibrant (sometimes you have to finish a level to be rewarded with an amazing burst of color) and the characters are wryly funny. The princess who appears with help or admonitions once in a while is fairytale pretty. You have a wolf, troll, frog prince, witch, and little pigs to accompany you along your journey. I have a love-hate relationship with the blazing red dragon: I hate him burning down my houses (because he pops In and sets my completed den- cottage- manor- gingerbread house on fire), but then he stares at me with such satisfaction that I can?t help but laugh and cuss him out before he retreats. You can protect your house from dragonfire, although some levels are so difficult to pass that, if you take even that extra step, you?re using up precious time; so it can be more expedient to extinguish the fire and keep playing than to protect your building against he-who-doth-breathe-flame (and, he might be a she, who knows?!). You can paint your houses a variety of colors, and there are other fantastic features (e.g., Wishing Wells) that add ?charm? to a level ? and you?ll find out about charm soon enough, my pretty. Different levels have different time limits, and after the Storybook Levels, the game gets so difficult at times that I had to consult the Big Fish Forum and YouTube for assistance. It was all I could do to finish some of the levels in the time allotted, even knowing the solution. I have played this game going on five times and still love it. I eventually won the coveted blue ribbons (for completing a level expeditiously) in most of the beginning Storybook levels, but once I got into Expert Levels and Quick Play, I don?t think I got but one or two blue ribbons. Okay, so maybe I?m slow! IMHO there is at least one level that you will not finish unless you go to the Forum for help. If you have a sense of humor and an affinity for fairy tales, this will be right down your alley. It?s like a chess game at times in knowing what house- structure- feature to use in what position on the screen, so it can be very intellectually challenging. Many levels have a spoiler thrown in at the end? so just when you think you?re done, you?re not. I don?t particularly care for the build-a-lot games, but this one captured my imagination, hit my funny bone, and soothed my time-management-challenge cravings. Play the demo with a light heart and enjoy!
July 19, 2012
Fun Game
I love this game and bought it before the trial hour was finished. It is relaxing and great fun. Just the sneaky look on the wolf makes me smile. The premise is the same as the other Build A Lot Games, but the characters and storyline of this one make it different. I've only just started, but I'm sure the wolf is up to no good!
June 6, 2012
Great additions to the Build-A-Lot Family
I have absolutely loved the Build-A-Lot games since the original and this one did not disappoint. The new houses are fun and fit in well with the Fairy Tale theme. The new challenges make the game feel refreshing instead of the same ole game over and over again.
August 14, 2012