Fabled Legends: The Dark Piper
Exclusive
The Dark Piper strikes in Fabled Legends: The Dark Piper! The fiend unleashes infested rodents into the town of Hamelin using the magical Pied Piper Flute. As the Fabled Inspector, you are summoned by the duke to investigate and stop this mysterious figure. Defeat the Dark Piper before he leaves a trail of destruction all across Europe!
Stop the Dark Piper!
Challenging puzzles
For a more in depth experience, check out the Collector's Edition
Game System Requirements:
OS:

10.8/10.7/10.6/10.5

CPU:

1.0 GHz (INTEL ONLY)

RAM:

512 MB

Hard Drive:

431 MB
Game Manager System Requirements:
Browser:

Safari 4.0 or later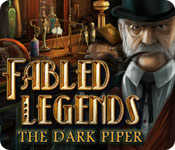 NEW299
The Big Fish Guarantee:
Quality tested and virus free.
No ads, no adware, no spyware.

Reviews at a Glance

Fabled Legends: The Dark Piper
0
out of
5 (
0
Reviews
Review
)
Customer Reviews
Fabled Legends: The Dark Piper
84
84
Good game
Enjoyed everything about it,Blue Tea has great games .
June 20, 2012
Crikey! I?m, Well, I?m Shocked!
GAME COMPLETED A COUPLE OF TIMES I had to look twice to see who made this game, because it seemed impossible to me that the people who gave us The Exiled Prince could produced anything so dark, so macabre, so, well, violent. Obviously, this is a game that no rat-o-phobe would want to see ? and believe me you REALLY don?t, but it is also not for anyone who prefers their battles with evil to be somewhat low key. The darkness in this game is intense, the creepiness is everywhere, and the battle is fierce and grim to the bitter end. For all that, it is an exceedingly beautiful game, well conceived, the story well told, the puzzles are all interesting without being too challenging, and there are plenty of interactive HOs. I really enjoyed it. I was completely caught up in the story, even this second time around. My one beef is the map. Very badly put together, it is inaccurate, enough to have you heading off in the entirely wrong direction. Worse, it is supposed to tell you where there are ?areas of interest? but that symbol shows up only if you have an active HO there. Any key, puzzle etc that you could be using does not register. So it?s around the map getting ?There is nothing to do here right now? throughout the entire game. There was also a fair bit of back and forth with one item too. But the game is fun, has some surprises in store for you, and is, as you?d expect, visually marvelous.
April 6, 2013
Just a ok game
I played the demo and would not have bought it if it wasn't 1/2 price. The HOS are different and hard to see what your looking for. The music puts me to sleep. Has a map but doesn't tell you much except where you are. The hint button is useless to me, I want one that tells you something. The game is not very clear on what to do next. You have to just keep going back and forth to find out what to do.
December 15, 2012
I Just Don't Get It?
The Piper was so sinister & menacing, it looked promising. The cozy medieval village also looked inviting. The fact that you could eventually enter the many storefronts & shop windows was terrific. There are some promising extras like the ability to summon the bird for example. There are characters to speak with and the cut scenes with the ever elusive evil piper is great to see. Plus the game is unbelievably long with a wonderful story line, but that's about where the fun ends & the aggravation begins... While your inventory is constantly stocked with items, normally a huge plus, you really never know what to do with the items, or worse where to go next. There is an incredible amount of back-tracking, and The Map system is the worst I've ever seen. For example, let's say you walk Up one screen. Well for some unknown reason, you might go TWO screens Up and One to the Left on the Map! WHY??? Another peeve is how once you get past the first part of a challenge (ie: opening a door), of course there is a second challenge waiting just on the other side (ie: a locked box). Of course we enjoy multiple challenges, but this seems to be the rule here, so never really a sense of satisfaction. Another thing is while the locations are totally cozy, and not too badly drawn, the navigation is pitiful. You can get totally lost within the village, even after playing for days. This is mainly because all of the scenes have a blue tone with a muted grey haze to them. Just look up a walk through with screen shots, then look at the scenes as you scroll down, and you'll see what I mean. Okay so for the worst part of all: Is it meant to be interactive or not? The most hair pulling part of all has to be that once you've gotten past all the pitfalls, navigated through the confusing layout, gotten through all of the sometimes obscure challenges, you find yourself with all these objects, but you don't even know IF you can use them within a scene! This is one of the only games I've played (and I've played hundreds) where you don't know if an area is INTERACTIVE or just "talking to you". And because there are many instances of this in almost every scene, you quickly become numb to want to continue; I couldn't wait for it to end. For example, you might click on a picture and the game will say something about the subject. But then you might click on a statue, and the same thing happens. The difference is you cannot actually DO anything with the picture, but you CAN do something with the statue. This just increases the frustration factor because many times you will be walking around in circles for hours not knowing that you could have accomplished something until you turn to the walkthrough. And btw the hint system is one of those that say, "there is nothing to do here" instead of pointing you in the right direction. Well you know what, it's right, there is nothing to do here.
August 26, 2012
A bit of a disappointment...
For a game in general, this one is a bit of a disappointment due to various factors. For a Blue Tea game, this one is a huge disappointment, as they've done so much better with other games of theirs I've played. I originally played the CE demo, and decided while it wasn't worth the CE price, it might still be okay as an SE. And it's not awful, but it still ends up being a bit of a disappointment. There are several issues with the game. Spelling errors, language barrier issues (poorly done sentences, in other words), and a few items in hidden object scenes that the names will have to be looked up by many. While I don't necessarily mind having to look something up to know what it is, generally using a more common name for it is going to make more gamers happy. These issues, crop up pretty much throughout the game. The graphics are relatively good, though the characters move a bit stiffly at times. This game also has the morphing objects that are in other games made by this developer, which can be a good or a bad thing depending on your preferences. The game doesn't mention them though, you just sort of come across them eventually. The cat you grab at the beginning for your hint meter is a bit of a disappointment - it almost seems like it'll interact with you during the game, but no, it's just there to click on if you need a hint. I'm guessing they chose a cat because a game involving the Pied Piper involves rats. (Get it? The cat will help you defeat the rats with hints! Ha!) The puzzles/mini are overly easy. Not a horrible thing, but there's really almost no challenge to them and they're rather hard to fail at. This is also not a fragmented object game like many of the other games put out by this developer, it's much more of a typical hidden object game. You have a list of objects, and you find them in the scene. And you do this repeatedly. The hidden object scenes are also a bit odd in that they let you pick up things you won't need to use at all during that particular search, which I wasn't able to decide if this was to throw you off and make it more difficult, or an error left in the game. There's A LOT of back and forth in this game as well, and you will occasionally find yourself wandering around trying to figure out what you're supposed to do next. Which, unless you missed an object in one of the locations, is generally a hidden object scene that you have to revisit. It just seemed to me to have more back and forth than other games I've played by this developer, and it started to get old. The story is also a bit cheesy and the way your character ends up tying it all up at the end was a bit disappointing to me. I don't want to give it away, however, so I'll leave that for others to discover. Ultimately, it's not an awful game, but for Blue Tea it's not a good game. If you go into it not expecting the usual excellent work from Blue Tea, then you probably won't be too disappointed. I would only recommend it with those caveats in mind, but I really hope that the next game put out by them is back to their usual excellence.
June 22, 2012
A STEP DOWN FOR BLUE TEA GAMES
This developer generally impresses me with the quality of their games, but they have missed the mark with this one. I hate to give a bad review, but in this case it is warranted. The visual quality of this game is very good, but that is where the excellence stops. The story seemed to almost be an afterthought and was not compelling at all. There were many HOS, which I usually like, but these were just way to easy. Without the challenge it just takes away the fun for me. The puzzles, like the HOS, were way to easy as well. I play many of these games, but in this case I am either a genius at puzzles or they were to easy, I think it is the latter. As is usual with this developer the art work is great There were times that I just allowed myself to look at the game rather than play as the graphics were just wonderful. With a bit more effort I think this could have been a much better game. While playing I even considered not playing the bonus game as I was just plain bored, but I went ahead and played it. The bonus game was actually worse than the main game and was sort of pointless. It was just perhaps 3 locations with with a lot of HOS. It felt more like they knew they needed a bonus game to qualify as a CE so just threw something together. I feel there should be an achievement award for being persistent and finishing this game. Give the trial a go and see for yourself as it seems that my take on the game is in the minority, but it just didn't give me very much enjoyment. Perhaps next time Blue Tea!
June 22, 2012
Tedious!
I like Blue Tea games and got the SE version for half price. After initially liking the graphics and story, it soon became very tedious. A lot of back and forth from scene to scene and a feeling of not knowing what to do. The map does help a little but doesn't always show you where you need to go. It also doesn't match the up and down, left and right directions of your screen. (I hate this.) I found myself just going to every scene and using the hint button until I found something to do or an HOS. The game is long so this just makes the tediousness worse. I really wish that game designers would make games more linear with more problem solving rather than memory tests. This game has a lot of scenes so it became laborious more than fun and challenging. If you like all of the back and forth action then this game is for you.
December 16, 2012
Somewhat of a disappointment
The best things about this game are the great graphics and how long it takes to play. Many fun interactive HOS. How long it takes to play is also one of the game's biggest deficits. It has a map, and a list of objectives but no guide. There are many, many locations, and many puzzles and solutions to discover. I hardly ever complete a game in one sitting and I found that I could not remember where incomplete items were. Because the map was not interactive, I spent way too much time migrating from scene to scene looking for the incomplete item or objective. The unhelpful hint only told me that there was "nothing to do here." I reached a point where I had to use the Walkthrough at almost every step in order to find things. This added a lot of time without any additional value. The other downside of this game is that periodically things happened or objects appeared that made no logical sense in the context of the game. Almost as if the developers wanted to make the game longer, but without connecting the dots. I can recommend the game, if you want to keep your own guide and write down the locations of things so you can find them later on. Otherwise, take a pass.
January 28, 2013
Disappointing to say the least
I usually love Blue Tea games, so I bought the CE without even playing the trial version. My bad. Though the graphics, music and even the voice overs were good, I found the pace so slow and boring that I didn't even bother finishing the game let alone the bonus chapter.
June 15, 2012
lack of challenge made this one a fly-by instead of a must-buy!
lack of challenge made this one a fly-by instead of a must-buy! the graphics quality in this game is just what you would expect from blue tea... the soundtrack is also top-notch with great voice-overs... the storyline is one gamers should have expected to see at some point with the dark parables and haunted legends series... and it could have been a must-have so easily... however, the puzzles are simply too simple, the hidden object scenes, too, and in all the only thing that gave the game length were the numerous cut-scenes one encountered every few minutes... in the end, i simply wasn't looking for a cartoon to distract me for a few moments - i was looking for a superb game offering a good challenge to entertain me for a few hours... this one wasn't it!
June 16, 2012
The Apple logo is a trademark of Apple Computer, Inc.
The Windows logo is a trademark of Microsoft, Inc.