May's Mysteries: The Secret of Dragonville
Follow May, the intelligent and charismatic girl in her quest to find her brother in this exciting puzzle adventure game, May's Mysteries: The Secret of Dragonville! May and her brother Tery set off on a hot air balloon adventure when suddenly they get caught in a storm and crash. May wakes up and finds out Tery went looking for help alone. Search for him and advance through the adventure by solving over 270 puzzles, including logic puzzles, tricky rhythmic games and beautifully hand drawn hidden object scenes. Be captivated and immersed in the wonderful world of May's Mysteries!
Over 270 mini-games
Charming hand-drawn graphics
Storyline adventure with 80 locations
Game System Requirements:
OS:

Windows XP/Windows Vista/Windows 7/8

CPU:

1.2 GHz

RAM:

512 MB

DirectX:

9.0

Hard Drive:

291 MB
Game Manager System Requirements:
Browser:

Internet Explorer 7 or later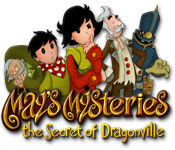 NEW299
The Big Fish Guarantee:
Quality tested and virus free.
No ads, no adware, no spyware.

Reviews at a Glance

May's Mysteries: The Secret of Dragonville
0
out of
5 (
0
Reviews
Review
)
Customer Reviews
May's Mysteries: The Secret of Dragonville
34
34
Gave Up After 30 Minutes!
I love cartoons and I love puzzles and put them together, you can get great games. Unfortunately this is not one of them. There are two play modes: casual and normal. The Graphics are sharp and I really did like the artwork. There are voice-overs at intervals but then the endless written dialogues take over. The music is pipe organ and after a while starts getting on your nerves. After you get past the tutorial which for me was a puzzle in itself, you start off your story with a balloon accident and May waking up in a strange town to discover that her brother, Tery, has gone ahead for help. From this point on you have likable characters you meet on the way and various tasks and puzzles to solve. Dont be misled by the fact that this game is catagorised as a HOG, it is not! It is an adventure Puzzle game, some of which include HOS. Navigation was the worst part of this game; you cannot move until you press the compass that gives you the directions which really was the kill joy for me. Then there are the Puzzles that vary in style and Bonus games you can play for extra hints. Had it not been for the extremely vague game instructions and equally vague hints, I might have actually enjoyed this game instead of feeling incredibly stupid at my several attempts to solve a puzzle. Overall the game mechanics are slow and confusing along with too much dialogue which made the game not fun at all. Thank God there is a walkthrough because I am guessing that many who buy this game will need it. As for me, me and my stupidity will pass up on this one.
June 12, 2012
I really wanted to like this game..but I don't.
This game looked sweet and charming and I really wanted to like it. The story line is nothing new- brother and sister get separated and the sister has to walk around town, speak with towns people and solve puzzles they give her to get clues to find her brother. Here's what I liked- the graphics are charming and the story is cute. What spoken dialog there is is well done. That's it for the likes. Here's what disappointed me- 1. The game is mislabeled as a HO game. It is a puzzle game and few of the puzzles happen to be HO. 2. Way too much dialog to read. You can skip it, but you'll missing something important. 3. There is a tutorial, but it is unhelpful because it does not clearly state that you have to click the compass in the top right to see where you can move to. 4. You have to earn hint points to be able to get a hint or skip the puzzle. If you are out of hint points, there are bonus games you can play to earn more. 5. Some of the puzzles resemble the word problems you used to get in grade school math. And they are just as annoying! 6. Every puzzle has instructions, but they are long and wordy. 7. Once you have typed in or set up your answer to the puzzle, you have to click submit to find out if you are correct. 8. The music is annoying! Overall, not the best 45 minutes I have ever spent on a game.
June 12, 2012
Odd Game!
This game is different then any I have played but I have to say I liked it for that very reason. The whole way the game is set up is different and takes some getting used to but after you play it awhile it starts to make sense. I love all the people May encounters and the story is good and everything is geared to finding her brother through helping the people she meets. The first puzzle was so easy I did not think the game was going to be challenging enough but the second one took those thoughts right away. I did 7 of the puzzles and all were different and harder then the last one and makes me glad there is a walkthrough because I know I will need it sooner or later. I think everyone should try it for themselves with a open mind as you may find you do like it.
June 12, 2012
Talk, Talk, Talk and More Talking!
Way to much dialogue and the dialogue is not even remotely helpful in solving the puzzles. Graphics are simple and clear as a bell. Hints are vague and ultimately unhelpful. You can only skip a puzzle if you have enough points. If you don't have enough points you can not skip until you get some. Navigation seemed unnecessarily difficult for such a simple game. You must click on the sun compass to show the arrows that you are to click on in order to move around. The music is very annoying and there are no voice overs for the speaking parts, only for the animation parts that you can't control. The puzzles are mostly the kind that are unfun for me, like soduko, sliders and the like. Several of the games are okay and were enjoyable but were too few and far between. I only played a half hour of the demo and them I uninstalled it.
June 12, 2012
Nothing Good to Say
The best I can say is the colors were bright and cheerful. The compass was just plain silly. So was having to click through chat to get back try a puzzle again. I lasted 5 minutes.
June 12, 2012
Just not fun
Now I've only played the demo so the game might get better, but I have a feeling it dosn't. The game is a bit like small bang theory, but not near as fun. The worst thing was having to click on the stupid compass every time you made a move. When you enter a scene you can't do any thing in the scene untill you...guess what...that's it, you have to click the compass. It seemed to me that I spent more time clicking the compass than playing the game. The music was bad too. The word annoying comes to mind. For me this game was terrible.
June 12, 2012
Has Potential, but needs further development
I am conflicted about this game. In theory, it sounds like a wonderful game, but the reality doesn't live up to the expectations. It awhile for each screen to load which is annoying. .The game itself looks like something we would have seen 10 years ago. The puzzles start out easily, then each one gets progressively harder. I loved the storyline, and felt that was the best part of the game. If they just tweeked the game and reworked the artwork, it would be a fabulous game, but as it is, I feel mediocre would be the best word to describe it..
June 12, 2012
About Time!!
I have played Professor Layton games on my DS, all the time wishing they would make one for the PC. That tiny screen was too small. NOW I HAVE THIS GAME! I think it by the same makers as the Layton series for DS. There is alot of dialogue but the game are VERY challanging! LOVE IT!
June 12, 2012
Definitely a puzzle game
I know many of the reviewers have disliked this game, but for anyone who has played the Professor Layton series, this game is for you. For people who are expecting a hog, this is not it. For those who enjoy solving puzzles, this is for you. One of the complaints I have is that you have to click the compass every time you want to move to a new location. Other than that, the game is fun and challenging.
June 13, 2012
read, read, read.......
you definitely have to read a lot !, and the puzzles themselves are really annoying... there was not a very clear understanding of what you were to do upon entering the town. you have to click the sun in the upper right corner every time you want to go anywhere.............I Love puzzle games... but this is just plain.........Annoying!! , may have been a good story line, if you could get passed all the reading and the way you have to do things...............if your extremely patient and really Love to read your way through a game...then this ones for you.......... Not for me sorry :(
June 12, 2012