Legends of Atlantis: Exodus
Atlantis is facing its end of days and it's up to you to save the people and their kingdom in Legends of Atlantis: Exodus! Massive tidal waves are sweeping away its coasts, earthquakes shake its mountains, its fields are in flames and its cities are falling apart. You are tasked to help evacuate the people and collect ancient Atlantean artifacts on the way. Prioritize your objectives and put your benevolent Queen's secret plan into action before devastation sinks the cities deep beneath the waves!
Over 50 addictive levels
Beautifully rendered HD locations
Exciting mini-games
Game System Requirements:
OS:

10.7/10.6

CPU:

1.2 GHz (INTEL ONLY)

RAM:

256 MB

Hard Drive:

456 MB
Game Manager System Requirements:
Browser:

Safari 4.0 or later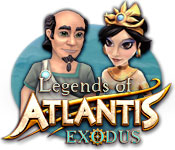 NEW299
The Big Fish Guarantee:
Quality tested and virus free.
No ads, no adware, no spyware.

Reviews at a Glance

Legends of Atlantis: Exodus
0
out of
5 (
0
Reviews
Review
)
Customer Reviews
Legends of Atlantis: Exodus
63
63
Epic Time Mangement Game!
It was really fun and a little bit tricky when you get to some of the highest levels of the game. This game has to be one of my favourites! I also liked the levels with a specific scene like, lava, (hot), or ice and snow, (cold).
November 10, 2012
Not bad but could be so much better
I had high hopes for this game, but my main issue with it is that it is so difficult to keep a flow going. It is similar to Roads of Rome/MKFTP in that you have to build roads in order to escape but for some reason this game did not grab me in the same way that those did. Perhaps it was because it just felt too similar but without the cute graphics! It's not a bad TM/builders game but it just feels like it is lacking soul. That may sound silly but when I play I want to feel engaged and with this one I didn't. Sorry BF - Must try harder.
May 3, 2012
OK Time TM Game . . . Could be More Challenging
This game is very similar to three other games -- My Kingdom for a Princess, Road to Rome and Royal Envoy. You have two modes -- relaxed (not timed) and challenging (timed). There are 5 episodes each with about 10 levels. There are 3 bonus levels you get to play if you 1) get expert time on all levels, 2) get all the achievements, and 3) you complete all the levels. Nothing new with the game play -- you collect resources, construct buildings and roads. The decision to purchase wll depend on a) are you looking for another TM game without much challenge, and b) you like these types of games. I'm on the fence as to whether I will purchase or not, I played 45 minutes and started to get bored. However, I would recommend this game so that you can decide -- :)
May 3, 2012
Not really a challenge
After playing for an hour, I didn't feel this game presented enough of a challenge on challenge mode. Some of the levels were a it boring since you had to sit there and wait for items to refill before you could do anything. Overall a cute game, but if you like more of a challenge with TM games, this one will disappoint you.
May 3, 2012
Could be better
Fun game but doesn't have the same appeal as MKFTP or KC. I didn't even finish the demo.
June 7, 2012
Legends Of Atlantis: Exodus
A rather cute game marred by some unevenness. I'm no fan of timed games of any sort, even those with a generous timer, so I bought and played this game for the primary reason that you can play it in relaxed mode. "Relaxed" doesn't necessarily mean just that, however; it only means you have as much time as you need to get something done. Yet having enough time doesn't always mean having enough resources, as "Exodus" proves. Plot: The legendary island kingdom of Atlantis is quicky succumbing to destruction as earthquakes, floods, fires, and random attacks by hydras, barbarians, and clockwork men gone haywire strike the land. You've been employed by the Queen and her Advisor to fix up the roads and temples and help the townspeople evacuate to safety. Over time it becomes clear that more is needed than just this if the Atlanteans are to survive, so the Queen looks into a more permanent solution as you get to work. You need to renovate partially destroyed buildings such as sawmills, quarries, and crystal mines to supply you with the things you need; fortunately, there are also special altars here and there that replenish random goods, such as water and the much-needed crystals. And there are other resources you can collect. The challenges of evacuating the cities get more difficult as you progress, such as when the barbarians and clockwork men BOTH decide to block your paths. In between all the rebuilding and evacuating, there are a few hidden-object scenes and match-3/marble-popper minigames, the latter used to gather crystals to power the Queen's Advisor's vehicle. I had finished playing "Adelantado Trilogy" before starting this game, so I guess my expectations were a bit high. Something that annoyed me about "Exodus" was the unevenness of gameplay. Approximately the first half of the game is TOO easy; there's little to no strategy involved, as you just keep clicking on what's available and that's that. Then, the second half of the game gets TOO difficult--finally, strategy is involved, but it's of such a type that if you don't make exactly the right choice of what to rebuild or upgrade first, you could end up stuck and literally unable to complete a level. One level I had to repeat about 3-4 times, finally looking up help online to figure out how to pass it successfully, and by then I was very peeved. I do like some strategy...just not so much that if I make ONE wrong choice, I'm doomed to repeat myself. It's not a good sign when you just want a game to be over. :/ Just as annoying, you don't get to choose what buildings you'll need/want to construct first; the foundations of the buildings are already there on each level and you just fix/upgrade them when possible. So, say, if you need more wood or stone, you can't just build a sawmill or quarry if one isn't already available. You need to be VERY careful what you decide to do with your resources! With each level, before I set to work I found myself carefully observing which resources were immediately available, which ones I would need to clear obstacles to reach #clearing obstacles requires resources that might not be available yet#, and which resources would be limited due to no relevant buildings being available; likewise I kept my eye out for those magical resource-replenishing altars, which could be lifesavers...albeit very slow lifesavers. There was a sense of humor in the game that was pretty cute--the lame insults tossed out by the clockwork men, and the threats of the barbarians #watch out for the one who mentions their fancy wolf headwear#, were amusing to read. The Atlantean citizens, however, were really ungrateful! Here's the Queen, trying so hard to save them all, and all they can do is complain about how little she's doing for them and they're all doomed. More than once I felt like snapping that I was willing to just leave them behind! But I guess that bit could give the player more incentive to win the game and prove them wrong... ...if only it wasn't for how frustratingly difficult gameplay becomes closer to the end. I guess I'm just not entertained by the possibility of one small wrong choice unraveling the entire effort. Perhaps if there was a bit more leeway to correct mistakes by seeking an alternative solution, it'd be more tolerable, but on at least a few levels this wasn't possible. I can't NOT recommend the game, as some people like such strict challenges, but I can't really recommend it either since this took away much of my enjoyment. So it's kind of a tie. I'll err on the side of recommending it, since it's kind of cute and entertaining, but only if you're really good at making strategic choices, or else are really patient! #And if you don't mind that the first half of the game is almost ridiculously easy in comparison.# Also, is it just me or does the Queen resemble Angel from the "Twisted Lands" games...? O.o I obtained my copy of "Legends Of Atlantis: Exodus" directly through Big Fish Games. The game folder takes up 445mb on my hard drive. I ran this game on Windows 7 with no problems.
April 14, 2014
Okay, but too slow!
I enjoyed this game with the exception that it takes too long for the resources to regenerate, even when you've upgraded your structures to the max. You have workers standing around at the base camp while you wait for resources to recharge themselves to be collected. Waiting around is not fun! This is completely in line with the "My Kingdom for the Princess" series-same problem that makes game play boring! Cannot compare to Island Tribe!
February 16, 2013
Poor Graphics make a so-so game worse
Although I am a huge time management game fan, I found this so-so at best. The graphics on this game- frequent "snow storms" and "sandstorms"- make it very difficult to enjoy playing. The storyline is just plain dumb. I rated the level of challenge as "okay". On the hardest levels, I had to re-play only about three levels to get the expert score on my first time playing the game all the way through. It's not terrible, but there are many others out there that are better.
August 28, 2012
TM Builder
Legend of Atlantis:Exodus is very much in line with the My Kingdom for the Princess series. You have to remove objects, re-build roads and buildings and all with limited resources. You can choose between relaxed and expert mode, but I couldn't find any explanation as to what I'd have to expect in expert mode, so I went for this expert :-). Quite frequently you run out of energy, wood, stone, water (to mention the ones I came across) and with the tasks the Queen of Atlantis expects you to do (fixing roads, buildings, collecting certain objects, etc) you really need to budget and try not to waste any resources unnecessarily. I found the music a bit over-dramatised and annoying, but it can be turned off. The story line is ok, Atlantis is threatened by frequent earthquakes which increase in magnitude. So you have to fix the roads to save the people. Not too keen on the graphics. Nothing wrong with the quality, but it's like as if you look at a painting that looks as if the painter couldn't really be bothered on the day he painted it. And this is how perceived the game. It doesn't feel as if lots of love went into its creation. I really would advise to do the one hour trial before purchase and if you haven't yet done, then take the time to do the tiral of My Kingdom for the Princess also, so you have something to compare it to. Personally, I favour Kingdom for the Princess over this one. Much more fun, challenge, nicer graphics and the music is really catchy. Hope this helps.
May 3, 2012
Not my cup of tea
Most reviews have been positive. I am less enthralled with this one. I played the first hours and didn't purchase. I found the game play repetitive and a bit slow. I prefer time managements with more to do and with a busier pace. Ex: I love My Farm Life. I lose interest with waiting for the characters to chop wood, build roads etc. If you like a more measured pace then you may enjoy this one. The graphics were good, music tolerable and story interesting.
May 7, 2012
The Apple logo is a trademark of Apple Computer, Inc.
The Windows logo is a trademark of Microsoft, Inc.