Dark Alleys: Penumbra Motel
During a road trip your friend's daughter is kidnapped by a mysterious man at the Penumbra Motel, the scene of murder and strange occurrences 50 years ago. You must head into the heart of madness to not only find the girl, but unravel the mystery haunting the descendants of the Penumbra family and the Motel grounds.
Game System Requirements:
OS:

Windows XP/Windows Vista/Windows 7/8

CPU:

1.4 GHz

RAM:

1024 MB

DirectX:

9.0

Hard Drive:

446 MB
Game Manager System Requirements:
Browser:

Internet Explorer 7 or later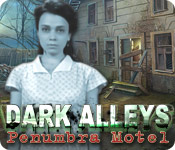 NEW299
The Big Fish Guarantee:
Quality tested and virus free.
No ads, no adware, no spyware.

Reviews at a Glance

Dark Alleys: Penumbra Motel
0
out of
5 (
0
Reviews
Review
)
Customer Reviews
Dark Alleys: Penumbra Motel
73
73
I wish I could do a 90 instead of a 4.
The system of 5 stars does this game an injustice. No, it doesn't rate a perfect score, but I think it's overall, above a 4. The graphics were better than average. Story line and flow were good. the puzzles were good, and some unusual or unique elements were there. It was linguistically a bit more sophisticated than the average foreign made games, and it was written for adults, not infants. ERS studios makes better than average games. Just the name is a good sign to me.
July 30, 2012
Pretty easy, great intro for those new to genre!
You must safe your friend's daughter from a killer. This game was pretty easy. I sped right through almost all the puzzles and figuring out what to do next was a snap. A good intro game for those new to the genre, otherwise, play in the more challenging mode to ensure that you face some difficulty. Recommended.
August 18, 2012
Not A Hidden Object Game
I have no idea why this is listed as a Hidde Object Game, there was not one hidde object scene. Good Parts: Excellent graphics. Lots of detail, great designs, very modern. Amazing storyline with great voice-overs. Intro hooks you frm the start. You can tell a lot of effort has been put in to this. Hint and skip button recharge quick OK Parts: Would've liked a Hidden Object Scene or 2 Bad Parts: Puzzles way too hard. This was frustrating for me, as usually I would like to have had a go at the puzzles, but these were just too hard, At times you would have no idea what to do, and if you didn't have to do anything, the hint wouldn't tell you where to go next, it would just say "there is nothing to do here" Overall, even though I hate this developer, I have to admit this is a good game. Highly recommended.
July 17, 2012
SE gets upgraded to 3 stars, don't bother with the CE version
This is a pure adventure game from ERS, no hidden object scenes. If you are wondering if this game is worth getting the CE version (which I played) 100% rest assured that you should stick with this SE version. Apart from everything else (nothing to collect, no achievements, 45 mins bonus play) the plot is a lot better finishing in this version and you will be 100% satisfied about it being tied up. CE bonus went loopy loo on the plot. This game started out OK for me, it was middling along but nothing exciting then in the middle it lost pace (not many new areas, not many puzzles was a bit boring!) and at the end it picked it up again, it also had puzzles at the end some back to back, if it was spaced out a bit more it would have been better. Azada libro was far better than this, being a straight adventure game. ERS concentrated on the live actors and seemed to not put as much effort into gameplay or plot or even some of their graphics. And although the lip synch in the actors was mainly good - when it wasn?t, it?s just so off putting. They are obviously trying to catch up to elephant and BFG with using them but just putting live actors into a ?C? adventure game isn?t being different and it doesn?t make a blah game good. This is coming from a frequent pure adventure player, so it's not that I am missing the hidden object scenes. Plot was a mishmash of a nod to haunted halls and every other game ? mostly children in peril, and ending been done so many times. I?d forgive the tired plot if the gameplay wasn?t as tired. There was nothing new or exciting or even captivating about this game (apart from some old film footage you could see) There didn?t seem to be many new areas to explore. There was a puzzle which was a twist on the rotating rings puzzle and that was good but you had better like it as it kept repeating, getting slightly harder each time. The last hour suddenly got more interesting and had a couple of harder puzzles in it very close to each other, with some others. I would have loved if it had been spaced out a bit more, so I could have enjoyed them in amongst the same old tired gameplay. Most of the puzzles were on the easy side. There was a choice of 3 settings of hardness for gameplay. I play on the hardest for ERS games as they are easier games to play.(compared to some DEV) But I still got full explanations for all the puzzles even though they say there would be no tips and occasionally I still got the black bar tips which they also said wouldn?t be there. Do developers not know that when you play on advanced you don?t want any hand holding? While I don't recommend it, I'm not going to not recommend it as If you don't mind not many new areas, (a lot of it is rooms) and drabbish scenery then it certainly is worth a coupon or a DD. I just wish this was a good "same old same old" game as I don't mind same old games if it's done well. TIME ? main game took me 5hrs on 3rd setting. (no skipping puzzles - I say this to give you an idea of time as if I skipped puzzles it would make the game shorter and I would tell you in fairness to the game)
June 13, 2012
"Dark Alleys" felt a little like "Confused Alleys"
I really like these kind of games when I want to take a break from straight out HOGs or even HOGAs. I bought the CE version, but, after reading the reviews here, I think I would have done better to buy the SE, so that is why I am putting my review here. The story started out very good. The graphics were okay. It might have been a good story, but, after awhile, it got a bit confusing and, in the end, I'm not sure exactly what the story was. From what I've read in the two reviews above, it seems to me that the dev's extra content only confused the story. I was a common enough story, but I like try to find the clues to mystery's and so that was okay. I would have given this game a much higher score if I wasn't one of those people who were into the story as much as the game. For those who like to play just to find the right action etc., I think you would like this game more. I had fun, but wish I had saved my CE money for another game.
June 13, 2012
Just OK
I did buy the full version but 1/2 way through it seemed to lose the interest factor. I found some of the puzzles too difficult and therefor more frustrating than fun; others were too easy so there was no happy medium. I quickly got bored in the last 2 chapters...
October 7, 2012
TOO MUCH SEARCHING
Review based on about 3 hours of gameplay. Couldn't complete it to the end. Live Actors/VOS - Excellent Puzzles/Mini-Games - Unusual than the norm. Found them to be, well, puzzling. :-) Did more skipping than solving. Slow skip charge. Hint - Slow to recharge. States nothing to do here. Map - None Collect war medals. Diary - Contains photos, story, clues, etc. Goals - Lists tasks to be done. Visit repeated locations with no direction. I had to use the walkthrough several times. When I'm taken away from the gameplay then I lose interest. No HOS but plenty of items to pick up along the way to add to your inventory. I wanted to like this game but became frustrated.
June 8, 2013
Creepy atmosphere, but difficult to follow
This was one of those games where you can end up with a bunch of items in your inventory and no idea what to do next. Penumbra has good graphics, a nice creepy atmosphere, and some decently challenging puzzles, but the balance and flow could have used some work. The difficulty level of the puzzles was inconsistent and I ended up having to refer to the walk-through more often than I would have liked because there wasn't always a logical connection between what you had and how/where you were supposed to use it. Hint system is useful if you want to know when a space is clear, but doesn't provide a lot of direction if you're completely stuck. Storyline was ok, if somewhat random. I'm still not sure where all the WWII references came from. SE ending was sudden, but satisfying. Didn't feel like I was missing out by not having the CE. Also, as other reviewers have pointed out, there are no HOS. This is purely a seek, find, and use adventure / puzzle game - not a problem for me, but possibly disappointing to HOG lovers. Overall, a good buy for a half price sale or use of a freebie coupon.
February 10, 2013
There weren't any hidden images to find, you walked around looking for clues to unlock other things
the story ended very anticlimatically, plot holes
July 8, 2012
Hint System spoiled it
This was a really good game, but I got very tired of needing a hint and all I got was "there's nothing to do here". Obviously I knew that or wouldn't have asked for a hint! Extremely disappointed. Will recommend because not everyone requires hints I guess.
February 20, 2014
The Apple logo is a trademark of Apple Computer, Inc.