Nightmares from the Deep: The Cursed Heart
Dive into an epic journey as a museum owner in pursuit of an undead pirate who has kidnapped your daughter in Nightmares from the Deep: The Cursed Heart! You quickly realize that the undead pirate is entangled in a tragic, centuries-old love story, and wants to resurrect his mistress with the youth's life force. You must act quickly to save the young girl's life before it is too late. Travel through haunting seas, ruined fortresses, and bone covered catacombs as you uncover secrets from the past!
Game System Requirements:
OS:

Windows XP/Windows Vista/Windows 7

CPU:

1.6 GHz

RAM:

1024 MB

DirectX:

9.0

Hard Drive:

1058 MB
Game Manager System Requirements:
Browser:

Internet Explorer 7 or later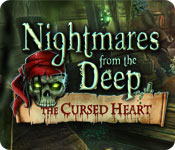 NEW299
The Big Fish Guarantee:
Quality tested and virus free.
No ads, no adware, no spyware.

Reviews at a Glance

Nightmares from the Deep: The Cursed Heart
0
out of
5 (
0
Reviews
Review
)
Customer Reviews
Nightmares from the Deep: The Cursed Heart
151
151
An Excellent Game for Beginners who love HOS
After learning that Artifex Mundi was the developer for Enigmatis: Mists of Ravenwood and Nightmares From the Deep's latest addition, Siren's Call (both of which I loved), I had to try NFTD's first game in the series: Cursed Heart. Much like Siren's Call, this is a story revolving around a dangerous pact a pirate makes with Davy Jones and it's dire consequences. In the case of Cursed Heart, you are a museum curator who has just found the body of the infamous Captain Remington from the bottom of the sea. In putting together his belongings to ready his corpse for an exhibition, you accidentally rekindle the pact he made with Davy Jones that makes him immortal and you end up bringing him back to life. Worse yet, he kidnaps your daughter and sets sail on his pirate ship to Skull Island in an attempt to sacrifice her to bring back his beloved via a ritual. It's up to you, the mom, to follow Remington, traverse the pirate ship and Skull Island to find and stop him in order to rescue your daughter. Like Siren's Call, the graphics in this game do not disappoint. They are crisp, colorful, and set the scene wonderfully. The pirate ship's rooms and various chambers are the main visual delicacy of the game, even after arriving at Skull Island. The music, however, was very disappointing. It seemed like this entire game had two or three tracks at the most and they were very short and constantly looped. One of the tracks I felt didn't fit the theme of the game at all (with its screechy/grinding//whiny edgy electric guitar sound, ugh) and this track was the one that looped and was played the most. Even the piano track that is played during some of the more gentler scenes is obnoxious and loud. Both of these tracks got so incredibly annoying and repetitive that I had to actually turn the music OFF in the options panel. I'm not joking when I say I have NEVER EVER done that in a game before. I can generally handle repetitive music, but when they're this bad and irritating that I have to turn it off, -1 star. No one likes to play a game in silence. The storyline is good enough though there is a love story component that ends up dominating the entire game. I really wanted a pure, authentic, pirate adventure -- and I did for a while, while we were still in the pirate ship, but then we reach Skull Island. The game then starts getting really lovey-dovey and I feel like the story kept trying to desperately convince you that despite how horrible and evil this pirate was, he was a changed man and a good one at that. Really? Considering how Remington and his beloved had met and you couple that with the fact that he has kidnapped your daughter with an intent to sacrifice her -- I didn't buy it for a second. This was a guy who didn't deserve any pity or redemption. The gameplay was also lacking, mostly because it was a bit heavy with hidden-object scenes. It felt like there were tons of them. There were very little puzzles and the few you did come across were insultingly easy. Couple that with the fact that even though for those us who played on expert mode, we get sparkle indicators for the HO scenes- it makes this game feel like it was made for beginners who are getting their feet wet with HOGs. A blah storyline and gameplay that does a lot of hand-holding, -1 star. This totals Nightmares of the Deep: Cursed Heart to a 3 star game. It's certainly not a bad game and doesn't lack in its visual quality. Unfortunately its visuals is all that it has really going for it. It's gameplay isn't terrible, it could just be better and more fun if there were more puzzles and less HOS. A better soundtrack could have made for a more exciting, immersive experience as well, and the story was a little hard to believe. All of this made the game feel slightly boring to me. It doesn't live up to the next game of the series, but I am at least glad that they have improved upon this game to produce such a fantastic sequel, Siren's Call. But if you're looking for a visual feast and a night of some pure HOS fun with the occasional easy puzzle, you might like this game. Just don't expect too much from it.
October 14, 2013
Not a 5 star Big Fish game
This is my first review, but I've played a ton of BF games. I'm a seasoned PC adventure gamer and try to take that into consideration when reviewing these games, as they are inteneded to be quite casual for the most part. That said, I'm only half-way through and wished I spent the money on a different collector's edition. This review is to give fair warning to anyone thinking about buying it who is more experienced with adventure games. It's extremely casual, i.e. way too easy. The puzzles are very basic and offer little challenge what-so-ever and you are basically hand-held through most of the game, with very little brain power required to figure out what to do with inventory items, etc. There are also a ton of HO scenes, more than I care for. They do give you a mahjong option, which is ok if you like that game and get tired of the HO. I like voice acting, as it can be a nice addition to games, but I found it to be poor in this game. Not technically poor, but bad acting poor. The woman's voice is annoying and way over dramatic. But the visuals are good and the game is very colorful, so no complaints there. Also the storyline is decent. Even though I'm not done, it seems like it will be a rather long game, which is a plus. Summary: This is one of the more casual BF games (really easy) with a lot of HO scenes. Wait for it to come out in the regular edition.
June 16, 2012
Great Story and Graphics, no Challenge in the Game Play
The graphics, sound, cut scenes and story are all great. The creepy guy guarding the chest was outstanding! The HOS are junk piles and are somewhat interactive (move knife to apple to get a peeled apple). While some scenes were dark, the items were easy for me to find. If you get stuck, there is a very nice alternative. You can switch to a game of Mahjong. Great idea! There are maps, which you need to find and then can refer to. While not interactive, the maps do indicate where actions are needed. There is a good bit of walking about and many very interesting locations to explore. Game play is typical--nothing inventive, IMHO. I played in the easier mode, so there were sparkles, but there are more difficult modes. In most ways, this game is wonderful, but there was nothing really challenging. Not the HOS or the puzzles. If you want something that pleases the eye (morbidly, I mean) and is relaxing, this could be the game for you. It didn't do much for me.
February 5, 2013
could of been longer.
This is fun game. The story kind of breaks your heart. Great story and graphics.. Even love the break it gives you on the side. Fun game.
June 21, 2012
All about the storyline
If you really like a heavy storyline, this is the game for you. I really liked this game at first, but it got to the point where I had to use the hint constantly just to find where to go next. Lots of to and fro.
July 16, 2012
nightmares from the deep
its fun liked it loved it it was
September 19, 2012
Just Okay...Nothing Special
I sorta enjoyed this game but had some issues with it, though nothing too major. First thing was it is way too short. And it Seems that it really never went anywhere. The story was just so so, but it was enough to keep you interested just the same. A lot of back and forth, but there is a Map to help you with that which is good. The story made sense and really that is half of the battle. I thought the games were not challenging enough, but I enjoyed them. I never once wanted to stop playing, but it went on the back burner a few times to go to other games that kept me more intrigued. I will play the Expert version and them delete as I will most likely not play again after. If you don't have to pay a lot for it then sure!
September 13, 2013
i will give it another go!
i am fairly new to games-i played my first game ever(literally my first game ever!) just 8 months ago. this was one of the first ones i bought. i wasnt impressed. it seems overly dark and muddy/murky which didnt add anything good to the game. i thought it was boring and, to be honest, i didnt finish it. i played maybe an hour then bought another game. however-this game has such good reviews that i am going to try it again. hey-you cant all be wrong! maybe i will get into it this time.
July 27, 2013
yet another gloomy game
I don't know about others but personally right now I'd buy anything with a bit of sunshine and fun in it :) All those Hidden Objects lately come with dark colors, morbid music, no color to talk about, et cetera ad nauseam. This is becoming boring. Even though the game itself is not that bad, it gets lost among half a hundred of other ones that look exactly the same.
August 29, 2013
Great dev disappoints with poor gameplay
TITLE?Nightmares from the Deep: The Cursed Heart VERSION?Standard Edition (demo) DEVELOPER?Artifex Mundi GENRE?Hidden Object Puzzle Adventure (supernatural adventure) STORYLINE?As curator of the Caribbean Museum, you've recently acquired the remains and relics of the notorious Captain Remington, scourge of the seas. You rather stupidly reunite him with his demonic amulet, only to have him reanimate as an undead pirate and kidnap your annoyingly helpless yet bossy daughter in order to resurrect his mistress. So, off you go to save her while she screams, "Help, Mom!" and struggles uselessly. I'm thinking you shelter her way too much. OVERVIEW?I really dislike giving a low rating to a game with such lush graphics and animation, but it seems that Artifex Mundi spent most of its time on that and very little on storyline and gameplay. And I just yesterday gave a five-star rating to their game Abyss: The Wraiths of Eden, a rating I rarely give. While this game is a visual feast, it is the Sahara for the experienced gamer, I'm afraid. GAMEPLAY?Standard adventure intermingled with lots of HOs and a few incredibly easy puzzles. Lots of backtracking. The HOs are partially interactive (use a machete to crack a coconut, move one item to find another, etc.). INTERFACE?Journal: Keeps notes and lists objectives. Map: Shows your location and areas where you have actions available, but it's not a jump map?and it should be. Hints: You won't need any. Specials: None in the SE. Strategy Guide: Not applicable. TECHNICAL?No issues. GRAPHICS?Stunningly rendered 3D backgrounds and objects. Good use of color and texture. Eye candy. CUTSCENES?Breathtakingly cinematic when they don't include characters. Characters are 3D posers with fairly lifelike movement, and lip synching which isn't lifelike. MUSIC?Music style and performance added to the storyline and mood of the game, as it usually does in Artifex Mundi's games. They always do a great job with the audio. SOUND?Ambient and game sounds very appropriate to the game theme. VOICEOVER?I'm sorry to say that the voiceovers were just awful. The museum curator came across as an irritatingly overprotective mother who reacted with shock every time she saw her daughter, but never reacted at all to talking undead pirates. Her daughter seemed a naive, sheltered, spoiled brat. Captain Remington was a dead ringer for Captain Barbosa from the Pirates of the Caribbean series. And his "crew" spoke a mishmash of low class British accents. The only awesomeness was the decaying guardian of the doubloon chest. SUMMARY?While I appreciate that Artifex Mundi is stepping up the graphics and animation, they need to remember they're writing games, not movies. Had they spent more time on the storyline, which was weak, and on gameplay, which was beginner-level at best, this game could have been a five-star game. As it stands, I can't recommend it unless you're home sick and feel like a really easy game that's full of eye candy and you happen upon it as a Daily Deal. And I can't give it more than two stars, and it only gets those because of the graphics, animation, and music.
February 27, 2013
The Apple logo is a trademark of Apple Computer, Inc.