Nightmares from the Deep: The Cursed Heart
Dive into an epic journey as a museum owner in pursuit of an undead pirate who has kidnapped your daughter in Nightmares from the Deep: The Cursed Heart! You quickly realize that the undead pirate is entangled in a tragic, centuries-old love story, and wants to resurrect his mistress with the youth's life force. You must act quickly to save the young girl's life before it is too late. Travel through haunting seas, ruined fortresses, and bone covered catacombs as you uncover secrets from the past!
Game System Requirements:
OS:

10.7/10.6/10.5

CPU:

1.6 GHz (INTEL ONLY)

RAM:

1024 MB

Hard Drive:

722 MB
Game Manager System Requirements:
Browser:

Safari 4.0 or later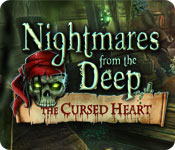 NEW299
The Big Fish Guarantee:
Quality tested and virus free.
No ads, no adware, no spyware.

Reviews at a Glance

Nightmares from the Deep: The Cursed Heart
0
out of
5 (
0
Reviews
Review
)
Customer Reviews
Nightmares from the Deep: The Cursed Heart
150
150
Finally a great story line
Loved it...easy to play but "alot of walking"...I just completed it and I am TIRED! LOL Got a kick out of Davy Jones!!! Loved the story!!! Lot's of Fun!!! Thanks Big Fish Keep these coming!!
June 15, 2012
If you like Pirates of the Caribbean you'll love this!
Beautiful adventure game with well-written storyline. Sound, v/o, graphics and animation are suberb. Games are not too difficult, would recommend for beginner/intermediate levels.
November 11, 2012
Best Nightmare I've Had in Awhile
game was great. love that objects you required were not kept for long periods of time...usually used within the following several scenes. nice clear graphics, good vo. loved the segmented story. found myself looking for the next piece so i could get the next part of the story. i bought the se and wish i spent the extra bit on the ce but overall excellent game. puzzles were not difficult but you could switch between hos or mahjong. good variety. still wish some were at least a bit harder. i highly recommend this game.
October 25, 2012
Nightmares from the deep:The cursed heart
This is a good game with good graphics. The music was interesting. The hidden objects were not too hard to find. The only thing I didn't care for too much is the amount of mini games to solve. I used "skip" a lot. Other than that I found it quite entertaining.
August 25, 2012
Okay Game
The game started out slow and I thought it was one to trash but as I played it became much better. -HO's can sometimes be messy but the hint button recharges quickly and if you don't want to do the HO you have another option. -Map is very useful, not interactive. And there is a little twist using the map -Journal with tasks and notes. I didn't find it necessary. -I bought the SE and didn't need the SG -Story line is nice All in all a good game.
June 23, 2012
Fun, interesting, and pirates !
I enjoyed this game. The graphics are good. The HOS could be a little clearer - there is an option to play a short [and really really easy] Mahjong game instead of the HOS There is some back and forth with this game - they do have a map but not one to jump from place to place. Good news the hint button and the skip button for the mini games refill fast [30-45 seconds]. The voice overs were okay - the "daughter" did get a little irritating. Loved the pirate skeleton?s clanking of the mouth - fun and well thought out by the devs. The voice-overs can be moved along if you read fast. There are a lot of little added details to this game that make it enjoyable.Nice game that flows well.
June 16, 2012
One of the games that keeps you alarmed
Nice storyline, I really enjoyed this game. Found it really great and different from the other storylines.
September 7, 2013
Not so scary nightmares.
Purchased at the recommendation of other reviews. The graphics were clear and well done, however it might have been a bit more enjoyable if the "character's" mouth movements had been better coordinated with their dialog. The puzzles were a bit too easy for an intermediate or expert game. That said, this would be one of the best games for beginners I've played.
May 25, 2013
Reasonable game
This is not going to be one of my favourite games, but I still enjoyed playing it. The graphics are very good and I loved the opening sequence. The Storyline which I believe is the best part of this game was brilliant, the music was ok. There were far too many HOS for my liking, although I do like being able to complete a short game of Mah-jong instead. The Puzzles on the whole were good but not very challenging. I Would recommend this game for people with a medium skill level as expert adventurers and Puzzle solvers may find it lacking.
December 30, 2012
An Excellent Game for Beginners who love HOS
After learning that Artifex Mundi was the developer for Enigmatis: Mists of Ravenwood and Nightmares From the Deep's latest addition, Siren's Call (both of which I loved), I had to try NFTD's first game in the series: Cursed Heart. Much like Siren's Call, this is a story revolving around a dangerous pact a pirate makes with Davy Jones and it's dire consequences. In the case of Cursed Heart, you are a museum curator who has just found the body of the infamous Captain Remington from the bottom of the sea. In putting together his belongings to ready his corpse for an exhibition, you accidentally rekindle the pact he made with Davy Jones that makes him immortal and you end up bringing him back to life. Worse yet, he kidnaps your daughter and sets sail on his pirate ship to Skull Island in an attempt to sacrifice her to bring back his beloved via a ritual. It's up to you, the mom, to follow Remington, traverse the pirate ship and Skull Island to find and stop him in order to rescue your daughter. Like Siren's Call, the graphics in this game do not disappoint. They are crisp, colorful, and set the scene wonderfully. The pirate ship's rooms and various chambers are the main visual delicacy of the game, even after arriving at Skull Island. The music, however, was very disappointing. It seemed like this entire game had two or three tracks at the most and they were very short and constantly looped. One of the tracks I felt didn't fit the theme of the game at all (with its screechy/grinding//whiny edgy electric guitar sound, ugh) and this track was the one that looped and was played the most. Even the piano track that is played during some of the more gentler scenes is obnoxious and loud. Both of these tracks got so incredibly annoying and repetitive that I had to actually turn the music OFF in the options panel. I'm not joking when I say I have NEVER EVER done that in a game before. I can generally handle repetitive music, but when they're this bad and irritating that I have to turn it off, -1 star. No one likes to play a game in silence. The storyline is good enough though there is a love story component that ends up dominating the entire game. I really wanted a pure, authentic, pirate adventure -- and I did for a while, while we were still in the pirate ship, but then we reach Skull Island. The game then starts getting really lovey-dovey and I feel like the story kept trying to desperately convince you that despite how horrible and evil this pirate was, he was a changed man and a good one at that. Really? Considering how Remington and his beloved had met and you couple that with the fact that he has kidnapped your daughter with an intent to sacrifice her -- I didn't buy it for a second. This was a guy who didn't deserve any pity or redemption. The gameplay was also lacking, mostly because it was a bit heavy with hidden-object scenes. It felt like there were tons of them. There were very little puzzles and the few you did come across were insultingly easy. Couple that with the fact that even though for those us who played on expert mode, we get sparkle indicators for the HO scenes- it makes this game feel like it was made for beginners who are getting their feet wet with HOGs. A blah storyline and gameplay that does a lot of hand-holding, -1 star. This totals Nightmares of the Deep: Cursed Heart to a 3 star game. It's certainly not a bad game and doesn't lack in its visual quality. Unfortunately its visuals is all that it has really going for it. It's gameplay isn't terrible, it could just be better and more fun if there were more puzzles and less HOS. A better soundtrack could have made for a more exciting, immersive experience as well, and the story was a little hard to believe. All of this made the game feel slightly boring to me. It doesn't live up to the next game of the series, but I am at least glad that they have improved upon this game to produce such a fantastic sequel, Siren's Call. But if you're looking for a visual feast and a night of some pure HOS fun with the occasional easy puzzle, you might like this game. Just don't expect too much from it.
October 14, 2013