Nightmares from the Deep: The Cursed Heart
Dive into an epic journey as a museum owner in pursuit of an undead pirate who has kidnapped your daughter in Nightmares from the Deep: The Cursed Heart! You quickly realize that the undead pirate is entangled in a tragic, centuries-old love story, and wants to resurrect his mistress with the youth's life force. You must act quickly to save the young girl's life before it is too late. Travel through haunting seas, ruined fortresses, and bone covered catacombs as you uncover secrets from the past!
Game System Requirements:
OS:

10.7/10.6/10.5

CPU:

1.6 GHz (INTEL ONLY)

RAM:

1024 MB

Hard Drive:

722 MB
Game Manager System Requirements:
Browser:

Safari 4.0 or later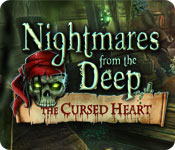 NEW299
The Big Fish Guarantee:
Quality tested and virus free.
No ads, no adware, no spyware.

Reviews at a Glance

Nightmares from the Deep: The Cursed Heart
0
out of
5 (
0
Reviews
Review
)
Customer Reviews
Nightmares from the Deep: The Cursed Heart
157
157
Good game
Compared with other HOG, the game has more dialogues/interaction with other characters which make it more attractive. The notebook can track the status of objectives. The animation, graphics and sound are good and well suit the atmosphere.
October 22, 2014
Decent Story, Easy Puzzles
This review is based on completion of the standard edition version of the game: A good story is an important factor for me to enjoy a game, and this game had a decent story line that both made sense and had closure (many games have a storyline with a lot of holes and connections that seem to make 2+a=42). The level of challenge leaves a lot to be desired. Even an older child, let alone beginner adults, would find the quests to be easy and the puzzles (which were few) to be even easier. For an intermediate player, the story was good enough to keep my interest despite the lack of even a modicum of challenge. If you are beyond a beginner, there are other games that have both challenge and story; however, I am giving this game four stars because I did like the game more than other games I have played.
April 22, 2014
One of the games that keeps you alarmed
Nice storyline, I really enjoyed this game. Found it really great and different from the other storylines.
September 7, 2013
Not so scary nightmares.
Purchased at the recommendation of other reviews. The graphics were clear and well done, however it might have been a bit more enjoyable if the "character's" mouth movements had been better coordinated with their dialog. The puzzles were a bit too easy for an intermediate or expert game. That said, this would be one of the best games for beginners I've played.
May 25, 2013
Reasonable game
This is not going to be one of my favourite games, but I still enjoyed playing it. The graphics are very good and I loved the opening sequence. The Storyline which I believe is the best part of this game was brilliant, the music was ok. There were far too many HOS for my liking, although I do like being able to complete a short game of Mah-jong instead. The Puzzles on the whole were good but not very challenging. I Would recommend this game for people with a medium skill level as expert adventurers and Puzzle solvers may find it lacking.
December 30, 2012
An Excellent Game for Beginners who love HOS
After learning that Artifex Mundi was the developer for Enigmatis: Mists of Ravenwood and Nightmares From the Deep's latest addition, Siren's Call (both of which I loved), I had to try NFTD's first game in the series: Cursed Heart. Much like Siren's Call, this is a story revolving around a dangerous pact a pirate makes with Davy Jones and it's dire consequences. In the case of Cursed Heart, you are a museum curator who has just found the body of the infamous Captain Remington from the bottom of the sea. In putting together his belongings to ready his corpse for an exhibition, you accidentally rekindle the pact he made with Davy Jones that makes him immortal and you end up bringing him back to life. Worse yet, he kidnaps your daughter and sets sail on his pirate ship to Skull Island in an attempt to sacrifice her to bring back his beloved via a ritual. It's up to you, the mom, to follow Remington, traverse the pirate ship and Skull Island to find and stop him in order to rescue your daughter. Like Siren's Call, the graphics in this game do not disappoint. They are crisp, colorful, and set the scene wonderfully. The pirate ship's rooms and various chambers are the main visual delicacy of the game, even after arriving at Skull Island. The music, however, was very disappointing. It seemed like this entire game had two or three tracks at the most and they were very short and constantly looped. One of the tracks I felt didn't fit the theme of the game at all (with its screechy/grinding//whiny edgy electric guitar sound, ugh) and this track was the one that looped and was played the most. Even the piano track that is played during some of the more gentler scenes is obnoxious and loud. Both of these tracks got so incredibly annoying and repetitive that I had to actually turn the music OFF in the options panel. I'm not joking when I say I have NEVER EVER done that in a game before. I can generally handle repetitive music, but when they're this bad and irritating that I have to turn it off, -1 star. No one likes to play a game in silence. The storyline is good enough though there is a love story component that ends up dominating the entire game. I really wanted a pure, authentic, pirate adventure -- and I did for a while, while we were still in the pirate ship, but then we reach Skull Island. The game then starts getting really lovey-dovey and I feel like the story kept trying to desperately convince you that despite how horrible and evil this pirate was, he was a changed man and a good one at that. Really? Considering how Remington and his beloved had met and you couple that with the fact that he has kidnapped your daughter with an intent to sacrifice her -- I didn't buy it for a second. This was a guy who didn't deserve any pity or redemption. The gameplay was also lacking, mostly because it was a bit heavy with hidden-object scenes. It felt like there were tons of them. There were very little puzzles and the few you did come across were insultingly easy. Couple that with the fact that even though for those us who played on expert mode, we get sparkle indicators for the HO scenes- it makes this game feel like it was made for beginners who are getting their feet wet with HOGs. A blah storyline and gameplay that does a lot of hand-holding, -1 star. This totals Nightmares of the Deep: Cursed Heart to a 3 star game. It's certainly not a bad game and doesn't lack in its visual quality. Unfortunately its visuals is all that it has really going for it. It's gameplay isn't terrible, it could just be better and more fun if there were more puzzles and less HOS. A better soundtrack could have made for a more exciting, immersive experience as well, and the story was a little hard to believe. All of this made the game feel slightly boring to me. It doesn't live up to the next game of the series, but I am at least glad that they have improved upon this game to produce such a fantastic sequel, Siren's Call. But if you're looking for a visual feast and a night of some pure HOS fun with the occasional easy puzzle, you might like this game. Just don't expect too much from it.
October 14, 2013
Not a 5 star Big Fish game
This is my first review, but I've played a ton of BF games. I'm a seasoned PC adventure gamer and try to take that into consideration when reviewing these games, as they are inteneded to be quite casual for the most part. That said, I'm only half-way through and wished I spent the money on a different collector's edition. This review is to give fair warning to anyone thinking about buying it who is more experienced with adventure games. It's extremely casual, i.e. way too easy. The puzzles are very basic and offer little challenge what-so-ever and you are basically hand-held through most of the game, with very little brain power required to figure out what to do with inventory items, etc. There are also a ton of HO scenes, more than I care for. They do give you a mahjong option, which is ok if you like that game and get tired of the HO. I like voice acting, as it can be a nice addition to games, but I found it to be poor in this game. Not technically poor, but bad acting poor. The woman's voice is annoying and way over dramatic. But the visuals are good and the game is very colorful, so no complaints there. Also the storyline is decent. Even though I'm not done, it seems like it will be a rather long game, which is a plus. Summary: This is one of the more casual BF games (really easy) with a lot of HO scenes. Wait for it to come out in the regular edition.
June 16, 2012
Great Story and Graphics, no Challenge in the Game Play
The graphics, sound, cut scenes and story are all great. The creepy guy guarding the chest was outstanding! The HOS are junk piles and are somewhat interactive (move knife to apple to get a peeled apple). While some scenes were dark, the items were easy for me to find. If you get stuck, there is a very nice alternative. You can switch to a game of Mahjong. Great idea! There are maps, which you need to find and then can refer to. While not interactive, the maps do indicate where actions are needed. There is a good bit of walking about and many very interesting locations to explore. Game play is typical--nothing inventive, IMHO. I played in the easier mode, so there were sparkles, but there are more difficult modes. In most ways, this game is wonderful, but there was nothing really challenging. Not the HOS or the puzzles. If you want something that pleases the eye (morbidly, I mean) and is relaxing, this could be the game for you. It didn't do much for me.
February 5, 2013
could of been longer.
This is fun game. The story kind of breaks your heart. Great story and graphics.. Even love the break it gives you on the side. Fun game.
June 21, 2012
All about the storyline
If you really like a heavy storyline, this is the game for you. I really liked this game at first, but it got to the point where I had to use the hint constantly just to find where to go next. Lots of to and fro.
July 16, 2012
The Apple logo is a trademark of Apple Computer, Inc.
The Windows logo is a trademark of Microsoft, Inc.