Silent Nights: The Pianist
Save your sister and uncover the secrets of an ancient organization in Silent Nights: The Pianist! You and your sister, Yvette, come from a long line of gifted musicians. When you arrive to accompany her at a vocal concert in your hometown, you discover she has been abducted by a mysterious group with plans to use her talent for a dire purpose. Explore hidden object scenes and get to the bottom of things before your sister's voice is silenced forever in Silent Nights: The Pianist!
Haunting music
Fantastic gameplay
For a more in depth experience, check out the Collector's Edition
Game System Requirements:
OS:

10.7/10.6/10.5

CPU:

2.0 GHz (INTEL ONLY)

RAM:

512 MB

Hard Drive:

353 MB
Game Manager System Requirements:
Browser:

Safari 4.0 or later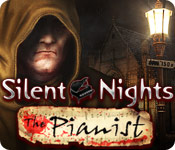 NEW299
The Big Fish Guarantee:
Quality tested and virus free.
No ads, no adware, no spyware.

Reviews at a Glance

Silent Nights: The Pianist
0
out of
5 (
0
Reviews
Review
)
Customer Reviews
Silent Nights: The Pianist
47
47
Great Choice for Weekend !!!! Worth the price.
Help discover the truth about the disappearance of Yvette, abducted by a mysterious organization. Yes, another story of missing persons, but very well developed and attractive, keeping the interest and curiosity. Good graphics, outstanding sound quality, many great places to explore and interact, immersive atmosphere. Good amount of HOS, not too difficult, but beware: if you do not want to jump from the chair, do not click non-stop ! Well known but entertaining mini games, not really challenging. Guarantee of a fun and entertaining weekend!
April 13, 2012
Liked the game
The game started out ok with the creepiest piano version of Silent Night ever heard! There is a choice of casual or challenge modes of play. You can change the volume for music & sound effects. You can choose full screen, wide screen correction, custom cursor & extra brightness <we used this>. In the beginning cut scene, there are no voice overs and minimal reading. Story line is good. In the hour demo, there were a couple times when there were voice overs. They were ok. The sound effects, however, are awesome. There was no journal or map. The inventory and find list were at the top of the screen. That's fine, but takes a while to get used to, since most are at the bottom (better it seems) The hidden object scenes were interactive. There were a few scenes that made us jump! The puzzles and/or mini games were not too challenging. The most frustrating thing about this game is the black screen delay when moving from scene to scene. All in all, with the exception of the very annoying delay between scenes, the game is fun with lots of interaction and awesome sound effects. It will be a purchase and a fun way to spend a rainy day.
April 13, 2012
Like the extra HOS
I played the CE previously and might still buy that version particularly since there is a sale on this weekend of 2 for 1 CE. Love HOS and this game has plenty; even the 'junk pile' effect of the HOS does work as most objects are easily found or assembled; then you get what you really want or need. Hints are very good in HOS where they outline what you are looking for. I always play casual in demo and use at least one hint in an HOS and one hint outside - directional arrows and telling that there is nothing available without using the hint is good so I can save them for a real necessity. Like another reviewer, I always know what tools I am going to need and am glad to find them very quickly. This is an older game? No map but movement from scene to scene in the demo hasn't gotten too difficult. I think I would want to play more than 1 hour at a time to keep up the rhythm and my memory of where I am and need to go. You do need to go back and forth a bit between areas which would make some type of map a good option. Colors and sounds are great - I agree with the person who noted the creepy playing of Silent Night - I am not that good on the piano myself so had to skip that puzzle at about the third level. Good, easy play, lots of HOS, some challenge but not at a frustrating level.
April 14, 2012
Excellent gameplay - good mini games
I was surprised there wasn?t more piano music given the title of the game but it did not spoil my enjoyment. The voiceovers were excellent & I was able to change the brightness in the options, thanks to the developer for this. The graphics were clear & the artwork very good although the hidden object scenes were junk piles which was a let down. There were several different cats in the H0s ? I wonder if they belong to the artists. There are two modes, casual with a 30 second hint recharge, sparkles & glints for areas of interest & challenge with a 60 second hint & sparkles for the H0 scenes only. The hint button is helpful; it will point which way to go if you get stuck. There are about the same number of H0s as there are mini puzzles; the puzzles were fun & some take patience to solve. There are the usual opening locks, Simon says, etc. but also some I haven?t played before. There is a skip button if you need it. As you get deeper into the game a lot of different areas open up & there is a great deal of going back & forth to either find items or returning to a scene after an item has been found. At times you will end up with a lot of inventory objects waiting to be used. There is no journal so might like to make a few brief notes about any codes you may find. The ending is excellent; it gets your heart racing as it makes you feel you won?t solve the puzzles to save your sister & leaves room for a sequel.
May 7, 2012
Silent Night: The Pianist
Very good game; thoroughly enjoyed it. THE GAME: - I enjoyed the storyline. Some weird sect kidnapped a woman and tried to extract 'a skill' from her. All a bit dramatic. - Graphics were better than some I've seen, not too cartoony. - Movement between locations could have been better. Some took a while to load which got a bit annoying. - Music was a bit tedious though as it was just the same tune played over and over. But thankfully the music wasn't played all the way through. It just popped up here and there, and during HO scenes. HOS/PUZZLES: - HO scenes were very easy in my opinion. Often found all objects within a minute. But the interactive feature of them was good. Often you had to complete three actions before getting an object. This made up for the lack of difficulty. - Puzzles, for me, were great. Just the right level of difficulty that meant I had to think for a bit, but none of them had me tearing my hair out because they were too difficult. I had my pad and pen out trying to work stuff out, rather than clicking around hoping for the best, which so many puzzles have you doing these days! WHAT DO YOU GET?: - Surprisingly, no notebook and no map! - Only help was the usual hint button, and skip button in puzzles. - One feature I found I liked was that the Inventory and Menu/Hint buttons were at the top of the screen, rather than at the bottom. At first, I thought it was going to get on my nerves, but after a short while, I found it better. It seemed out of the way, and you didn't run the risk of clicking Go Back while trying to view your Inventory. - Two modes of play; casual and expert. LENGTH OF GAME: - Pretty good length; took me about three hours to complete. Should have got the CE though so there was more game play. I could have gone on longer.
July 5, 2012
if only
great graphics, voice overs & music. HO junk piles and challenging. i'm beginning to think i expect little things - such as ten second black wait screens between every movement thru game no longer exists - not so in this game and i haven't the patience to accept that in a good game this could not have been dealt with. an unfortunate no buy for me. frustratingly Matouk.
April 13, 2012
Demo only
The storyline is good. The repetitive music can be annoying. The scenes are on the dark side and a little hard to see. The hos are also difficult due to blending of one object into another. The hint button fills quickly and can be used to let you know if you have to do anything in a scene which i really like since there is no map or journal. It isn't one of the best games but it is a good game.
April 14, 2012
Good Game but Ending?
Loved the HOS. Having puzzles within the HOS is a trend I truly enjoy. Puzzles outside were easy but satisfying. Great story until the end. Ending was abrupt. More questions than answers. Some of the visuals were dreary but it was after WW 1 so it was appropriate. Love the setting.
May 22, 2012
I liked it but.....
I thought it was on the short side. Would've liked to have a several more hours of play. Other than that it was very entertaining and the inventory was easy to get to......not always so in some good games.
July 1, 2012
An entertaining game
I definitely enjoyed the game. It was not as impressive as other similar games I have played and was about average overall, but it was still quite entertaining. The game had a good balance of adventure, hidden objects and puzzles - it did keep you moving along. It also had a pretty good, but familiar, story. I thought one of the characters, Uncle Albert, was excellent in terms of the voice over - one of the better ones in this type of game. This was not a pretty game, but the graphics were still clear and well drawn with good background effects. This game was introduced as a CE, and I am glad I waited and got the SE version - while it was a very good game, it was not as high in visual quality and game complexity for what I like to see in a CE. The length of this version seemed just right to me. Overall, a well-made and enjoyable game.
May 6, 2012
The Apple logo is a trademark of Apple Computer, Inc.
The Windows logo is a trademark of Microsoft, Inc.