1 Moment of Time: Silentville
Uncover a mystery and save a town from a curse in 1 Moment Of Time: Silentville! Once upon a time in the small, undistinguished town of Silentville people started disappearing - one by one. Even the visitors suddenly disappeared without a trace. Airplanes and birds, trains and pedestrians, drivers, tourists and even bicyclers - all of them have vanished! Will you be able to solve the mystery and release Silentville from its cursed non-existence?
Beautiful graphics
Original mini-games
Intriguing story
Game System Requirements:
OS:

Windows XP/Windows Vista/Windows 7/8

CPU:

1.8 GHz

RAM:

512 MB

DirectX:

8.1

Hard Drive:

518 MB
Game Manager System Requirements:
Browser:

Internet Explorer 7 or later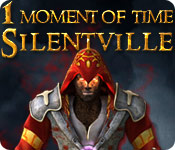 NEW299
The Big Fish Guarantee:
Quality tested and virus free.
No ads, no adware, no spyware.

Reviews at a Glance

1 Moment of Time: Silentville
0
out of
5 (
0
Reviews
Review
)
Customer Reviews
1 Moment of Time: Silentville
179
179
Complicated adventure hidden object game
I Loved the Graphics in this game. I always choose the harder options when starting a game as i feel i can work lots of it out myself now but It was really challenging because some of the things you had to do did not make sense and there was no way i would have been able to figure some of the moves myself ie where to go next or what to do. So it got really frustrating because i had to keep exiting to look at the walkthrough thank God for the walkthrough or should i say Big Fish Games. So it was rather dissapointing for me. I do not think the object of the games are to keep having to come out and keep looking at the walkthrough's on most of the challenges. I also had to keep skipping through some of the puzzles too. I am in two minds as to whether to recommend or not because i did like the scenes and some of the puzzles
June 27, 2012
Let Down, Disappointed & Frustrated are the words that came to mind as I completed the game.
This game had such potential! The story develops as you find a town of people frozen in time & they tell you what they were doing at the time that the lightning came & froze them. They give you clues at what needs to be done & the info is put into a diary. I have no idea of who I am in this game & why am I even in their little town trying to find a solution for them,??. and the confusion begins. So much more could have been done in each of the areas that you visit which could have made this an awesome game. It seems like they only used each scene to stage a mini game or HOG scene but they failed to develop the story around each area. The concept of having to do multiple tasks to complete an item in the HOG scenes was awesome, as were most of the graphics, but then in the very same scene, there were very small or hard to identify items, and I have good eye sight. And just wait until you see how you use a rose thorn. Confusing! When you struggle and work to solve a task over 8 or 10 scenes you expect fireworks not a sparkler that fizzles, pops & burns out and that?s how many of the tasks felt to me, like the story fizzled and popped but that?s all when the makings of a grand finale were there to work with. They showed us bits and scenes of greatness and I wanted MORE. It almost seems as though 2 different people with vastly different skill levels worked on each area. The whole game seemed to go from very high, highs to very low, lows often within the same scene, which left me feeling un settled or confused about the game as a whole. Several of the mini games seemed to have glitches (I was playing the updated version). There were 3-4 mini games that the step back arrow was so close to the cursor arrow that I kept exiting the scene by accident. One of those games, when I re-entered the mini game, it skipped right over the game, as if I had completed it. One of the pipe games gave me fireworks as completed but I had not finished rotating all the pipe pieces and my "finished" version did not look like the walk through showed. Too little instruction was given for some of the mini games. The whole game seemed to go back and forth between highs & lows and unfortunately with the ending they never even talk to the people once they are unfrozen which left me even more disappointed and let down...... and ultimately frustrated with the game. The developers showed us that they were capable of greatness, instead of grasping that ring of greatness and developing the story and each scene more fully, they teased us & backed away from the greatness and instead they choose mediocrity and rough edges in their rush to complete the game. The greatness was there, so it is a shame that they let the greatness slip through their fingers like sand, and ultimately settled for mediocre.
June 18, 2012
Way too frustrating!
This HOG game does almost everything I hate in a HOG game. I played for 40 minutes and gave up in total frustration. The HOG scenes require a lot of putting two (or more) things together, or figuring out which item is the right to fix an issue. That is kind of fun. But there's no guidance at ALL. Static items get the rotating gears graphic and things you can move get a grabbing hand. But there's nothing to help you figure out what goes with what, and sometimes finding the items needed involves sweeping your mouse around looking for something -- anything -- that might help, especially since some of the items are very tiny. A waste of time. It might be easier if the list of items to find were clearer. Many a time I thought I read one thing when it said another. The words are written in a font meant to be a fancy script, but with black letters on a dark background, it means that people without perfect eyesight are straining to read what's written. Horrible design choice. I might be able to move back that if it weren't for the constant cut scenes. The longer ones are skippable (after a bit) but the shorter ones with dialogue drag out long after I've read the words and want to move on. After a while I couldn't take this frustrating and slow game any longer.
June 28, 2012
Booorrrriiinggg
I downloaded the trial and played for about a half hour, and I stopped because I was just so bored. Talked to a few people (yes, there are people here), went from one place to another, found and used some items. But I didn't feel I was in charge of the adventure. The adventure was in charge of me. Little flashing stars means click here. Hands and eyeballs appear that tell you to do something right here. Click on the hint button and suddenly you are transported to where you need to be for your next task. Geeezzze, it was like playing an adventure by having someone hold your hand and saying "look here" or "do this" or "see this". And way TOO MANY HO scenes. Yes, the HO scenes do require you to do some figuring out on your own, and they are good HO scenes, but there are way too many of them and I really think they interrupt the storyline or adventure (assuming there is one). Do all adventure games have to have HO? Can't someone make an adventure game without a bunch of HO scenes plugged in all over the place? Go play HO games if you want, but I would really like an adventure game where I don't have to go looking for shoestrings, toilet plungers, mustache wax, hair ribbons, candied walnuts and dessicated flies. Things totally unrelated to the story. To sum it up, usually if I download a game that I'm going to enjoy I find myself getting lost in it immediately. This one just didn't do it for me. No, I'm not buying it, and I'm not even going to play the 30 minutes I have left.
June 21, 2012
Bored after 10 minutes
The graphics are pretty behind in regards to todays standards. Its not a simple object search game. What annoyed and caused me to quit was you need to find a combination of 3 things just to find each single item on the list. I didn't find it pleasurable or stimulating.
March 29, 2014
I just couldn't get into it!
I lasted a half hour and was so frustrated, I had to quit the game. I suggest you try the demo, because many of the reviews were positive. For me, the HOS scenes were too far fetched in what they required you to do. So I found myself frustrated. The cut scences were bad and redundant. How you moved in the game was choppy and sometimes in a scence you would click around to check for hot spots and you would back out of the scene. This drove me crazy. Not an enjoyable game for me.
June 22, 2012
Frustrating
This game lacks any kind of continuity or logical progression. It's just a hodge-podge of HO screens and not very well done puzzles. But the main annoyance is the doors and gates that open with a noisy sound effect every time the cursor comes close to them. Overall the game was so frustrating that I didn't even finish it. I wish I hadn't spent my money on it.
March 11, 2013
Should Have Stayed Silent
Just did 15 minutes of this game and had enough. Boring! HOs were small and hard on the eyes. No animation. VOs seemed to be the same voice for each character. Grew tired of the cartoonish curtain coming down to tell someone's story. Will have to check my purchase history. Did I pay for this game or did I use one of my free game coupons? Either way, I lost.
July 15, 2012
an awkward game at times
Game play is awkward at times but has an interesting enough story to keep me playing. All right purchase as a discounted game but frustrating at times.
March 21, 2013
Well, that was a waste of a game credit
Yuck, this game is definitely NOT up to the level of Big Fish's usual fare. The background graphics are okay but the old style character depictions are clunky. The children's book-style cut scenes, plodding storyline and "interactive" HOG's are bad, bad, bad. This game seems like something that I would have seen a few years ago as the genre was exploring what worked and what didn't (this game falls into the didn't category) Sorry BF, but this one is a stinker; I quit after just 20 minutes.
June 26, 2012
The Apple logo is a trademark of Apple Computer, Inc.