Katy and Bob: Way Back Home
Katy and Bob's vacation has gone awry and it's up to you help them find their way back in Katy and Bob: Way Back Home. You will help Katy and Bob earn their way home by building up your tropical bar. Prepare a variety of cocktails and entertain your customers with breathtaking fireworks. Grow your own fruit to make juice and add business upgrades in this exciting Time Management game.
Manage your business
Test your Time Management skills
Beautiful animations
Game System Requirements:
OS:

Windows XP/Windows Vista/Windows 7/8

CPU:

1.0 GHz

RAM:

512 MB

DirectX:

9.0

Hard Drive:

136 MB
Game Manager System Requirements:
Browser:

Internet Explorer 7 or later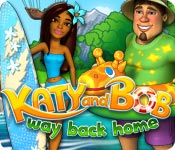 NEW299
The Big Fish Guarantee:
Quality tested and virus free.
No ads, no adware, no spyware.

Reviews at a Glance

Katy and Bob: Way Back Home
0
out of
5 (
0
Reviews
Review
)
Customer Reviews
Katy and Bob: Way Back Home
54
54
Awkward gameplay
The storyline is quite good: Rich dad's two young adult children think that 'son' and 'daughter' is an occupation. So he gets in touch with some organisation that will teach them that a 'career' is something completely different and under false pretences they get lured to a remote island. There they have to work to earn their tickets back home. So far, so good, but the rest didn't really impress me. I found the gameplay quite awkward. You have to take orders from customers with varying levels of patience, order cocktails from the bar (they take a little time to make), fetch ice creams and cans of pop and I got as far as having to pick a fruit, put it into some juicer (both the juicer and the growing of the fruits take a little time) and light fireworks. The latter you can do once you have collected enough love hearts from happy customers, which you strangely have to pick off the floor. In fact these customers seem to throw everything on the floor: Money, your tips, the hearts...you name it, they don't seem to now how to leave things on their tables. The only good thing about that is that you don't have to click everything off the floor individually, you just have to move the mouse over it to pick it up. You can buy the usual improvements for you cocktail bar with the money you're making and you can buy some antiques that are supposed to help you getting back home. I found the gameplay extremely awkward and couldn't get any flow into it, which made it extremely hard to chain the actions. Not being able to pre-prepare any cocktails or other concoctions really didn't help. A "No" from me, I'm afraid.
June 17, 2012
I smell turbo pizza
This game reminds me of the fast paced,long ago, games such as Turbo pizza. It did not right off but once I played a couple of levels I saw the fast demanding customers and the overall set up that truly feels and looks like those games. And I missed them. Is it special or very different? No...but nostalgic for TM fans like myself. You hand customers menu, prepare drinks or give out food, serve, take the money and gather the coins and little hearts.If you get enough hearts you can set of a small firework and that makes the customers happy.It gets challenging pretty fast and the graphics are cute. Glad that somebody thought it was a good idea to bring them back. Works for me.
June 17, 2012
Best TM to have come out in some time.
This is a lovely TM of the Dash variety with clear, bright graphics and some very well drawn customers of varying degrees of patience (naturally!). There are upgrades galore in the main game and also an "Antique Shop" where you can buy further enhancements with earned coins that help you move faster or make your clientele more patient. Mini games pop up every few levels that allow you to earn more coins for the Antique Shop. There's an easy and a hard mode. I played in easy mode to start and that does become challenging quite early on, but then what would a good Dash style TM be without the challenge? This is fun and it's addicting. I'd recommend this to fans of the genre.
June 18, 2012
Nice enough TM
Once again I wish we could award half-stars, as this would be rated slightly higher. Nothing really stands out with this typical time management game but it is pleasant enough. Game-play is smooth and the interface works fine. Some positive things: - two difficulty levels, clear non-obtrusive tutorial (skippable) - varied alternative goals: the main goal each day is to earn X amount of dollars but there is a secondary goal (for example, serve menus to 5 customers in a row, set off fireworks twice) that changes each day - all store upgrades are available right away and you can pick whatever you like that you can afford - the secondary goals allow you to purchase different sorts of upgrades - no dragging customers around - combo rewards are nicely handled - customer happiness is gauged by a bar which is much clearer than hearts or similar in other games Things I didn't like - I played on the easiest difficulty, but swung from getting expert on most levels to missing the goal completely on the rest. - Nothing to make me want this when I already have plenty of similar games that have more depth. I cannot rate the storyline as I always skip them in TM games. Give it a try. Not for me though.
June 17, 2012
Awesome Time Management Game! 5 Stars all the way!
This was a truly great game. I loved it! The game starts out showing 2 rich siblings lazing the day away. Their father, tired of their ways decides to send them on a cruise to a special island. One where they will not be able to return home from until they earn the money by working at island bars. The game was very challenging. You really have to work hard to get the gold in all levels. Hope you enjoy it as much as I did.
June 17, 2012
Really Enjoyable Time Management Game
Only played the demo but very easy to get into the game. The storyline is weak but very enjoyable levels. Basic Dinner Dash type game without complicated steps to fill orders. I like that the hearts and money does not require clicking just passing pointer over them to collect. Keeps the clicking only for actual orders and serving customers. It is a buy for me but I lover well setup time management games. Bonus level not great which lowers my overall grading.
June 17, 2012
The unique TM game of the year - not too unique~
well great game, I like serving food game and this game is so special like just mouse over the coin, and the coin will be pick up,like the music and storyline! but the game is TOO challenging the developer should put relax mode and to do more thing in the game. there many things to upgrade include skills! :D P/S- try it first then U know!
June 16, 2012
Always love a good management game
I always enjoy a good time management game. Same idea though. Serve customers, bonus for doing the same action in a row. Objectives to complete for each level. The graphics are pretty good.
June 17, 2012
Love it! Purchased right away!
I love time management games, and am often disappointed when they become boring and repetitive right away, or too challenging too fast. Nope, I played this one right to the end. I wouldn't say it's the best of the best, but I was definitely hooked. I only rated visual/sound quality and storyline at an "Ok" because they're pretty much just innocuous. They don't make the game any better or worse, they're just there. A unique feature that took a few levels to get used to, but I actually really enjoyed once I got used to it, mousing over coins to pick them up instead of clicking, and later in the game you can upgrade a dog to do this for you. My only complaints are; the mini-game is annoying, I'm not sure if it's a kink in the game but I couldn't click on the flying fruit, and didn't gain enough from playing it anyway, so I kept skipping the mini-game altogether. Second complaint, you can't right click to cancel queued tasks! However, I only found myself wanting to a couple of times in the entire game. In regular TM games you often queue ahead a ton of clicks, but this game is fast enough that it's not really necessary (or possible) to click ahead more than a couple of times. But don't let that stop you from trying it! It wasn't too fast to keep up with and enjoy, and the upgrades are helpful and pretty satisfying. Try it!
June 18, 2012
Nice Dash-Style Game
This is a pretty good dash-style, restaurant Time Management game. You run as bar as Bob and Katy (or rather, Katy, as Bob just sort of sits there most of the time and waits for Katy to request an order). Pros: - Cute graphics, bright and colorful -You can earn money for upgrades in two ways. One: Through making regular money at the bar to use to make the bar nicer. Two: By getting a "gold" score you get tokens to use at an antique shop for upgrades (i.e., make Katy walk faster) -Good tutorial/explanations Cons: -Story is not great, but it's not that big of a deal. -Some customers are super impatient, even in the first few levels.
June 17, 2012
The Apple logo is a trademark of Apple Computer, Inc.