Wordary
Push your lexical skills to the limit in Wordary! Spin the board in this original and addictive word game to build as many words as you can. Each Wordary board has hundreds to thousands of hidden words ready to be discovered. Four exciting game modes mean that you choose how to play and that the fun will never run out. Download Wordary today to put a spin on you words!
Four exciting game modes
Completely original and addictive
Hundreds of words hidden in each board
Game System Requirements:
OS:

Windows XP/Windows Vista/Windows 7/8

CPU:

600 Mhz

RAM:

256 MB

DirectX:

7.0

Hard Drive:

200 MB
Game Manager System Requirements:
Browser:

Internet Explorer 7 or later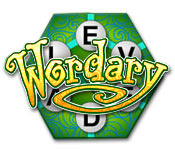 NEW299
The Big Fish Guarantee:
Quality tested and virus free.
No ads, no adware, no spyware.

Reviews at a Glance

Wordary
0
out of
5 (
0
Reviews
Review
)
Customer Reviews
logophiles will enjoy this hidden word game
do you wish you could play a hidden word game, where instead of searching for hidden items, you search for hidden words? if so, then this is the game for you. this game board provides wheels with letters that you can rotate to create words that you add to your growing list to earn points. graphics: ok, nothing special. music and sound effects: terrible. if you get this game, you will most definitely will end up turning the background soundtrack off. the sound effects were functional, but nothing extraordinary. gameplay: each game board provides roughly one thousand words for you to find. most recognised words are English, with a limited number of words accepted from other languages. points awarded for each word, and words containing certain letters (the letter "v" and "z" come to mind) are awarded more points than others of the same length. oddly, some proper English names are also accepted whilst others are not. you have four modes of play: main game (untimed) and time challenge, follow my lead and word finder, each of which has the same game board and scoring system. scores are recorded and tabulated. this game has unlimited replay potential, and would be especially fun for short time intervals (such as waiting for a train/plane) when you wish to fill your time doing something. my interaction: one hour demo. if you are a fan of words, then you will really enjoy this game. if you regularly play other video game genres as i do, Wordary is quite different to what you are most familiar with, and will provide an interesting change of pace.
June 18, 2012
Brilliant word game
There are many word games out there but I've only ever found a couple I really enjoyed playing and this is one of them. It's got a unique and really fun mechanism for discovering and building words. There's the four different game modes which are all fun and but my preference is the Main version where you just keep trying to find more and longer words. My wife and I are already competing on who gets the longest word, the word with the highest score value or the most words. A great game!
June 18, 2012
Ye Gods - Oh so tedious & Not my cup o' tea.
So I love Picross and have found so far "Arizona Rose and the Pirates Riddles" to be head and shoulders above the rest. I also love word games with "Bookworm Adventures" my current favorite. In trying to branch out to something new I thought the construct of working with 3 wheels with letters might be fun. It's not. It's painfully tedious requiring a methodical step by step process suspiciously like my day job. On the upside there are many play options that include no racing against time which I really appreciate, so there is time to build words. So ends the upside - The music is maniacal-carnival style so that got turned off. Game play felt like a day in the office with endlessly repetitive paperwork. It's possible I completely missed the boat, but this is what I experienced -Identify all possible variations of each word that can be conceived. As example, if starting with 'lit", move on to alit, lite, liter, liters, building until no more words found after rotating through all combos of the wheels. This includes working backward for -- Til, Tile, Tiles, riles, ..., well you get the drift. There are a *LOT* of mundane variables. After an hour of play stats showed that thousands of words combinations remained. Honestly this felt more like busy work than a vocabulary builder or brain teaser. I'm glad for all those who find the game fun and relaxing. --It is just not my cup of tea and I can't recommend.
April 19, 2013
Not for me, but might be for some
There are few word games I don't like, but this one is one of them. There are several game modes, but they are all timed. When I play a word game, I want to have time to think and be creative, not race against the clock, which forces one to make relatively easy words. I also don't much like the "word search" aspect, in the sense that to keep rotating the wheels to find letters that go together bores me. Still, it is not an inherently bad game, and for people who do like the timed aspect and the word search aspect, I recommend it.
June 18, 2012
An addictive word game
I really enjoyed playing this game and thought the idea was original. I liked the spin option which was available when I ran out of ideas for words. My son especially liked playing it and I thought it was good way of getting him to improve his vocab! Definately recommend.
June 28, 2012
Could be better
I like word games. I thought this one looked original. The game idea is good, however it can only be as challenging as the vocabulary of the person who programmed its dictionary. For example, I found the word 'moron'. Ironically the game said it was not a recognised word & would not accept it.... I realised at this point it would be a waste of time to play any more.
June 19, 2012
I enjoyed this
I love word games and I love this one too. It's a bit different to the others.
June 18, 2012
This will be a big success story
Love this. Great fun Addiction
June 18, 2012
Okay if you speak British
If you speak American and write American, the words don't fit into your vocabulary. But if you can imagine yourself in another part of the world, where neighbors are spelled neighbours and realize is spelled realise, then this game might be for you. I guess in those parts of the world "cert" is a word. Interesting "twist" on a word game, though. Good luck. I'd have given it a higher rating if the words hadn't been so difficult to find. Once I realized (realised) the reason, it took me a while.
June 24, 2012
Just OK
I love word games but found this a little boring. The words must be at least 3 letters & (small ones) are very easy to make so you can keep going and going. The use of "S" for plural made it possible to use both singular & plural. My hand and arm were tired out! Words that are accepted in scrabble are not always accepted. Not fun enough for me!
June 21, 2012
The Apple logo is a trademark of Apple Computer, Inc.