Shaban
Meet Shaban, a shepherd living happily alongside his sheep and goats. One rainy night, thieves invaded his property and stole all his sheep. Set off on this adventure as Shaban seeks to find his lost sheep. Enjoy this entertaining story told in a comic strip style. Solve a variety of logical and environmental puzzles as you progress through the game. Will you be able to help Shaban rescue his sheep in time?
2 playable characters
Original soundtrack
30 wonderful hand drawn backgrounds
Check out our Blog Walkthrough
Game System Requirements:
OS:

Windows XP/Windows Vista/Windows 7/8

CPU:

2.5 GHz

RAM:

1024 MB

DirectX:

9.0

Hard Drive:

745 MB
Game Manager System Requirements:
Browser:

Internet Explorer 7 or later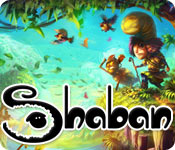 NEW299
The Big Fish Guarantee:
Quality tested and virus free.
No ads, no adware, no spyware.

Reviews at a Glance

Shaban
0
out of
5 (
0
Reviews
Review
)
Customer Reviews
WHAT DO YOU DO ?????
like the gamer said above, shows what things do but very vague. Got the rucksack, went to the cockoo clock, managed to find a magnet but wont tell you how to use it, fixed the clock ,managed to get the goat (???). got a bubble to say pick up the goat but dont know how, dont know how to get the inventry to pop up if i need it or not !. Went to cliff, buttons missing on panel (is that what is under the table ??). So overall really dont know what im doing !!! could be a good game otherwise so not giving it a high rateing because i cant get far enough into the game (in other words totally lost lol). Hope other gamers can work it out and help us dummies lol. Recommend ? I will to a certain extent and more star rateing if more help comes along.
June 19, 2012
What a waste of potential
I was so delighted when I saw this game. Judging from the screenshots it's comparable to "Tiny Bang Story", a stunning and extremely underestimated jewel of adventure/HO gaming. So I was really curious if this game could meet my expectations. The graphics were beautiful, I really enjoyed the "tim-burton-ish" look, everything's a bit skewed and a bit weird. I prefer this look over everything cute and pretty. I found the music a bit annoying, but well, I guess I could've muted the sound. But then the drama began. First, the demo ended only after 29 minutes of playing, which was really disappointing. Second, the game lacks text or voices to explain what's the deal. Instead, it uses symbols that are rather vague. Based on the symbols you have to guess what to do next which can be frustrating sometimes. Third, the mini-game with the colored wires was kind of unprecise. Even after I turned my monitor brighter, the screen was terribly dark so it was rather difficult to follow the wires to the correct outlet. Especially, since the wires were so vaguely drawn that you simply couldn't tell if the certain wire goes left or right. That was a bit irritating. I'm fine with challenging mini-games as long as they're challenging because of the logic and not of the inaccurate programming/graphics. Overall, I was really disappointed, because this was so promising. I'd consider the game a waste of potential, because this could've been so much more fun. What a pity.
June 20, 2012
Dislike!
After 35 minutes of trying this game and getting nowhere, I uninstalled! I love a challenge, but this was ridiculous. After finding 3 objects in the first ten minutes and walking back and forth 14 billion times ( I exaggerate here) I became so frustrated...hints are almost non-existent. I could not figure out how to use my three objects, except for the magnet which needed something with it, that I never found. Pros: Graphics are great, I loved the simplicity! The music was nice and calm, but not annoying in anyway. Stroyline is cute, too bad I couldn't find out more of it Cons: Too hard, I love challenges but this was not fun!
July 18, 2012
Not a good game at all.
I only played the demo for 20 min. and I quite. I got completely stuck on the electrician puzzle. Where the wires are going is absolutely not vissable. So you have to gass which one is where. I like games with a challange, but this is not normal. Not for me.
July 12, 2012
Not my cup of tea...
I don't know... Since the beginning, I didn't love the graphics. Don't like that kind of drawing. Moreover, the hints are really not clear... it doesn't help you at all! I played for only 10 or 20 minutes and then, left the game because it was really getting on my nerves.
June 22, 2012
hmm dunno
the jury is out on this one, finished the demo version in 20 minutes. not easy by any means as other said, but not too difficult either...didni't really like the childlike cartoony feel to it. the puzzles (3 of them in the demo) were a little challenging. but logical
June 21, 2012
Overall poor game
too slow story line poor and sooooooooooooo slow. After just a few minute I didn't want to play any more. Visualy beautiful but depressing
June 20, 2012
:(
I was able to get out of the first room and play until the demo version ended which sadly only took me 20min. I doubt I will buy this game as it didn't really peak my interest before it was over.
June 19, 2012
Thought the graphics were interesting so sorry I purchased this
The gameplay is very awkard and not very user friendly. I do not know the technical term for moving through the game but I would call it choppy. I am bummed I spent money on this.
June 29, 2012
Well This Just Hit The Top Of My Cut This Off And Pull The Plug List
This review is for 30 minutes. This is a puzzle/adventure type of game. You don't get to add your name. No widescreen. No voices. Cartoon-style comic book images. There is a tutorial which is just a page showing what different icons meant (how to navigate in the game) Inventory list, Menu, no map (at least I didn't come across one). There are HOS (hidden object scenes) - I only came across one which was a fragmented hidden object scene. Puzzles: I only came across a wire puzzle and a jigsaw puzzle. The hint takes 2 minutes and 4 minutes for the SKIP button to fill. Some items you do have to combine to be able to use them. My overall impression of this game: Well I do try my best to play the whole game before submitting a review as the majority of my reviews are on the whole game but if it's one I don't much care for such as this I do try to make it through the demo time but 1/2 hour of this was all I could cope and just barely. I've downloaded some bad games in my time but this one definitely takes the cake and the pie too. For starters, this game didn't fill my screen. The year is 2012. Lets get with it here developer. There's a couple of cut scenes I came across during this game and it brings up several comic book type style images however when the screen is filled up with these I found you do have to use the skip located at the bottom for it to move forward in the game. While I didn't have problems moving the character along, this game was just too slow and clumsy moving along is the best I know how to describe this for me. The one HOS I did have to use a couple of hints to find the pieces. The puzzles: Well the wire puzzle there's only 4 wires and I thought I tried every possible combination but obviously I missed one as I went to the game forum for help on that one. The jigsaw puzzle I was able to put together just fine however just a bunch of numbers on it and there's a metal square plate is the best I know how to describe that and the hint was about worthless as no matter where I lined up this metal plate I couldn't solve the puzzle. I read in the game forum there is a map maybe this is it, this puzzle?? The skip taking 4 minutes?? Well that's a mighty long 4 minutes I was able to smoke my Marlboro and drink my cup of coffee in my Big Fish mug and no skip button in sight. I'm sorry Big Fish and developer but as of today this is definitely the worst game I've ever downloaded. The only good thing I found about this game were the graphics as I liked the cartoon comic book style type however this definitely gets the 1 star stop madness, cut this off and pull the plug. I think this game needs sent back as it's not quite done and ready. As always definitely give it a whirl and decide for yourself.
June 19, 2012