Shaban
Meet Shaban, a shepherd living happily alongside his sheep and goats. One rainy night, thieves invaded his property and stole all his sheep. Set off on this adventure as Shaban seeks to find his lost sheep. Enjoy this entertaining story told in a comic strip style. Solve a variety of logical and environmental puzzles as you progress through the game. Will you be able to help Shaban rescue his sheep in time?
2 playable characters
Original soundtrack
30 wonderful hand drawn backgrounds
Check out our Blog Walkthrough
Game System Requirements:
OS:

Windows XP/Windows Vista/Windows 7/8

CPU:

2.5 GHz

RAM:

1024 MB

DirectX:

9.0

Hard Drive:

745 MB
Game Manager System Requirements:
Browser:

Internet Explorer 7 or later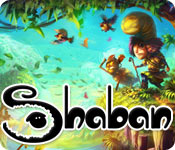 NEW299
The Big Fish Guarantee:
Quality tested and virus free.
No ads, no adware, no spyware.

Reviews at a Glance

Shaban
0
out of
5 (
0
Reviews
Review
)
Customer Reviews
Worst Puzzle/Adventure Game I have ever played.
I usually enjoy a challenge but I must admit, this wasn't one. There are no voices, no tutorial to even give a clue about anything going on in game, strange looking characters, nothing to go on as far as storyline. I usually try to play a game on here everyday and this was one I wish I hadn't tried. Go back to the drawing board guys and start over.
June 21, 2012
An interesting thought
The story was okay but didn't care as much for the game-play.
August 9, 2012
Not my cup of tea...
I don't know... Since the beginning, I didn't love the graphics. Don't like that kind of drawing. Moreover, the hints are really not clear... it doesn't help you at all! I played for only 10 or 20 minutes and then, left the game because it was really getting on my nerves.
June 22, 2012
Cute but SHORT
I LOVED the way this gamed looked, and some of the hidden object scenes and puzzles were a bit tough. I also liked that there was some variety in what you had to do, (not all hidden objects), but it was WAY too short! I think it only took me maybe 3-4 hours....maybe. And I didn't use hints or skip any puzzles. Overall it was fun, but it's always a little disappointing when you don't get quite enough game play.
June 23, 2012
Fun game, but looks Short
These types of games are fun (like Tiny Bang Story), but this one appears to be quite short. It took me only 30 minutes to complete the demo which got me through chapter 1 and there are only 5 chapters - so I would expect the game to take 2.5 hours. I'll wait for a game sale or Daily Deal.
June 23, 2012
It's Back to the Drawing Board for these Folks!
I guess it must be amateur day today because I find it hard to believe that professional game developers could have come up with this one. I thought the storyline would have been cute had there been some text to read or voice overs. You just have to look at the blurred cartoons to understand that our hero Shaban had some sheeps that were stolen and he goes off to find them. A kind of Middle Eastern version of "Mary Los her Little Lambs". Visually the graphics were very poor to say the least. There are games with cartoon graphics that are wonderful, vibrant and well executed; this unfortunately does not even come close. I suppose the devlopers were going for the hand drawn comic book look but it just looked extremely childish to me. Yes, the main character did look odd and quirky and could be considered funny looking but the graphics were too crude and too dark to apreciate any of the artwork. The music is on a loop and the only good thing I can say is that I thought the sound effects were not bad, that is if you like the sound of sheep crying. Game mechanics is pure adventure with some HO scenes and puzzles to solve; that is if you can actually see them. If you did manage to get pass the wire puzzles without straining your eyes, good for you. By the way, I also imagine that folks will not appreciate the fact that you cannot skip puzzles or at least I could not find a skip button. You do have an interactive map and I will give them some points for that but the hint system was just too vague as were the puzzle instructions. When I say instruct, there are no written text in this game, just drawn images which were difficult to make out. Anyhow despit all the cons, I did manage to complete the trial version with 35 minutes left on the clock. That reallly was long enough for me to know that this game unfortuantely goes directly into my trash bin.
June 19, 2012
Rubbish
Totally boring, slow. Dont buy it.
July 5, 2012
?????????
With no instructions (except a page telling you what different icons meant) no guide and no hint button, I couldn't get out of the first room. I could look at a picture which gave me a dream image of someone unplugging the light or look under the table to get a dream image of cursing symbols. I could pick up a knapsack. I couldn't seem to do anything else though and I gave up after 10 minutes of sheer frustration. The graphics were lovely (although the main character is a little Tim Burtonish and creepy) and even the music was bearable. What a shame I couldn't understand it - maybe it's just me having a stupid day, I would suggest you try yourself because it looked as though it might be a good game. If you get past the first room, post the answer on here please and i'll have another go! I hesitantly recommend this one as you may have more luck than me figuring it out and I think it might be worth it.
June 19, 2012
WHAT DO YOU DO ?????
like the gamer said above, shows what things do but very vague. Got the rucksack, went to the cockoo clock, managed to find a magnet but wont tell you how to use it, fixed the clock ,managed to get the goat (???). got a bubble to say pick up the goat but dont know how, dont know how to get the inventry to pop up if i need it or not !. Went to cliff, buttons missing on panel (is that what is under the table ??). So overall really dont know what im doing !!! could be a good game otherwise so not giving it a high rateing because i cant get far enough into the game (in other words totally lost lol). Hope other gamers can work it out and help us dummies lol. Recommend ? I will to a certain extent and more star rateing if more help comes along.
June 19, 2012
hmm dunno
the jury is out on this one, finished the demo version in 20 minutes. not easy by any means as other said, but not too difficult either...didni't really like the childlike cartoony feel to it. the puzzles (3 of them in the demo) were a little challenging. but logical
June 21, 2012