Echoes of the Past: The Revenge of the Witch Collector's Edition
Save the kingdom of Orion in Echoes of the Past: The Revenge of the Witch! Once again black powers have seized the land and this time the witch is more determined than ever to take her revenge on you. The entire city is gripped by fear and it's up to you to save them, and yourself. Exorcize the evil and defeat the witch once and for all!

This is a special Collector's Edition release full of exclusive extras you won't find in the standard version. As a bonus, Collector's Edition purchases count toward three stamps on your Monthly Game Club Punch Card!

The Collector's Edition includes:
Bonus gameplay
Integrated Strategy Guide
Exclusive mini-games
Game Designer mode
Game System Requirements:
OS:

Windows XP/Windows Vista/Windows 7/8

CPU:

800 Mhz

RAM:

512 MB

DirectX:

9.0

Hard Drive:

660 MB
Game Manager System Requirements:
Browser:

Internet Explorer 7 or later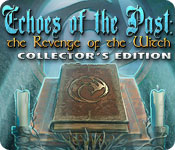 The Big Fish Guarantee:
Quality tested and virus free.
No ads, no adware, no spyware.

Reviews at a Glance

Echoes of the Past: The Revenge of the Witch Collector's Edition
0
out of
5 (
0
Reviews
Review
)
Customer Reviews
Echoes of the Past: The Revenge of the Witch Collector's Edition
102
102
Bonus Chapter Was Just OK.
Most of the time I think 'bonus chapters' are a waste, unless it gives you a lot of extras during the game, not just at the end. This game was a lot of fun to play. I had a hard time stopping so I could get things done around the house. However, once I got to the bonus chapter, it wasn't so much fun. The reason for me, is that the last eight or so puzzles it has to complete the game were all the same and very frustrating. I skipped all of them (eventually). I tried to complete just one, but became too impatient. If they would've been like dominos puzzles in the main game, I would've given it five stars. The ending to me wasn't so rewarding, so all in all, I wish I would've waited for the SE. (The reason I recommend this game, is that some people do not like waiting around for the SE game. Either way, the game is fun.)
July 26, 2012
Same Name Same game
I have all the "EOTP" games, this one doesnt seem any different really. I liked the storyline, the music is the same in every game so i ignored it. HOG pretty easy, Challenges were ok. I only had to use the SG to understand one puzzle then i got it after that. I Used Hardcore, got through it with about 10 min.s to spare. Prob. will buy it eventually, but i think i can wait for the reg. version. Lately the CE dont seem to carry much of any extras that are worth anything.
July 22, 2012
Not bad!
I have the other 3 games and loved them. I'm not sure about this one. A lot of shoe leather is used for one thing here and one thing there. Didn't care for the placement of the hint button being under the SG. Wish the developers would either all go top or bottom for the inventory. SG isn't bad, but I have never cared for this type of set up, it just seems a bit messy. Would be nice if the devs would list the chapters in the demo so you could get an idea of how long the game might be. The graphics are very nice, music not too bad, HOGs not difficult and neither are the games. Game play was a bit choppy in some spots, but otherwise very nice. I like the addition of the "digging" through things to find items...something different. Not much interaction (so far) with people, so tends to slow down a bit. Hopefully it picks up. This game did not keep my attention like the other three, but I did like it and will probably end of purchasing and adding it to my collection. Thanks for the reviews.
July 19, 2012
ECHOES OF THE PAST: THE REVENGE OF THE WITCH COLLECTOR`S EDITION
WE HAVE BOUGHT ALL ECHOES OF THE PAST, THIS ONE I DID LIKE, BUT KEPT FORGETTING WHAT I HAD TO DO AND WHERE TO GO. IF A MAP WAS PROVIDED IT WOULD BE EXCELLENT.
July 23, 2012
Liked everything about it except...
My one and only complaint with the game, is that there are some "arcade style" puzzles, that require hand-eye coordination and/or fast twitch muscles. I don't play these games to use my hands, I play them to use my mind. Thankfully, the "Solve Puzzle" activates fairly quickly so it didn't waste too much of my time, however, I have to withhold one star on the rating.
July 23, 2012
All around Good Game
This is a well designed game with plenty of puzzles that range from easy to difficult. There is also a good amount of game play in the bonus material.
July 29, 2012
Finally some new puzzles!
This game gets high marks for having many puzzles, and being a generous length. There is a lot to do and explore, you have to travel all over the area (might have been nice to have a map so you could jump to far areas). I played hardcore mode, liked that you had to hunt for HOS. Did not read the journal or the black box comments as they were too full of unwanted hints. Pretty good graphics, but not really scary or creepy at all (this is a minus for me). Had enough fun that I will forgive the pathetic "repeat the sequence" boss battle with the witch. Downsides were that there were no instructions for the games, so I sometimes had to check the SG for the instructions. Also, PLEASE developers give us a way to turn off voices! The voiceovers were so annoying, esp the little kid voice, had to keep turning my sound off and on to avoid them. But worth the money, really deserves 4.5 stars.
July 22, 2012
not a bad game
pretty good game...could have been a bit more challenging
July 19, 2012
So far so good!
Purchased it right after the trial, looking forward to more.
July 19, 2012
Fun, Challenging and Lengthy!
NOTE: Review is of completed STANDARD EDITION ~~~~~~~~~~~~~~~~~~~~~~~~~~~~~~~~~~~~~~~~~~~~~~~~~~ I've always liked the Echoes of the Past series, but this is the one that stood out for me. Unlike most games I own, I liked it for the gameplay and not the story. It was a decent sized game, but did not end conclusively. I believe this was to add suspense for the fifth game. Like I said, I bought this game for the gameplay, not the story. The story, in my opinion, was actually fairly weak. There were no twists in it at all. Everything just seemed to go along as predicted. It was set in medieval times with monsters and magic and whatnot, all that would be expected from a medieval game. The story goes like this: You've been transported to some medieval world where a magician asks for your help in defeating the witch. To do this, you must find 10 green gems and use the magical staff given to you by the magician. Where I think this story went wrong was the fact that there were no twists, surprises or anything unexpected. Everything went the way I expected it to go, which eventually made the story boring. Also, as I said, the story doesn't end conclusively. It's a rather abrupt ending, and it kind of made me feel ripped off. The gameplay is where the game starts to get good. It was very fun and was quite a challenge. I had to consult the walkthrough a number of times to solve puzzles! Speaking of puzzles, there were quite a lot of them. A lot of the puzzles repeated in this game (for example, the crystal puzzle, the magician puzzle and the aquarium puzzle), but I quite enjoyed them, especially the crystal puzzle. I guess it would have been better had the puzzles been different every time, but, oh well. One thing I will comment on is that the ratio of puzzles to HOS was not good in my opinion. There were way more puzzles than HOS. I would have liked to see things evened up a little. On the subject of HOS, I quite enjoyed them. There were two types of HOS: Standard junkpile and place the item. Both were very fun and I found both to be quite easy. The junkpile scenes included extra step objects to try and make them a little harder. The standard gameplay was a little different to most. After playing so many games with the inventory at the bottom, it was strange to have the inventory at the top of the screen for this game. It took some getting used to, but it was good. Other than that, navigation is quite easy. Experienced players should have no trouble completing this game. One thing that kind of annoyed me about the gameplay was the amount of backtracking. There is a lot of backtracking in this game, and I mean a lot. Old locations are revisited frequently, and with NO MAP, this became very annoying very quickly. The graphics are clear, but aren't the best. The scenes are clear, but to be honest, the character designs are outdated and need a lot more work. The voice-overs are just standard. They aren't good, but they aren't bad either. FEATURES 3 modes of play: Regular, Advanced and Expert. The differences in difficulties are hint/skip charge times and sparkles. I played Casual, which is sparkle heavy. Hint/Skip- Both recharge fairly fast for casual. The hint is extremely helpful outside HOS. Diary- Used fairly often, keeps track of the game's events. What was different about this diary was that it was written in narrative form, and begins keeping track right from the beginning of the game. This was a nice touch. WHAT DO I MISS OUT ON IF I GET THE SE? Bonus Chapter. Game does NOT end conclusively, but I assumed that was to create a story for the fifth game. Unsure if needed. Built in Strategy Guide. Some may find they need this for puzzles. I had to use the walkthrough multiple times for puzzles. Bonus minigames Something called ?Game Designer Mode?. So, without a doubt, I'd say I was happy with the SE, even with the inconclusive ending. The ending was really abrupt, as I mentioned, BUT I believe they only did this to build up to the next game, as the ending cutscene is pretty close to the beginning cutscene for the next game. This is a solid four star game for me. It's challenging, fun and lengthy (see game length note below), but falls short of being a five star game due to an incredibly weak story. On the game length: This game was very lengthy for me. I found it to be 4 hours on easy mode, which is VERY long for me. This is one of the longest games I have ever played. I timed my gameplay from beginning to end, no skipping cutscenes. I did skip a few puzzles, so the game would have been even longer had I not skipped them.
December 8, 2013