City of Fools
Play as a newspaper journalist and investigate the small town of Tundel where a UFO is rumored to have landed. The local mayor seems to be trying to cover up the event and it's your job to track him down and learn the truth. The way to the mayor will challenge your courage, selflessness and wit. Overcome all the incredible obstacles, find the mayor and become a hero in this charming adventure game!

Warning City of Fools contains adult themes and is intended for mature audiences.


Amusing animations
Original comic storyline
Discover the truth!
Game System Requirements:
OS:

Windows XP/Windows Vista/Windows 7/8

CPU:

1.0 GHz

RAM:

512 MB

DirectX:

8.0

Hard Drive:

357 MB
Game Manager System Requirements:
Browser:

Internet Explorer 7 or later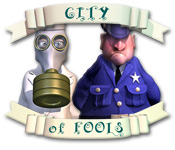 NEW299
The Big Fish Guarantee:
Quality tested and virus free.
No ads, no adware, no spyware.

Reviews at a Glance

City of Fools
0
out of
5 (
0
Reviews
Review
)
Customer Reviews
Very enjoyable despite the juvenile running gag
An amusing, enjoyable meander through the streets of the City of Fools. Visit each weird citizen in their home and fetch/buy a peculiar set of items for them so that you can earn enough to aid the next person, and so on. The ultimate aim of all your do-gooding is to earn enough money to buy a plane ticket to meet a mysterious man who lives on some island. Quite demanding on my map-reading skills, and also in trying to remember where each person lived! I found the game very amusing, diverting and enjoyable although I quickly tired of the two running jokes: an obnoxious policeman, and a juvenile and very tiresome gag about excrement in the streets. I had to crib occasionally from an online walkthrough (particularly after the first dung incident) since there's no help or hint function in the game. You're only supplied with a list of all the deeds you have to perform and whether you've completed them. Plus that map, which sometimes drove me round the bend but was helpful nonetheless. Like others I found the game's ending to be a let-down and unsatisfying. Almost as if the devs had run out of ideas for a grand climax. Or perhaps that was their intention? After all, only a fool would visit the City of Fools.
September 22, 2013
A Nice Enjoyable Game ...
Interesting Style Of Graphics, OK Sound And Curious Story Line With An Odd Sense Of Crude Realism ... This Game Is May Not Be For All And Feels Like A Throwback Of Yesteryear's Style Of Play ... You Are Back & Forward All Over The Place And Very Much On Your Own, So It's Worth Keeping Some Basic Game Notes To Keep You On Track ... I Couldn't Make My Mind Up From A Trial Of It A Few Months Ago, And Saw It Was This Week's Deal ... It Is Worth The Deal For Something Different ... I Was Getting A Little Bit Bored Towards The End Of The Game ...
June 8, 2013
Lots of game for the money
LONG game, great for that price. I would've given it 5 stars if it wasn't so easy to get lost. Funny, entertaining, unique game.
July 15, 2012
Funny game!!!
Ok, so this isn't really a hard game by any means but it's really cute and funny and takes a while to solve. I recommend it simply because it's so different and made me laugh which a game should do every now and then :-)
July 6, 2012
A Mixed Review ... Things That Would Have Made the Game Better!
Having played 55 minutes of the demo, I can only say that I have mixed reviews, but I will purchase this game anyway because it's different, and once I figured out how to make the game more enjoyable for me, I know what to do. I will purchase and start a new game. I would have given this game more than 3 stars, but . . . First, to really enjoy this game, you need to do two things: 1) Read the tutitoral first, and more importantly, be sure to read how to use the map. You will need the map to get around the game. 2) Have paper and pencil ready, because you will need to go back to houses throughout the game. As you play the game, write down what the people need and the house number. When you collect what's needed, it will be easy to go back through the use of the map. I didn't figure this out until my demo was almost up. The second thing that made this a mixed review for me was that there was no skip option. I finally figured out that you could work through the dialogue by clicking. Who makes a game these days with a skip option -- Smile. Sound -- I hated it. I would have rather had no sound from the characters than the sound that was provided. Storyline, was OK. Challenge -- mostly you have to remember who needs what. With all my complaining, you probably are saying "why purchase the game?" Because it's different and once I following my own advise, I think this will be a very challenging game.
June 21, 2012
Not for everyone... but funny
No voice over at all so lots of reading. The HOS are good and can be challenging to find them all. Sorta cut graphics and music is ok. Do get a hint button and takes a minute to recharge. I lasted only 10 min on this game. I'd rather have some adventure. Could be fun on a rainy day and 1/2 price. I will not buy.
May 22, 2013
Unable to solve all quests and better map would have been nice
This game is definitely different and kept my attention for a good while. However, once I had the ability to reach the airport I did. Well I didn't realize it but that was the end of the game essentially. There were several tasks that I still needed to complete but was unable to. It would've been nice to be aware that once you went over to the island there was no turning back. This ability to not complete tasks also seems to be what causes the walkthrough to not be as thorough as it should be. Many areas are not included in the walkthrough so anyone needing certain help may not get it. Finally, with all of the various tasks to complete, it would've been nice to include which house number went with which task. A lot of comments I saw regarding help involved not remembering which house to go to for whatever they wanted to do. Overall a good game and definitely keeps your attention but just wish had the ability to have done more and not wander aimlessly trying to remember which house needed to visit next.
June 28, 2012
Cute, But Tedious.
The fun factor lost points for me because all the speech is a bunch of mumbling, you have to read what they're saying and the encircled lips...ewwww. Visual was really nice and crisp and detailed, but that mumbling speech brought it down for me. Also, I found all the running back and forth so tedious it took the fun factor right out of it for me. The story line is cute and a bit different, but not enough to keep me hanging around. I'm glad the other reviewers got so much out of it, but this just seemed very hodge-podged ...sorry.
June 28, 2012
Kind of boring
If you like to play fetch it's a good game, but there was a lack of real dialogue or opportunities to use strategy. Also, this is minor, but the frequency of editing errors made it seem unpolished.
July 5, 2012
What just happened???
I really wanted to give this game 5 stars. when I fist started playing I was excited. It was different, fun, great graphics, funny people and good music. Moving around the town was difficult, and the back and forth to find items became tedious. (SPOILER) I became disenchanted with the multiple scenes containing poo. It seemed to become a bit juvenile. I was very disappointed with the ending, I was just sitting at the keyboard thinking ..That's it? What just happened... I never did finish all the tasks.
July 8, 2012
The Apple logo is a trademark of Apple Computer, Inc.