City of Fools
Play as a newspaper journalist and investigate the small town of Tundel where a UFO is rumored to have landed. The local mayor seems to be trying to cover up the event and it's your job to track him down and learn the truth. The way to the mayor will challenge your courage, selflessness and wit. Overcome all the incredible obstacles, find the mayor and become a hero in this charming adventure game!

Warning City of Fools contains adult themes and is intended for mature audiences.


Amusing animations
Original comic storyline
Discover the truth!
Game System Requirements:
OS:

Windows XP/Windows Vista/Windows 7/8

CPU:

1.0 GHz

RAM:

512 MB

DirectX:

8.0

Hard Drive:

357 MB
Game Manager System Requirements:
Browser:

Internet Explorer 7 or later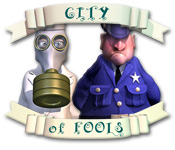 NEW299
The Big Fish Guarantee:
Quality tested and virus free.
No ads, no adware, no spyware.

Reviews at a Glance

City of Fools
0
out of
5 (
0
Reviews
Review
)
Customer Reviews
Found Sound Irritating
I did not finish the 60 minute trial as I found the sound irritating, both the background music and the "talk." You basically run around a large map with no real direction and figure it out as you go. I usually like the challenge of these types of adventures, especially one that is so off the main track but I couldn't get into this one.
December 2, 2012
meh
a little repetitive and a lil tedious. wish there was more to do
October 3, 2012
Just okay.
I agree with the glowing reviews in that this is a rare (for Big Fish) true adventure game, and very different from most others on the site. It was a pleasure from that standpoint. Unfortunately, as someone who's played hundreds of true adventure games, this one has its weak spots. The quests could have been fun if you had some way of knowing who was where and needed or had what. The map is little help and the routes convoluted at best. It got tedious, running all over just trying to figure out what still needed to be done. The biggest disappointment, however, was the poor humor. Given better writing, this could have been a gem (think Monkey Island), but sadly, most of the jokes here fall flat. Especially the annoying policeman who keeps popping in, repeating the same unfunny lines over and over. There are a few references in the dialog that might not be suitable for young children, but nothing too raunchy. A lot of low-brow, potty humor. This game did have its merits, and I'd love to see something else by this developer with a little better writing and navigation. I'd recommend this game, mostly because it is an adventure, and very different and lighthearted.
March 9, 2014
decent game, bad ending
You are sent on what seems to be never ending missions.It is essentially an effort to raise enough money in order to buy a plane ticket to see the mayor. After going through all these tasks you would think they could've put a little more thought into what happens once you get there and the ending in general. Disappointing!
July 28, 2013
Alright, but you need a pen and paper
An alright game, with alright graphics, dull music, purile humor (e.g getting covered in "plop" by accident) and disappointing ending. If you play this game, a tip from another review: Have a piece of paper and pen at the ready. Also read the tutorial before you start. You're in a village (that is a pain to navigate around - hint: use the flag to help you), and need to go into the houses and shops (to find quests and buy objects), then go back to relevant house with object(s) found or bought, to earn money in order to buy the plane ticket you need to get to the island where the Mayor is holed up. (Not a spoiler, as this is the specified point of game). Overall I'd give it a 3, but there were things which really bugged me: 1)Navigation and directional movement is not intuitive, 2) Game freeze - Getting into the notebook of quests gets slower as you get further in the game 3) End game part for me made the game crash out and then come back to the main menu - so I had not realised I had competed it (and ended up playing for another 3 hours the other quests thinking I had missed something to complete it properly)... It made me unhappy when I looked up the ending on you-tube and realised I'd reached that point, and that the whole ending was uncreative. If you have a spare credit and want something a bit different with toilet humor, and requirement to use pen and paper notes - feel free. I won't be playing any other games that are compared to this one in any reviews.
July 1, 2012
Definitely for a niche market
I like the concept of a game that allows you to decide where to go, without any fixed progression, but the execution here is lacking. There is a set-up -- you're trying to find the mayor to interview him -- but you can take it in any direction you like, so it's not really a storyline. It is built with a quirky sense of humor, but if it's not one you share, you'll feel as lost as I did. For instance, you are told to feed a baby to stop it crying, but milk won't work. There are no clues as to what will work. You need to buy a razor, but the drugstore doesn't have any. There are no clues as to what shop might sell them. That's about where I gave up, as I realized that I was just missing the joke. It says it's for "adults," but as far as I could tell, it's for teenaged boys who enjoy bathroom humor.
May 19, 2013
meh
Not all it's cracked up to be. Folks here seem to really like this game but to me it was frustrating. It seemed like it wasn't thoroughly thought out (many missed opportunities for an engaging story line, characters you actually WANT to interact with, and/or challenging puzzles) and the lack of real voice overs was really annoying (if you don't have the budget for voice actors, use text... don't replace it with a buzzing/warbling sound instead!). But don't take my word for it, try the demo. If you can see past these flaws you may enjoy the game. Color me unimpressed.
September 15, 2012
Not for me
This may have been a good game, but I deleted the game after around 10 minutes as the developer couldn't be bothered to spell and grammar check their work. As soon as I saw 'peace' of ticket instead of 'piece' I decided that if they couldn't take the care to check these things, (whilst expecting people to purchase the game), then why should I take the care to play and buy? I am not a stickler for the language, but it does annoy me that they use the wrong word, I mean I have to just about cope with the 'American English' (if I couldn't cope with that then I would probably have around 2 games to choose from :)), but to get things like this wrong really is unforgivable. I know they are a foreign company (based in the Ukraine) but other games from them seem to be better checked (well the ones I have played ('1000 doors' for example), but this no, had it been later in the game then maybe it could have been forgiveable but not at the start. Sorry for the rant, but hey ho.
March 4, 2013
Boring
ok.. so I read the reviews.. I tried it out.. at first it seemed "o.k." so I thought .. for $3 I'd buy it and play the whole game. I'm so glad that's all I paid. It made no sense. I got to the ending before even completing all the tasks in town. Apparently as long as you have enough money to buy the plane ticket for the mayor's island, you can cut the game short and just jump to the ending. You can't go back either once you fly there unless you created a save point just before going. The ending made no sense - what happen to the whole UFO storyline? It just .... turns into smoke and your conversation with the mayor seems pointless. The game abruptly comes to an end. There were also issues with the graphics not playing during the flight over to the island and the end graphics on the train. I have win7Pro 64 bit with i3 processor and 8 gigs ram.. shouldn't have been a problem but for whatever reason those graphics didn't play. Disappointed. This game could have been much better with only a few minor tweaks.
June 4, 2013
When this game stopped at the station, so did I.
My interest lasted through the first few minutes of the demo. But a seemingly interminable train ride was followed by dumb characters mumbling assignments of pointless errands, and then having to run around cluelessly trying to figure out how to complete tasks I didn't want to do in the first place. How is this fun? If I had any interest in being a personal assistant ("gopher"), I'd do it in the real world for money, benefits, etc. I certainly wouldn't go door to door asking what kind of silly chores the dullards inside wanted me to perform. I tried the demo after reading many glowing reviews, but I don't understand what those folks liked about "City of Fools." Yes, it's different, but not in any way that I liked. I didn't enjoy the 18 minutes I spent playing the demo - and I'm extremely grateful that I quit playing before encountering the "bathroom humor" noted by other reviewers. Your experience may vary. For me, this game is a "fail."
February 13, 2014
The Apple logo is a trademark of Apple Computer, Inc.