Secrets of the Seas: Flying Dutchman
Uncover the Sea Secrets of the Flying Dutchman in Secrets of the Seas: Flying Dutchman! Find hidden objects and solve adventuresome puzzles in this oceanic hidden object puzzle adventure game!
Game System Requirements:
OS:

10.8/10.7/10.6/10.5

CPU:

1.0 GHz (INTEL ONLY)

RAM:

512 MB

Hard Drive:

552 MB
Game Manager System Requirements:
Browser:

Safari 4.0 or later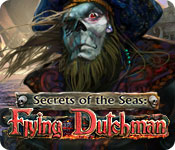 NEW299
The Big Fish Guarantee:
Quality tested and virus free.
No ads, no adware, no spyware.

Reviews at a Glance

Secrets of the Seas: Flying Dutchman
0
out of
5 (
0
Reviews
Review
)
Customer Reviews
Secrets of the Seas: Flying Dutchman
33
33
Wish I had stuck with it sooner...
Honestly I wish I had bought the CE - not because of any extra content, which is usually not worth additional cost, imo - but because the developers get more money and I want to see more from the creators of this title. Not that it was perfect. I had graphic issues where if I used the option to adjust for wide screen w/ pillar boxing, it actually made it LESS clear? Overall there was a lack of the clarity one normally sees in games w/ CEs. Add to that some dismal voice acting (seriously BAD) and that's some hefty strikes which made me jump to conclusions about the game and table it until the SE. BUT now having played the SE through I found the gameplay was excellent with lots of tricky inventory puzzling, none of which was over the top illogical, a pet peeve of mine. I am an old school Adventure gamer so I like wandering about and gathering stuff to use later and there's plenty of that over lots of environments. Hidden Object scenes were junk pile, but logical w/o weird sizes or gravity defying objects and appropriate items. Mini-games were a touch on the easy side but fun and several were new to me which rarely happens. The story was nicely realized with a good dollop of humor and some pathos. Since it wrapped up nicely in the SE I am curious about what might have been added for CE. The music was good and I liked the look of the graphics, though it had the blurriness/pixely issues mentioned above. Nice looong duration that had me surprised with the number of areas offered and things to do. Anyway, as I said, this one grows on you and has lots to offer the deeper you get, so hang in there past cringe worthy voice overs and expect lots of fun on the horizon.
May 17, 2012
Ahoy, thar be a good story here
Fantastic game. Lasts a long time, traveling throughout the game I found one scene after another very beautifully done. HO's moderate to hard to find tiny items, but ok in my book. Storyline was excellent and characters were likeable. Puzzles were somewhat hard, and some tedious "looking" for pieces to collect for completion of tasks. Journal holds it all. You save a friend from a curse, and free many others in the process. Very good game in my collection to be played again.
May 18, 2012
Happy I found this one
I just completed the game. It took a while because I played it over a couple of days and, to be honest, I didn't want it to end. There was no map but you really didn't need one. The hint button didn't tell you where to go; therefore, it was a good idea to remember where certain items might be needed. The Journal does help. For example, I picked up an item early on in the game but did not use it till very close to the finish. The graphics were very nice, some interactive items in the HO's, and most things were not really hard to find. The games were not too hard and could be skipped. I enjoyed the story line. I scored the level of challenge a little high because I did not keep close enough track where items were needed. All in all, I would not mind playing it again.
April 24, 2013
Fly With the Dutchman!
I loved this game since the trial version and I finally bought it recently. It is super fun and intuitive, yet challenging. I am really glad I got it and I am sure I will play it over and over as time goes on. The atmosphere changes. It's another one that has its share of diabolical characters but at the same time has some very sweet elements which are refreshing.
May 17, 2012
good
adventure and hidden object, beautiful blend of fun. beautiful music
July 12, 2012
Flying Dutchman
I thought this game was fun and a challenge at the same time. Loved it!
May 18, 2012
Pleasant but not ground-breakinbg
This is a lovely, polished adventure game with considerable hidden object scenes and a variety of puzzles. Although not innovative in any way, the developers have stuck to a particular formula that makes the player feel comfortable. Here is my overview of the various aspects of this game: Graphics: the hand-painted look. While a little washed out and grainy, everything is clear and easy to spot. I personally really like this style of artwork but it does not have the almost-photo-realism of some games. Story: A refreshing twist on the usual themes. You are visiting an old friend in a quaint, seaside town when a pirate ghost ship sails in and kidnaps the two of you as deckhands. You are still rescuing people and saving souls but it's different to crashing your car at an abandoned property. Pirates have been done before, sometimes with better humour, however the atmosphere and feel is nicely handled. There are cut-scenes and voice-overs to set the mood. Challenge: 3 difficulty modes. I played the easiest (to avoid the hint penalty) and the sparkles were subtle and occasionally useful. Hidden-Objects: I loved these actually. The items are clear and large. There is variety in the interactive items without having too many, and they are appropriate to the scene. There appear to be quite a few HO scenes but they are spaced out so you're not doing them one after the other. After finding the items on the list, you are tasked with finding a final item that is added to your inventory. The scenes are animated but subtly and don't distract. Puzzles: nothing special here, the usual. Clear, easy to understand what to do. Not that many of them in the first hour. Hints: standard fare. An animated lobster that I liked. He is available outside the HO scenes and hints are of the "nothing to do here" variety. They don't suggest where to go/what to do. Music: sound quality is excellent. The music changes as your location does and suits the mood. Other: No map but each chapter contains a limited playing area so you don't get lost. There is a journal that you acquire early on but don't start with. Some English is a little incorrect but still understandable, e.g. the/a used wrongly. Final thoughts: this is a game that grew on me as I progressed through, rather than grabbing me right away. Play for more than 10 minutes to get a real feel for it. I didn't finish the demo before the time ran out - that's unusual for me, and a big plus.
May 12, 2012
Thar She BLOWS..........
I actually wrote a review on the CE of this game and said that the ship would sail without me. I found that the game mechanics did not warrent a CE price and decided to wait for the SE version. Finally it has arrived and I have already pressed the "buy" button. The story takes you off to the high seas where your mission is to save your friend from the nasty looking Pirate Captain of the Flying Dutchman. It looks like this scary Dude will not make it easy for as you have to solve many puzzles and mini-games along the way. You also get these very interest mini factoids regarding the Ship and lives of Pirates when you collect pearls hidden throughout the game. Make sure you bring along an estra pair of deck shoes as you will be back tracking alot, but you will have a journal that keeps you company and you will need those sturdy sea legs for this adventure. Overall I really wanted to like this game, infact I did beta tested it sometime ago and hoped that more game features would have been added. Alas to my dismay, it pretty much is your run of the mill Adventure/HOG with nothing really special that would make it qualify as a CE. Now that it is out as a SE,I have already gone on board. I did like the graphics and artwork; they are well done but I have seen better. The sound effects are not up to par and I was rather dissapointed with voice-overs. The Captain sounded like he has been into the rum too much. There are three game modes as well as wide screen options and custom cursor. I did however like the cute little lobster that acts as your hint system. HOG scenes are crowded with junk and interactive with small items that have blended into the scenery making them difficult to find. What is seriously lacking in this game is any a level of challenge and gradually I did get a bit bored. I also found the game play very slow. Needless to say, I did enjoy the story and it is superior to many of the SE game that we do get so I guess the ship this time has sailed with me at the helm.
May 12, 2012
Nothing exciting or new, but a nicely paced game nonetheless
I demoed this a few months ago, and it immediately went on my "buy it when it's released" list. there's nothing new or innovative about this game, but it struck my fancy anyway. the hidden object scenes are not too difficult, and everything I saw was labeled what it should be. but I did have to think over a couple of puzzles #though most I got pretty quickly, so not too strenuous#. bring your sneakers, you'll be doing quite a bit of trekking about. luckily, they block off areas a couple of times during scene changes so you're not going over the entire map. you're also not going from one scene to another, back and forth between the two several times, to complete one task. you'll have to visit a few different places to get everything together. most of the inventory items you need to use are logical, a few are a bit off and a couple items you'll carry around until you forget you have them... that's when you'll need them. the game was a good length, I didn't feel cheated at the end of the game, and I wasn't at the point where I was waiting for it to be over. I don't know that I've seen another game by this developer, but I think I'll go on a hunt to see what else they offer. it was a very enjoyable way to spend the weekend. if I had one complaint, it would be that more voiceovers would have really given this a bit more polish.
May 14, 2012
Rated ARRRRRRR! - A guy's review
*review based on completing the full game in advanced mode* I truly enjoyed this game, and had a hard time deciding a 4 or 5 star rating, so you might call this a 4.5. I think some of the nostalgic moments and thoughts back to the Monkey Island games had me liking it a bit extra. Though, basically the only similarity is the pirate theme and the sometimes thinking outside the box adventure elements. The graphics are nice enough, though some of the cut scenes seemed a bit blurry. I certainly did not struggle seeing clearly what everything was. The characters are animated as opposed to live actors, which I think is a good way to go in a game like this. The music is catching and the few voice overs you find in this game are done quite well. I usually turn the music way down, but here I could keep it a bit louder. It is basically a true adventure game with a lot of pick-ups and use tasks. And here they did better than most other games I've played so far. You actually have several uses for several items, and if so, they actually stay in your inventory. It's not like when you need a knife and use it you lose it only to find out that you need a new knife somewhere else. I hate that. The game is also littered with the standard HO scenes. They are the usual cluttered scene, but luckily not overcrowded and only a few smaller items. They are bright and clear on the most part, with a few darker places. Also, the objects on the most part makes sense and suits the screen it is in. There is a small selection of puzzles as well. Most of them are the usual, and none of them seemed too challenging. There is little character interactivity, and you are mostly on your own. There is a bit back and forth traveling, especially in the latter half of the game, but not too long distances. I don't mind that, as it is true to the adventure genre :o). There are three difficulties to choose from: Casual: Hints recharging faster, no penalties and active areas highlighted. Advanced: Hints recharging slower, penalties and no highlights (and that includes not highlighting HO scenes) Hard: No hints, penalties and no highlights. I wish the crayfish? hint sidekick could have been a bit more interactive, and even occasionally come with some dry remarks or something, just to break the silence now and again. But no such luck. There is nothing gloomy or scary about this game, even if there are a few ghosts here and there, so the game should suit most players. I read an earlier review about animal cruelty, and have no idea what should govern that??? As an animal lover myself, I had absolutely no problem with the animal interactions in this game. I highly recommend this game to everyone who likes these types of games, this game will almost guaranteed entertain you, and it was actually quite lengthy IMO. Well worth purchasing. For the guys: As we know by now, lots of these types of games are targeted towards the better gender, and I have no problem with that whatsoever, but I know some guys do. This game is well suited for us guys as well, and the story is about a guy helping out a friend... oh... and it has pirates :o). Both genders should enjoy this game. TJ
May 24, 2012
The Apple logo is a trademark of Apple Computer, Inc.
The Windows logo is a trademark of Microsoft, Inc.