Skyborn
Life under the rule of the winged Skyborn race isn't so bad for Claret Spencer, the star mechanic of an independent repair shop. She can patch up just about anything...but when a certain cravat-wearing customer turns her life upside-down, she finds herself pulled into an epic, city-wide conflict that's going to take a lot more than elbow grease to fix! Join Claret on her journey through a tale of magic, metal and mystery as she unravels the secrets of the Skyborn!
Unique story-driven adventure
Multiple character classes
Breathtaking orchestral soundtrack
Game System Requirements:
OS:

Windows XP/Windows Vista/Windows 7/8

CPU:

600 Mhz

RAM:

128 MB

DirectX:

9.0

Hard Drive:

205 MB
Game Manager System Requirements:
Browser:

Internet Explorer 7 or later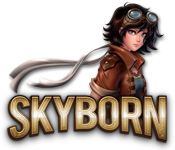 NEW299
The Big Fish Guarantee:
Quality tested and virus free.
No ads, no adware, no spyware.

Reviews at a Glance

Skyborn
0
out of
5 (
0
Reviews
Review
)
Customer Reviews
Skyborn
If you enjoy adventure RPG this is great game. It starts off a little slow building the story line but picks up soon after and as the game goes on the story is really well thought out. There are a nice variety of monsters to battle. The game play time is a good length. Only con I wish there were more side quest.
August 2, 2012
Great RPG
I have played several RPG and I really like the story line in this one. The graphics are great and the music is pretty good.
July 29, 2012
Steampunk Adventure
So hard to find a steampunk game that isn't a Hidden Objects game. It was fun you get to pick what type of classes your characters upgrade into. The Characters were fun creative and sometimes a bit too animated and slightly sterotypical all the same it was refreashing and new from the usual.
July 27, 2012
Humorous little game
First let me just say that I loved the humor in the game. It was visually beautiful and had a great storyline that kept my interest. Just beautiful characters that have their own personalities. Definite high five to the writers. The game is very similar to Aveyond series. I actually thought it was from the same makers until I saw the makers names. However, there were two things that I disliked. One there wasn't anything that fully explained the classes until you started doing class changes which is not near the beginning of the game. It makes it confusing when you have items to boost stats permanently and you're not sure if the expensive or rare items will be a waste. My main dislike of the game is the neverending maps. >.< Some of the maps don't have a definitive end. They just keep looping. So if you enter an area at the north and keep going south, you will end up north again. I spent 66% of the time going in circles. If you have trouble with finding your way, you will get frustrated. Seriously, how do you go up 2 flights of stairs and end up on the bottom floor at the beginning? o.0 Felt like I was trapped in the Bermuda Triangle. So even though the game lacked initial class information and those detestable 'end up at the beginning maps', I will only take off one star and give it 4.
July 5, 2012
Due to "strong" language in spots. Suggest adults only,
I enjoyed the Trial and may buy it. I suggest that BF tag this so younger people won't buy it, I know that some kids as young as 10 play these RPGs and it's important that parents be aware of the content. Some won't mind, but many will. Better safe than sorry. I did have to laugh in places and it kept my interest. So it was different and fun.
June 23, 2012
Great Game
I had loads of fun playing this game. It was challenging, engaging, and I really enjoyed the story line. For a RPG game of this style, the graphics were a bit more than I expected and I loved the artwork. I only have a few complaints, which is why I gave Skyborn 4/5 stars instead of 5/5. 1. My biggest complaint, is from beginning to end, I beat this game in a matter of hours. About 6-7, although more on the closer end of 7. And that's with doing side quests and exploring. So the games a bit short, it's starts getting really interesting and fun and then BAM over. 2. I also wasn't a fan of the leveling up system they have. You get two fruits that unlock you're "potential" and let you decide between two paths you can take you're characters and that's it. You'll get a few new abilities right off the bat and then nothing. No leveling up and developing new abilities as you go. This is just my opinion, but if that's the plan, than what's the point of leveling up? 3. No map for any of the different areas. I spent half my time wondering around trying to figure out where I was supposed to go and trying to figure out how to get there. Although it makes the game a bit more challenging, it also ups the frustration factor when all you're trying to do is exit an area and it's taking 10-15 minutes to do it. Other than these few things, it was a great game and I really enjoyed it. I really hope they add other installments to this game like they did for Aveyond. I would definitely play them.
December 23, 2013
Skyborn: Too Much Movement
Love these types of games, but all the movement made me nauseus. Darn. If a lot of movement in a game doesn't bother you, it's a great game.
June 28, 2012
This one's a fail for me! Didn't like it at all.
This game should have been drastically changed before they released it. It starts out with our heroine in her shop. This is where it starts going downhill. You go from one dialogue to the next, then finally get a quest. At this point I had high hopes that the game would begin. I walked my character into the next village and guess what? It starts again. You cannot play the game without the endless dialogues, and it gets irritating very fast. I definitely do not recommend this one.
June 23, 2012
Ouch! 1 click 1 sentence!
I can say thay that I am used to play with a lot of RPG games. I like them a lot! But this one is a little different. The graphics and the story are really good... but... I gave it only 1 star because for every sentence the characters says you have to click with your mouse to get to the next sentence. Usually, you get the hole message in RPG games. Usually, you use frequently your mouse, but with this one, you always use your mouse; and after 5 minutes; your hand kind of hurts! Sorry Skyborn! hope you can fix this problem, cause, I tried to fix it by changing things in the option menu and it didn't work. How frustrating!
July 4, 2014
A complete beginner !!
I read rave reviews about this game. Never played this genre but was encouraged by the fact it was supposed to have a tutorial. Could not find a tutorial, didn't know what the was going on. Couldn't escape all the endless dialogue and ended up hitting Ctrl+alt+del to escape the game! Really disappointing...luckily I only had it on trial!! All the experienced gamers will prob put this review down but honestly...if you are a complete beginner...try an easier option first that gives simple step by step guides!!
January 30, 2013