Final Cut: Death on the Silver Screen
Unravel the mystery of your father's death and brother's bizarre disappearance in Final Cut: Death on the Silver Screen! Your father was a famous movie director who liked to invent elaborate locks and devices. A mysterious villain demands you track down the pieces to his greatest and perhaps most deadly invention of all time! If you don't, your brother will suffer the same fate as your father. Return to the family Art Deco mansion and golden era movie backlots to look for clues about a past you never knew your father had and the dark secrets behind the villain's quest for his deadly invention.
Fantastic gameplay
Stop the villain before the final cut!
For a more in depth experience, check out the Collector's Edition
Game System Requirements:
OS:

Windows XP/Windows Vista/Windows 7/8

CPU:

1.4 GHz

RAM:

1024 MB

DirectX:

8.0

Hard Drive:

611 MB
Game Manager System Requirements:
Browser:

Internet Explorer 7 or later
Mild Violence
Use of Alcohol
Use of Tobacco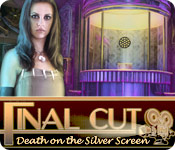 NEW299
The Big Fish Guarantee:
Quality tested and virus free.
No ads, no adware, no spyware.

Reviews at a Glance

Final Cut: Death on the Silver Screen
0
out of
5 (
0
Reviews
Review
)
Customer Reviews
Final Cut: Death on the Silver Screen
118
118
Silver Screen
Enjoyed playing most of the game. Toward the end of the story line it seem to lacked the same level of difficultly it had in the beginning of the game. Wished there was a little more of a challenge to the mini-games. If you are an intermediate H.O./Adventure player this game is not a serious challenge. But all-in-all game play was entertaining and I did not regret the purchase.
September 4, 2012
Good story & graphics
I enjoyed this game, it looks good and is fun to do with lots of going here and there. The mini puzzles are interesting and fairly challenging as are the HO scenes. My biggest issue with this game is the amount of time it took to complete - too short, I'm not the quickest gamer but I completed this in a fairly short time, just over 2 hours, which does not make it a good buy for me.
August 28, 2012
Great storyline, good game play
a novel storyline.. good puzzles (but not too challenging).. yet i dun like the ending, coz it seems unfair for the girl, despite the crimes she did.. but overall one should at least try the trial, the I'm sure you'll like it ;)
June 29, 2012
A Quality Game
Money well spent. I think this is a really good game and recommend it to those who are looking for good entertainment (with good graphics.)
July 24, 2014
Don't want it to end!
This is the game I have been looking for - after playing Brink of Consciousness: Dorian Grey Syndrome, I have been listlessly wandering from game to game, from disappointment to disappointment. Upon finding Final Cut: Death on the Silver Screen, I discovered that the game is very much like Dorian Grey, in that the quality is truly excellent, the story is fun, and the objects you are looking for make sense. No birds conveniently dropping a key for you, no "the mysterious gem is for some reason in the neighbour's bathroom cabinet" nonsense. This game is very well thought out, and every new door opened is exciting. You must work for each new discovery, and it's always a good pay-off. An equal mix of hidden-object scenes and puzzles, that all truly fit the situation. The hidden objects are in the jumbled back-stage world of movie sets, while the puzzles are most often intricate locks on forbidden doors. Some are challenging, while others are fairly easy. You can skip, if you like. There are two modes offered, Casual and Challenging, but no mode that takes skipping or hints off the table altogether. The voice acting is not as well done as in Dorian Grey, but it still works very well for the game. The graphics are lovely, and the art work is simply gorgeous. The colours are clear and edges are clean and precise. I didn't find anything too dark or out of focus. Art Deco and movie sets from different eras work together to make it a world I truly don't want to have to leave. The music is fantastic, and exciting. It fits very well with the story, and changes with each new area explored. It doesn't intrude, but it does give an extra something to the game play. I am almost at the end of the game, and wish I hadn't spent the whole day playing - because I wish I had saved some of it for tomorrow! So far, I have played for about five hours, and if you are an expert, you may finish in about that time. If not, this might give you up to eight hours of play. If you like intelligent, well thought out games and beautiful life-like quality graphics, with fun puzzles and HOS, then I think you will be very happy with this one.
June 30, 2013
I loved this game!!!
I enjoyed playing this game and was so into it that I didn't lose interest and quit before finishing like I normally do. Thanks for the great game!!
June 24, 2013
Sigh- Occult Elements not Mentioned in Description
I read the reviews and downloaded the trial version of the game before purchasing and didn't see anything I might find objectionable. If you have no objection to occult elements you should enjoy the game. It is everything the other reviewers stated, but part way in these elements start popping up. If you prefer to avoid games that have occult elements you won't want to buy this one.
July 8, 2012
Decent HOG
This is a decent game, but nothing to rave about. Fun Factor: Somewhat fun. There are plenty of HOGs and unique puzzles to keep players from getting easily bored. Games don't repeat themselves like they do in others. The only annoying part was that there was no map, so there was a lot of backtracking between scenes, which gets tiresome after awhile. Visuals/Sounds: The artwork is absolutely gorgeous in an art deco style. My only gripe is that some scenes are too/unnecessarily dark and it's hard to pick out objects. The sounds may be considered monotonous, but if you listen carefully, they change between scenes, so the music isn't on a continuous loop. The live actors do nothing for me--the creators of this game could've used 2-d characters and it'd be fine. I think many of these games feel forced to use live actors, but it's too jarring between the 2-d scenery and the real people. Also, it's weird to see the live actors talk, then morph into stationary characters. The live actors take away from the beautiful mansion and grounds of the game. Challenge Level: Satisfactory. Some games are easier than others. HOGs are pretty standard, with a couple of fragmented objects you have to put together. I didn't struggle with the game like I have with others. There was no huge challenge finding the projector pieces, either. Story: The story, once you find out "who did it" almost by the end of the demo, is pretty dull. The rest of the game is discovering the culprit's back story. There are no surprise twists. I think the plot could've been more interesting, but there wasn't much of a story to solve besides the paper fragments left around. This was a big disappointment in the game. Overall, while the game is gorgeously built, the story falls flat. While the puzzles are interesting and somewhat novel, nothing really defines this as one of the best games I've ever played. It's worth buying if not for the artwork alone, but the kind of game you play when you're bored or have some time to kill.
August 12, 2012
Two Things Drove Me Crazy
Loved everything about this game except for two things. Yes, the graphics were great, sound effects were perfect, voice overs were well done, puzzles were super challenging and the story line kept me interested. HOWEVER, I found two issues with the game that bothered me the entire time I played. First, there was no transport map. Yes, there was a map but it didn't allow me to jump to the area I wanted to visit. I still had to run back and forth many, many times to get to the same places over and over again. The other bothersome issue was that the Inventory didn't lock and was extremely sensitive. Every time I got anywhere near it, the stupid thing kept popping up and down. I would attempt to back out of a location and the Inventory bar would pop up instead. It was very distracting and frustrating. Others may not find these two points as negatives, but to me, they brought down my rating of the game.
September 7, 2013
Too much running around
I just couldn't get into this game. In the beginning it was good, really nice graphics, storyline seemed promising....but then there was so much running around that I lost interest in what I was looking for or where I needed to use the item. Mind you, it's ok to find something and know to remember where that clue goes, but every frickin' frame of this game? And you had to go back 6 miles each time. Ugh! And I was so looking forward to this game from the reviews, most were 5 stars....I don't get it.
November 27, 2012
The Apple logo is a trademark of Apple Computer, Inc.