TV Farm
Become the hero of the hit reality show TV Farm! Grow plants, sell products, and improve your farm in this fun Time Management game! Become a TV star and a cult hero to farmers all around the world. Learn new skills and try you hardest to find success. Can you run your very own farm as millions of people watch on? Find out in TV Farm!
Unique gameplay
Amazing moments
Run a TV Farm!
Game System Requirements:
OS:

10.8/10.7/10.6/10.5

CPU:

1.0 GHz (INTEL ONLY)

RAM:

512 MB

Hard Drive:

159 MB
Game Manager System Requirements:
Browser:

Safari 4.0 or later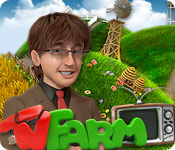 NEW299
The Big Fish Guarantee:
Quality tested and virus free.
No ads, no adware, no spyware.

Reviews at a Glance

TV Farm
0
out of
5 (
0
Reviews
Review
)
Customer Reviews
Fun TM game with lots of strategy involved
Some TM games can become boring after a while, but this one held my interest all the way to the end. The different products needed to grow, develop, and sell kept the game from getting stale, as well as coming up with the best strategy to get gold on all of the levels. For instance, sometimes it was better to purchase products already manufactured than it was to make them. When it comes to TM games, I like the ones where you are not on a set timer, which tend to stress me out. You can play the level as fast or as slow as you want--longer times only mean you won't get gold or silver. This allows you to go back and play those levels in order to improve your times. Also, getting gold was not an impossible feat, as some TM games are set up. Overall, this game is worth the money and a lot of fun to play.
January 29, 2012
The best parts of Farm Frenzy, minus the annoying parts
This is a cute little time management game where you get to grow crops, build factories/production buildings to process them into more valuable commodities like milk, flour, sugar or - with the addition of imported goods - yet more valuable products like candy and ice cream. Then you can sell these products for a tidy profit. Even thought the basic gameplay is the same throughout the game, it kept my interest the whole way because you kept getting new crops and/or production buildings and were always making different goods. You have a few set goals per level, either producing a certain quantity of a product or earning enough gold, but you have a lot of freedom as to how to achieve them. You get to decide what crops to plant, as well as if/when to upgrade your buildings in order to process more products at the same time. In order to achieve the gold time for each level (past the introductory ones) you generally do have to do a little bit of planning so that you can figure out which upgrades are worth getting, what you should plant first, etc. (Or you can be like me and just play the level without much thought, then adjust on the second attempt to get gold :P) If you've played Farm Frenzy before, this game is VERY similar. To me, it's even better for a couple of reasons. The biggest one is NO MEAN ANIMALS that come and eat your chickens or grass, etc. There was an annoying random element where they could fall on your chicken and there's nothing you could do about it but replay the level (to get a gold time). The other is that you don't get to choose upgrades. At first this may seem like a negative for TV Farm, but in Farm Frenzy if you chose the wrong upgrade, it made it difficult to get a gold score and I don't think you could reverse your choices. In TV Farm, your upgrades are automatically picked for you, so the game is balanced for that and you know gold scores will be possible. Story/premise was pretty funny. You're supposedly the star of a reality TV show and being obviously exploited by the hosts. (Although it does end well for you!)
June 3, 2012
Very fun!
This a very fun time management game with a fun story and brilliant graphics! It is quite unique in it's set up. You have a way or buying and selling products, plus a little farm to grow crops plus numerous buildings to produce other items but unlike most games on here, it's set up like an actual farm on screen so it's is just buildings lined up at the edge, it's spread out and has roads and a river too. Very lovely to play. It's also bundles of fun and others great challenges towards the end!
January 11, 2012
my favourite time management game!
I love this game so much i rearly play anyother game now! i love replaying each level differently to get the best time. i also like the different products that you have to make and sell. this gives much varriety to the game play. when i have finnished the whole game i just start again, no two games are ever the same.
April 14, 2012
The bad?
The good, would be from the start screen till you exit out. The story line is neat, the functions of the game is very similar to all the other farm games, so you go right into it smoothly.
December 6, 2011
Beautiful graphics!
I really enjoyed playing this - it was over too soon! Not much to do with a TV which turned out to be a plus! Just a great farming-strategy game!
November 28, 2011
Loads of fun
I really enjoyed this game. It had a lot of levels. I found the side story amusing. The challenges got harder and I often had to take a couple runs to get a gold time. I'm giving it a break but will happily start back at the beginning and play through again.
November 4, 2012
Love this game!!!
I had been having a hard time finding a game after finishing all of the "Dash" games, but no games have came close until now!!!! This game is fun, exciting, and challenging. I only have 4 levels left and I wish I had another one to play. I will repeat all levels of this game like I have all the "Dash" games:)
October 21, 2012
I love this game
I have played this game through so many times I've lost count. The levels vary from easy to difficult, but it's possible to get expert on every level. It's time management and strategy combined. There are several different ways to complete each level and it's fun to figure out the quickest way to do it. I really can't say how much fun I have had playing this game.
April 29, 2013
Strategy and TM nice combo
After playing the demo and considering the price (deal of the day), this is a definite keeper for me. The game is a mixture of TM and strategy. Unlike most TM games on Bigfish (specifically the Build-A-Lot series all you had to do was wait for rent to come in and hit a certain money 'score' and that was it. With this game there is so much more depth, in that you have to plan what you are going to grow and sell, and also what products you are going to use to make into other products (i.e corn to eggs or flour/eggs to bread). There is therefore a lot of strategy involved and on some of the levels it is difficult to get silver let alone gold. This to me reminded me of some retail strategy games in that there is a lot of depth within the game that made it for me well worth the price. I think the game most have been translated from another langauge as sometimes the text didn't flow. The storyline for me was a bit 'rubbish' but if you ignore this and 'lost in translation' the game is good. One more slight criticism is that when the levels load it gives you tips, this is one occasion when I wish I had a slower computer (not really obviously), but because my computer loads the levels pretty quickly I usually miss the tips. It would have been nice if instead of going straight in to the game it had a 'continue' button so that you can finish reading the 'tip'. That though is my only criticism and it is a very minor one. Try it you might like it :)
September 3, 2012
The Apple logo is a trademark of Apple Computer, Inc.
The Windows logo is a trademark of Microsoft, Inc.