Fierce Tales: The Dog's Heart Collector's Edition
The citizens of Houndspoint have always loved and trusted their canine companions, but a recent wave of coordinated attacks by a pack of strange dogs has thrown the snowy mountain town into a state of fear. After your beloved dog, Pippa, is kidnapped by the creatures, you vow to discover the cause of the sudden attacks and figure out who, or what, is behind it all. Explore beautiful hidden object scenes and mysterious locations to uncover the truth in Fierce Tales: The Dog's Heart Collector's Edition!

This is a special Collector's Edition release full of exclusive extras you won't find in the standard version. As a bonus, Collector's Edition purchases count toward three stamps on your Monthly Game Club Punch Card!

The Collector's Edition includes:
Integrated Strategy Guide
Exclusive Bonus Adventure
Beautiful Wallpapers, Concept Art and Music
Game System Requirements:
OS:

10.7/10.6/10.5

CPU:

1.6 GHz (INTEL ONLY)

RAM:

512 MB

Hard Drive:

1344 MB
Game Manager System Requirements:
Browser:

Safari 4.0 or later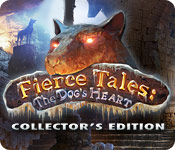 The Big Fish Guarantee:
Quality tested and virus free.
No ads, no adware, no spyware.

Reviews at a Glance

Fierce Tales: The Dog's Heart Collector's Edition
0
out of
5 (
0
Reviews
Review
)
Customer Reviews
Fierce Tales: The Dog's Heart Collector's Edition
150
150
seems like a first attempt
The game itself wasn't too bad although some of the drawing was medium at best. It does have a map but you can't jump between places and no hints in the map on where interests are. I found I had to refer to the strategy guide quite a few time to figure out where to go next and sometimes it was several areas back to a place I had already completed and wouldn't have had any idea I needed to go there again because the HO scene was back. Some of the minigames were too fussy for me in that you had to click EXACTLY in that very specific spot and I did skip a few which I normally try not to do. I don't even bother anymore with the ones where you basically guess a random order of items that have no hint or reason to the order. It is fairly nice in that there's no major gore or scare although the bad guy is creepy but don't assume just because of the dog theme that it is fine for all ages. I'm recommending the game with caution because there's nothing really bad about it but nothing really great either.
July 17, 2013
It's Not a Dog, but it is NOT fierce, either.
I liked this game, but only liked it. In no way did I find it to be a five-star game and in no individual category did I feel a five-star rating was justified. I'm not sure what other gamesters were playing. Overall it was a 3/5 for me. (I've tried to be a little more circumspect about handing out 4s and 5s. Admittedly, 6 months ago I'd have given this a 4 probably). Fun Factor: The game was a lot more fun at the beginning when I felt it progressed at a good pace and was always moving forward. The second half of the game it became increasingly back and forth. In the Bonus CE gameplay it WAS ANNOYINGLY CONSTANT BACK AND FORTH. Part of what made this game fun was the dog theme. I like dogs and there were a couple of cuties, albeit animated. The developers did make an effort to do something different, and I'm all for that: they added "super powers." Essentially, this is heightened abilities. You have to do something to enact them. Unfortunately, while they tried, they failed. It was pretty lame, and one super power was incomprehensible to me. Visual/Sound Quality: It was good visually. HOGs were clear, not junk piles. Sound quality was good as well, but nothing special. If this says anything about the game overall, I can't even remember if there were voice overs. I remember scenes where there could have been, but the text was written at the bottom of the screen, not necessarily indicative of anything. Level of Challenge: The challenge to this game was artificial because there were lots of scenes in many places. While it was easy to remember where I wanted to go, it was hard to remember how to get there. This isn't a true challenge. I didn't need any special powers of deduction to figure out what came next. I prefer a lot more in a five-star game. The HOGs presented a bit of a challenge. Not extraordinary, but better than many. The puzzles were way too simple. With only a couple of exceptions, they required no thought and therefore were not satisfying to conquer. Storyline: Most of the games we play are fantasy and border on the absurd. This was beyond even that, IMO. I'm not giving anything away: you know it's got a dog theme. Put two and two together...Dog theme, Dog Heart...you can figure it out. I was bothered by the poor effort at employing idiomatic English. In one HOG I spent what seemed like forever trying to find a Life Circle, thinking it was like a dreamcatcher or something similar. It turns out it was a life saver. It wasn't difficult to figure out that a pin pillow is a pin cushion, but there is my point...it's a pin cushion, not a pin pillow. There are several examples of this. The producers should have hired an editor. Although the bonus play was, by far, the longest chapter in the game, it was also the worst chapter. And, despite the length of the chapter, it didn't feel like there was a build up to a dramatic, explosive ending. The ending was abrupt. Artistically, the end was very, very poor: one character, meant to resemble a (take a guess) actually looked like a person in a halloween costume. Since the character was drawn anyway I'd have taken the opposite approach: make a dog that looked a little like a person, not a person with a dog costume on. Finally, there was a go-to map. I'm not sure if this is a CE only feature. I know I complained about all the back and forth. I know I could have avoided it by employing the map. To me, though, that's a little cheat-like so I don't do it. If you're ok with using a map for "getting there," I believe this is state of the art. I might have graded this higher if I'd played the SE and not the CE. My expectations would have been lower. I think CEs should have something more than just an extra chapter, like achievements and/or special objects (morphs). Not to be found in this game. While I will recommend this game, it is with and asterisk: buy the SE, not the CE.
June 19, 2013
FIERCE TALES:THE DOG`S HEART COLLECRORS EDITION
THE ONLY THING I DID NOT LIKE ABOUT THIS GAME WAS THERE WERE TOO MANY HOS.
July 13, 2012
Grrrrrrr not the dog, me
I am a very avid HOG player. This is the first game that I HAD to stop playing more than three times due to an extremely annoying phrase that is used every and I MEAN every time you click on something that you know must lead to something else. "Something can be used here" OMG I couldn't take it anymore and have now stopped playing yet another time. I usually play for hours (if a game is good enough to take that long) this game No Way. Otherwise it was a good game, just can't get part that phrase. Bet I have a nightmare about it!!! Anyone feel the same?
July 12, 2012
Wish it was better, doggone it!
Just finished the demo & because the game involves dogs, i'm wishing i loved it, but so far i'm only hoping to love it later. The story begins in a town full of dog lovers who are in a quandary over a pack of canine type beings that have been attacking, stalking, killing, & even puppy-napping, for reasons we must learn. It isn't presenting as gory or Dark & Eerie; more of a mystery adventure so far. The intro involves a human & said canine types that are cartoony, and not even good cartoony. Thankfully, upon entering the game the graphics were pretty nice, even tho characters appear to remain on the primordial edge of game graphics, giving it a dated look. I haven't noticed much as far as atmospheric sound fx, & music isn't intrusive. The HOscenes are minimally interactive & not difficult. I've only caught a couple of puzzles thus far, easy also. Typical 3 modes of play, hint, journal, & a map that takes you there. Haven't had to check out the SG yet, as gameplay hasn't been tough so far. I'm intrigued to know what these "dog like creatures" are & how they are being manipulated to do their dastardly deeds. But, tho' it seems like it probably provides some decent entertainment, Fierce Tales is coming across as too average compared to some of the amazing games that have come around lately, so i'm passing on the CE, & will check out reviews by folks who finish the game. Then maybe the SE.
June 28, 2012
Very simplistic game
I didn't think it was challenging at all and the graphics weren't that great either. Weak storyline and easy puzzles.
July 21, 2012
Too Easy!
This is a cute game with a cute little plot. However, for Expert level the game is far too , even on Hardcore level. The game is fun to play though. For Easy levels I would recommend!
July 9, 2012
Mayzy's Reviews - Fierce Tales: The Dog's Heart Collector's Edition
I can't remember why I bought the CE version of this game. I don't normally. I'll start right off by saying that I stuck around and played this game through to the end, but was not engaged enough to actually play the bonus material. I think that sort of sums up the game in general: decent, but just not something worth writing home about. I'm a big dog lover, which is what initially attracted me to the game. The dog bits were excellent. Why don't more HOGs take advantage of dogs? Alas. What really turned me off was the characters. The scenery itself was beautiful but the characters had that look of being creepy Barbie dolls that so many games succumb to when trying to put 3D people on a 2D background. They were so incongruous that they just jolted me right out of the game ambiance. Oddly, though, the 3D dogs were pretty well done! The game WAS fun and worth a look if you've got a discount, but I personally would not get the CE addition, were I to do it again.
November 28, 2012
So-So Game
I love dogs and was drawn to this game because of the dogs. They were, overall, a disappointment. The puppy at the beginning was cute, but the rest were just okay. The graphics were fine, the characters were a bit out-dated but acceptable. I muted the music early on because it was beginning to annoy me. The SG was good, very detailed, and came in very handy. The map was so-so. It allowed you to jump back and forth between locations, but didn't tell you if there were still items to be collected/puzzles to be solved. The bonus chapter was, in some ways, more fun than the main game. The main game started out strong, but lost steam as it rolled along. The storyline was okay, but parts of it were just odd. There was a lot of back-and-forth between locations, which got old after awhile. I recommend you try the demo first or wait until a BOGO sale and make this your "get one" game.
September 25, 2012
It was really just okay
The graphics were fine, the storyline was weak, the hidden object games were fun and some of the puzzles were challenging. Overall, I have played much better games than this. I couldn't make myself finish the extra chapter. This was really just an OK game.
July 25, 2012
The Apple logo is a trademark of Apple Computer, Inc.
The Windows logo is a trademark of Microsoft, Inc.