Dark Heritage: Guardians of Hope
Professor Gordon Child was your favorite college professor and now he's summoned you, his star student, to the island of Cannon Rock. You arrive to find that Child has vanished and a madman has destroyed the island and murdered many of the residents! The few who are left think you're the only one who can save them… It's your destiny. But, uncovering the madman's true identity will challenge your skills and your assumptions. Solve mind-bending puzzles and search challenging hidden object scenes in Dark Heritage: Guardians of Hope!
Find the hidden medallion
Help islanders move past their tragedy
For a more in depth experience, check out the Collector's Edition
Game System Requirements:
OS:

Windows XP/Windows Vista/Windows 7/8

CPU:

1.0 GHz

RAM:

512 MB

DirectX:

9.0

Hard Drive:

767 MB
Game Manager System Requirements:
Browser:

Internet Explorer 7 or later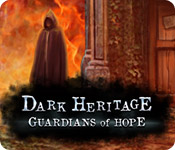 NEW299
The Big Fish Guarantee:
Quality tested and virus free.
No ads, no adware, no spyware.

Reviews at a Glance

Dark Heritage: Guardians of Hope
0
out of
5 (
0
Reviews
Review
)
Customer Reviews
Dark Heritage: Guardians of Hope
33
33
You Wont Be Dissapointed With This One!
I actually bought the CE version despite the fact that it really wasn't an outstanding game but this game had one of the best visuals I have seen in a long time. Hats off to the developers for the opening scene. They went all out by using real film and actors which really is the most outstanding thing about this game. I loved the cut scenes, sharp graphics, artwork, visuals and sound effects. All superbly done. Also I have to praise the storyline, being a fan of one of the great conspiracies that involve the mystery of the Philospher Stone, I was totally captivated. Dark Heritage is your basic Adventure/HOG with game features that include two play modes. Game features include a journal and a hint system that does refill quickly. Throughout the game, it is your basic seek and find inventory items, play HO scenes that are slightly interactive and collect some scrolls along the way to get the back story. It was a long game and I did enjoy the mini-games. Not overly challenging but well worth the SE price tag. Be warned, as there is no map, you have your journal/diary to help you and there is alot of back-tracking involved. As I said, really very basic gameplay which was a bit of a letdown for me but nevertheless, the visuals and the story make up for this. With all the work that was put into the visuals, I had high expectations but instead I found the gameplay too be a little predictable. However it is an excellent SE game which I do recommend for those who passed on the CE version.
June 29, 2012
Searching for the Philosopher's Stone! Great Game!
The cutscene at the beginning is really appealing, and features an outstanding movie, with real people, excellent VO, and an always interesting topic - the philosopher's stone! The story is well developed, great calm sound and crisp graphics, which provides a very good look. Cutscenes are quite interesting, and some even cause a shiver, especially when the character's eyes are closer. The game holds you till the end! Interactive HOS, average challenge, but hint fills very quickly. Hint helps throughout the game too, not just in the HOS. Some mini games already very familiar and easy, as "light all the fuses" .. but also has new ones - a bit more difficult. There's some back and forth, but the locations are close. It has a journal, and helps in having to go back to see "tips", etc.. Enjoy! You wont regret !
June 29, 2012
I?m Just Not Sure
GAME COMPLETED A COUPLE OF TIMES Somewhat disappointed in this game, it was not at all as interesting as it originally seemed. It didn?t follow through on a dramatic and vivid opening with same calibre game play. Visually, it was unattractive, grainy and dull, although the enigmatic talking blackbird was very well done, I thought. The story was nothing new ? save significant other, in this case favourite prof, and in the process save the inhabitants of an afflicted island to lift the curse put on it by an evil mage. It?s an ever popular story, and I?m happy to play any of its variants. But this one didn?t seem to flow. There was rarely any clear way forward, so finding the next task became tiresome. One thing I did like was the way the predictions of the future were presented in parchment scrolls showing sketches of it. But they only gave a very broad strokes. Another good thing were some of the puzzles. Very absorbing and clever. Take the time to work out the clock one, for example, very satisfying to see the results of your efforts. One final potential point in favour of this game for others (alas not for me) who are interested in encoding and deciphering puzzles. There were several of these, and no amount of effort made it possible for me to understand how they aligned the cipher rings or how the alleged clues helped. *Sigh* Have fun those of you who can. With all these pluses and minuses it?s hard to decide whether to recommend it or not. This really is a try before you buy game, but ultimately...
March 29, 2013
Fun is Back!
I'm not much on 'human' characters but this is well done and not loaded with interaction with people infused into an animated scene. There is some searching and clicking bordering on frustration but what you need is quickly found. The hint button is a good assist. The mini-games are different and manageable. The HOGs are clear. The reason for the "loved it" ? It's just plain fun to travel through the great graphics and it wasn't so dark and sinister as we've seen a lot of lately. The raven even looks nice. The story line seems light but I'm anxious to follow to the end. I only played the trial so the review is based on 60 minutes of play.
June 29, 2012
GREAT GAME!
Loved this game. Your mission is to rescue the Professor and find the Philosopher's Stone and while doing this, you are transported to different locations. The graphics are gorgeous, the storyline is great and the voice-overs are done very well. The opening scene was teriffic and used real actors, which really drew me into this game. I played in "expert" mode and found it to be just challenging enough. HO scenes were interactive and not muddy. Hats off to the developers. I certainly will buy this CE.
June 29, 2012
This is a good game
I really enjoyed playing this one. I am not in for lots of HOS and for me, this game just had the right amount of those. Moreover, the HOS were not junk piles in which you have to look for a needle in a haystack. So, I didn't feel annoyed when I had to tackle a HOS... and in case of need, the hint button recharges quite rapidly, even in expert mode. The puzzles were rather on the easy side; I would have liked them a bit more challenging. The graphics are very good and travelling around the island is easy, especially with the very handy hint button which is quite helpful to point you in the right direction. I also liked the storyline, especially with the esoteric and masonic references thrown in. The length of the game is OK... playing relaxed in the expert mode, I took me about one day to complete, which is quite a pleasant way to spend a windy, rainy day. :-) I don't give it 5 stars, because it didn't give me that WOW feeling, but all in all it is a very good buy.
July 1, 2012
Well worth it!
This is a truly enjoyable game. Lasts a good long while. Although there is no map, it is easy to get around in. The hints can sometimes be useless, sending you to places where you don't have all you need. I really enjoyed the background music and the voiceovers are pretty good as well. Liked the transition from live action to animated, thought that was done very nicely. Not as dark and gloomy a story as usual and that was a nice change, although don't get me wrong...it isn't a nice little fairy tale either. The hidden object scenes were nicely done and well lighted (I see that as a common thread through these reviews), and the mini-games are well varied--a few ones that everyone has and a few new ones. Overall--I liked it quite a bit!
July 1, 2012
One to play
I loved this game for all sorts of reasons. The cut scenes with real real actors conjure up a great atmosphere, especially as you see flashes of other things going on too. Other animated scenes really fitted into the whole ethos of the game and I loved the ones with the little figures. The scrolls you find also have excellent animation, again adding to the atmosphere of the game. The storyline in the game unfolds gradually and well. I did guess the twist though I expect that's because I've played games like this before. It's similar to many other games but I did feel there was a freshness about the various places, the HO scenes and many of the mini-games. Slight negatives were the journal: I didn't find it very useful and in fact sometimes it seemed to have things in an odd order (bits I'd found earlier coming after other things). That's a minor niggle as I didn't use it too much. There's a lot of to-ing and fro-ing so a map would have been useful I suppose. However, in general it was pretty clear what you were supposed to do, the only problem was remembering the places where you might use the object you'd just found. As with all games like this you get the odd bit such as 'oh leaves, can I kick them aside?', but no, you need to find a rake. Still, that's the point of playing such games! On final observation: this game is supposedly set on a island somewhere off Scotland, in which case your friend the blackbird has strayed very far from home as he is a red-winged North American blackbird, not the all black, yellow-billed European one! Still, he's very useful so I supposed I shouldn't complain. A really fun game to play and highly recommended.
July 10, 2012
Good Game!
I enjoyed this one. The storyline was a little different, the graphics were okay and I wanted to find the stone and see what happened next...lol! The HOS were straightforward and although a few too many for me, I didn't mind as was enjoying the adventure. The puzzles were not too stretching either. There is no map so you do have to try and remember where you need to go back to as not all the puzzles are solvable right away. All in all a good game which is fun to play without being frustratingly difficult or too easy.
July 3, 2012
Dark Heritage: Guardians of Hope
A game not to miss - ranks with the best: Loved the music and using Actors was a real inspiration, the graphics I found outstanding, this is the sort of game you go back to after a time - it really is that good
July 3, 2012
The Apple logo is a trademark of Apple Computer, Inc.