Shattered Minds: Encore
Reveal the twisted plan of a deranged magician in Shattered Minds: Encore! You are a detective with a knack for dealing with strange cases and your Chief has a new case for you to investigate. After a series of vanishing famous monuments the world over, you are sent to Paris, France to investigate a possible link between the disappearances and a calling card left behind at the crime scenes. Play through challenging hidden object games and perplexing puzzles in an attempt to unravel the mystery in this thrilling hidden object adventure game!
Game System Requirements:
OS:

Windows XP/Windows Vista/Windows 7/8

CPU:

1.0 GHz

RAM:

512 MB

DirectX:

9.0

Hard Drive:

313 MB
Game Manager System Requirements:
Browser:

Internet Explorer 7 or later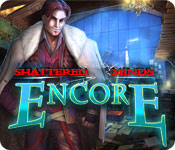 NEW299
The Big Fish Guarantee:
Quality tested and virus free.
No ads, no adware, no spyware.

Reviews at a Glance

Shattered Minds: Encore
0
out of
5 (
0
Reviews
Review
)
Customer Reviews
Shattered Minds: Encore
46
46
Unique puzzles, weird inventory items, goofy story - Awesome
So this nutty magician is running around stealing famous monuments and I, world renowned detective, must stop him! Fortunately I have a potato, a cat puppet, some random bits of paper, and a chair leg... Finally, a game with inventory items that don't have an obvious use! Plus some original puzzles, some very nice reworking of older mini-games, interactive H0 scenes, a story that is ridiculous but amusing, and great art. Each chapter has its own area so there isn't too much running around. Voice overs are well done. Cons: Some of the inventory items need precise clicking. Because it's not always obvious which item to use, this can be frustrating. This game is a little short, it took me about 4 hours with no hints or walkthough. Even on hardcover, there are black bar hints, but it's possible to ignore them. The last chapter had the best puzzles but the rest was a bit sloppy. No interactive map.
July 10, 2012
My expectations were shattered?
I almost passed on this game because of mediocre reviews. I'm quite glad I didn't, it was really pretty good. My first impressions? ? Widescreen ? Colorful, fun graphics ? Voice overs ? Totally camp story and presentation ? Comes from a dev. who has made some pretty decent games ? 3 modes of play -- hardest has no help at all. Black bar info is there, but no hints and no puzzle instructions. ? Non interactive map -- shows your location. Objectives are not marked in advanced mode. From the map there would appear to be many locations to explore. ? Tutorial available only in casual mode. ? Lots of tasks to remember -- for what looks like a simple game, I was tempted to take notes. ? A story with a different twist? Damien LeStrange, who bills himself as the world's greatest magician, is making famous landmarks disappear. Next stop for the detective on the case, Paris and the Eiffel Tower. Judging from the first in the series (Shattered Minds: Masquerade), there will be at least a few tricky puzzles. The HO's are junk pile with minor interaction if any. The tasks are many, but I doubt you will wear out any gray cells. Well -- the story in this game got a bit more serious. So did the game play. There are tons of inventory items, tons of tasks, some really pretty good puzzles, and the H0G scenes are not too laborious but there are some very well disguised objects. I haven't changed my opinion -- this is a good, entertaining game. It is definitely not short, and I didn't get bored with it. Don't take any of this game too seriously. Just go with it and have a few hours of fun!
July 5, 2012
Great adventure game
This game is pretty heavy on adventure which I like. The HO scenes repeat but you don't find the same items twice. The mini games have a extra kick in them to make it a bit more challenging from other mini games that are out there. The hint system charges pretty fair for me in expert mode. There is a map that only shows you where you are. The journal is pretty useful. You will need it to help you solve some adventure areas. There's no bonuses, misclick penalties, or achievements. The music gets annoying at times and the choice of VO's was perfect. The game if played straight through probably last about 6 hours. I got a little frustrated close to the end because you play the same HO scene back to back in some areas. The end may lead you to believe it may be a sequel. If you don't have anything to do just try this game. It will most definitely make the time go by.
July 4, 2012
What a great game!!
Such a well planned game, running around is done in a small area and last item found will take you to a new area, so no shoe leather wasted in this game. Story is refreshing, no kidnapped family! Game play is easy to follow, puzzles are a mixed bunch, varying in challenge from simple to thought challenging, though nothing new for seasoned players. Music is good, apart from one theme early on, sounded like a modern junk concerto, you know the type, all cacophony of sound and not "music", but thankfully is short lived. Attention is only drawn to H.O. areas, the rest you find for yourself, so a nice challenge there too. Over all, a great game and not short either, well worth the money.
July 4, 2012
Good game
Good storyline, not too complicated challenges. Interesting HOS. Just, here in France, cars and wearings for police have changed : they are more... modern, think about that before talking about France. We're out of Middle Age !!! ;-D
July 1, 2012
Shattered Minds: Encore
After reading a few reviews this morning I thought this wouldn't be any good. I was delighted to fine that I enjoyed this game very much.
July 1, 2012
Excellent Paris adventure.
Great storyline: as a detective, you are called to Paris to stop Damian LeStrange, a demented magician who is making monuments disappear, and his next target is the Eiffel Tower. Good VOS, great graphics. HOS interactive and clear. Puzzles are fun, with a short skip button. Hint for all areas. Nice music. LeStrange disappears, which bodes for another chapter, hopefully. Not a really long game, only 4 hours on casual play, but very enjoyable.
August 2, 2012
Lacked Interest
Having played Shattered Minds: Masquerade and really enjoying it, when I heard the next game was coming out I was really ecited to play it, but I was really disappointed. The game lacked fun from the start and I got bored very quickly. Puzzles were extremely hard and the Hidden Object Scenes were annoying too. The objects were really hard to find. The intro was pleasing, but after that I found the storyline really hard to follow and very boring. Unlike Masquerade, it didn't make me want to keep playing. I thought the storyline was rushed and you could clearly tell not a lot of effort was put in to this. One positive I took out of this game was the graphics. They were well drawn and looked very modern, with a lot of time and detail going in to them. It really made you feel like you were playing a game from 2012. In my personal opinion, I was really disappointed that a Collector's Edition was not released beforehand, because a strategy guide is really needed in this game. At times I found it really hard to figure out what to do next, and I would have to use the hint. Luckily, the hint recharged really fast so there was no waiting. Overall, while the first game of the series was great, this one proved to be a disappointment. I hope the third instalment, if they make one, is much better and the developers actually pay attention to the storyline.
July 11, 2012
Shattered Minds: Encore: SE
It seems as if plots with magicians are in abundance lately, or is it just I found a bunch all at once? The storyline is okay, I guess. It seems once you play so many (and have them in your library) the plots can and do repeat themselves, with little variation, so I do my best to be objective for the story and the game I am reviewing, not the entire category of games. At the end of the hour, I was just starting to get to use some of the items in my inventory, which took quite some time to gather, going from scene to scene. I think a few things could have been grouped together or at least in one scene instead of going from one scene to another several screens back. As a single edition, I think based solely on the one hour demo it is a good addition. Not *stellar* but good. If the CE is like this, I would not purchase it.
July 11, 2012
Great Game for Kids---of All Ages!! Play Advanced!!
Such varying reviews grabbed my interest. Review for Demo on Advanced Mode only so length is unknown. Color is magnificent and story line unique and lighthearted. Cute, fun and a welcome "escape" from dark and gloomy. Very good filler game. Hope to see it on Daily Deals is a sure buy for me! Enjoy! -Mama Mia-
July 11, 2012
The Apple logo is a trademark of Apple Computer, Inc.