Shattered Minds: Encore
Reveal the twisted plan of a deranged magician in Shattered Minds: Encore! You are a detective with a knack for dealing with strange cases and your Chief has a new case for you to investigate. After a series of vanishing famous monuments the world over, you are sent to Paris, France to investigate a possible link between the disappearances and a calling card left behind at the crime scenes. Play through challenging hidden object games and perplexing puzzles in an attempt to unravel the mystery in this thrilling hidden object adventure game!
Game System Requirements:
OS:

Windows XP/Windows Vista/Windows 7/8

CPU:

1.0 GHz

RAM:

512 MB

DirectX:

9.0

Hard Drive:

313 MB
Game Manager System Requirements:
Browser:

Internet Explorer 7 or later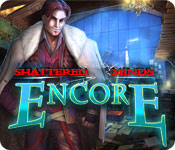 NEW299
The Big Fish Guarantee:
Quality tested and virus free.
No ads, no adware, no spyware.

Reviews at a Glance

Shattered Minds: Encore
0
out of
5 (
0
Reviews
Review
)
Customer Reviews
Shattered Minds: Encore
53
53
CATCH THE MASTER MAGICIAN
I liked Shattered Minds: Masquerade much better. This is a decent game with some good qualities. You get 3 volume controls, 3 difficulty modes, widescreen, and a journal with clues and a map. The map doesn't clearly indicate the various scenes; it looks more like a wide-spectrum sketch. You are investigating the world's greatest magician, Damian LeStrange, who is making monuments around the world disappear. He is currently in Paris. The voice overs are creditable and artwork is quite nice. HOS are uncrowded, detailed and colorful. The animation and sounds in the scenes are great. You can create movement sometimes by just flowing your cursor over items (like pots hanging from a ceiling). Maybe 3 1/2 stars.
September 16, 2013
Ok time filler
I usually like VAST games but this one fell short for me. The storyline is kind of boring and the game is quite short. The puzzles were too easy but the hidden object scenes had some really small blended in items that made me have to squint. I liked the locations and the fact there isn't much backtracking. Once you are done with a location, thats that which is nice but the hidden object scenes were nothing special. Interactive but not all that fun. The bad guy magician is not scary and his voice is nasal like and just doesn't look like someone who would be a threat. It would have been nice to know HOW he was making things disappear but you stop it of course and then it just ends. There are far better games out there. Unless you are using a pcc on this or its a dd, I probably wouldn't bother. It does have an ending that makes sense but overall it just kind of bored me.
August 13, 2013
What a disappointment!
I purchased, and enjoyed playing, "Shattered Minds: Masquerade CE"; but this isn't even close to being in the same class. If we could give 1/2 stars, I would give this 2-1/2 overall. The graphics, hidden object scenes and storyline are what I would expect in a game 10 -15 years old. This is a very amateurish attempt in today's market. For someone who is a complete beginner, this would be good practice. On the positive side, it does have good voice acting, a very handy map and journal, and the mini-games are reasonably imaginative. You can select from three difficulty levels, and your system cursor or a large or small custom cursor. It does have a choice for a regular monitor or widescreen. It just lacks the sophistication, imagination and creativity of the better-quality games of today.
July 8, 2012
Better than the first
Would really prefer to give it 3 1/2 stars. Going against the grain here, but I think it was better than the first one, which I found tedious. This game however was fun to play, even if unimaginative. Graphics and voice-overs were good, but nothing spectacular. Catered for wide-screen. Three levels of play. I played Extreme which gave you no sparkles or hints - which was great to see. Puzzles and hidden object games were standard and very easy. I played the whole game without once needing a hint button or strategy guide. Not a long game, but still over 3 hours which is passable for an SE game. Storyline was boring, but still flowed well. If you are after an easy game without frills, then this game would be perfect.
July 2, 2012
Shattered Minds: Comic Book
Played the trial version only and found it to be almost comic-book like. The graphics and characters reminded me so much of the old-school comics. The mini-games were challenging, but no directions on how to solve them. So, if you're not used to playing HOAG's, it might be difficult with no instructions. I played on the expert mode with no hints. I prefer it this way, but even for myself the mini-games didn't make much sense. It is not a buy for me. Sorry fishies.
July 3, 2012
No adventure here
Loved the first Shattered Minds. Thought this one would be very good as well. Nope. Good graphics, ok puzzles and HOS, ok voice-overs. Boring game play. The hint is only helpful in HOS. There is a link to a walk-through on the download page, and I needed to look at that walk-through two or three times. When I look at a walkthrough, I only look when I absolutely have to, and only at the part I'm confused about. If I checked the walkthrough for every puzzle and task, what's the point of playing the game?
July 1, 2012
Okay
Not a bad game, but quite simple (easy HOGs and games). Didn't care for the broken glass FX..silly. Graphics nice. I think I might wait to see if something a bit more challenging comes around real soon.
July 1, 2012
shattered minds : encore
I really didn't care for this game. Wasn't a game I would buy. Couldn't play the trail. Kinda boring and cheesy. It wasn't challenging. So, this is just my opinion. Others may enjoy the game. I surely didn't. I would also like to add, Big Fish is the best place for games. Their customer service is the best I have ever talked too. :)
July 9, 2012
Too short.
Very nice graphics, decent story, I ALWAYS appreciate being able to skip cut scenes. However I found it really, really short. I enjoyed the trial version enough to spend a credit on it, but I was a little let down that there was only about another hour or so of gameplay in the full version. I`m also not quite sure what the point of the map was. It seemed pretty useless to me to have a whole section of the journal devoted to just a basic layout of the gameboard, I prefer the maps that let you click on them to travel quickly to that location and give you better hints of what you need to do where. If you have a spare credit, and like well done HOG, go for it. But I'm not sure I'll be replaying this one enough to have made the credit worth it :(
July 3, 2012
Je n'aime pas........Gay Par-ee was not so fun.
This game started of really well. Just be warned if you only play the demo and decide to buy. You might want to save it for a freebie or special. I was so glad to see Paris again ...featured as the setting of a game. I played the regular version and got through without any extra help. The evil Damien LaStrange is out to get revenge for not becoming one of the elite magicians in the Paris expo. And "expo" is really a more accurate word. It starts out with a tragedy at the bottom of the Eiffel Tower...and you get to be the detective to find and hunt down LaStrange. You go forward under the Eiffel Tower and you oddly find yourself in what looks like the remains of the NY World Fair, or a scene at Epcot. Future land with engineered food, robots etc. Back and forth is the big question when you get lost, because the map is not interactive. It consists of a black and white concept drawing with a red crayon pencil circling the area. The legend indicates that activity is needed where you see a red (!).....only the area NEVER has an exclamation mark in any of the circled areas. The music and artwork are wonderful....but where is Paris? A few minor references to "French" items could be found in Las Vegas....seriously. There are clever areas to search, and some of the HOS are creative and vary in difficulty. Once you find LaStrange's HQ, you basically see nothing of Paris. It turns in to a rat race back and forth down an alley with some crazy ideas that Magicians don't even use. Everywhere you turn, there is another dead body....OOPS! He did it again! Then he shows up out of no where with a mardigras type mask with horns and taunts the detective to catch him......which makes no sense. He's not menacing as much as he is annoying. The music is in a loop....but it's changed up according to where you are. It's not annoying and does have that typical accordian French touch. There was nothing really remarkable about this game in my opinion other than the excitement at the beginning.....that quickly fades. The synopsis of this game under the title is very misleading. There really is nothing notable about historic magicians....other than ending up in a misplaced cave that might resemble the catacombs in Paris, but highly misses the mark. I REALLY wanted to like this game...... I do recommend playing the demo! Who knows....it may be spectacular to the next person. On average....not too difficult.
October 4, 2013