Shattered Minds: Encore
Reveal the twisted plan of a deranged magician in Shattered Minds: Encore! You are a detective with a knack for dealing with strange cases and your Chief has a new case for you to investigate. After a series of vanishing famous monuments the world over, you are sent to Paris, France to investigate a possible link between the disappearances and a calling card left behind at the crime scenes. Play through challenging hidden object games and perplexing puzzles in an attempt to unravel the mystery in this thrilling hidden object adventure game!
Game System Requirements:
OS:

10.8/10.7/10.6/10.5

CPU:

1.0 GHz (INTEL ONLY)

RAM:

512 MB

Hard Drive:

269 MB
Game Manager System Requirements:
Browser:

Safari 4.0 or later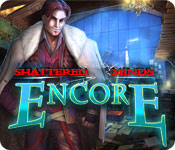 NEW299
The Big Fish Guarantee:
Quality tested and virus free.
No ads, no adware, no spyware.

Reviews at a Glance

Shattered Minds: Encore
0
out of
5 (
0
Reviews
Review
)
Customer Reviews
Shattered Minds: Encore
54
54
Je n'aime pas........Gay Par-ee was not so fun.
This game started of really well. Just be warned if you only play the demo and decide to buy. You might want to save it for a freebie or special. I was so glad to see Paris again ...featured as the setting of a game. I played the regular version and got through without any extra help. The evil Damien LaStrange is out to get revenge for not becoming one of the elite magicians in the Paris expo. And "expo" is really a more accurate word. It starts out with a tragedy at the bottom of the Eiffel Tower...and you get to be the detective to find and hunt down LaStrange. You go forward under the Eiffel Tower and you oddly find yourself in what looks like the remains of the NY World Fair, or a scene at Epcot. Future land with engineered food, robots etc. Back and forth is the big question when you get lost, because the map is not interactive. It consists of a black and white concept drawing with a red crayon pencil circling the area. The legend indicates that activity is needed where you see a red (!).....only the area NEVER has an exclamation mark in any of the circled areas. The music and artwork are wonderful....but where is Paris? A few minor references to "French" items could be found in Las Vegas....seriously. There are clever areas to search, and some of the HOS are creative and vary in difficulty. Once you find LaStrange's HQ, you basically see nothing of Paris. It turns in to a rat race back and forth down an alley with some crazy ideas that Magicians don't even use. Everywhere you turn, there is another dead body....OOPS! He did it again! Then he shows up out of no where with a mardigras type mask with horns and taunts the detective to catch him......which makes no sense. He's not menacing as much as he is annoying. The music is in a loop....but it's changed up according to where you are. It's not annoying and does have that typical accordian French touch. There was nothing really remarkable about this game in my opinion other than the excitement at the beginning.....that quickly fades. The synopsis of this game under the title is very misleading. There really is nothing notable about historic magicians....other than ending up in a misplaced cave that might resemble the catacombs in Paris, but highly misses the mark. I REALLY wanted to like this game...... I do recommend playing the demo! Who knows....it may be spectacular to the next person. On average....not too difficult.
October 4, 2013
Not sure
This game would make a good rainy day special. It did have a few things that would give it a slight better rating. In the HO you have to take a rooster to hatch an egg. Which was a little comical and inventive. One puzzle was slightly difficult and I almost had to skip it. Took up a big block of time on the free play. So it has things to just keep you going. The characters were a little dull and like paper cut outs. The game did have plenty to do. Add to my rainy day or freebe list.
July 16, 2013
Did not hold my interest
Sorry, but this one is not for me. It did not keep my interest and did not run smooth. Lame story, graphics childlike and basic. I took a rocket piece from the robot put it where it belongs and the piece showed up again where I just took it from. Glitch? So the piece was in two places now, huh? Although it seems like it may be of good length, due to the large map, I lost interest quickly. I have played alot of games and I'm always looking for detailed graphics and challenges with a good story. This did not deliver for me. Go ahead and try, you may like it.
July 1, 2012
Lacked Interest
Having played Shattered Minds: Masquerade and really enjoying it, when I heard the next game was coming out I was really ecited to play it, but I was really disappointed. The game lacked fun from the start and I got bored very quickly. Puzzles were extremely hard and the Hidden Object Scenes were annoying too. The objects were really hard to find. The intro was pleasing, but after that I found the storyline really hard to follow and very boring. Unlike Masquerade, it didn't make me want to keep playing. I thought the storyline was rushed and you could clearly tell not a lot of effort was put in to this. One positive I took out of this game was the graphics. They were well drawn and looked very modern, with a lot of time and detail going in to them. It really made you feel like you were playing a game from 2012. In my personal opinion, I was really disappointed that a Collector's Edition was not released beforehand, because a strategy guide is really needed in this game. At times I found it really hard to figure out what to do next, and I would have to use the hint. Luckily, the hint recharged really fast so there was no waiting. Overall, while the first game of the series was great, this one proved to be a disappointment. I hope the third instalment, if they make one, is much better and the developers actually pay attention to the storyline.
July 11, 2012
I Don't Think I'd Have Called this Back for an Encore
For some reason negative (but fair) reviews are poorly rated it seems. Consequently, I'm not expecting that gamers will grade this as a helpful review...but that's the way it goes... I could not get through more than 45 minutes of this game. Perhaps it gets better but it wasn't good enough at the beginning, a critical point, I think, to hold my attention. Obviously, I didn't think it was fun. The visual quality is poor. Some may find it clean and crisp. I find it to be more of what resembles a fledgling designer's first attempt. There is no detail to items. There is no richness to the colors. This was like a paint by numbers game. To me, music is a very important element of games. It sets the tone, it marks urgency. Here the music was an annoyance. I couldn't discern a particular theme. It was just bad. Sound effects: there were obvious opportunities for sound effects...but nothing. Imagine this: a circus animal, a monkey, was playing with two cymbals. There should be some sound effects...the action of the monkey was pointed out, in fact. But nothing. The puzzles offered nothing new or exciting. In most cases they were poor examples of puzzle types we've seen before. The HOG were very poorly designed. The descriptions were accurate but the scenes were so simple, so bland that they weren't fun. The storyline: There is little relationship between successful completion of a puzzle and delving more deeply into the story. The normal actions of the game are mind-blowingly unrelated to the game itself...I know this sounds crazy, but I just had no idea what the heck was going on. Why did I do certain things? I don't know. I had very high hopes for this game. The graphics in the title page are brilliant. The Tour D'Eiffel stands out brilliantly and was brightly lit and beautiful. I hoped for more of the same but was left wanting. This was amateur hour and I'm really sorry to say it. There are reviews which base excellence on the length of the game. I quit this after 45 minutes. I have no idea how long it's supposed to be. To me the length of a game is not so important. If I love it, I'm probably going to think it's too short. This was not too short. I just finished the newest Mystery Tracker game, Silent Hollow. This was a SOLID 5-Star game. Maybe my review skills have been tainted by that, but I don't think so. This was just not good. I understand that we all have different attractions in games, so I will still rate a game highly even if it's not my "cup of tea." Not this time.
July 23, 2013
Shattered Minds : Encore
The game was awful, the cursor kept jumping about all over the place. Also the game was freezing a lot. I don't know what is happening lately the games I have played have been so hard to play by that I mean the cursor jumps and the games are freezing in all I have played recently. Barbara Dillon
July 2, 2012
Shattered Minds Encore
My game just stopped working and went completely black (blank) right after I worked the puzzle at the gate. Now I can't even get it to come back on! I paid too much for this to happen!
November 6, 2012
Not worth my time
This did not come anywhere near the level of the game it followed. I could not get past the free hour and would not consider paying for it.
July 6, 2012
Hidden Objects Game
Good game for beginners , or children
July 1, 2012
Rather large headache.
I didn't actually get to play the game. Every time I clicked to load it, it would let me sign in and then my computer would crash. As I've not had this problem with any thing else and my computer is fairly new, I'm blaming the game.
July 12, 2012
The Apple logo is a trademark of Apple Computer, Inc.
The Windows logo is a trademark of Microsoft, Inc.