Legends of Solitaire: The Lost Cards
The House of Cards has disappeared and the Solitaire Kingdom is in ruins. Evil is now afoot and only you can find the Lost Cards. Play fun filled matches of Solitaire as you journey across the Solitaire Kingdom on the quest to find all the cards.
Exciting Solitaire fun
Colorful graphics
Find all the cards!
Game System Requirements:
OS:

Windows XP/Windows Vista/Windows 7/8

CPU:

1.0 GHz

RAM:

256 MB

DirectX:

9.0

Hard Drive:

54 MB
Game Manager System Requirements:
Browser:

Internet Explorer 7 or later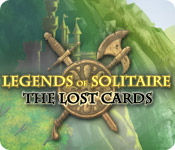 NEW299
The Big Fish Guarantee:
Quality tested and virus free.
No ads, no adware, no spyware.

Reviews at a Glance

Legends of Solitaire: The Lost Cards
0
out of
5 (
0
Reviews
Review
)
Customer Reviews
Legends of Solitaire: The Lost Cards
57
57
A First Time For Me and I now Im Hooked!
I confess, this is the very first ever solitaire game I have played on BFG. I dont know what possessed me to try it but I am really glad I did. As I amnot familiar with any other card games available, I really cannot base my review in comparison to others but I can say this; I found this game to be stress-free, enjoyable and fun to play. The graphics were clear, the music was non obtrusive and there was voice over at the beginning recounting the story about a kingdom that lost its house of cards and suits were at war. Our mission is to bring back peace. The option menu has three modes of game play and you get to select your card face and top design. I started off with casual as I was unfamiliar with the mechanics involved, Following the instructions, I began to play and soon found that the game was fairly easy; a standard solitair with one higher or one lower card to place regardless of suit. (You get extra points if you match the suits) There are achievements, bonuses during gameplay and a shop to buy power ups with coins collected. As you progress, you start needing those power-ups. With each level, you need to fill out the power bar and fulfil the objectives. After the first level, I really started to get immersed in the game and found myself enjoying myself more and more. Perhaps I am a novice at this and hard core fans may disagree with me, but I really liked this game and will definitely buy it. All I can say is if there are any fishies out there who have not yet tried any solitaire/board game, I really recommend you try this paticular game, who knows, you may get hooked. Ideal way to spend those rainy days when you have nothing to do and just want to zone out for a while.
July 3, 2012
A Fun Filled Solitaire Game
I love this game This would have to be by far one of the best solitaire games I have played and I have played a lot of them! I love this type of solitaire game and am so happy that there are so many of them on BFG to choose from, they are the best! Legends of Solitaire has wonderful graphics, the gameplay is so smooth and polished, the music played throughout is lovely and calming, just what you want when playing a solitaire game and a nice selection of music too. I love the fact that there are 3 game modes to choose from. The cards are a perfect size, not too large, not too small and I love the fact that you can change the background for the front and the back of the cards if you want, that was a great addition I felt as the developers have catered for everyone I can see that a lot of thought went into this game and the developers have done a brilliant job! I love the different objectives that you must get on each level, nice and challenging It is so much fun to play and I am addicted to it already, just cant stop playing it. I think the graphics are much nicer than other graphics I have seen on solitaire games, love the medieval type theme! I can see a bit of difference between Casual and Normal mode and for a harder game, the Hard level is excellent. I found this wonderful game challenging, enjoyable, fun, relaxing, addictive and very pleasing on the eye! Thank you so much for this brilliant game!
July 4, 2012
FUN FOR SOLITAIRE FANS
You play a card above or below the one showing. -Music relaxing -Collect cash which will buy 'powerups' like show next card, break a lock, an extra undo, etc. - Collect stars to fill up bars. - Advance to levels. - Has different levels of play. Since I'm not a big solitaire fan not sure about buying. Maybe on sale. Still a fun game.
July 3, 2012
Nice
I love this kind of solitaire game. Nice and soothing, not too hard yet (to the end of the demo). I always play on relaxed mode as solitaire, in my opinion, should not be a stress situation, so I am not sure about the frustration levels for players who use other settings. I like the sounds and the graphics...the card designs are good and the store is fun. The only thing I couldn't figure out was what made the power bar fill up on the round scorecard..it always took me to the eighth or ninth hand to get it done...so that might be a problem on higher levels.
July 3, 2012
JUST GREAT
I am a fan of fairway solitaire, and i am also a fan of this game. i just love it. played it for 5 minutes then i bought it right away. it;s a lot like fairway, but i think it;s a lot more challenging. You have a lot of levels to go through, also you have easy,casual, and hard modes, to go through. if you like to play solitaire, this is the game for you. Dee
July 4, 2012
Addicting
I typically find solitare as a challenge so I played thru the demo with the intent to achieve. I kept the volume low enough to hear the twinkles as bonuses were awarded. This game is not unlike other games... where you collect by uncovering cards to buy power-ups, etc. The background and card colors are pleasant and relatively easy to see. The screen change to see your achievements between levels goes quite quickly-- long enough to see the results--but quick enough to 'get on with the game'. The only negative I can relate to is the inability to see the number of stars collected as the game is playing, as collecting stars is a criteria to proceed to the next level. You can opt to play a relaxed version, but I chose the more advanced so I could test my skills. I will purchase the game and enjoy the challenge as this is definitely a way to keep the brain cells working :)
July 3, 2012
The drama begins...
I had to chuckle at the opening of this game. It was so seriously melodramatic, I just loved it! This is a solitaire game where you choose a card either one up or one down from what is on the playing pile. I like the old-fashioned solitaire best; it's more of a challenge to me. There are three different modes you can play in; I chose casual. As you play you fill up a tube and when it's full, you're on to the next level. Along the way there are cards that give you extra bonuses like an extra starting card, extra coins, extra tube filler, etc. There is also a penalty card that depletes your tube. There are locked cards and you must uncover the key cards to open the locks. There is a shop where you can buy power-ups and you gain achievements, also. You get credit for the first chain of five cards, 250 coins, a certain amount of stars. There are quite a few. There is always sonething to strive for. The playing field is pretty, you can choose your card backs and fronts and the music isn't obstrusive. I thoroughly enjoyed this solitaire
July 3, 2012
Just what I was looking for
Oddly enough, just yesterday I was looking for a new solitaire game as I've been in the mood for cards, and I've played the games I already own to death. I downloaded and demoed several different games, but none really interested me, so when I saw this as the TMT, I was eager to try it. I was very happy to see that this is exactly what I was looking for. It is the standard play a card one up or one down from the top card in the pile. Since I've been playing on the easy mode, it's not been difficult at all, but I do like the fact that there two additional modes for more of a challenge. You have different goals to reach for each level, and you can buy various tools or abilities to help with the game play as you advance and accumulate cash. I thought the graphics were nice, with large, clear cards. You can choose from a few different card styles, but I found the default style quite charming, and wouldn't want to change it.. I can't comment on the sound quality since I've had to play it with the sound off so as not to disturb anyone around me. There are also a couple mini-games included ? Tri-Peaks and Freeplay. All-in-all, I think if you're looking for a nice relaxing game to unwind or just pass some time, this is a very good choice.
July 3, 2012
I love it
I enjoy a game of cards ...love HOGS...but need a break..sometime...and this game has alot...you can play different levels..and it is fun..and if you love solitaire you will enjoy..smiles to all..
July 3, 2012
Move Over Fairway!
Okay, I admit it, even though my favorite games are HOGs, I love Fairway Solitaire (the original) and play it almost every day. Can't tell you how many different names I have given myself. I play to see if I can beat my last score and it relaxes me. This game is quite fun as well. Different and actually has a story line. Very nice graphics (even if it is cartoon-like), fun game play. Haven't purchased any extras yet, so not sure how they will work. I like the different things that pop up, e.g. locks, fire, etc. Even the music and sounds are nice. The only thing I didn't care for is that the cards are so large, they are almost distracting from the game itself. Anyway, I already purchased the game...my husband even likes it and he isn't much of a game player. Thanks for the reviews.
July 3, 2012
The Apple logo is a trademark of Apple Computer, Inc.