Legends of Solitaire: The Lost Cards
The House of Cards has disappeared and the Solitaire Kingdom is in ruins. Evil is now afoot and only you can find the Lost Cards. Play fun filled matches of Solitaire as you journey across the Solitaire Kingdom on the quest to find all the cards.
Exciting Solitaire fun
Colorful graphics
Find all the cards!
Game System Requirements:
OS:

Windows XP/Windows Vista/Windows 7/8

CPU:

1.0 GHz

RAM:

256 MB

DirectX:

9.0

Hard Drive:

54 MB
Game Manager System Requirements:
Browser:

Internet Explorer 7 or later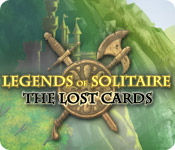 NEW299
The Big Fish Guarantee:
Quality tested and virus free.
No ads, no adware, no spyware.

Reviews at a Glance

Legends of Solitaire: The Lost Cards
0
out of
5 (
0
Reviews
Review
)
Customer Reviews
Legends of Solitaire: The Lost Cards
64
64
Great game
I really enjoyed the Legends of solitaire: The lost cards. I wish that it was a longer game and that the story could have gone on longer, adding in some twist and turns.
January 25, 2014
A First Time For Me and I now Im Hooked!
I confess, this is the very first ever solitaire game I have played on BFG. I dont know what possessed me to try it but I am really glad I did. As I amnot familiar with any other card games available, I really cannot base my review in comparison to others but I can say this; I found this game to be stress-free, enjoyable and fun to play. The graphics were clear, the music was non obtrusive and there was voice over at the beginning recounting the story about a kingdom that lost its house of cards and suits were at war. Our mission is to bring back peace. The option menu has three modes of game play and you get to select your card face and top design. I started off with casual as I was unfamiliar with the mechanics involved, Following the instructions, I began to play and soon found that the game was fairly easy; a standard solitair with one higher or one lower card to place regardless of suit. (You get extra points if you match the suits) There are achievements, bonuses during gameplay and a shop to buy power ups with coins collected. As you progress, you start needing those power-ups. With each level, you need to fill out the power bar and fulfil the objectives. After the first level, I really started to get immersed in the game and found myself enjoying myself more and more. Perhaps I am a novice at this and hard core fans may disagree with me, but I really liked this game and will definitely buy it. All I can say is if there are any fishies out there who have not yet tried any solitaire/board game, I really recommend you try this paticular game, who knows, you may get hooked. Ideal way to spend those rainy days when you have nothing to do and just want to zone out for a while.
July 3, 2012
FUN FOR SOLITAIRE FANS
You play a card above or below the one showing. -Music relaxing -Collect cash which will buy 'powerups' like show next card, break a lock, an extra undo, etc. - Collect stars to fill up bars. - Advance to levels. - Has different levels of play. Since I'm not a big solitaire fan not sure about buying. Maybe on sale. Still a fun game.
July 3, 2012
The drama begins...
I had to chuckle at the opening of this game. It was so seriously melodramatic, I just loved it! This is a solitaire game where you choose a card either one up or one down from what is on the playing pile. I like the old-fashioned solitaire best; it's more of a challenge to me. There are three different modes you can play in; I chose casual. As you play you fill up a tube and when it's full, you're on to the next level. Along the way there are cards that give you extra bonuses like an extra starting card, extra coins, extra tube filler, etc. There is also a penalty card that depletes your tube. There are locked cards and you must uncover the key cards to open the locks. There is a shop where you can buy power-ups and you gain achievements, also. You get credit for the first chain of five cards, 250 coins, a certain amount of stars. There are quite a few. There is always sonething to strive for. The playing field is pretty, you can choose your card backs and fronts and the music isn't obstrusive. I thoroughly enjoyed this solitaire
July 3, 2012
Addicting
I typically find solitare as a challenge so I played thru the demo with the intent to achieve. I kept the volume low enough to hear the twinkles as bonuses were awarded. This game is not unlike other games... where you collect by uncovering cards to buy power-ups, etc. The background and card colors are pleasant and relatively easy to see. The screen change to see your achievements between levels goes quite quickly-- long enough to see the results--but quick enough to 'get on with the game'. The only negative I can relate to is the inability to see the number of stars collected as the game is playing, as collecting stars is a criteria to proceed to the next level. You can opt to play a relaxed version, but I chose the more advanced so I could test my skills. I will purchase the game and enjoy the challenge as this is definitely a way to keep the brain cells working :)
July 3, 2012
Fun and Relaxing Game
I did the beta on this game some time back and really liked it. I to have not done a lot of card games on BFG but I do like solitaire games and I make up my own versions at night when I want to relax and get sleepy, and this one is right down my alley. The music is very nice, the voice over is a little rough, but I really think it suites this game as the men are all warriors in old times, so the voice fits the game nicely. I know some have done other solitaire games and maybe this is familiar to you but as for me I really liked it.
July 3, 2012
Relaxing....
The Music is soothing and this is a good game for a hot day, when moving around is not an option. I played the demo and liked it well enough to purchase game. This will be a game for me for this hot summer. Good escape for a summer afternoon!
July 3, 2012
me likey
This is one of the best solitare games I've ever played. I was expecting it to be more of a challenge, but I like it anyway. The music is nice. It's a great game to chill out to. The visuals where clear and nice to look at. I made it almost to the end of the third level. But I was playing casual, I always do this on the demo's, then do the harder levels when I buy the game. I swore I'd never buy another solitare game, because they have been all the same. I lied, I'm buying this one.
July 3, 2012
Nice, relaxing soliaire game
Really enjoyed this one, as this is my favourite type of solitaire and sometimes I like a card game to relax with over some of the more frantic TM games. There is a story, but it's easy to ignore (I don't really care so much about stories in card games). The music and graphics aren't as nice as Fairway Solitaire, but overall the gameplay is similar to that one. If you liked Fairway Solitaire, you should check this one out.
July 3, 2012
Legends of Solitaire: The Lost Cards
I am very fond of solitaire games, but it can get boring playing just cards. Since this IS a solitaire game, I do not expect the in-depth storyline of my usual choice of HOG's, but this is entertaining, light-hearted, family friendly game and the storyline isn't bad. You go through completing goals, earning money to help you on your journey. There is a shop where you can buy tools to help you clear boards. The stock I saw in that shop in my one hour demo was limited, but that may increase as I progress in the game. I will be buying this game. I think it will be a good distraction when I want to stray from HOGs for a bit.
July 8, 2012
The Apple logo is a trademark of Apple Computer, Inc.